Why Does My Apple Watch Battery Die So Fast?
Buying the Apple Watch is undoubtedly a great way for iPhone users to move their notifications to their wrist (hey, it's convenient) as well as check their daily biometrics and meet their fitness goals.
But the more features you add and use, the quicker they are going to deplete your watch's battery.
Why Does My Apple Watch Battery Die So Fast?
Newer Apple Watches are rated for up to 18 hours of battery life. If your Apple Watch battery is depleting faster than this, it's probably because your iPhone is eating up battery life or their may be an app constantly running in the background.
You might need to try a few troubleshooting methods to figure out what is causing the battery to rapid-drain and fix the issue.
The same can be said of iPhones, and it really boils down to knowing which apps drain batteries the quickest.
Luckily, there are some workarounds available.
The newly released Apple Watch 7 is rated for up to 18 hours of battery life.
But, given the number of models that are out there, your particular Apple Watch might not have that long of a battery life span.
Sure, it matters whether you are using a W-Fi-only or Wi-Fi and cellular watch.
But it definitely also matters which apps you have installed and how frequently you use them.
Plus, if they're running in the background, they're going to eat up more battery life.
Sometimes, a simple fix is just restarting your device.
Both the Apple Watch and the iPhone you have it paired up to need to be shut down and powered back on, on a regular basis.
Since the two are in such constant communication, it is often just the iPhone dragging down the Apple Watch's battery with all its notifications.
Of course, if restarting the devices doesn't work, you might have to disconnect them and re-pair.
Aside from simply turning them off an on again, you can get both your iPhone and your Apple Watch to be more generous on the watch's battery life.
If your watch is still draining too quickly, read on to learn about some potential fixes.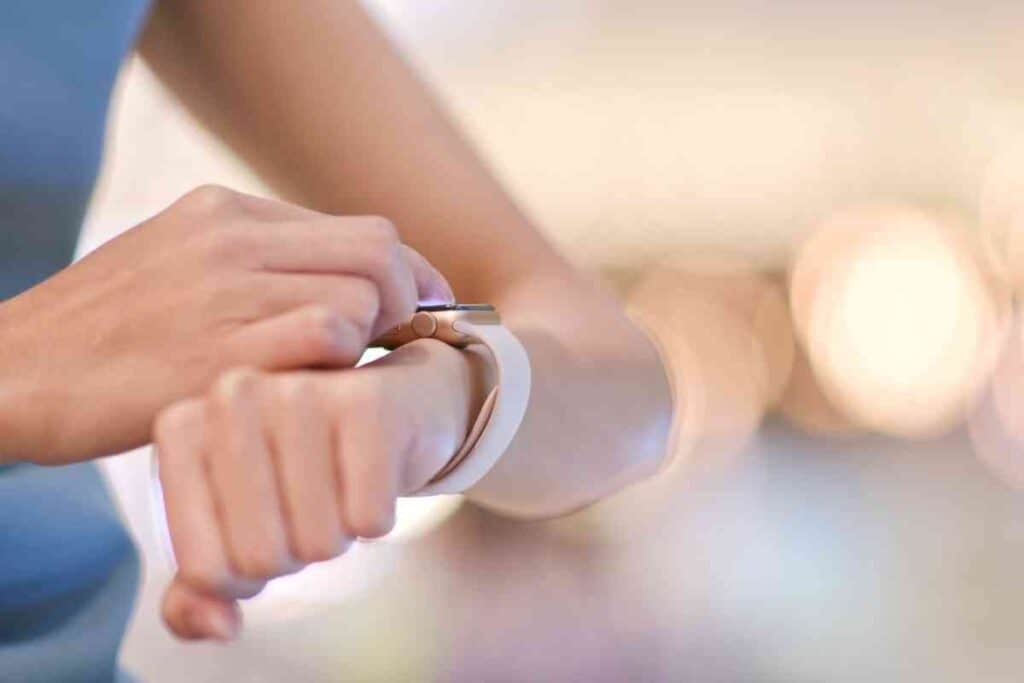 How long should Apple watch battery last?
Alright, fellow Apple users, can we all just agree that battery life seems to drain more quickly when there is a major iOS update? Remember when Apple had to issue new battery rebates for the iPhone 6?
Given how tough it is to restore a previous OS on any Apple device, it is hard to be sure that the update didn't cause battery life drainage.
Apple Watches have relatively short battery lives compared to other smartwatches, so drains tend to be a more frequently reported problem on them.
Pretty much every Apple Watch model is rated for 18 hours of battery life, but some seem to do better than others.
How do I extend battery life on my Apple Watch?
Don't just sit there wondering "Why is my Apple Watch battery draining so fast?" Take action.
Sometimes, all your Apple Watch needs is an update.
If you don't have automatic updates turned on, you might've missed an important one that could boost the watch's battery life.
And, sometimes, updates themselves are the problem.
Take into consideration the WatchOS 7, which was released in September 2020.
This OS reportedly led to a massive battery drain for some Apple Watch Series 6 users.
After that happened, Apple released a slew of updates to combat this problem.
You can now update your watch's software without experiencing those kinds of battery problems.
Can I turn off 'Wake Screen on Wrist Raise'?
You can turn the Wake Screen on Wrist Raise feature off to save some battery life.
Your watch's display is one of the biggest consumers of battery life, and the longer the display is lit up, the faster the battery drains.
It is motion sensitive when this particular function is on, so you might wish to turn this feature off if you're using your arms a lot to work or type on the computer.
You can limit the display's wake time if you don't want to entirely turn the function off.
Even limiting it to ten seconds should be more than enough time for you to take a glance at your watch.
Disable Always On Display
If the watch's display is set to be constantly on, even when you have your wrist down, then the battery will deplete even more.
Turning this function off can save you a lot of battery life.
Close Out of Apps When Not In Use
Some apps are big-time battery drainers.
Closing out of each app once you are done using it can conserve some battery life.
If they are running in the background, they are using your watch's battery power.
If you use the app to track your frequent exercise, then this could be a potential source of battery drain.
To fix this, fully shut down the fitness app, press the End button on the app once you've finished your exercise, or just take if off from the Apple Watch background to keep your battery life a little fuller.
Turn "Hey Siri" Off
When you have your display on, it is literally sitting there waiting for you to speak the magic words: "Hey Siri".
This function can be handy, but if you do not use it very often, it might be best to just turn it off.
Closing Thoughts
You might reasonably wonder "Why does my Apple die so fast?" You're far from being the only one.
The truth is, apps can run your battery life into the ground if they're allowed to run in the background.
Whatever you aren't using on your Apple Watch, get rid of it.
If it has been two or three months since you last used an app – or if you've never used it at all – just delete it.
You can also configure your watch to conserve battery life in certain situations, like putting it in Theater mode while you're taking in a flick.
If everything you try fails to work, you might be facing a hardware issue.
If that is indeed the case, you need to contact Apple.
Software issues are the most common causes of battery drains, but hardware issues are the hardest – sometimes even impossible – to fix.
Call Apple Support or take the Apple Watch to the Apple Store location closest to you so that a representative on site can assist you.