Why AirPods Max Aren't The Best Choice For Working Out
This post may contain affiliate links. As an Amazon affiliate, I earn from qualifying purchases.
The AirPods Max have garnered praise thanks to their innovative features, sleek design, and distinct functionality. Despite these perks, gym-goers often find the headphones unfavorable. So, why aren't the AirPods Max the best choice for working out?
The AirPods Max aren't designed to be used while working out. They aren't sweat-proof, and as sweat seeps into the earphones, it will stain them and could cause internal damage. They're also quite bulky, making them more likely to fall off during certain exercises.
Let's take a closer look at why the AirPods Max are best left at home when you head to the gym. We'll also look at what to do if the headphones get wet, how to clean them properly, and some alternative headphones that you can use at the gym without concern.
Can You Workout With AirPods Max?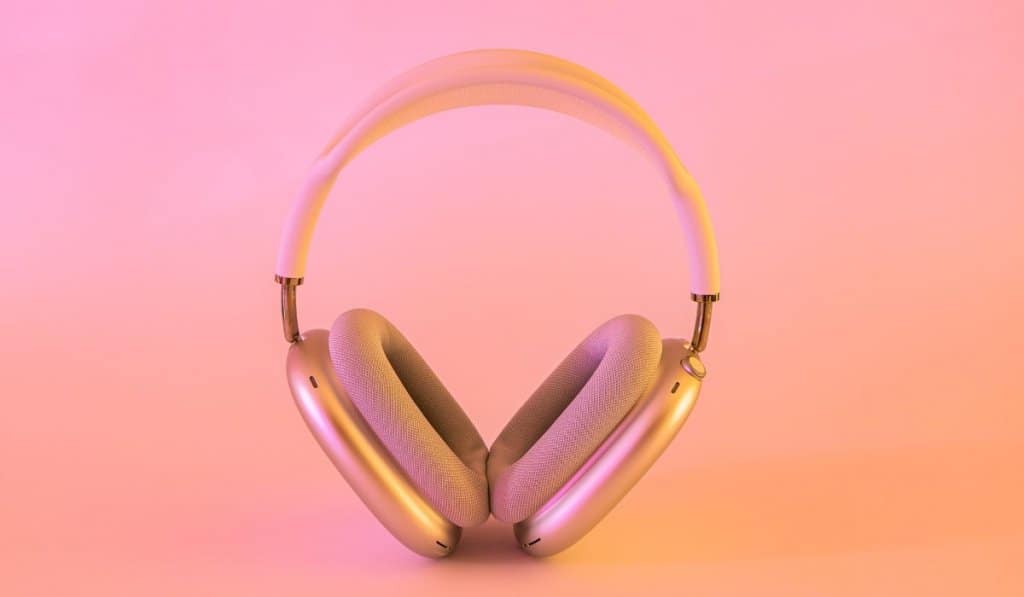 Working out with the AirPods Max (on Amazon) isn't the best idea since they offer no protection against sweat or water.
Exposing any openings on the AirPods Max to sweat or moisture while working out could lead to internal damage that the warranty won't cover.
Additionally, the AirPods are made of steel, unlike other similar items on the market, which are usually made from plastic.
The headphones weigh 384.8 grams, and although Apple intelligently designed them to distribute the weight equally on both sides, the headband will feel heavier if it's not directly over your head.
You'll notice the AirPods Max slipping off your head whenever you bend forward or lay flat because of a shift in the center of gravity.
The headphones are only comfortable when you're sitting or walking straight. If you wear them during an exercise that requires you to keep bending over, they'll feel much heavier and won't stay put. They could even fall off altogether.
What Were AirPods Max Designed For?
The AirPods Max are designed for luxury listening with high-end features such as Spatial Audio that produces a cinematic listening experience and Adaptive EQ that adjusts the sound to the fit of the ear cushions, all with the aim of providing you with the best listening experience.
What Should You Do if Your AirPods Max Get Wet?
If your AirPods Max make contact with any liquid, including sweat, you'll have to wipe them down using a dry microfiber cloth.
It's best to let the headphones dry out completely before using them again. As for the case, place it upside down with its lid open if it gets wet.
How to Clean Your AirPods Max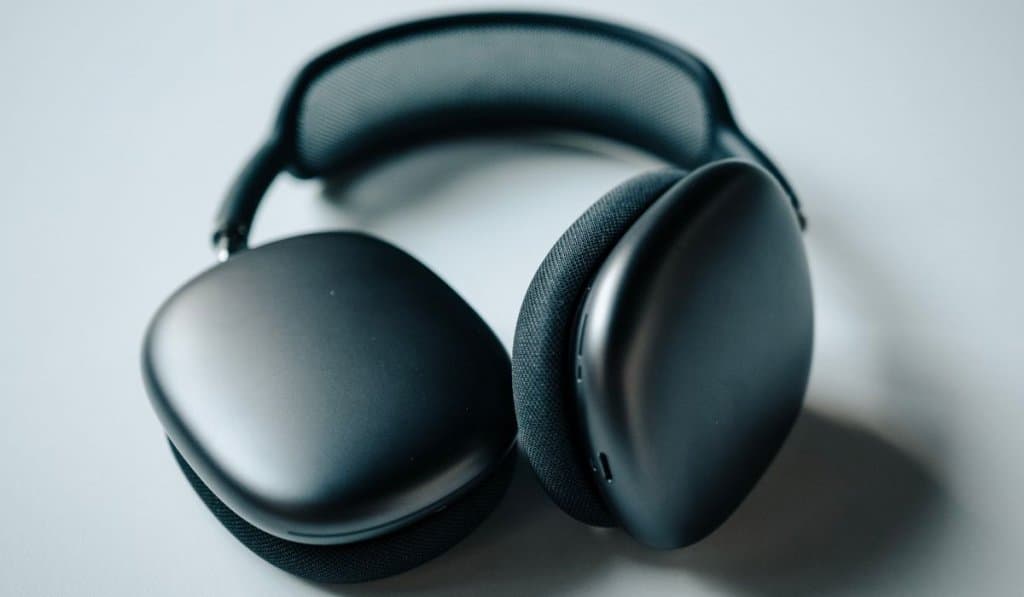 Before you start cleaning your AirPods Max, here are some tips to keep in mind so that you don't cause any unnecessary damages:
Avoid running your AirPods Max under water.

Use a soft, dry, lint-free cloth.

If you accidentally expose your AirPods Max to any chemical that might cause stains or other damage, wipe the headphones clean with a cloth slightly dampened with fresh water and dry with a soft, dry, lint-free cloth.

Don't use your AirPods Max until they completely dry out.

Ensure liquids don't seep into the headphones through the openings.

Don't use sharp objects and abrasive materials to clean the AirPods Max.
You can kick off the process by carefully cleaning the portions of the device that are made of fabrics that will stain and and show dirt more quickly:
How to Clean AirPods Max Cushions and Headband
Mix 5ml of liquid laundry detergent in a clean container with a cup of water.

Remove the cushions from both ear cups.

When cleaning the headband, turn the AirPods Max upside down to prevent the water from getting into the crevices.

Dampen a lint-free cloth in the soapy water solution and gently rub the cushions and headband, taking a minute on each.

Dampen a separate cloth with fresh water and wipe the cushions and headband.

Use a soft, dry, lint-free cloth to dry the headband and cushions.

Let your AirPods Max dry out for at least a day before reattaching the cushions.
You can also extend this cleaning method to your Smart Case. Simply use a soft, dry, lint-free cloth or dampen it with isopropyl alcohol if necessary. Then, turn the case upside down and let it dry. Like the AirPods Max, don't use abrasive materials when cleaning the Smart Case.
Best Over-Ear Headphones for Working Out
Although the AirPods Max aren't a great option for working out, there are other headphones on the market that'll do the trick. They can resist sweat and won't fall off during vigorous exercise. Here are some of our favorites:
Jabra Elite 85h
The Jabra Elite 85h Headphones (on Amazon) feature nano-coated internals that help it easily withstand light rain and heavy sweating.
Using a sound technology called SmartSound, these headphones study the environment and calibrate their configuration automatically to deliver a sound that matches your environment.
They also have an amazing active noise cancelling (ANC) feature, but it doesn't work when you're on a call. What a bummer!
Plantronics BackBeat FIT 6100
The Plantronics BackBeat FIT 6100 (on Amazon) have an IPX5 water rating that shields the headphones from heavy sweat and water splashes.
They also feature a sporty headband with a built-in elastic cord that allows you to tighten the headband a bit more to prevent the headphones from falling off.
Active noise cancelling is the only feature these headphones lack, but the fair price makes up for the omission.
Treblab Z2
Treblab Z2 (on Amazon) is another awesome pair of wireless headphones designed to meet the demands of gym-goers. Its water and sweat resistance mean you're protected against water-related threats.
The price-performance ratio of these headphones is decent as you're getting both active noise cancelling and water resistance, which is quite hard to find at this price range.
Some major downsides of these headphones are that the microphones don't pick the sound properly in wireless mode, and the ear cups are a little heavy and cover a huge part of your face.
BlueAnt-Pump Zone Over-Ear HD Wireless Headphones
The BlueAnt-Pump Zone Headphones (on Amazon) embody perfection in sound quality and user convenience. During workouts, you'll enjoy the thundering bass from the 40mm Neodymium speakers.
Apart from their high-quality sound, these headphones feature wireless connectivity, making them a convenient device. They're also lightweight but robust, thanks to the aluminum materials. These combined features make the headphones easily portable.
Additionally, they have a built-in microphone that catches sound incredibly. With just a touch of a button, you can switch between volume and tracks through the One-Touch Control function, which simplifies everything.
Although these headphones offer high-quality audio and a long battery life of around 30 hours, they still lack a significant feature — active noise cancelling.
Raycon Everyday Headphones
The Raycon Everyday Headphones (on Amazon) pack all the essential features at an affordable price. They make up for what they lack in battery life and a companion app with user-friendly features and an IPX4 rating.
Although they only offer 22 hours of battery life, that's still a lot for headphones you just want to work out in, and they even last longer than other options, like the AirPods Max, which only have a battery life of 20 hours.
Since they lack a companion app, these headphones have fewer options, reducing the chances of messing up the settings and features before your workout.
Cutting down on extra settings and features has helped keep the weight of these headphones under half a pound. This makes them perfect for a quick grab-and-go if you're in a hurry to get to the gym.
The headphones also have active noise cancelling and three preset sound profiles (pure, balanced, and bass mode).