Are Apple iPads Good for Drawing?
Apple iPads are high-performance tablets that have made groundbreaking advancements in the tech industry.
When you have a good understanding of harnessing its capabilities, it feels like you've unlocked a door to endless possibilities.
The current technology encased in iPads makes them great drawing tablets and tools for artists, animators, and graphic designers. They contain advanced display technology, capable of showing stunning images, and processors powerful enough to keep up with any project. You can also find many high-quality apps with comprehensive toolkits.
Overall, Apple iPads are powerful drawing tools for both beginners and professionals.
There's so much to cover, even within just the realm of iPads, and it can get pretty overwhelming pretty quickly.
So, I'll go over the essential information that you need to know about drawing with iPads and will review the different models, accessories, and apps.
The Best iPads for Drawing
Not all iPads are created equal, so some work phenomenally as drawing tablets, while others are more suited as just personal devices.
In general, the latest iPad models are the better options for drawing because of their compatibility with drawing app updates and the 2nd Generation Apple Pen.
Best Pick: 5th Generation iPad Pro 12.9-Inch Display
The 5th Generation iPad Pro is an impressive tablet, particularly because of its Liquid Retina XDR display.
The Liquid Retina XDR display provides an extremely detailed screen with a 1,000,000:1 contrast ratio.
It's a display more than capable of viewing HDR photos and videos.
The display also contains P3 wide color, True Tone, and ProMotion technology.
These features are advanced display technologies that make drawing and editing both a comfortable and convenient experience while delivering a stunningly accurate view of a wide range of vivid colors.
The 5th Generation iPad Pro with the 12.9-inch display contains Apple's M1 chip, which has the speed and capacity to create intricate graphics and build AR models.
It also supports the LiDAR Scanner, which measures the amount of time it takes for light to reflect from objects.
This scanner is great for creating depth maps, and it produces accurately focused images and videos in low-light conditions.
Overall, the 5th Generation iPad Pro has industry-leading features that make it an excellent tablet for artists.
However, I can't ignore the hefty price tag that comes with the latest iPad Pro.
So, I'd say it's worth the investment only if you plan on maximizing its display technology.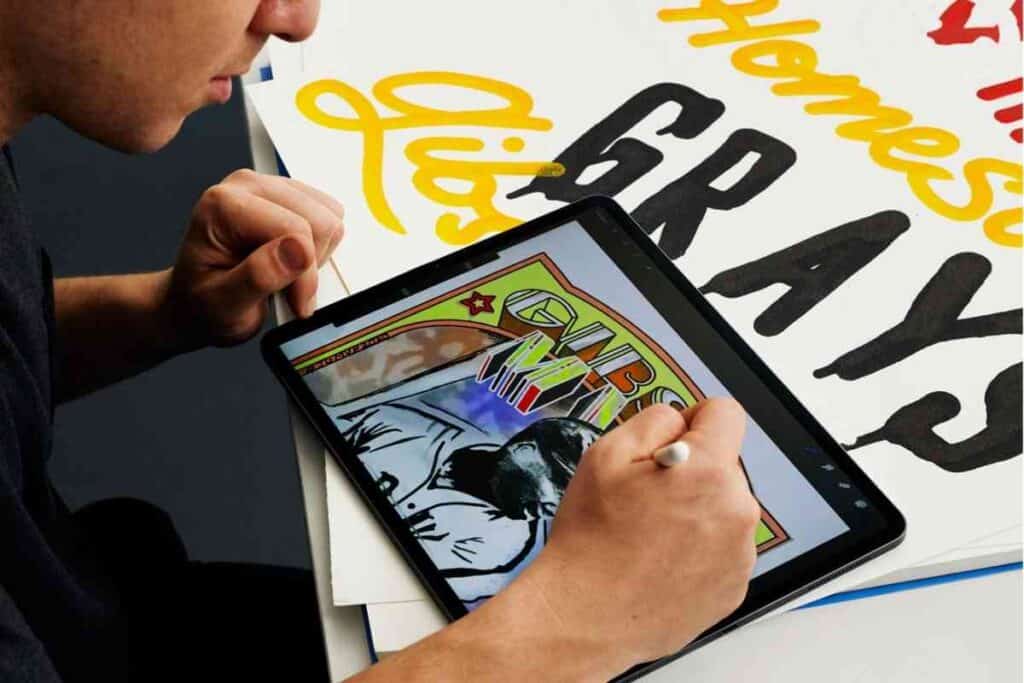 Affordable Option: 9th Generation iPad 10.2-Inch Display
For the most part, any iPad with a display screen larger than 10 inches makes a great drawing tool.
Features pertaining to drawing are similar across the board.
This means price is one of the most significant factors that will determine which model you purchase.
You'll have to keep expectations realistic and anticipate paying premium prices for iPads compared to cheaper drawing tablets.
Fortunately, older generations and other iPad models are more affordable than the 5th Generation iPad Pro.
For example, the 9th Generation iPad with a 10.2-inch display has a starting price that's nearly half the amount of the 5th Generation iPad Pro, and it's still great for drawing.
It has a performance speed that's 20% faster than previous iPad generations.
It contains the A13 Bionic chip, which can support powerful drawing apps, such as Procreate and Adobe Fresco.
When paired with the Apple Pencil, this iPad delivers an even more intuitive and natural drawing experience.
About the iPad Mini
Although the 6th Generation iPad Mini is a powerhouse of its own, I don't quite recommend it as a drawing tablet because of its smaller size.
It has an 8.3-inch Liquid Retina display, so it's capable of showing accurate and vivid colors, just like the standard iPad and iPad Air.
However, with the screen being several inches smaller than a standard sheet of printing paper, it's difficult to create detailed designs without constantly pinching the screen to zoom in on images.
The latest iPad Mini is also in the same price range as standard iPads, so there's really no need to opt for the Mini if the price is your main concern.
Apple Pencil
Although iPads support other styluses, the Apple Pencil is still worth the investment because of how seamlessly it pairs with iPads.
First, it's extremely easy to charge because the charger fits into the iPad's lightning connector.
Simply charging the Apple Pencil for 15 seconds leads to 30 minutes of use.
Fully charging the Apple Pencil takes about 30 minutes, which amounts to about 12 hours of continuous use.
You can also keep track of its battery usage on the widgets screen on an iPad.
There are currently two generations of the Apple Pencil, and each one is compatible with specific iPads.
The 1st Generation Apple Pencil has tilt and pressure sensitivity, so it feels like you're using an actual pencil.
It's easy and feels natural to shift from creating sharp lines to shading.
It's also very precise and has a nearly undetectable lag, so your strokes land exactly where you want them to go.
The 2nd Generation Apple Pencil provides an even more intuitive experience.
It has an industry-leading low latency, so it's great for drawing and coloring.
You can also change tools by double-tapping. Another convenient feature is that this version is magnetic and attaches to the iPad.
What Are the Best Drawing Apps for iPads?
There are several notable drawing apps for iPads.
Procreate consistently remains one of the most popular options.
This app has a relatively low-cost one-time payment, and it contains an extensive suite of art tools that both beginners and design professionals will use.
You can also create your own custom brush set in Procreate.
Autodesk Sketchbook is currently one of the best free drawing apps available in the Apple App Store.
All it requires is enrolling into its free membership, and you have access to its extensive brush library and user-friendly toolset.
Here are some other drawing apps that are worth exploring:
What Are the Best Animation Apps for iPads?
iPads are also capable of supporting work for animators.
Most animation apps have one-time payments or ongoing membership fees.
However, FlipaClip and Pixel Studio are great free options.
They have a limited amount of features compared to paid apps, but they're a good place for beginners to start and learn the basics of animation.
Other popular animation apps include the following: