Can A Fitbit Charge 3 Remind You To Drink Water?
According to recent studies, about 75% of all American adults are chronically dehydrated.
Dehydration can lead to all sorts of medical problems – such as high blood pressure – and can be indicative of underlying physical health issues.
Fitbit aims to change those staggering statistics by reminding you to drink water on a regular basis.
Since proper hydration is imperative to your overall health, Fitbit has taken measures to promote it.
Recently, Fitbit added the HidrateSpark STEEL smart water bottle to its lineup of smartwatches, trackers, and other health and wellness-oriented devices.
But even before that, Fitbit had been giving users the ability to set a reminder to drink some water.
But can every Fitbit do that? Is the Charge 3 capable of giving you these reminders?
When I bought my Fitbit Charge 3, I wanted to make sure that I could add these reminders.
I had been told by my doctor that, after running a bio-impedance analysis, my body's cells were remarkably dehydrated.
I needed to reverse the damage being done at the cellular level.
But, honestly, I am someone who needs constant reminders to drink water.
It is far from being my first choice of beverage, so I have to be consistent.
Can Fitbit Charge 3 Remind You To Drink Water?
You can indeed set 'drink water' reminders on the Fitbit Charge 3. You will have to go into your Fitbit app and search for "drink reminder". Otherwise, you can sync one of your phone-based apps to the Charge 3 to help you with hydration reminders.
That's part of why I decided to buy the Fitbit Charge 3.
I wanted to have the ability to set those reminders.
These reminders were a major selling point for me, and perhaps they were for you, too.
If you own a Charge 3, then keep on reading to learn about how to set 'drink water' reminders on your tracker.
Can you get the Charge 3 to remind you to drink water?
Will the Fitbit automatically track your water intake?
How do you add water intake to your Fitbit?
Can you set reminders on the Charge 3 and, if so, how? And just how much water should you be drinking every day?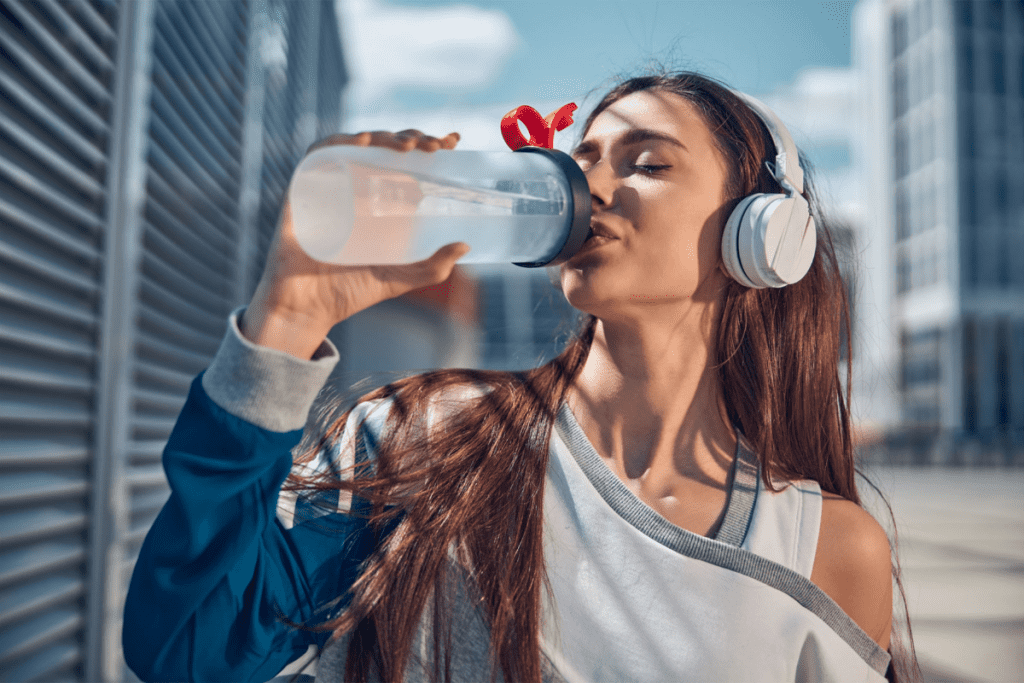 Can I get the Fitbit Charge 3 to remind me to drink water?
You can set reminders for just about anything on the Fitbit Charge 3.
While there are currently no specific 'drink water' reminders, there are ways to set reminders for yourself to drink water.
The tracker does have a tracking feature for logging water intake, which can also be helpful.
The best way to go about setting reminders for drinking water is to do as follows:
Go into your smartphone's Fitbit App.
Click on your profile photo in the top left-hand corner.
Go to Gallery Tile.
Select the Clocks tab and search for "drink reminder."
Choose the SimpleClockPro version.
Does Fitbit track water intake automatically?
While the Fitbit does not automatically track your water intake, with the Hidrate Spark STEEL water bottle, you can get more accurate tracking.
When the water bottle is connected to your Fitbit, this smart water bottle will automatically track your water intake.
It can even sync your hydration info to the HidrateSpark app.
This app, in turn, delivers the info on your dynamic hydration goals and achievements to the Fitbit app.
How do I add water intake to my Fitbit?
If you wish to add water intake onto your Fitbit, you will need to go into the Fitbit app.
From there, you will have to perform the following steps:
Tap on the tab labeled Today.
Tap the + icon that is located on the Water tile.
Enter the amount of water you drank.
Tap Save to save your data.
Can you set reminders on Fitbit Charge 3?
You can set or turn off reminders on your Fitbit Charge 3 at your will.
You will have to go to your Dashboard and click on the Charge 3.
From there, a new menu will open up, and you will then be able to add or change your alarms or change your reminders to move.
So, yes, you can customize your alarms to go off when you want to take a drink of water.
How do you set a Fitbit reminder using an app?
If you want to use an app to set reminders, you can download them for use on your iPhone or Android phone.
You will have to go into either the Apple App Store or Google Play Store to find the water logging app you want to try.
Once you have found the app you want to use, here are the steps you will need to take:
With your Fitbit watch placed close to your smartphone, go into the Fitbit app.
Once there, tap on the Today tab.
Next, tap on Gallery, then on the Apps tab.
Browse the available apps.
Tap Install.
Just bear in mind that certain apps require various permissions in order to function properly.
For example, it might require permission for access to your Internet connection or be able to run in the background on your phone.
How much water should I be drinking every day?
Ideally, you should be drinking about 15.5 cups (3.7 liters) of water a day if you are a man or about 11.5 cups (2.7 liters) per day if you are a woman.
If you are suffering from a more severe form of dehydration, your intake could be more than this.
You should consult with your doctor and let them know that you are attempting to track your water intake using your Fitbit.
Together, you can come up with a plan for how much you should be drinking and when you should be setting your reminders to go off.
Closing Thoughts
Getting enough water is extremely important, and there is no understating this fact.
The human body is composed of about 60% water, so we have to work hard to keep it replenished on a daily basis.
While Fitbit has yet to make an official water intake reminder, you can set up your own alerts using the tracker or an app you can sync from your paired smartphone.
There are plenty of apps out there that you can try, so give one or two of them a try and see if they help keep you on track with your water drinking habits.