Can Someone Track Me On My Apple Watch?
This post may contain affiliate links. As an Amazon affiliate, I earn from qualifying purchases.
In this day and age, we all have legitimate reasons to worry about being tracked through our devices.
Even law-abiding citizens feel as though we have cause for concern, as people with less-than-kind intentions can utilize technology to do bad things.
While tracking on devices is a bonus for parents of juveniles, this kind of technology does have its detriments.
There are ways to track other people using your Apple Watch – and for them to track you.
Can Someone Track Me On My Apple Watch?
It is possible for others to track you via your Apple Watch. This can be done if you have the Find People app installed on your watch. While it is normally restricted to the friends and family members you choose to add and follow, hackers can access your information and location through the app.
Ever heard of the Find People app? If so, you might be wondering "Can you spy on someone with Apple Watch?" This app lets you find the people in your life and share your location with them.
On the surface, this seems to be a handy app that can help you keep in touch with your closest friends and family.
But, for some, this might be a little too close for comfort.
This app gives you the ability to set notifications that will alert you when your friends or family members leave or arrive at certain locations.
And, yes, your friends and family can do the exact same thing for you on their Apple Watch (Series 3 or later), Apple Watch SE, iPhone, iPad, or iPod touch.
But hackers can also access this app, and that means they can get into your personal information and even find out where you are located.
So, before you use this app on your Apple Watch or any other device, you should weigh the pros and cons.
Can someone track you from your Apple Watch?
Your Apple Watch has some potential for tracking.
Should you set up Family Sharing, then being a member of the family group would enable the usage of the Find My iPhone app on other users' devices (or through iCloud.com if done from a web browser) to locate your devices.
Find People is an app that can be used with or without Family Sharing.
This app does allow people who have added each other to track one another's locations and update contacts on their comings and goings.
If, for example, one of your contacts is wearing an Apple Watch Series 5 (that has GPS + Cellular) with the built-in cellular feature enabled and just so happen to not have their iPhone on them, Apple will advise them that their location is going to be tracked via their Apple Watch.
What is the Find People app?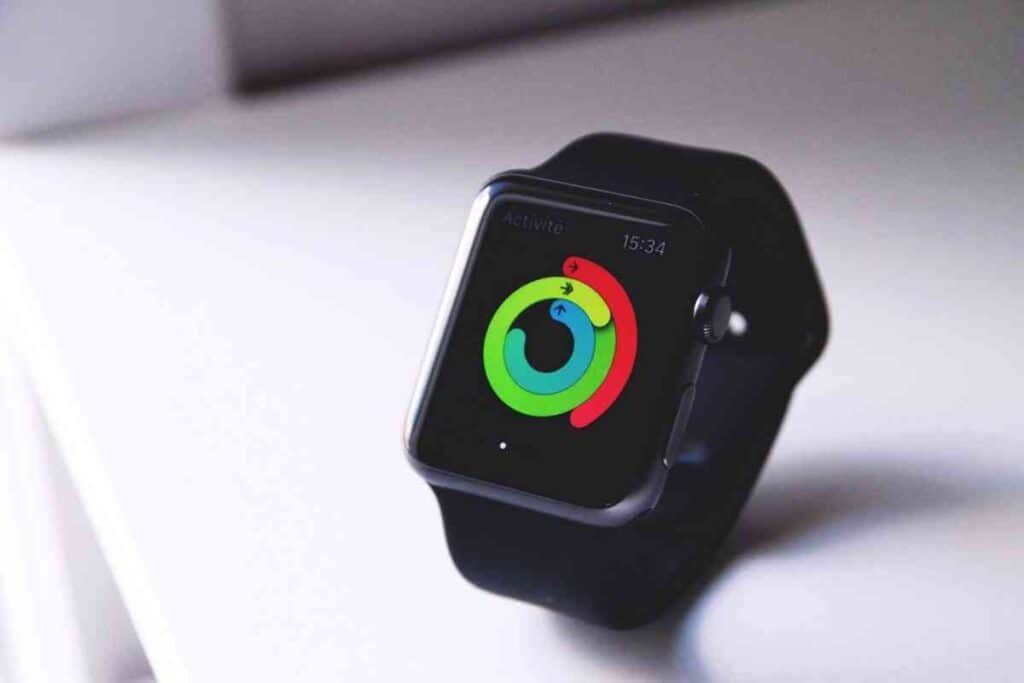 Find People is an app that can be used with an iPhone, iPad, iPod touch, Apple Watch SE, or Apple Watch Series 3 or later.
It allows you to see where your friends are and let them know where you are.
You can get alerts for where your contacts are located and let them know where you are leaving from or heading to.
These locations will appear on a map.
Location information is sent out only when someone requests to see it.
This means that it is not transmitted on a regular basis.
The features included on the Find People app also give you the ability to request a notification when one of your contacts leaves their current location.
Changing Your Privacy Settings
You can use privacy settings on your operating system to take more control over which apps are able to access the information that you have stored on your device.
Go to Settings > Privacy to see which apps are allowed access to certain information and to change the restrictions as you see fit.
Apps will be given default access to iCloud Drive when you sign in to iCloud.
You are able to view and manage apps that are allowed to use iCloud when you go to iCloud in your Settings.
Hackers and the Dangers of Using Find People
Find People can be a fun and helpful app when you are using it between friends and family – people whom you should be able to trust.
But there are obviously more unsavory characters in this world who aren't to be trusted.
Hackers can easily get past the safety protocols put in place by Apple if they know what they are doing.
As is the case with any app, your information is only safe to an extent.
Find People is an app that stores a fair amount of personal information for both you and your contacts.
Sure, you can turn off location sharing when you want to, but hackers can still access all the data you have stored in the app.
This is especially concerning for women and parents of children who do not want their location information getting put out there for strangers to find.
How safe is Find People to use on my Apple Watch?
Although Apple has taken some measures to keep its users safe, using apps like Find People with your Apple Watch can make you vulnerable.
No one should be tracking you unless you give them your consent.
Of course, as far as kids and teens are concerned, they might not be making the wisest decisions, which is why Apple encourages parental involvement in this regard.
In terms of functionality, this app isn't really that different from other location sharing services.
But it does let you use more age-appropriate controls (a bonus for parents) and enable temporary location sharing.
Closing Thoughts
You can be tracked on basically any smartphone or smartwatch that you decide to carry around with you.
Apps like Find People allow you to track others and have them track you – with consent given.
Of course, you will still need to be wary of hackers and do everything you can to keep your information secure.