Do PowerBeats Pro Work With Apple Watch?
This post may contain affiliate links. As an Amazon affiliate, I earn from qualifying purchases.
Apple Watch has integrated storage and comes in cellular variations to allow Apple Watch users to make calls, quickly use simple apps, and listen to music, audiobooks, or podcasts without carrying around your iPhone.
To make it even easier, Apple made sure to install Bluetooth in the Apple Watch so you can use almost any wireless headphones or earbuds that you want.
The most popular choice to pair with an Apple Watch is AirPods.
If you make use of your iPhone, your device connections should be easily transferred to your Apple Watch. If not, you can go to the settings on your Apple Watch and add your Bluetooth device manually.
Do PowerBeats Pro Work With Apple Watch?
Just like AirPods, PowerBeats Pro and Beats are Bluetooth headphones and Apple products. They will absolutely pair with your Apple Watch. If you have previously paired your PowerBeats Pro to your iPhone and Apple Watch at the same time, your Apple Watch should sync all connections.
You can either use the settings menu on your Apple Watch to connect to your PowerBeats or the AirPlay options on your iPhone.
If you don't have Apple-branded Bluetooth headphones or earbuds like AirPods, Beats, Beats Pro, PowerBeats, and PowerBeats Pro, you should be able to pair other brands to your Apple Watch just as easily.
Your watch may have difficulty accurately displaying the battery percentage of third-party headphones or earbuds.
This won't affect your headphones/earbuds' performance or battery life.
You just may not be able to easily check on your watch.
Will Beats Work with Apple Watch?
Beats will definitely pair and work with your Apple Watch.
The Apple Watch supports Bluetooth connectivity and almost every Bluetooth headphone or earbuds.
Beats are among multiple quality headphones that are Bluetooth and owned by Apple.
As this makes them Apple-branded devices, they will pair and function perfectly.
Other headphones and earbuds under the Apple brand are:
AirPods
AirPods Pro
AirPods Max
Beats
Beats Pro
Beats Fit Pro
Beats Studio Buds
Beats Studio 3
Beats Solo3
These headphones and earbuds all have full functionality with the Apple Watch just like Beats or AirPods.
You can confidently pair any one of these audio devices for your next walk around the neighborhood or workout session.
While I have stated that some non-Apple branded Bluetooth headphones may not pair with the Apple Watch, I am unaware of any devices that have been reported as non-working.
I am confident that any Bluetooth audio device will work with the Apple Watch, but I don't want to make promises that I'm not 100% confident in.
A good way to make sure Bluetooth earbuds or headphones you purchase will work with your Apple Watch is to look for the Apple compatible symbol.
Almost everything that can pair with the iPhone should be able to pair with the Apple Watch.
Keep in mind that the Apple Watch can only make use of specific types of Bluetooth devices.
It was intended to allow Apple Watch wearers to connect Bluetooth earbuds or headphones to listen to music, audiobooks, or podcasts on the go without needing to carry around an iPhone.
While the iPhone is already lightweight, the Apple Watch is much better for physical activities and workouts.
Why Won't My PowerBeats Pro Connect to My Apple Watch?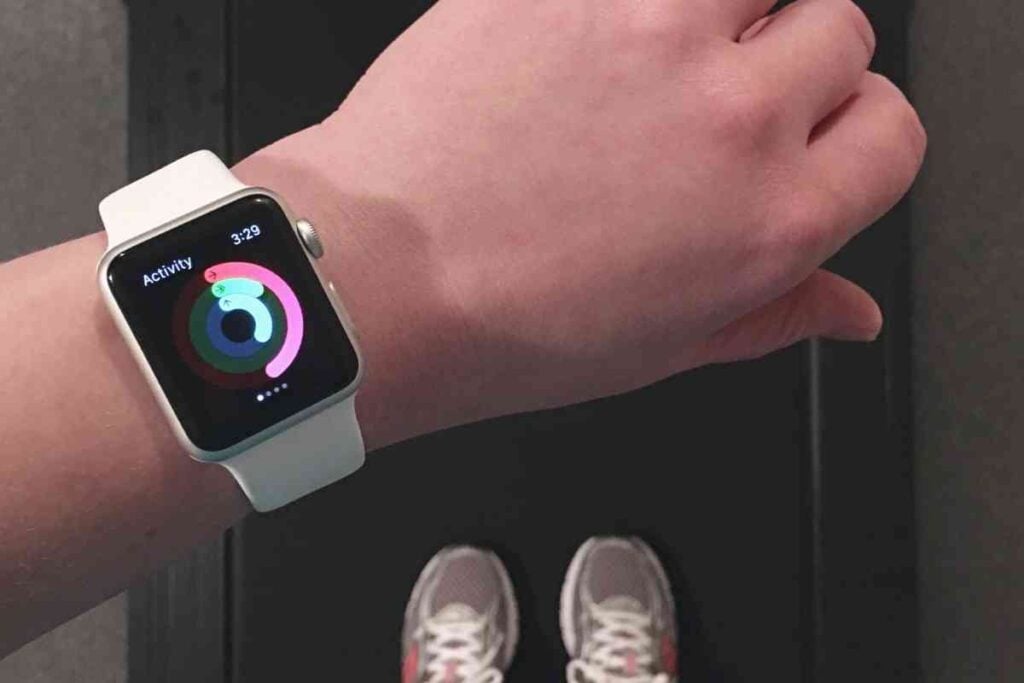 There are only a few reasons you could be having trouble connecting your PowerBeats Pro to your Apple Watch.
First, check to make sure your PowerBeats are not paired to another device.
PowerBeats can only be paired to a single device at a time.
If you have "disconnected" the PowerBeats from your iPhone and are still having trouble connecting to your Apple Watch, it may be because your PowerBeats are still attempting to connect to your iPhone at the same time.
This can cause your headphones to be unable to connect to either device.
You may need to "forget" your headphones on your iPhone.
Then, restart your Apple Watch before you attempt to connect to it again.
If you are unable to connect your PowerBeats Pro to your Apple Watch and your iPhone, make sure they are turned on and the battery is charged.
There is an LED indicator on your PowerBeats Pro that will tell you if your headphones are on and what they are doing.
If the LED is on and flashing between red and white, your PowerBeats are in pairing mode and are ready to be connected to your Apple Watch.
These troubleshooting tips can also be used when having difficulty pairing your PowerBeats Pro to other Bluetooth devices such as an Android device, iMac, Windows computer, or iPad.
The differences will be within the settings of the device you are connecting to.
Why Won't My Beats Connect to My Apple Watch?
Beats are incredibly similar to PowerBeats Pro.
The differences come down to the audio drivers and the physical form of the earbuds.
If you are having trouble connecting your Beats, you will follow the same troubleshooting steps that you would for connecting PowerBeats Pro.
Always start by making sure your Beats are not paired with a device and are in pairing mode.
To do this, check the Bluetooth connections on the last device you paired with.
Find the Bluetooth name of your Beats. Make sure it shows that the device is not paired.
It may be beneficial to go ahead and click the "forget device" option.
This will prevent the previous device from trying to pair with your Beats when you try to connect them to your Apple Watch.
Once you are confident that no device is paired with your Beats, you can put your Beats into pairing mode.
Then go to your Apple Watch Bluetooth settings and try pairing them once again.
If you are still having difficulty pairing, power down your Beats and remove any pairing information on your Apple Watch if there is any.
Make sure your Beats are fully charged.
Power the Beats back on and see if it shows up as an available device on either your iPhone or Apple Watch.
If it appears on one device but not the other, you may have a software issue with your earbuds.
This is a rare problem and should be handled by Apple Support.
How Do I Connect My PowerBeats to My Apple Watch?
If you are unsure how to pair Bluetooth devices to your Apple Watch, I will provide a quick tutorial here.
If you have already paired your PowerBeats to another device previously, go ahead and clear out any memory of this from the device.
On iPhone, iPad, iPod, or the Apple Watch:
Go to Settings
Tap Bluetooth
Find your PowerBeats Bluetooth signal. Tap it.
Tap "Forget Device".
On Windows:
Go to your Bluetooth settings either from the settings window or by clicking on the Bluetooth icon on the taskbar.
In the known devices list, find your PowerBeats. Make sure they are disconnected.
Click on "Remove Device". This will delete the Bluetooth profile.
On Android:
Swipe down from the top. Hold the Bluetooth quick toggle button for three seconds. This should open your Bluetooth settings. If not, you can still get there through the settings icon and then tapping on Bluetooth.
Find your PowerBeats on the paired devices list.
Disconnect if your PowerBeats are paired.
Tap on "Forget Device".
Now that we are sure there are no previous connections interrupting the new one, make sure your PowerBeats are fully charged.
Now all you have to do is power them on.
Since they are not paired with a device, they should automatically enter into pairing mode.
If you do not see the LED indicator flashing white, hold the button on the left earbud for about five seconds.
This should switch your PowerBeats Pro into pairing mode.
On your Apple Watch, go to the Settings app. Then tap on Bluetooth.
This should open a list of available Bluetooth devices to connect to.
Your Apple Watch can only make use of certain types of Bluetooth devices like earbuds, headphones, and speakers.
Find your PowerBeats Pro Bluetooth signal on the list of available devices.
Tap on it.
Your PowerBeats Pro should now be paired with your Apple Watch.