Can The PS5 Play PS4 Games?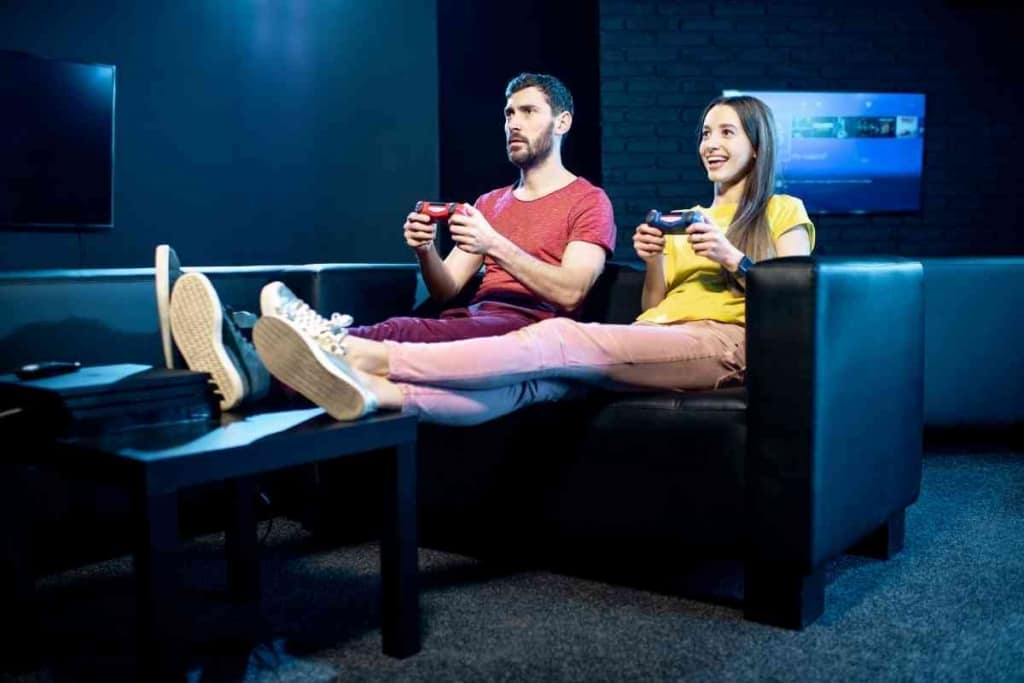 Backward compatibility is something most of us consider when buying a new video game console.
You spent hundreds of dollars on games for your PS4, logged hours upon hours of gameplay, and do not want to lose all of your progress just because you are upgrading to the PS5.
Can PS5 Play PS4 Games? (Solved!)
The PS5 is able to play the vast majority of PS4 games. The standard PS5 can play PS4 discs or downloads, and the PS5 Digital Edition can play PS4 downloads. Also, your PS4 external hard drive will work on the PS5.
Now, there are some caveats to this, which Sony explains here.
Are there bound to be errors in these games when played on the PS5? Yeah, sure, it is a possibility.
Games like Batman: Return to Arkham – Arkham City and Left Alive showed errors right out of the gate when played on PS5.
There might also be some PS4-based functions that cannot be done on the PS5.
You can also play PS VR games on the PS5, given that you have all of the proper equipment.
You just won't be able to play your old PS, PS2, or PS3 games on the PS5.
Unfortunately, backward compatibility on the PS5 only extends to VR and PS4.
How to Download PS4 Games From Your PS5 Game Library
The simplest and most efficient way to download your old PS4 faves onto your PS5 is to go into the Game Library located on your Home screen, all the way to the right.
Click on it, and this will show you all the games you played on the PS4 and will let you re-download any game you want.
Heck, you can even filter these games based on the platform.
Playing PS4 Discs In The PS5
Of course, if you still have a lot of your PS4 discs, you can just pop them into your standard edition PS5 and play them.
The console will need to install the games as well as any updates that they need.
Also, you will need to use your PS4 Dual Shock controller to play your PS4 games, digital download or disc.
Your PS4 games should run just as they did on the PS5, possibly even better given the PS5's enhanced specs.
Use Your External Hard Drive
Got a bunch of PS4 games saved on an external hard drive? Great! Just unplug it from your PS4 and pop it onto your PS5.
It does not need to reformat or convert anything, so you can just plug the external hard drive in and start playing your favorite PS4 games you have saved on the drive.
Using PS4 to PS5 Wi-Fi Transfer To Copy Everything
If you have a ridiculous amount of PS4 games , you can avoid the hassle of re-downloading all of them and simply streamline your PS4 gameplay on the PS5.
How do you accomplish this? It's simple – do a Wi-Fi transfer!
A Wi-Fi transfer will copy your PS4's internally stored PS4 games directly onto your PS5.
Here is how you can accomplish this:
Make sure that both your PS4 and PS5 are plugged in and turned on. You will also need to be connected to Wi-Fi on both consoles. A LAN connection can be used to link the two consoles if they are put right next to each other.
Go into your Settings.
Go to System.
Go into System Software.
Click on Data Transfer.
Either click Select All to transfer all your saved games or click on the individual games that you wish to transfer.
Follow all of the on-screen prompts that pop up, and you should be good to go.
How To Download PS4 Saves Onto Your PS5
You can download PS4 saves on PS5 via the Cloud or USB.
To use Cloud to download your saves, you will need to:
Go into Settings.
Select Saved Data and Game/App Settings.
Click on Saved Data (PS4).
Go to Cloud Storage.
Click Download to Console Storage.
If you're going to download PS4 via USB, you will need to:
Go into your system's Settings on the PS4.
Go to Application Saved Data Management.
Click on Saved Data in System Storage.
Go to Copy to USB Storage Device.
Choose the games that you wish to copy.
Plug the USB into the PS5.
Go into your PS5's Settings.
Go to Saved Data and Game/App Settings.
Go to Saved Data (PS4).
Click on USB Drive.
Click on Copy to Console Storage. Hit Select All to move the PS4 games onto your PS5.
Using Your PS4 Controller On The PS5
Bear in mind that, when you play a PS4 game on the PS5, you will need to plug in and use your PS4 controller.
You should be able to use most of the same functions as you would on the PS4 console.
Playing PSVR On The PS5
Your first-generation PSVR headset is compatible with the PS5.
You can select any of your existing PSVR games to play on the PS5, but you cannot utilize the new PS5 HD Camera with your PSVR headset.
Instead, you will have to get a PlayStation Camera adapter so that you can connect the PSVR headset to this next-gen console.
Sony will let you apply for one since every PSVR owner is entitled to one.
Take note that Sony will be releasing the PSVR2 sometime in 2022. This headset will be tailored to the PS5.
Closing Thoughts
The PS5 has backward compatibility with the PS4 and PSVR, but it doesn't go back any farther than that.
You can use a few different methods for getting your PS4 games onto the new PS5, and they are all relatively simple and streamlined.
With the improved performance of the PS5, your PS4 games should ideally play better than ever.