Can You Charge A PS4 Controller With A Phone Charger?
Before you start any gaming session, you want to have your PS4 controller fully charged and ready to go, but can you do it with a phone charger?
Wireless controllers have made gaming so much more practical and efficient, but a common issue with them is that they need to be charged constantly. Whether your original cable got damaged/lost or if you are simply tired of having to connect your controller to your PS4 every time you need to charge it, you may find that your phone charger is the answer to your problems.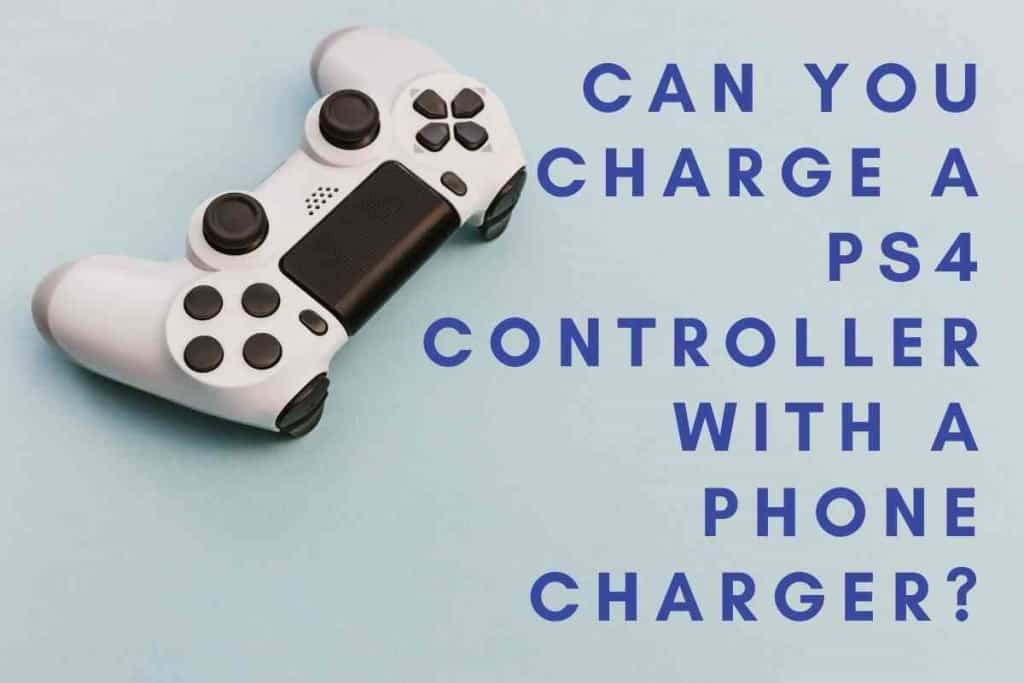 Table of Contents
Why Is My Phone Charger Hot? 
You can charge a PS4 controller with a phone charger, provided that the cable is a Micro USB, which is commonly used with a lot of smartphones. However, you must ensure that the phone charger you use is rated 800ma to prevent your controller from burning out.
The PS4 is widely considered to be one of the best consoles ever made and it features very impressive features such as its wireless controller. Sony has gotten rid of the need for having cables lying around on your floor with the PS4, which has made gaming much more convenient for a lot of players. However, the wireless capabilities of the PS4's DualShock controller imply that you need to keep juice in its battery if you don't want to cut your gaming session short. A lot of people tend to either lose or damage their original PS4 charging cables – especially after years of use, which results in them needing to either buy a new one or use an alternative method for charging.
The logical way to approach this is to use a cable that you probably already have around the house such as the one for your phone.
Just make sure that the phone charger you use is not designed for fast charging, as this can damage your PS4 controller.
How Do I Charge my PS4 Controller With my Phone?
If you need a way to charge your PS4 controller and are missing the original cable that came with the console, you will find that your phone charger is probably going to be your best friend.
Sony conveniently designed the PS4 controller to be adaptive to common charging cables like the ones we use for our smartphones.
With that being said, you need to have the right cable, as not all phone chargers are made equal. This is particularly problematic for some gamers these days, as USB-C has become the standard for modern smartphones and devices.
In order to charge your PS4 controller with your phone charger, you need a Micro USB cable. This is the standard cable for all previous generation smartphones and they are still very commonly used to this day, as the full transition to USB-C is still ongoing.
To charge your PS4 controller, simply plug your Micro USB cable into your console and connect it to the controller while it is powered on.
However, you need to ensure that the phone charger that you use is not designed for fast charging.
There have been issues with PS4 controllers burning out when they are connected to fast charging phone chargers. These deliver too much juice to the controller too quickly which results in complications with the hardware.
The phone charger that you use should be rated for 800ma, as Sony has designed the PS4 controllers to charge optimally with this kind of power output. This will deliver just the right amount of juice to your PS4 controller to have it charge optimally and safely – with most charge times taking about 2 hours.
Can You Charge PS4 Controller With an iPhone Charger?
No, you cannot charge your PS4 controller with an iPhone charger. Apple is notorious for creating custom sizes and fittings for all of its devices, including their phone chargers – meaning that all iPhone chargers will be incompatible with PS4 controllers.
The only phone chargers that work with PS4 controllers are Micro USB cables, which are not used on iPhones
This can be quite frustrating for Apple users, given that they will probably need to buy a charger that will not be useful for their phone.
Is There Any Other Way to Charge a PS4 Controller?
If you need to get creative with how you charge your PS4 controller, there are a number of different ways that you can achieve this. One flaw of the PS4 is that you cannot charge your controller while connected to the console if it is switched off.
This means that gamers often have to charge their PS4 controllers while playing, which kind of defeats the purpose of having a wireless controller. If you want to charge your PS4 controller without the console, try using one of the following methods.
Outlet
A common misconception is that you cannot charge your PS4 using a standard wall charger or outlet. You absolutely can and this gives you the ability to safely charge your PS4 controller without your console.
This is a very useful approach for charging your controller as it enables you to give it juice while the console is off and you are not playing.
In addition, a lot of gamers prefer to use an outlet for their controllers because it can be more convenient to keep playing while charging – opposed to plugging it into their PS4. This is especially the case if you have an outlet closer to you than your console.
What you want to be careful of when using your outlet is that the voltage is correct for the controller and that the charger you are using is rated at 800ma. Whether it is your phone charger connected to the outlet or another cable, make sure that you are not overheating and burning out your controller.
Power Bank
These days, everyone has got a power bank handy. Although most people use these to charge their smartphones and other devices, you will be delighted to know that they are perfectly capable of charging your PS4 controller.
Power banks are an excellent accessory to have laying around the house as they are all designed to be compatible with USB charging cables, which is exactly what you need to give your PS4 controller juice. To charge your PS4 controller with a power bank, all you need is a Micro USB cable connected to both the power bank and the controller at the same time.
Much like with every other approach, ensure that the charging cable you are using is not made for fast charging to avoid issues with your controller. Some high-end power banks have been designed for fast charging capabilities, which makes a lot of gamers question whether this is a safe approach.
Although the power bank may have this feature, it does not mean that it will cause any damage to your PS4 controller so long as you do not connect a fast charging cable to it. This is actually one of the best ways to charge your PS4 controller given that you can do so while playing without the cable needing to be dragged across the room.
Laptop & PC
If you are running out of options to charge your PS4 controller, a solid last resort is to use either your laptop or PC. Both of these should have ample USB ports that you can plug into, which you can then use to connect your PS4 controller to your laptop or PC. 
This is a great approach for charging your PS4 controller when you are not playing, but it can be a bit of a nuisance to do while you are gaming. As always, just make sure that you are connecting at a Micro USB charger rated at 800ma to prevent damage to the PS4 controller.