Can You Use Apple Music Without A SIM Card?
This post may contain affiliate links. As an Amazon affiliate, I earn from qualifying purchases.
Having an iPhone for Apple Music is a totally different experience as opposed to other types of smartphones that play music.
Some phones have SIM cards these days while others don't. So the question is, can you use Apple Music without a SIM card?
Can You Use Apple Music Without A SIM Card?
You can use Apple Music without a SIM card. In fact, you are able to do a lot more than that without needing a SIM card such as texting and making calls. As you will see, there are many different functions that can be performed with your iPhone without the need of a SIM card.
With SIM cards, they are placed in your iPhone to save a multitude of important data that identifies you such as billing information and phone number, the model of iPhone, and the carrier that you use.
Known as the Subscriber Identity Module, the SIM is removable and can be used for more than one phone.
This allows for simple transfers of a phone´s service into a newer phone that you wish to have.
You just swap and go.
Being able to swap your SIM makes them great to use in a phone as you travel outside of the country.
This is because many countries also utilize the SIM card that allows making calls.
So all you have to do is have a new SIM placed inside and you are all set.
This way will save you a ton of money on the need for international phone plans.
Although removable SIMs exist for many cellular phones, not all of them can be taken out.
Types of SIMs iPhone Uses
As we mentioned, iPhone utilizes SIM cards for every model. For each model, there are three different types of SIM cards available.
Regular SIM – This is known as the original and is a large card that contains a smaller part that holds the data and is inserted into the iPhone for data use.
The micro-SIM – The micro-SIM first appeared in the iPhone 4 before any other smartphone. This SIM is considerably a lot smaller than the normal SIM that is used.
The nano-SIM – The nano hit the market with the iPhone 5 and is over 10% smaller in size than what the micro is.
The eSIM – With the eSIM, the iPhone has it built into it and becomes programmed for a variety of purposes such as enabling a phone to have multi-lines or more than one carrier. It made its appearance with the iPhone XR and the iPhone XS.
Reasons to go SIM-less in your iPhone
You may come across many reasons to not have a SIM card used. Below are a few of the most common reasons why a SIM card is not used.
The iPhone is not Reading the SIM
An example of this is if your SIM card reaser has gotten damaged or simply worn out.
Having the SIM reader replaced can cost a pretty penny and it may not seem like an easy choice to spend on if you have plans for a new iPhone model.
This is even if you have warranty remaining on it.
You could easily spend %350 to have it replaced.
Your iPhone is an Extra
Many times, your iPhone will be just an extra you have.
This will be the case if you have had every iPhone model from the start.
When you have extras available, they will certainly be useful to have when needed.
Regardless, because of it being a backup, you will not be able to obtain a plan in order to utilize the SIM.
How To Use Your iPhone with no SIM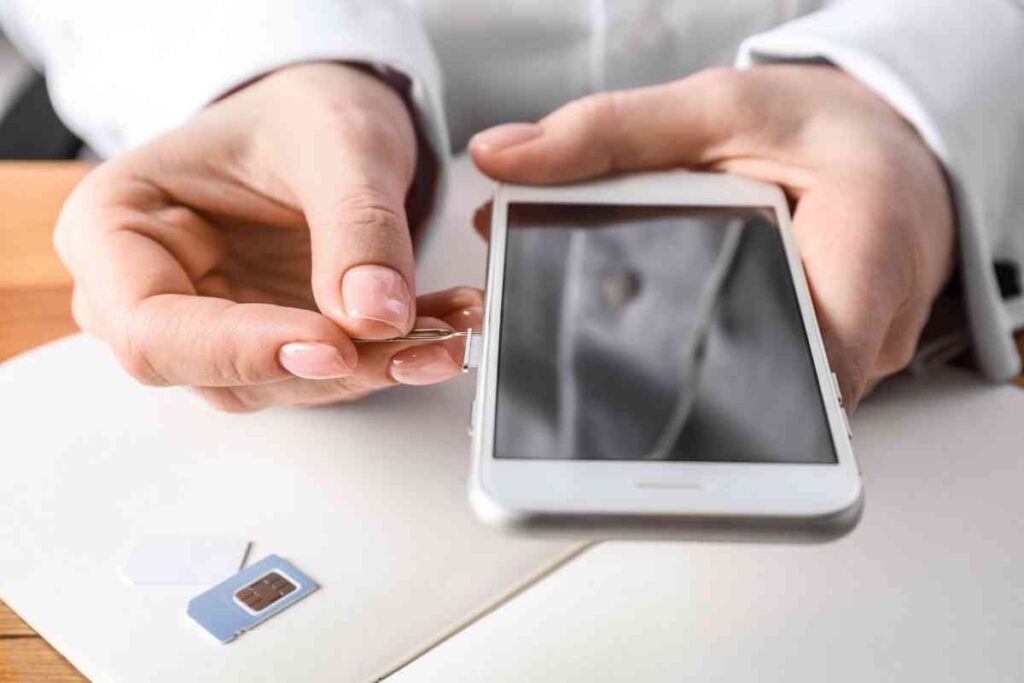 You will love the fact that your iPhone can still be used without the SIM and provide you with an iPhone that is fully functioning. It will still be able to provide you with features such as games, downloading, and listening to Apple Music.
Below are the best ways to use your iPhone without worrying about a SIM.
Implement it as an iPod for Apple Music
When you have no SIM, your iPhone can simply be used to listen to music similar to an iPod touch.
If you are familiar with the iPod, then you will see that it is very similar in appearance to an iPhone.
This is true because an iPod is simply an iPhone that has no SIM but only hardware that is specific for its use.
For the purpose of Apple Music, your iPhone will be exactly how it would be for playing the music.
You are able to download and transfer your favorite songs via the app or directly through the streaming provider.
You will also get plenty of space that will allow you to listen to many hours of music.
Call and Text as You Normally Would
You will love that calling and texting are not governed by the need for a SIM card due to the implementation of apps specifically for phone numbers.
Using these apps allows the user to have multiple phone numbers, which are good for both home and work life.
The majority of phone number apps today allow the user to make calls in many countries and without the need for a SIM.
However, when you use a phone number app on your iPhone, it will require WiFi to place calls.
You can also obtain an E-SIM, which has now been recognized by Apple.
WiFi Keeps your iPhone Connected
You will love that your phone can be used for what you need as long as a reliable WiFi connection is obtained.
Having WiFi will allow you to enjoy apps, download music, and browse to your heart´s content.
This is because having internet access is not distinguishable by data or WiFi.
With that, your internet at home should provide you with a faster speed than data.
When it comes down to it, no one wants an iPhone that is unable to make and receive calls or texts and have an internet connection.
Having children who are always on their phones browsing the web is one good example of this.
You can easily control their use and make their phone internet-only.
Outside of the home, your teens and toddlers can implement the games and music so that they will stay occupied and safe without worrying about who they are talking to whether they called or they received a call.