How Many Controllers Come With A PS5? (Answered!)
You are about to place your order for a new PlayStation 5, and you are super stoked to get your console.
You plan on gaming with at least one friend on a regular basis, so you know you will definitely need at least two controllers, if not more.
That might lead you to wonder just how many controllers you will be getting with your PS5 and whether you will need to buy an extra one for when friends come over.
Buying another PS5 Dual Sense controller might not be within your budget.
After all, these controllers are fairly expensive and will just add to an already pricy splurge.
You might be thinking about looking into compatible yet more budget-friendly controllers that you can buy and add to your controller squadron.
Or, if you already have some PS4 controllers sitting around, you might be considering holding onto those and using them with the PS5 – but are they compatible?
Back in the day, many consoles used to come with two controllers – one for you, one for your gaming companion.
This was standard even on the older Nintendo systems.
The original PlayStation even came with two analog controllers.
I cannot tell you how many of them my brother and I burned through in our gaming escapades, but boy was I sure glad there were two controllers – and a replacement could be purchased easily enough.
Companies seem to be getting stingier as time goes on though.
As it stands today, most consoles come with just one controller.
Is the PS5 one of those consoles? Time to find out.
How Many Controllers Come With a PS5? (Answered!)
The PlayStation 5 comes with just one Dual Sense controller. If you want to plug a second one in, you can, but you will either have to buy an extra one or get a PS5 bundle package that includes an extra controller. There are plenty of compatible, more affordable controllers out there that you could purchase if you don't have a PS4 controller to use as your secondary.
How much does just a PS5 Dual Sense controller cost?
What else gets included with the PS5? How can you set up a PS4 controller with your PS5?
Are there any controllers out there that have a more sporty feel to them?
Read on to learn more about controllers for the PS5.
How much does a PS5 controller cost?
A PS5 controller all by itself will set you back about $70-80.
They are all wireless by design, but there are some pro versions with custom designs that literally double the price of the standard Dual Sense controller.
You can go the cheaper route with customizations and just get an anti-slip sticker surface to decorate your controller.
These typically cost $10 or less.
Do you get 2 controllers with PS5?
Unfortunately, you only get a single Dual Sense controller with the PlayStation 5.
If you want to add a secondary controller to your setup, you will need to spend extra money to get one.
You might want to look into buying a PS5 bundle that comes with a second controller if you know it will be logging some frequent flier miles.
There are plenty of options on the market aside from the actual Sony controllers, and you can still customize those too.
What comes included with the PS5?
Here is what you get with the standard PS5 package:
Aside from your one Dual Sense controller, you also get the Dual Sense charging station to keep your controllers charged up and ready to play.
You can charge up to two controllers simultaneously without having to physically connect them to your console.
You also get the PULSE 3D wireless headset, which is fine-tuned for 3D Audio on your PS5.
Complete with dual noise-canceling microphones and a USB-C type charging cable, these headphones offer clear-sounding voice capture to help enhance your gaming immersion.
The media remote that comes included lets you control your streaming, movies, and more.
Individual buttons let you access Disney+, Netflix, Spotify, and YouTube.
A full-capture HD camera is thrown into the mix as well, allowing you to capture your broadcasts and gameplay with clarity.
You can also enjoy PS VR games by using the camera adaptor to connect the PlayStation VR to your PS5 console.
Now, if you want to spice things up a bit and can swing the additional cost, you could opt for a PS5 bundle.
There is a standard bundle that will give you one more controller (as will any bundle you select).
You can get the Spider-Man: Miles Morales bundle, a five-game Marvel bundle, or an Assassin's Creed Valhalla bundle, among the many that exist.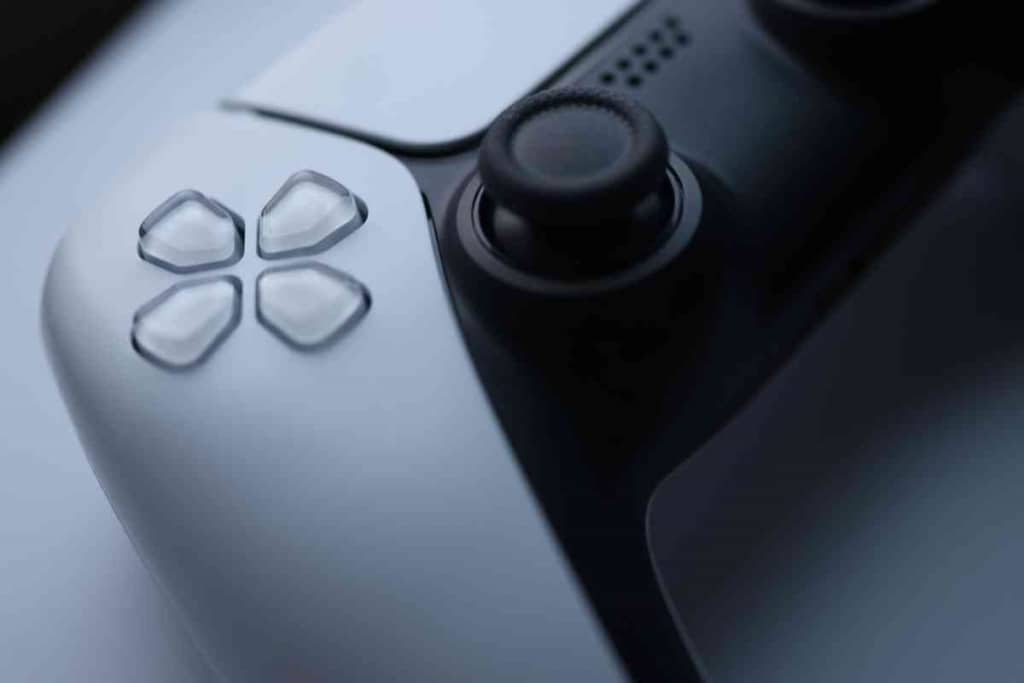 Can you use a PS4 controller with the PS5?
If you are playing a PS4 game on the PS5, you can hook up a PS4 controller to use with it.
But you cannot use a PS4 controller with a PS5 game.
You can only use the Dual Sense controller (or a compatible alternative) to play PS5 games.
If you want to connect your PS4 controller, here's how you do it:
Plug the USB portion of the MicroUSB cable into your PlayStation 5.
Plug the MicroUSB into your PS4 controller.
Press and hold down on your controller's PlayStation button for about 5 seconds, which is when the status light should start flashing.
Once it is connected, the PlayStation console will ask you to choose which player gets to use this controller.
You will be able to remove the USB cable and begin using the PS4 controller on your PS5 for your PS4 games.
Are there more affordable PS5 controllers out there to buy?
There are more budget friendly PS5 controllers on the market that you can use with your PS5.
Major retailers like Amazon and Wal-Mart carry them, and they could be as much as half the price of a Sony controller.
Quite a few of them are made for competitive gaming.
Which controller for the PS5 has the most competitive edge?
The Dual Sense controller works quite well, especially for casual gamers.
But if you want something that can give you more of a competitive edge, I recommend checking out the array of controllers from Scuffs.
Their Reflex line of controllers have a sportier feel with advance haptics and a comfy grip.
Closing Thoughts
You will only get one Dual Sense controller with your PS5 unless you buy a PS5 bundle.
Otherwise, plan on investing in at least one more controller.
Even if it is just you gaming, you will want that backup for when your main controller's battery dies and needs to be recharged.
Look into some of the alternative controllers and see if you find one that suits your gaming needs.