How To Block No Caller ID On iPhone
This post may contain affiliate links. As an Amazon affiliate, I earn from qualifying purchases.
We have all experienced the unwanted calls that makeup what we have affectionately termed spam. 
Whether it's an unwanted sales call, or someone calling with the pretense of being the IRS and coming for you, they are equally annoying and potentially dangerous.
Some of these come from unknown numbers or those without a caller ID, making you wonder if there is a way to block these on your iPhone?
How To Block Calls With Unknown Numbersor No Caller ID On iPhone
There isn't a single, simple way to block unknown numbers or numbers without caller ID natively on an iPhone using their software. It is possible to do this by blocking individual contacts or by using the Do Not Disturb function. There are also many third-party applications available to provide this service.
Continue on to find out how to implement these tactics and avoid nuisance calls.
One of the most difficult spam calls to block is those with no caller ID. 
Fortunately, there is a method for blocking these calls, though it takes a few steps.
When a call comes into your iPhone without a caller ID, it recognizes it the same as if it was coming from the number 000-000-0000.
So start by creating a contact with this as the phone number in the contact.
Put Unknown Caller for the name in the contact.
In the phone app, tap on contacts at the bottom of the screen, then search for the contact you just created.
Once you find it, tap the contact to open it, then scroll down and tap Block this Caller.
The problem with this approach is that it will only block those calls coming in without any caller ID at all.
What about those that come in from spoof numbers, or unusual numbers with the wrong number of digits?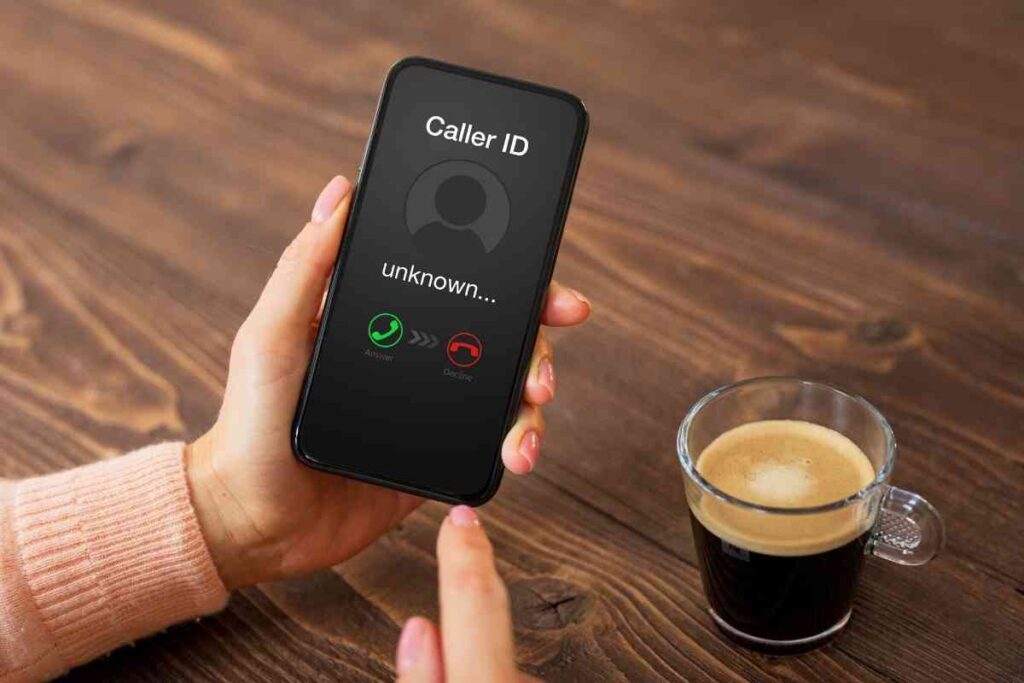 Using Do Not Disturb
A broader way to block unwanted numbers from your iPhone is using the Do Not Disturb, or DND, function.
This allows you to block calls and texts while the DND function is activated.
Setting Up Do Not Disturb
While this function was originally intended to help reduce distracted driving, it also works well for dealing with spam calls and texts.
To use it for this purpose, you'll want to go into Setting > Do Not Disturb.
Then you'll want to scroll down to the Allow Calls From option, and select All Contacts.
At the top, you'll be able to activate the function.
You can also activate the function by pulling down the Control Center from the top-right corner.
You'll tap the crescent moon icon.
Do Not Disturb Limitations
Using Do Not Disturb does have limitations to consider.
First, this does not actually block the calls and texts.
Rather, it merely prevents them from sounding alerts on your phone, which can still be handy.
Unfortunately, that does mean you'll still have to deal with the voicemails and texts eventually.
Additionally, this method prevents calls from people you may actually want to receive, but may not be in your contacts.
This could be doctors, service providers, or people from networking events, just to name a few.
If you want to block the unwanted calls, but still receive other calls, there is a more dynamic third option to consider.
Call Blocking Apps
A number of apps have cropped up to help block spam calls and texts.
Most cellular service providers offer some kind of service, as well as some third-party apps that are also good.
The key to any of these apps is the database they keep to help block unwanted calls.
Here are some that cellular providers provide, and others you may want to consider.
Keep in mind that pricing may change as service providers change their offerings.
There are two different levels of service provided with this app.
The basic level is included with every plan offered by AT&T.
This includes your spam and fraud call blocking, nuisance call alerts, unknown call blocking, and a personal block list.
There is also a Plus service option, which is offered at an additional fee, currently $3.99/month, which also includes the AT&T Mobile Security Plus.
The Call Protect Plus adds caller ID, reverse number lookup, and nuisance call controls.
T-Mobile
T-Mobile offers an app called Scam Shield, which is free for subscribers. This helps identify potentially fraudulent calls as they come into your iPhone. There is a premium version of the app available for $4/month, which includes the ability to create a custom list based on the calls that come into your phone. Yes, Spring customers also have access to the T-Mobil Scam Shield as long as you've updated your SIM card.
Call Filter is the app available for Verizon subscribers.
This also has a basic option, which is included with your plan and provides spam detection, a spam filter, a spam & blocked call log, and the ability to report spam.
You can also opt for the Call Filter Plus for $2.99/month for a single line, or $7.99/month for three or more lines.
This adds the ability to do a reverse lookup and have a personal block list.
Robo Shield
Robo Shield is the most widely used third-party spam blocking app.
The current cost is $2.99/month and includes a database of over 16 million suspicious numbers, reverse lookup, and the ability to customize your protection with custom blocklists.
Truecaller
If you're searching for an option that's free to use, then Truecaller is a must-try, being one of the most widely used free call blocking apps on the market.
The free version features caller ID and spam blocking.
Opt for the premium version for $4.49/month, and you'll remove the ads and add the ability to record calls.
RoboKiller
If you've ever wanted to have some fun with the spam callers like you see on some online videos, then RoboKiller is the app to try.
Not only does it effectively identify and block spam calls, including no caller ID calls, but it also sends those calls to a machine answer.
While it's answering those calls, it records the event, so you can play it back and enjoy listening to telemarketers squirm.
If you get a good one, you can always share it with friends or post it online for all to enjoy.
It's yours to enjoy for only $24.99/year.
Hiya
Get directly to the database that both AT&T and T-Mobile use with the Hiya app.
This app blocks robocalls, debt collectors, and even neighborhood spoofing.
This runs $3.99/month or $24.99/year.
Malwarebytes Mobile Security
If you want great call blocking but are also concerned about overall cellular security, then Malwarebytes fits the bill.
The primary use of this app is its internet security, blocking malicious sites and ads.
It also has a quality call blocking app, including phishing and calls from suspicious and unknown numbers.