How To Cancel An Xbox Live Subscription: Step-By-Step
This post may contain affiliate links. As an Amazon affiliate, I earn from qualifying purchases.
If you don't have much time to play video games, you might want to know how to cancel your subscription to Xbox Live Gold. Though I enjoy playing video games very much, there are times when I need to work more or have other obligations that keep me from gaming. When I do have time to game, there are occasions where I'm just not into Xbox games that much.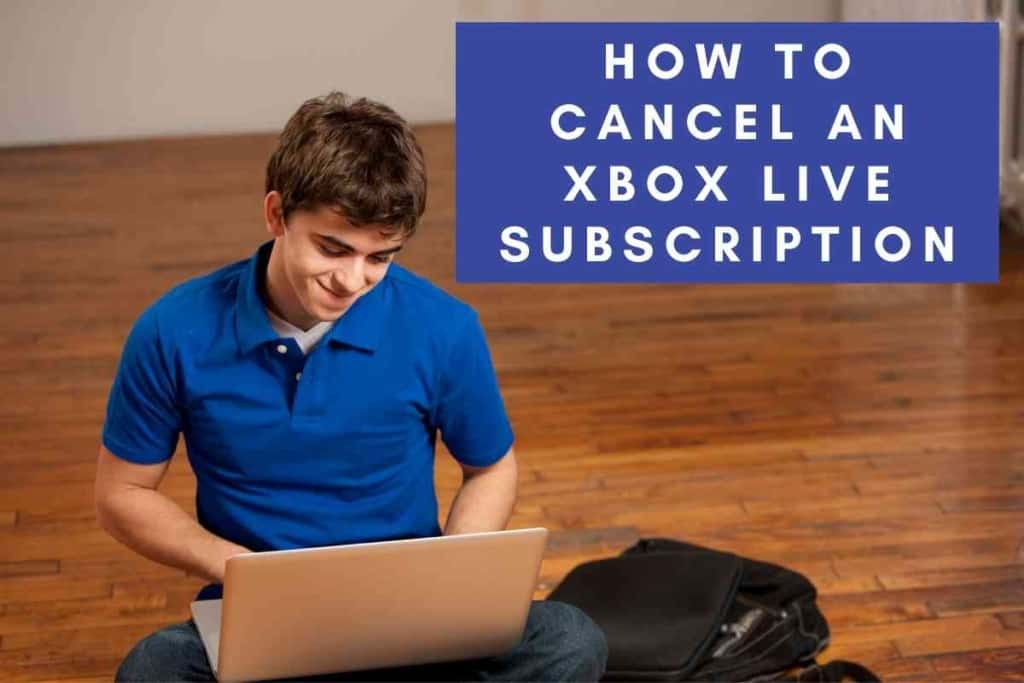 Table of Contents
How do you cancel an Xbox Live Gold Subscription?
Xbox makes it easy for you to cancel your Xbox Live Gold subscription. You can cancel your subscription online through the Xbox console or a web browser. You just need to log in to your Microsoft account and follow a few quick and easy steps.
It can be bittersweet canceling a service that I can both enjoy immensely and also waste money on. Thanks to the flexibility of the Xbox Live Gold service, we don't have to commit to huge contracts that lock us into something we may not want for lengthy periods of time.
Aside from having personal circumstances that may prevent you from using Xbox Live Gold, there are other reasons that make sense for wanting to cancel your subscription. We'll go over several things you should consider if you're thinking about canceling your subscription.
Should I Cancel My Xbox Live Gold Subscription?
People reading this that haven't played Xbox in years might be confused as to what Xbox Live Gold is and what it offers.
Xbox Live Gold is not the same as the network formerly known as Xbox Live.
The old Xbox Live service has evolved into what is now known as the Xbox network, which is the main gateway into your Xbox account.
Xbox Live Gold is a paid subscription service that can be joined by paying a fee to cover one or three months.
Even though annual subscriptions are common for gaming and other digital entertainment services, subscribers to Xbox Live Gold are not able to pay upfront for more than three months.
Whether that says something about the life expectancy of this Xbox service can be debated another time.
For now, I can say that Xbox Live Gold is a valuable and relatively inexpensive service for gamers that want to connect with people online in multiplayer games.
It's also a great service for gamers that want to try out games before buying them.
Xbox Live Gold allows subscribers to play up to two games each month with no restrictions.
Subscribers can play the full version of whatever two games they pick that are available through the service.
Even if you appreciate and enjoy using your Xbox Live Gold account, there could be redundancies in your Xbox accounts that could cause you to cancel your subscription to Xbox Live Gold.
Since Xbox Live Gold is included with Xbox Game Pass, you won't need to pay to have Xbox Live Gold by itself.
Though it is highly likely Microsoft will automatically cancel your standalone Xbox Live Gold subscription if you sign up for Game Pass, canceling the Xbox Live Gold on your own might help to make the transition smoother and without unneeded charges.
If you happen to sign up for Xbox Game Pass or Game Pass Ultimate and get separately charged again for your Xbox Live Gold service, it might be tough to get a refund from Xbox.
Microsoft is a gigantic company that might take a long time to examine and process payment issues, so I'd suggest getting ahead of an overcharge by canceling services you don't plan to use before the next charge happens.
If you think you can have your credit or debit card company easily reverse an accidental charge for Xbox Live Gold, you should think again.
Banks and card companies often take a long to look over claims and documentation related to false charges.
So if you want to avoid possible hassles and frustrations, I would recommend you cancel your Xbox Live Gold account if you know you're not going to need it or plan to buy an Xbox Game Pass subscription.
What Are The Steps To Cancel My Xbox Live Gold Subscription?
The main way Xbox Live Gold subscribers can cancel their subscriptions is to use an online form to submit the cancellation.
A great thing about this online form is that it can officially cancel your account right away.
If you want to cancel Xbox Live Gold online, you can do so by following these steps:
Open a web browser on your computer, phone, tablet, Xbox, or other device.
Pull up the Microsoft website and log into your Microsoft account.
Go to the Services & subscription section on your Microsoft account.
Find your Xbox Live Subscription on the screen and hit the Manage button next to it.
If you want to cancel your subscription and end the service right away, choose the option that says Cancel subscription. You may or may not receive a refund for your unused time. It depends on the policies of your account, which are partly based on where you live.
If you want to ride out the rest of your current Xbox Live Gold subscription, choose the option to Turn off recurring billing.
If you are not eligible for a refund, you will only be able to stop future billings for your subscription.
If you later decide to get your Xbox Live Gold service up and running again, you can quickly do so by returning to this section in your Microsoft and choosing to Turn on recurring billing.
You won't have to go through all the sign up steps you went through when you first started using Xbox Live Gold.
Xbox Live Gold subscribers are also given the option to cancel their subscriptions online through their Xbox console.
If you want to cancel your subscription to Xbox Live Gold through your Xbox console, you can do so by following these steps:
Turn on your Xbox console and open the guide by tapping your game controller's Xbox button.
Go to the Profile & system section.
Go to Settings.
Go to Account.
Go to Subscriptions.
Choose your Xbox Live Gold subscription and complete the steps displayed on the screen.
You should be given options to either cancel your subscription or turn off recurring billing.
What If I Can't Cancel My Xbox Live Subscription Online?
When you combine big companies with big customer bases, you will likely face some inefficiencies when it comes to customer services and processing online requests.
Even though the online cancellation methods for Xbox Live Gold are typically reliable, you may run into issues with servers, your account, and random happenings that could get in the way of a cancellation or billing stoppage.
Microsoft may be a large corporation with a customer support team that can be difficult to get in touch with at times, but I'd still consider it a responsive company that can ultimately solve your problems.
If you can't cancel your Xbox Live Subscription through DIY methods online, you should be able to contact the Xbox support team through an online message or phone call and have them cancel your subscription for you.
If there are any problems with your account, they can help you figure out how to fix them so you can get the cancellation to be successfully processed.