How to Connect Multiple Bluetooth Speakers
This post may contain affiliate links. As an Amazon affiliate, I earn from qualifying purchases.
With Bluetooth speakers getting smaller to fit into our spaces, bags, and pockets, we may have to connect multiple speakers occasionally to get a more room-filling sound. Multiple Bluetooth speakers provide richer and better sound compared to a single speaker. So, for this reason, it is important to have the basic knowledge on how to connect these speakers. In this article, we explain how to connect several Bluetooth speakers.
How to Connect Multiple Bluetooth Speakers
To connect multiple Bluetooth speakers, you can do it manually or using apps (such as AmpMe and audio company apps) or using smartphone features (such as Samsung's Dual Audio and Apple's HomePod Stereo Pair).
Why Connect Multiple Bluetooth Speakers?
First of all, connecting Bluetooth speakers to create mini-home stereo systems could be efficient when:
• You live in a temporary apartment (you have to move a lot)
• Your living space cannot accommodate large floor-model speakers plus other stereo equipment
• You want to recreate stereo sound with an easy set up
• You want a room-filling sound, which may not be possible with a single Bluetooth speaker
• You are looking for better sound than your single speaker can provide
While all these are achievable, you have to ensure that you select quality speakers if you want to achieve a good soundscape. If you go for low quality speakers, you will be forced to deal with poor sound coming from multiple speakers, which could be pure torture.
How to Connect Multiple Bluetooth Speakers
To connect two or more speakers, the rule of thumb is to always pair speakers of the same model or brand. Although it is possible to link up different speakers, there are a lot of factors to consider, including the speaker brand, the operating system of your phone, tablet, or computer, as well as the amount of work you are willing to put into.
Generally, pairing Bluetooth speakers entail turning the speakers on and locating the 'pairing' feature on the device. Some speakers may require you to manually link the speakers via your phone. All you have to do in this case is to locate your phone's Bluetooth menu and pair the speakers.
For some systems, you are required to link the speakers using an app. Apps that connect Bluetooth speakers are AmpMe, Ultimate Ears, and Bose Connect.
Connecting Bluetooth Speakers Using AmpMe
Unlike Bose Connect and Ultimate Ears, AmpMe is a versatile app that is not brand-specific. AmpMe works to sync smartphones and Bluetooth speakers while allowing audio streaming from Spotify, SoundCloud, YouTube, or your phone's media library.
With AmpMe, users can either create or join parties on any of the platforms. If you create the party, you become the DJ while other users are only allowed to send song requests via the chat feature. To let other participants add songs to the music list, turn on the "Guest as DJ" feature.
Once you download the app, you can link it to your Facebook or Google account and check whether your contacts are on AmpMe. To join a party, turn your location services on and find a party near you.
To start a party, tap the "Plus" and select a platform such as Spotify or YouTube then tap "Connect." Log in to your account and create a playlist. Invite your friends and family to join the party. They can do this remotely, or they can come over and join while at the party.
Connecting Bluetooth Speakers Using Audio Company Apps
UE BOOM App
As we said earlier, the UE BOOM app only works with UE speakers. This app allows users to connect up to 50 speakers to create a powerful audio system.
To use the "PartyUp" mode, you will need to have two or more UE Bluetooth speakers that are fully charged. Models that can be paired include; UE BOOM, UE BOOM 2, and UE MEGABOOM. You should also have the UE BOOM app installed on your smartphone.
Connect your smartphone to the first UE BOOM and update the app. To update, open the UE BOOM app on your smartphone, tap on the three dashes on the top left and tap on your paired speaker. If an update is available, a blue screen will appear. Once the update is complete, the app will go back to the menu.
Next, turn all the other UE BOOM speakers and keep within five meter distance to your smartphone. Now open the "PartyUp" screen. At the bottom, you will see the speakers that you can pair with to connect with the ones you desire. To connect a speaker, drag it from the bottom bar to the middle of the screen and drag it further to your speaker's icon. Do this for all the speakers you intend to connect.
After following these steps, music will now be played by all the linked speakers. To remove a speaker, simply drop it down to the detected speakers bar. To delete the entire connection, drag your speaker's icon down.
Bose Connect App
Bose speakers can be paired either by using the speaker's control buttons or the Bose Connect app. When connected, these speakers can play in party mode (left and right speakers play in unison) or stereo mode (left speaker and right speaker play separately). It is worth noting that the Bose Connect app is not available in earlier versions.
To use party and stereo mode on the Bose Connect app, turn both speakers on and pair one speaker with your smartphone. Tap on the "Party Mode" icon at the bottom of the screen and select "Continue. Give the speakers time to connect.
To switch to "Stereo Mode", select "STEREO (L/R)" and to switch back to Party Mode, select "STEREO (L/R)" again.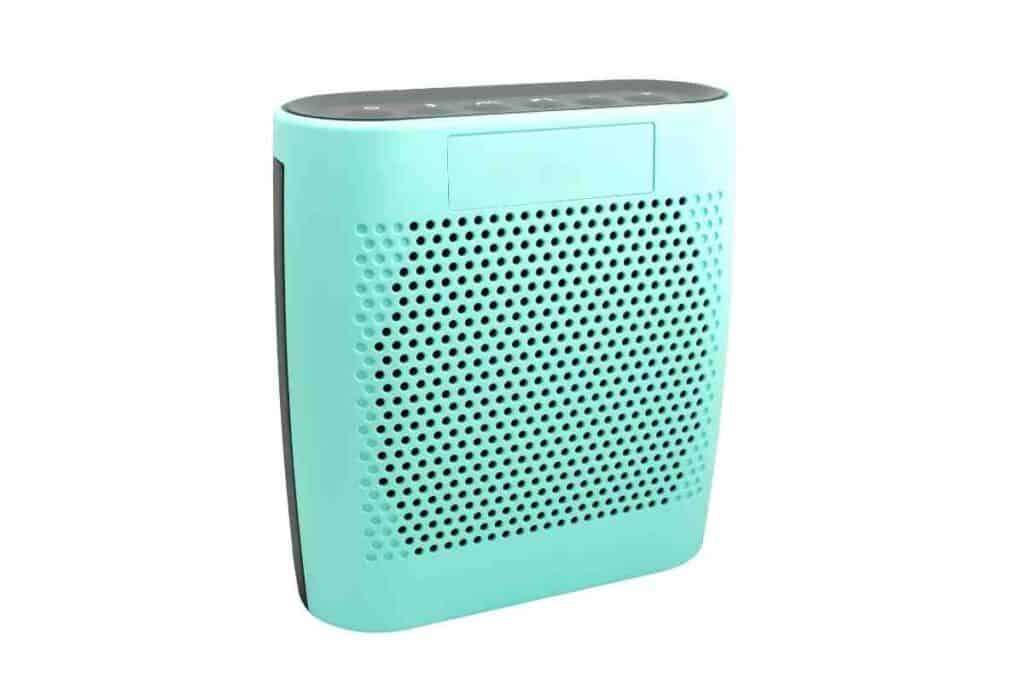 Connecting Bluetooth Speakers Using Samsung's Dual Audio Feature
Users with a Samsung Galaxy S8, S+, and other newer models have access to the Bluetooth Dual Audio feature, which is compatible with most Bluetooth headphones and speakers. Bluetooth 5.0 is not a requirement with this feature.
To enable Dual Audio, go to settings, select "Connections" and tap on "Bluetooth." In Android Pie, select "Advanced" while on earlier Android versions, tap the three vertical dots (menu icon) in the upper-right corner. Turn the "Dual Audio" toggle switch on.
To use the Dual Audio feature, pair your phone with two headphones, two speakers, or one of each. Audio will stream to both devices. However, if you add a third device to the paired devices, they (paired devices) will be kicked off the connection.
For paired headphones, only the first device can playback using the on-headphones media controls. With Samsung's Dual Audio, you may experience unsynchronized Bluetooth speakers. For this reason, it is best to use this feature with speakers in separate rooms.
Connecting Bluetooth Speakers Using HomePod Stereo Pair
Similar to Samsung's Dual Audio, Apple has a HomePod Stereo Pair that allows pairing of two Homepod speakers with an iPhone or Mac. The HomePod Stereo Pair requires a Mac running on macOS Mojave or newer versions while the iPhone is required to run on iOS 11.4.
To pair HomePod speakers, they should be set up in the same room, and once you set them up, you will receive an option to use them as a stereo pair. Alternatively, you can use the Home app to connect the speakers using a Mac, iPhone, iPad, and iPod touch.
Using Home app, double-click the "HomePod" and tap "Settings." Instead of double clicking, you can also press and hold the "HomePod." Click "Create Stereo Pair" and select a "second HomePod." Two HomePod icons will appear, click a HomePod and tap "Back" then "Done."
Best speaker brands that allow pairing
Most manufacturers provide speakers that can be paired, giving you the chance to connect two or more speakers. Some of the notable brands include:
• JBL – these speakers have a connection technology that works with its Bluetooth features to link multiple speakers. Some JBL speakers allow users to build an ecosystem with JBL Connect to pair multiple JBL speakers. JBL Connect also allows users to control the sound ecosystem with up to three smartphones (or tablets) to allow the DJ duties to be shared between party organizers.
• UE – speakers by this brand can be linked via the UE app, which has a Double Up feature that allows adding another speaker wirelessly.
• Harman Kardon – this brand creates quality portable Bluetooth speakers that can be linked together to provide above-average sound quality.
• Sony – speakers by this brand also allow pairing with some models allowing users to link up to 10 speakers. In addition, some models such as the SRS-XB have lighting options and sound effects to add to its entertainment capabilities.
2021 Best Bluetooth Speakers
Although connecting multiple speakers help to amplify sound, the sound quality solely relies on the type of Bluetooth speaker you are using. If the speaker is of low quality, you should expect an equally poor sound quality.
For that reason, we have listed some of the best Bluetooth speakers in 2021 that can give you the sound quality that you desire. These speakers are:
• Bose Home Speaker 500 – this is a smart speaker that not only looks good, but also sounds amazing. It is pretty pricey.
• JBL Charge 4 – this is a portable speaker that provides a powerful bass sound and has great battery life. Its power bank capabilities are also amazing.
• Bang and Olufsen Beoplay A1 – this portable Bluetooth speaker offers a balanced and detailed sound quality. It has a remarkable battery life as well.
• Anker Soundcore 2 – this speaker is one of the best-selling portable speakers that offers premium sound and top-notch battery life. Its durability is also excellent.
• JBL Clip 3 – this speaker is one of the best budget Bluetooth speakers with an impressively loud sound. Has a carabiner clip, which can be added to a key chain or a backpack.
Conclusion
Connecting multiple Bluetooth speakers has never been this easy. Depending on which speaker you have, you can either do this manually or using an app. You can also use phone features to pair your speakers, however, this is limited to particular smartphones. Next time you go speaker shopping, bear in mind the ability to connect multiple speakers as a factor to consider because with this feature, your audiophile opportunities will be endless.