How To Connect The Sonos Beam To A Samsung TV: A Quick Guide
This post may contain affiliate links. As an Amazon affiliate, I earn from qualifying purchases.
Getting new electronics helps improve your house aesthetics. If you have a Samsung TV, you can connect a Sonos Beam to help amplify the volume. The Sonos Beam is an intelligent soundbar system with a small compact design. It is fitted with built-in voice assistants, such as Google Assistant support for easy control. The best part is that the soundbar system allows you to enjoy the fantastic sound and easily turn the volume up and down. So how do you connect the Sonos Beam to a Samsung tv?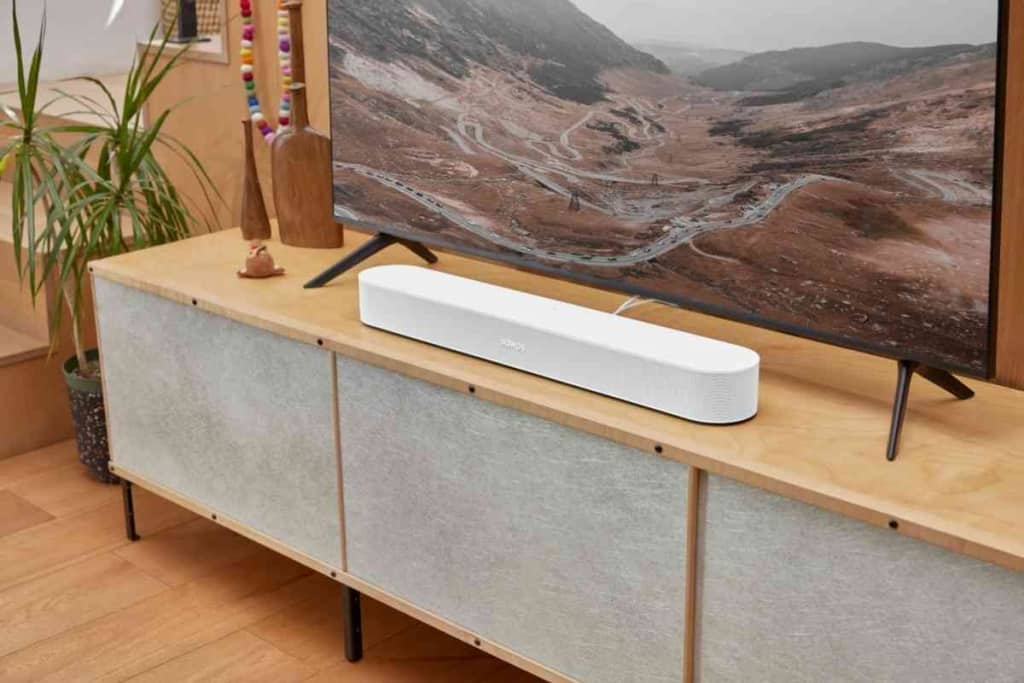 Table of Contents
How do you connect the Sonos Beam to a Samsung TV?
The Sonos Beam can be connected to your Samsung TV in multiple ways. You can use the HDMI-ARC, WiFi, Bluetooth, or the Optical audio adapter. Make sure that the ports are connected correctly and if you are not sure, have your supplier guide you through the process.
This audio system has a room correction feature that allows you to optimize audio reproduction based on your room's unique acoustics. A separate subwoofer is added to improve Beam bass reproduction and surrounding sound. Connecting the audio system to your Samsung TV is relatively easy as long as you have the manual.
Have you upgraded your electronics, from TV to audio system, and are wondering how to link them for quality sound output.
Here is a detailed step-by-step process of the connection methods. But, first, you must understand everything you need to consider before linking your Sonos soundbar system to the TV.
Factors to Consider Before Connecting a Sonos Beam to Your Samsung TV
The Device Models
You might be wondering why it is essential to consider device model type before connecting this audio system to your Samsung TV. There are different TV and soundbar models on the market, and each device has its specification and devices they can link seamlessly.
Therefore, the method you use to connect a Samsung TV and Sonos Beam speaker is impacted by their model, as different models come with different capabilities.
You must understand your Samsung TV and Sonos Beam model before you start linking the two. This will help you save much-needed time as you already know where each part goes.
Modern Smart Samsung TVs have HDMI, optical ports, Bluetooth, and WiFi. So, it all depends on what you prefer for such models. However, for older models, you can use HDMI-Arc and Optical ports.
Popular Methods of Connecting a Sonos Beam to Your Samsung TV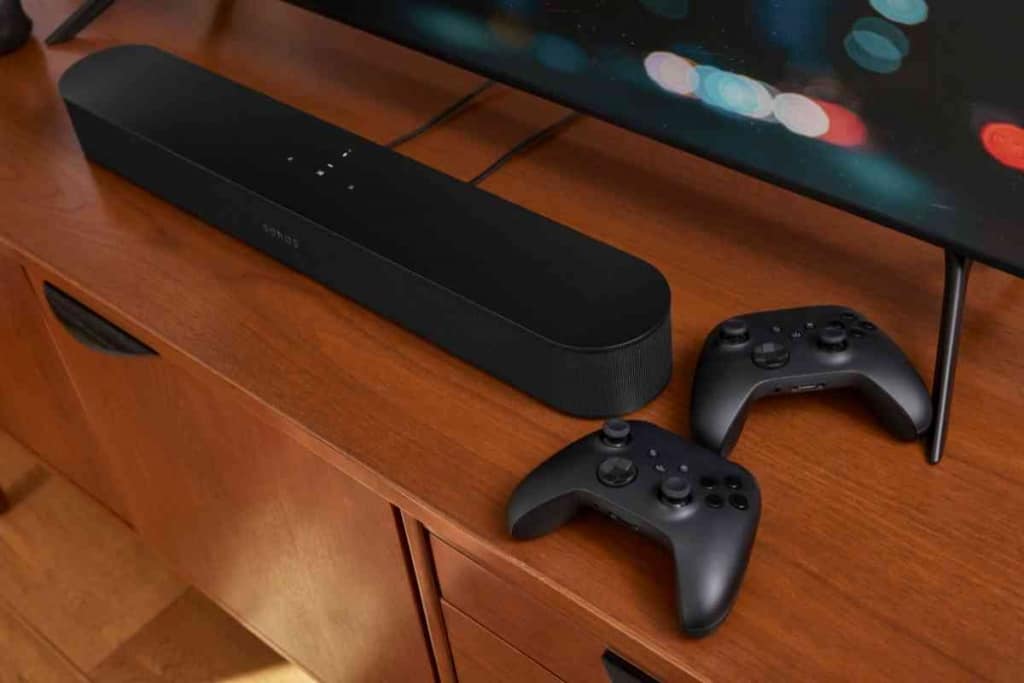 HDMI- Audio Return Channel (ARC)
Modern intelligent TVs comprise up to 4 HDMI ports; one of these ports has an ARC label
HDMI-ARC is the preferred way of connecting because you can control your Sonos Beam with your television remote. You can also use the soundbar's inbuilt-in voice assistants to control your Samsung TV.
Here are the steps to follow when connecting the audio system to Samsung TV via HDMI-ARC
Connect your TV to power, and ensure you have an available HDMI-ARC.
Have your HDMI to optical cable ready.
Connect your Audio system to your TV via your preferred connection, HDMI.
Your TV will automatically produce sound via the connected audio device. However, depending on your TV settings, you may be required to adjust your TV settings and set your Sonos as your audio output device.
Once your audio system is connected via HDMI-ARC, you can control it using the TV remote control. You can also increase or decrease the volume on the Beam while it is connected to the TV.
If the Sonos Beam does not work even after connecting, or you are uncertain about the HDMI ports, you can ask your supplier for clarification. Alternatively, you can log on to Google and enter your Samsung TV model number, and you'll get everything you need to connect properly.
Optical Port
This connection is mostly suitable for TVs over five years old. This is because most lack an HDMI port. Therefore, the audio system is connected to the TV's optical port at the back or side of your Samsung TV.
It is essential to note that the built-in voice assistant support, such as Amazon Alexa and Google assistant, cannot work while using the optical audio adapter for your Sonos-Tv connectivity.
Once the Sonos Beam is proven to be compatible with the Samsung TV. It gives specific commands for TV use.
These controls include "Turn on the TV," "Turn off the TV," "Mute" and "Turn it up." You must ensure that your TV and audio system are linked using the HDMI-ARC for these controls to work.
Note that your TV's voice assistant fails to work when you connect Sonos Beam through the optical adapter.
The audio system can also connect to voice assistant-controlled streaming devices like Fire TV.
General Instructions for Connecting Your Sonos Beam Via HDMI-ARC or an Optical Audio Adapter
Ensure your TV has power and HDMI-ARC or optical connection.
Ensure your audio system is connected to power, and you have your HDMI or optical port ready.
Connect your audio system to your TV via your preferred connection.
Go to your Samsung TV setting and ensure your Sonos Beam is your audio output device.
Once the audio system is connected via HDMI-ARC, you can easily control the sound system with your TV remote, allowing you to turn up or down the volume.
HDMI Connection
HDMI is the initialism of a high-density multimedia interface. It is a compact video and audio interface for transmitting uncompressed digital data.
HDMI connections are pervasive in smart modern TVs as this type of connectivity is the most direct as it uses an HDMI cable.
HDMI ports are typically located at the back or side of the TV. Once the audio system is linked to a Samsung TV via HDMI wire, audio should come out of your Sonos device instead of your TV.
Check your device and instructions to determine if your Samsung TV and Sonos Beam devices are HDMI compatible, as not all are.
Wireless Connection
Wireless connectivity, as per its name, involves no wires during connectivity. You can connect your audio devices to your Samsung TV without wire cables by using Bluetooth or the Sonos application.
The Bluetooth Connection Method
Sonos Beam soundbars are either Bluetooth or WiFi-enabled speakers. And connecting your soundbar system to your Samsung TV via Bluetooth is as easy as ABC.
If your audio device and TV are not connecting? It might be because your devices are not Bluetooth compatible. Refer to your owner's manual for the specific Sonos and Samsung TV models. You have to ensure they are both Bluetooth enabled, and if you lose your manual, you can search for your model on google to get this answer.
However, it is essential to note that many of the 2019 and 2020 Samsung TV models are fitted with Bluetooth features, making it easy to connect wirelessly via Bluetooth to the audio system. So, before making any purchase, you must ensure that the devices are compatible by first checking the year of manufacture.
If you are stuck in the connectivity process, log on to the Samsung website, which has detailed instructions on connecting a Bluetooth-enabled speaker. Alternatively, you can contact their customer care support team for assistance.
The Sonos App Connection Method
This is one of the easiest ways to connect your audio system to your Samsung TV. This connectivity method requires you to directly connect the soundbar system and Samsung TV via WiFi and the Sonos app to control the TV's sound.
Do not forget to check that the ethernet cable is connected properly to the Sonos Beam soundbar before proceeding.
You can download the Sonos app via Playstore for android devices and App Store for iPhones and iPads.
Here are the instructions to follow as you set up your device.
Download Sonos app
Ensure your Sonos is connected to the router via ethernet cable.
Follow the on-screen instructions to connect to your device, and ta-da! The setup is done.
Enjoy your new stress-free, quality sound system to Tv connection.
Can You Connect Sonos Beam to Samsung TV Wirelessly?
For newer Samsung Tv model versions, yes, you can. The two easiest wireless connectivity methods are Bluetooth connectivity and using WiFi. These two methods are widely used in setting up wireless smart speakers like Amazon Alexa, printers, and scanners.
However, you cannot wirelessly connect older Samsung TV models (more than five years) as they require the soundbar to be connected physically.
What's the Best Way To Connect Sonos to Samsung TV
Connections between your soundbar and Samsung TV depend on personal preference. So it can either be via HDMI connection or wireless connection.
HDMI connections are pervasive in smart modern TVs as connectivity is the most direct, only requiring an HDMI cable. HDMI ports are typically located at the back or side of the TV.
Many people prefer an HDMI-ARC connection as it allows easy control of the audio system using the TV remote. A plus, you can also use a voice assistant, such as Alexa, to control your TV.
There are two other great ways to connect your audio system to your Samsung TV. These include Bluetooth and connectivity using the Sonos application over WiFi.