Sonos Beam Won't Connect To My TV: How To Troubleshoot
The Sonos Beam is an excellent addition to your home. Their sole purpose is to ensure you have a quality sound experience. However, sometimes you can run into issues affecting the connection to your TV. In such cases, you have to take the necessary steps to reboot. But, you should troubleshoot the exact issue instead of guessing the problem. You can use an app or use the elimination method.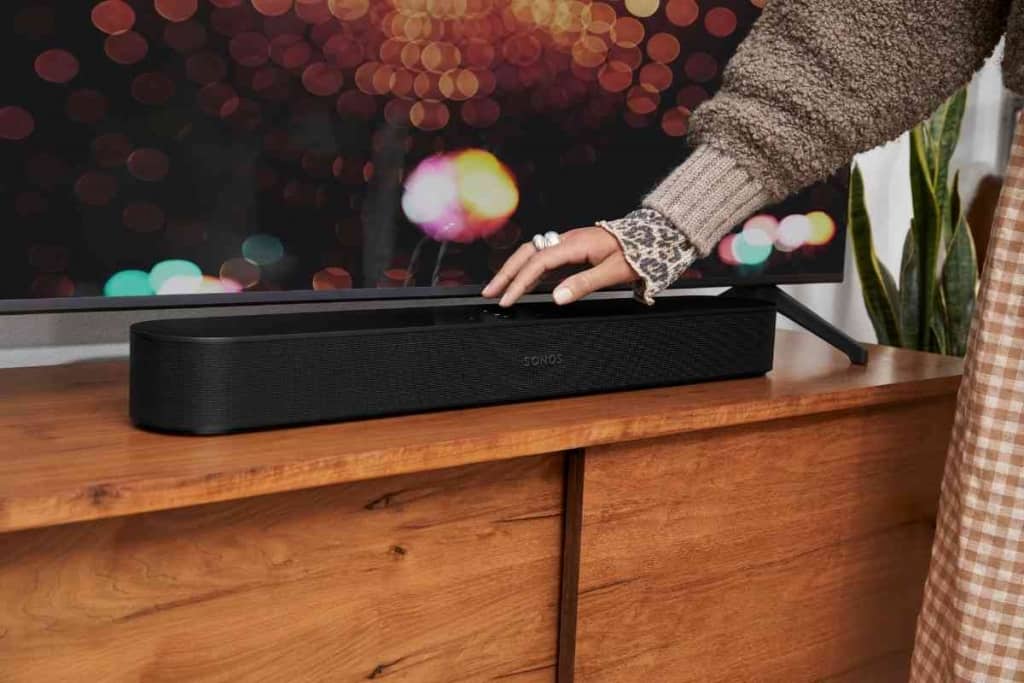 Table of Contents
Why won't my Sonos Beam connect to my TV?
Start by rebooting your Sonos Beam to troubleshoot why it won't connect to your TV. Then check your WiFi connection, reset the Sonos Beam, and set it up again. When using Sonos Beam, there's an app that comes in handy with all the information you need.
A reset is the best way to troubleshoot the Sonos soundbar. But, you must first work with a soft reset and see if the connection resumes. If not, you can proceed with a hard reset, but this means you must start from the beginning and set up the Sonos Beam.
Having Sonos speakers at home enhances your TV experience. These speakers aim to amplify the sound and ensure its good quality. The good news is that you can connect Sonos Beam to any TV, not only Sonos products.
The only way to have a better sound experience is to ensure the connection between Sonos Beam and the TV is good. So, always check that the connection is available and working without any faults. If you notice an issue such as constant disconnecting, there's a problem.
It's possible to reboot the speakers to ensure the connection is available. However, before resetting, check that you've properly set up the Sonos Beam Speaker. Connecting the Sonos Beam to your TV requires an HDMI Arc cord or optical cable.
Connect the cord or cable to your TV and proceed to turn on your Sonos Beam. This should give you constant sound. The sound comes through immediately after you connect the cord or cable. Keeping it constant will require enabling 'AutoPlay.'
The whole purpose of the Sonos Beam 'AutoPlay' feature is to generate the exact sound from the TV. Head to your app to turn on 'AutoPlay' and test the connection from your Sonos speaker to your TV.
If there's any disruption to the connection, it's time to reboot the Sonos Beam. Thankfully, troubleshooting Sonos Beam is a simple process that only requires a few seconds to complete.
How Do I Reboot My Sonos Beam?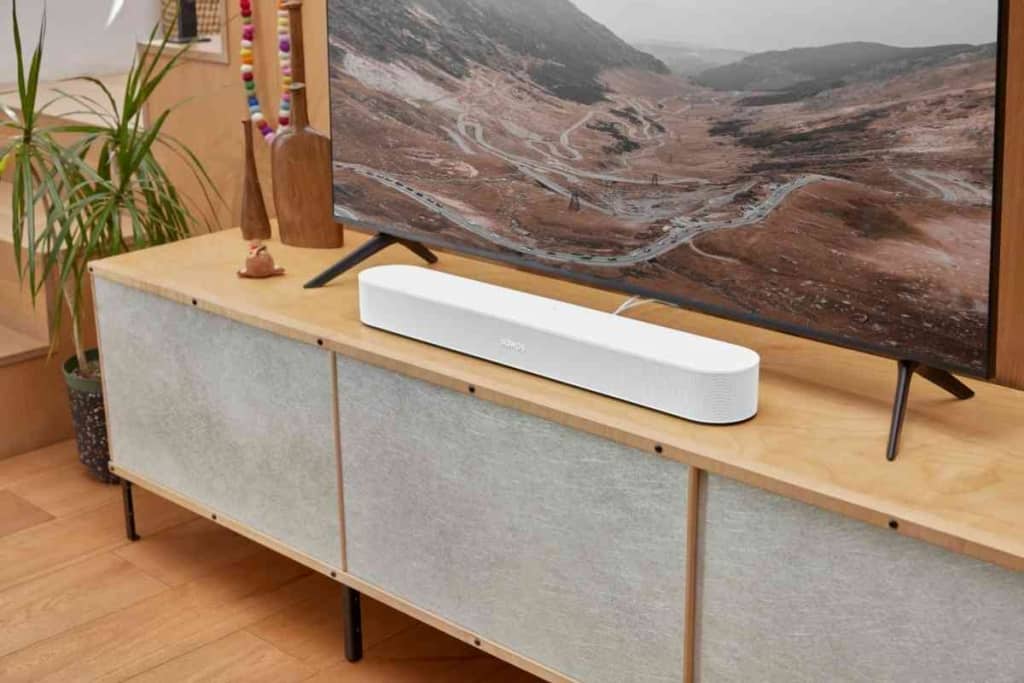 When rebooting Sonos Beam, a soft reset works better. It's worth noting that this is different from a hard reset. A hard reset returns your Sonos Beam Speakers to factory default settings.
A soft reset is the best way to reboot all Sonos products, but know that instructions differ. The instructions in this article, for example, are only meant for Sonos Beam Speakers.
They come on the device user manual to help customers reboot easily. The good news is rebooting is simple and only requires a few minutes of your time.
Start by unplugging your Sonos Beam Speakers from the wall socket. This ensures there's no power to the speakers.
Give your Sonos Beam Speakers 10 minutes to discharge completely before moving on to the next step.
Plug the Sonos Beam Speakers back to the source of power. As you do so, give it about 60 seconds to charge fully.
A soft reset or rebooting can help your Sonos Beam Speakers connect to the TV. But, if this doesn't work, it can result in a hard reset. This works when you have bigger connection issues or Sonos Beam Speakers won't connect to the app.
A hard reset is a good option, but know this will wipe your device clean. Afterward, you must start setting up your speakers once more.
Start by unplugging Sonos Beam Speakers from the wall socket.
Reconnect your Sonos Beam Speakers back to power. As you do this, hold down the 'Join' button.
Hold down the 'Join' button until you see the Sonos speaker LED start to flash orange and white.
Release the 'Join' button after this change and allow the LED to flash green. Give the resetting process a few seconds to complete, then begin to set up the speakers.
How Do I Reset My Sonos to a New WIFI Network?
When you want to connect your Sonos Beam to a new WIFI network, it's easy to do using the app.
Locate the app and open it on your smart device.
Head to settings and click on System.
Select Network, then click on Wireless Setup
Follow the instructions on how to connect Sonos Beam to a new router.
Disconnecting Sonos Beams from a WIFI network follows a similar set of instructions. This is easy to do if you want to switch between WIFI networks.
Locate the app and open it on your smart device.
Click on Settings followed by System.
Click on Network then Networks.
Choose the Network that you want to leave and tap on 'Remove.'
Why is My Sonos Beam Sound Not Working?
Apart from connection issues, you can also encounter challenges with Sonos Beam sound. One challenge is the inability to increase or decrease the sound. At times it's even possible to witness your Sonos Beam going up and down on its own.
If your Sonos Beam sound keeps turning up and down or not working at all, there's a problem. One way to fix this is by disabling the hardware controls. This stops your volume from turning up and down on its own.
Head to the app and locate 'Settings'
Select 'App Preferences'
Click on 'Hardware Volume Controls'
Proceed to disable the controls
This allows the slider bar on your app to take over. You can now have full control regarding volume turning up or down. If the problem persists and Sonos Beam keeps adjusting the sound, this could be because of multiple devices connecting to Sonos Beam.
Always check for available app updates. Such updates keep you updated and ensure you have better control of Sonos Beam speakers. After that, use only one application at a time, even if you have the app on multiple devices like tablets and phones.
Is It Worth Getting Sonos Beam?
The sole purpose of your Sonos Beam speakers is to give you the best sound experience. Once you connect the speaker to your TV, it's best to troubleshoot and reconnect if the connection is problematic.
A Sonos Beam only measures about 2 feet so it won't take up too much space. Despite the size, you still manage to get good quality sound. The good news is some exciting features make using Sonos Beam the best experience.
It's possible to switch the device to connect with your TV when using Sonos Beam. Switching is the best step if you have it connected to another smart device. That way, Sonos Beam emits the sound from your TV in real-time.
Always take some time to check if all the Sonos Beam features are working. Only with proper connection will you manage to have the TV sound in your home. Connecting your TV and Sonos Beam speakers can work using an HDMI Arc cable or optical cord.
In situations when the connection isn't working, always start by checking the connection. There's a way to tell if the optical cord has an issue. Check if the red light is on. If not, you have a faulty cable that requires immediate replacement.
Pros and Cons of Sonos Beam
Sonos Beam is quite popular. If you're considering buying some, consider the pros and cons of using the device in your home or any other setup.
Pros
Sonos Ecosystem
Sonos have among the best apps you can find for such devices. This is a user-friendly app that makes controlling the volume of the speaker easy to do. It's possible to add more songs you want to hear to a playlist using the app.
Top-notch Sound
Sound quality is among the key things to check when purchasing new speakers. Well, Sonos Beam fulfills this by emitting top-notch sound quality. Different features improve the sound quality, such as clarity speech enhancement.
Microphone Integration
The Sonos Beam speakers were some of the first to have a microphone available for users. The microphone integrations make it easy for you to attach Alexa support. But, note that when you want to use Alexa support, it's better to have an HDMI Arc port.
Cons
Expensive
While the Sonos Beam isn't the most expensive speaker in the market, it's up there. A quick comparison with similar speakers shows that Sonos Beam can be expensive, so always consider the cost.
Google Assistant Not Available
Sonos Beam isn't ideal if you'd rather use Google Assistant and not Alexa. There's no support on the app for Google Assistant.