I Forgot to Wear My Apple Watch, Can I Add a Workout?
This post may contain affiliate links. As an Amazon affiliate, I earn from qualifying purchases.
Using your Apple Watch to track your daily workouts is a great way to commit to your fitness goals.
However, it can be frustrating if you forget to wear your Apple Watch before beginning your daily activity.
In this situation, you might wonder if it's possible to add your exercise to the activity app in spite of forgetting to put your device on your wrist.
Forgetting to wear your Apple Watch before you perform a workout means your device won't track your activity.
You might groan and panic over this, but there's no need to do that.
I Forgot to Wear My Apple Watch, Can I Add a Workout?
If you performed your regular daily workout but forgot to put on your Apple Watch, you can easily add in a workout manually. It's as easy as manually adding activities such as walking or running right on your Apple Watch's Health app. Open the Workout app, scroll down and then choose "Add Workout" to select the one you want.
Next time you ask "How do I manually add exercise to activity app," you can refer to these simple instructions.
You can also add hours to a workout manually right on your Apple Watch if you forget to wear it during your exercise.
Go to the Activity app and go down to the bottom of the screen.
Select "Change Goals."
The next thing you should do is choose "Next" on the "Move Goal" and "Exercise Goal" options.
You can use the Digital Crown on buttons on the screen to adjust your goal and the amount of time.
Once you're finished, press "OK" to save the data you entered.
Go to the Health App on Your iPhone
If you want to know "How do I manually add a work out to my Apple Watch," look no further than here.
You will need to access your iPhone to perform the next step.
Open the Health app on your iPhone after you have already finished your workout.
Browse through the various health categories and select the one entitled "Workouts."
You should be able to see data from your workouts that include the date and how long the workout lasted.
You might see a very small number in terms of the amount of time your exercise lasted if you have forgotten to wear your Apple Watch before you started it.
Click on the workout you want and then select "Add Data," which is located in the upper right corner of your iPhone's screen.
From there, you can click on "Activity Type" to choose the exact type of workout you wish to add to your Apple Watch.
Whether you want to choose "Walking," "Running," "Aerobics" or anything else, select the one you have already performed so that you can add in the information you want.
You should see a variety of choices.
In addition to "Activity Type," you can also see "Calories" and "Distance (mi)" on this screen.
You can tap on add to add in that information.
If you don't know the exact number for either option, you can make an estimated guess and manually add it.
However, if you know how far you traveled during your workout, you can put in the exact distance.
You should also tap on "Kilocalories" to add the estimated amount of calories you believe you burned during your physical activity.
This can all be added to your Apple Watch even if you forgot to wear it during your workout.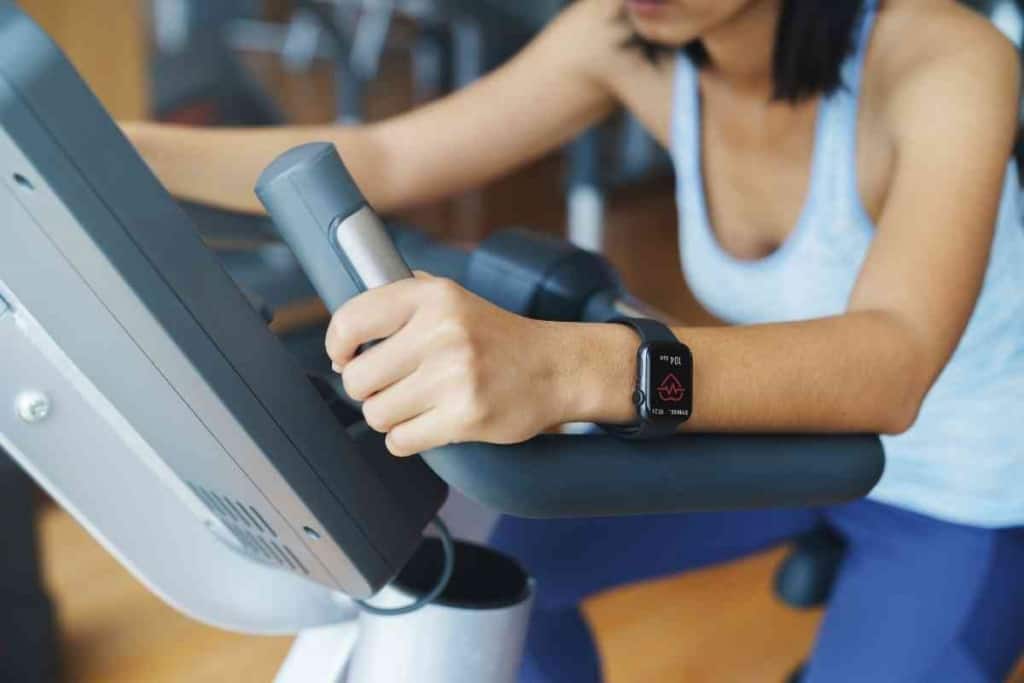 Why Would a Walk Not Count as Activity on Apple Watch?
Even if you have not forgotten to wear your Apple Watch before a workout, you might wonder why an activity like a walk wouldn't count.
This sometimes happens and you might ask, "How do you put on a missed workout" when your walk doesn't count as an activity.
The reason why this sometimes occurs is due to only brisk walking counting toward your exercise goals.
Therefore, if you slow down and start to walk at a more leisurely pace, it won't give you credit toward your physical activity.
Instead, any movement that is equivalent or superior to a brisk walk's intensity is counted as part of your daily exercise.
How Can You Start a Workout on Your Apple Watch?
Now you know how to add a workout to your Apple Watch that you thought you missed because you weren't wearing the device.
However, you can also learn to start a workout on your Apple Watch that will count toward your daily activity.
Open the Workout app on your Apple Watch to get started.
Scroll through the types of workouts that appear on the screen.
Once you find the one you want, choose it and track with or without the time.
You can immediately start it by tapping on the workout.
You can choose to set the distance, length of time of the workout and the calories you burn before you start.
To do that, tap the three dots that appear in the right-hand portion of the screen toward the top.
You can choose any combination of the options or all three if you prefer.
If you need to make changes to the settings you've selected, press on the plus or minus icons.
Hit the yellow "Start" button on the bottom of your Apple Watch's screen when you're ready to begin your workout.
There is then a countdown on the screen that counts down the seconds until your workout is set to start.
These steps can help you manually add your workout to your Apple Watch on days when you forget to wear it.
They can also help you stay on track with your daily exercise so you can count calories, time worked out and distance traveled.