Is The Apple Watch Series 3 Waterproof?
This post may contain affiliate links. As an Amazon affiliate, I earn from qualifying purchases.
The Apple Watch can do just about whatever you need it to do, and it does so in style.
It lets you send and receive SMS text messages, make and take phone calls, track your caloric intake, monitor your heart rate, and play your favorite tunes on Apple Music.
But is it designed to fully repel water?
Is it genuinely waterproof?
Is Apple Watch Series 3 Waterproof?
No Apple Watch is waterproof. However, starting with the Series 2, the Apple Watch is rated WR50, so it is indeed water-resistant. Certain water-based activities can put the watch at risk for damage, though, since it is not actually waterproof.
Let me just put it right out there: There is a serious difference between being water-resistant and waterproof.
Very few devices in this price range are 100% waterproof, and the Apple Watch is not one of them.
But there are some situations in which you can take the Apple Watch in the water.
Starting with the Apple Watch Series 2, Apple started making the watch more than just sweat-resistant.
They realized that there was a demand for water-resistance in the world of smartwatches and set out to meet this demand by overhauling the Apple Watch's design elements.
They were able to net it a rating of WR50, which essentially means that you can submerge this watch in up to 50 meters of water without it sustaining any real damage.
Sounds all well and good, right? Wrong.
While it has a water-resistance rating, there are things that you definitely will not want to do with the Apple Watch that involves water.
So as to save you from accidentally ruining your Apple Watch 3 (or, any Apple Watch Series 2 or after), I will highlight the things that this watch should be subjected to and why it could destroy them.
I'll also walk you through how to remediate minor water damage on your Apple Watch 3 – ya know, just in case.
What does it mean to be water-resistant versus waterproof?
Water-resistance means that an object can resist only some water penetration. The device might have a light coating of water-resistant material on it.
If something is water-repellant, it is not easily penetrated by water.
These hydrophobic devices will have thin-film nanotechnology that aids in repelling water, which can coat the interior and exterior of the device.
Now, waterproof means that water cannot penetrate the surface at all.
There is no real industry standard for waterproof ratings at this time, but the Ingress Protection Rating scale (or IP Code) comes pretty close.
This IP Code assigns each item with a rating from 0-8 regarding of how effective said device is at keeping water from entering inside of it.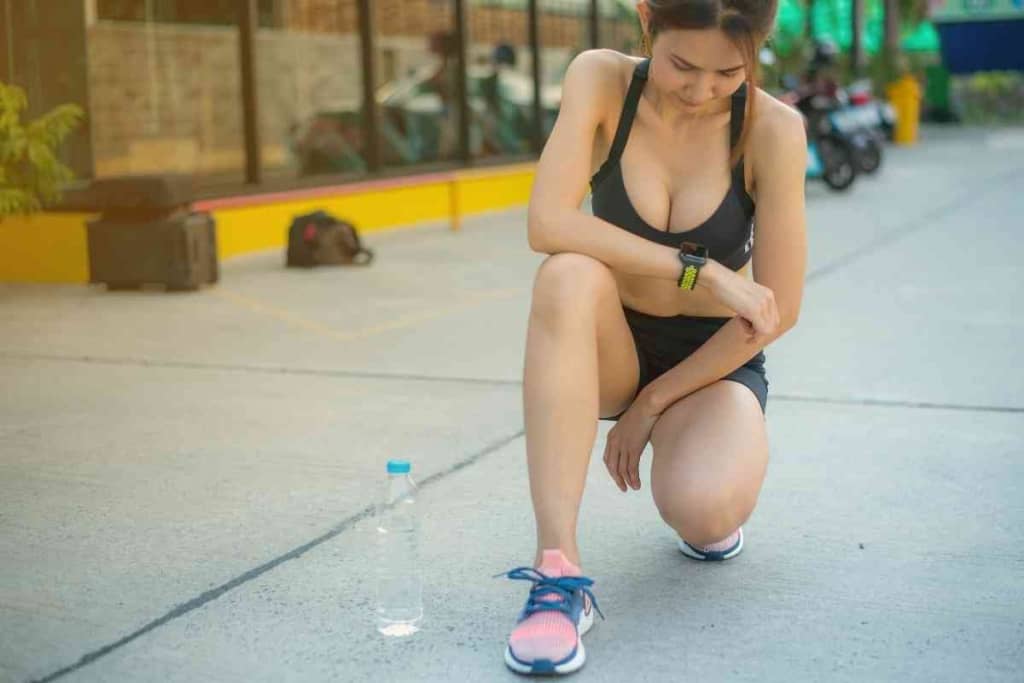 What can you do in the water with an Apple Watch Series 3?
While the Apple Watch Series 1 and first-generation are splash-resistance, starting with the Apple Watch Series 2, the watch gained its WR50 rating.
You definitely cannot do much with the older models, but with a Series 3 or newer, you can take it with you on a swim or even a shallow water dive.
Obviously, you will not want to exceed 50 meters in depth, so deep sea diving is straight out of the question.
You can also shower with the Apple Watch 3 on, but just because you can doesn't mean that you should.
While the watch might resist water, it can be affected by chemicals found in things you use in the shower – shampoo, conditioner, body wash, bars of soap, lotion, shaving cream, face wash, and so forth.
These chemicals can damage the water-resistant components and potentially allow water to leak inside over time.
Since it is sweat- and splash-resistant as well, you can exercise in this watch without much worry.
What should you avoid doing with an Apple Watch Series 3?
As I just mentioned above, showering with the Apple Watch on is not really recommended.
Apple asks that you avoid it based on the harsh nature of the chemicals you come into contact with while taking a shower.
If you are just quickly rinsing off without using any toiletries, you should be fine.
Otherwise, don't hop in the shower with your watch on your wrist.
You also should avoid engaging in high-impact water sports. You'd better think twice before hopping on that jet ski or inner tube being pulled by a speedboat.
The water itself won't damage the watch, but the force of a hard impact almost certainly will.
If you decide to go deep sea diving for some reason, leave the watch at home.
The increased pressure at a depth below 50 meters will cause the watch to break.
Of course, if you are just exploring a shallow reef, you should be fine.
How To Undo Water Damage On the Apple Watch
Water damage can still happen despite this watch being water-resistant. No device is infallible.
If you sustain damage, you need to act fast or else risk permanent problems.
The best way to get water out of the Apple Watch is to:
Swipe up from the bottom of the watch's face, which will open up the Control Center.
Tap on the water droplet icon (which is known as Water Lock).
Turn the Digital Crown to unlock the screen, then clear water from the speaker.
Note that turning Water Lock off by using the digital crown on your Apple Watch will generate a vibration and sounds that lead into the water ejection.
Of course, if the damage seems pretty extensive, you can try submerging the watch in a bowl full of unused rice and letting it sit for 48 hours.
If this method can revive a water-logged iPhone 5s (been there, done that), there is a good chance it can help an Apple Watch that is supposed to be water-resistant.
Does AppleCare cover water damage?
If you have the extended warranty known as AppleCare+, you can get any type of accidental damage covered within its two-year time-frame.
The stipulation? You can only get repairs done twice within each two-year time-frame.
Also, you will incur some fees.
The service fee for the Apple Watch and Apple Nike+ is $69, while the Apple Watch Hermès, Apple Watch Edition will set you back $79.
Applicable sales taxes are also included.
When should I contact Apple Support over water damage?
If your Apple Watch Series 3 has stopped worked due to water damage, you will want to contact Apple Support straight away.
If it is still working but experiencing issues that you cannot troubleshoot on your own, you should get help from an Apple tech by contacting Apple Support.
Closing Thoughts
The Apple Watch Series 2 and after all are rated WR50, and they can endure quite a bit when it comes to water exposure.
But you won't want to expose it to chemicals or harsh impacts, as those can cause the water-resisting components to wear down or even break, allowing water to seep in and wreak havoc on your watch's internal electronic components.
Take care of your watch, and it will take care of you in turn.