Sonos Move: Not Quite the Best Bluetooth Speaker in the World (Here's why!)
This post may contain affiliate links. As an Amazon affiliate, I earn from qualifying purchases.
Bluetooth speakers have changed the way we listen to audio. They are smaller wireless devices that can connect to any Bluetooth-capable television, cell phone, or computer. It is the best alternative to standard wire and wireless speakers alike.
I love the versatility of these devices. Because they are wireless, they are portable. In many cases, they are small enough to go with me anywhere. Some of the best Bluetooth speakers have up to a 48-hour battery life, saving energy long-term.
Usually, there is no installation needed. The speakers come fully assembled without the need for unnecessary installation. Today I will be reviewing the great Sonos Move Bluetooth speaker. It is an impressive speaker that has some perks and quirks, just as most other speakers.
However, what everyone looks for in a Bluetooth speaker will vary. I'm hoping this review will give you the information you need to make an informed decision on whether this speaker is the best option for you and your family.
Let's get into it.
My Experience With Bluetooth Speakers
Before we get into the nuts and bolts of the review, I just wanted to talk about my experience with Bluetooth speakers briefly. I spend a lot of time researching these devices in order to find the best one.
I have personally spent over $3,000 on Bluetooth speaker purchases in search of the speaker that has the most to offer the consumer for the best price. I'm the Gadget Buyer. I want the best gadget for the job.
My goal is to help you choose the best gadget for your lifestyle and personal preference. If you have a life similar to mine, where you spend time with your family, by the pool, camping, or even on a boat, you will understand how important it is to pack light but still have everything you need.
I would love to be able to tell you that there is one Bluetooth speaker that is so versatile that it takes care of all your needs. Unfortunately, I discovered there is no BEST one. Each speaker has something they are better than the others.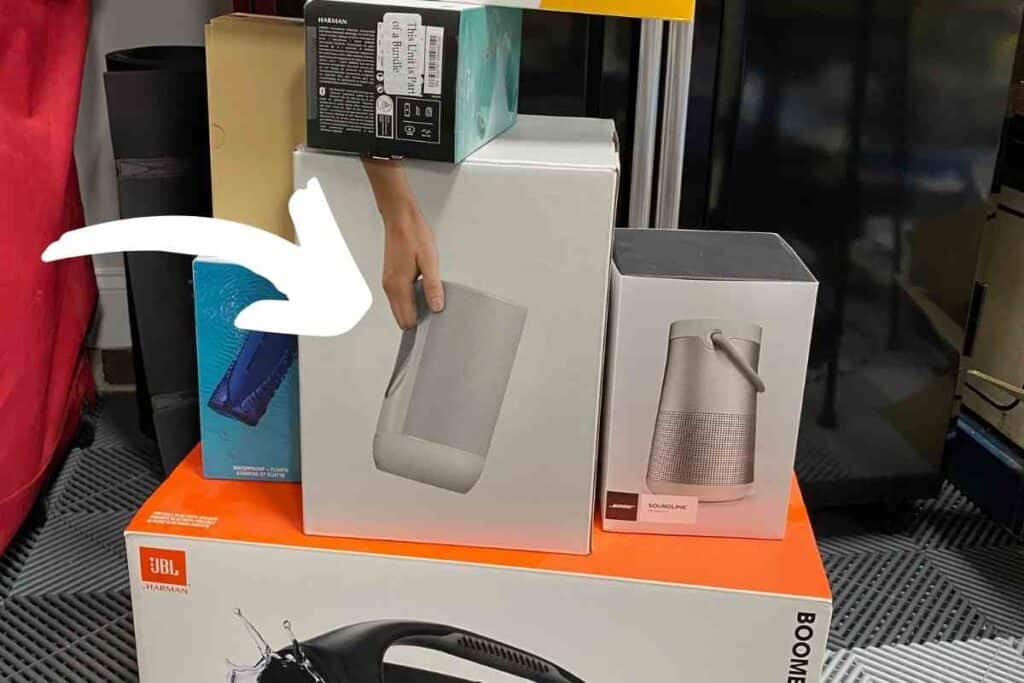 Sonos Move Bluetooth Speaker
The Sonos Move Bluetooth speaker lets you stream audiobooks, music, radio, or any other audio you can think of. It's designed to be weather resistant. The Sonos comes with a rechargeable battery and charges by sitting on its wired base.
The speaker's design is engineered to give you a great outdoor listening experience. It's compatible with the Sonos app, voice control, and AppleAirPlay 2.
The Sonos Move Bluetooth speaker features touch controls, automatic true play, and an 11-hour battery life.
The voice control feature lets you use Amazon's Alexa and Google Assistant over wi-fi to communicate with your system hands-free. Look ma, no hands!
You have the option to set alarms, play music, and even check the news with your Sono speaker.
The Sonos speaker is weather resistant with an IP56 rating. It resists humidity, rain, snow, dust, salt, sand, and UV rays which is a must if you spend a lot of time outdoors.
It's set up to last through even extreme hot and cold days, meaning it can be a great option for year-round outdoor activities.
Once it's fully charged, it's supposed to provide 11 hours of battery life. If 11 hours isn't enough time and you are using it at home, you can purchase additional charging bases to use it anywhere.
The Sonos Move Bluetooth speaker is a round device that stands at 9.44 inches tall. It's a little over 6 inches wide and has a diameter of 5 inches. Weighing in at 6.61 pounds, the speaker comes in two colors, matte lunar white and shadow black.
The sound combines downward-firing tweeters and a mid-woofer to give you the deep bass sound with a clean and crisp high-frequency soundstage.
It features two Class-D digital amplifiers that are tuned to match the speaker's drivers and acoustic architecture. This just means that the sound will never sound muffled or rattled, no matter how high you turn it up. So don't hesitate to pump up the volume.
The Sonos Move Bluetooth speaker is priced at $599. If you opt to get extra charging bases, you will pay $80 per base. Don't have $700 to spend on this speaker? That's okay. Sonos offers a payment plan starting at $100 per month through Affirm.
Best Use
I would say the Sonos Move is the BEST for indoor stationary use or occasional use on the back patio. We found it best to put the Sonos Move on a table in the family room and use it for music while cooking or enjoying a pre-dinner cocktail.
The good thing about using it indoors is that I can keep it on its charging base. If we are having a fun day with the family, we get to enjoy all of our indoor activities with sound.
The Sonos speaker connects to our cell phones and laptops, making it easy to stream whatever we listen to.
An all-day event with the family means that I will probably need more than 11 hours of stream time which is why indoor stationary use is best. We've found it's just not that good of a portable speaker.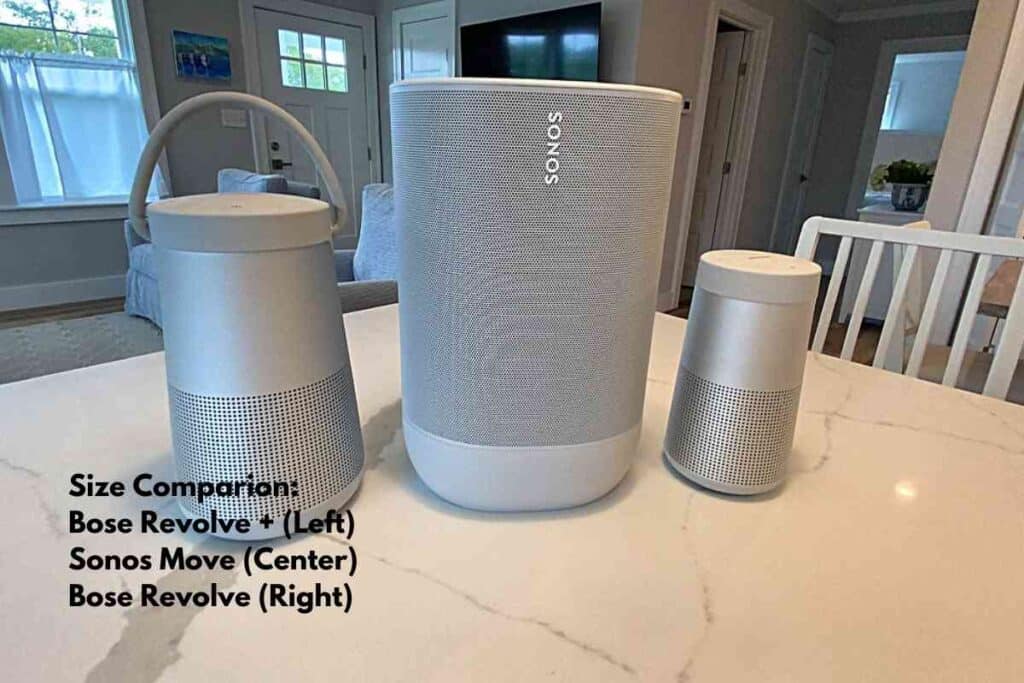 It is pretty enough to leave out on the counter all of the time. It's not an ugly speaker that you feel like you have to hide if you have guests. It doesn't take up a lot of space, so it doesn't get in the way of our lifestyle.
It is excellent for movie time with the family since it can connect wirelessly to our television. It provides some superb surround sound giving us that almost movie theater feeling.
The sound quality is excellent. It's loud enough to hear the music clearly throughout the house if we choose to play it that loud. The sound is strong enough to keep us entertained in the kitchen, family room, and nearby deck during a family event.
Operating the Sonos speaker is effortless as well. It has touch controls that allow me to turn it up or down and toggle through songs quickly. If I need to give it commands, I can just tap the speaker's top mic button.
You can control it through the Sonos app as well.
Pros
The Sonos Move Bluetooth Speaker plays very loud. It has incredible sound quality. The sound is clear and crisp, just as advertised. You would definitely think that the sound is coming from a more prominent speaker.
Having Google and Alexa built-in is a great feature. We use Alexa to communicate with the device. While it usually works, it's safe to say that it's highly limited compared to an actual Alexa device.
Operation is effortless as you don't have to be close to the speaker to use it. If using it indoors, you can let it charge on its base during streaming.
This is a huge perk for me as I can be in another room and use the app to turn down the volume or change some other setting.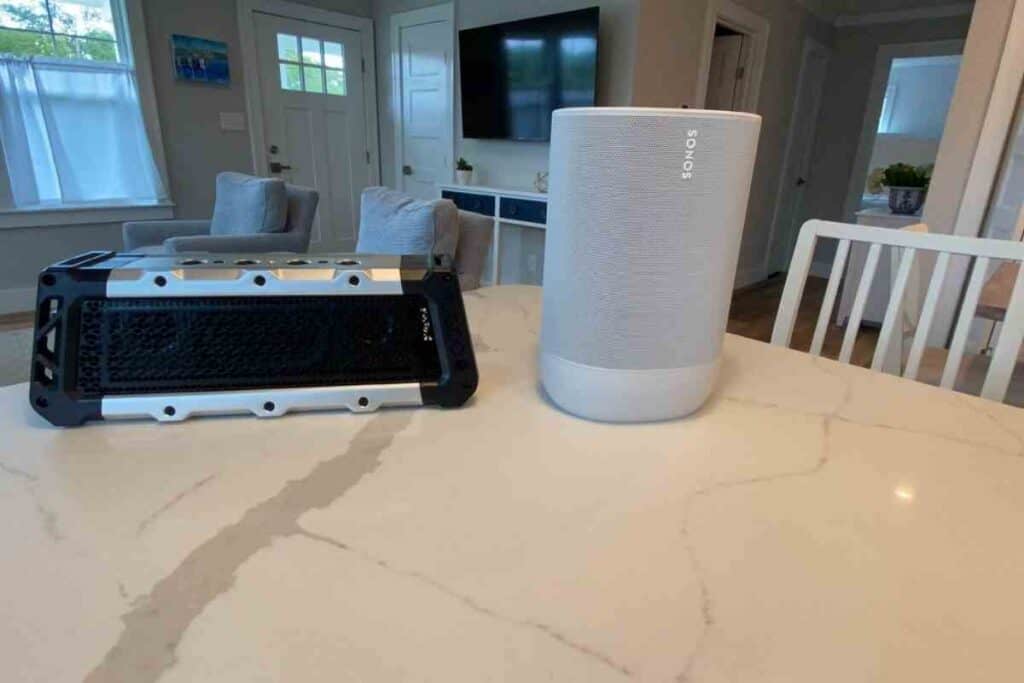 Privacy
The Sonos Bluetooth speaker has a privacy feature that lets you know when the speaker's microphone is activated. On the top of the speaker, there is a microphone indicator LED light. If it is illuminated, the speaker can receive commands.
If you turn off the microphone, the speaker cannot receive voice commands from you. Nor can it detect conversations being held in the home. This is a great privacy feature. No one should have to sacrifice their privacy in their own home to enjoy a Bluetooth device.
While having Alexa and Google Assistant are fantastic features, there should be a medium that allows you to disconnect them when you want.
Responsiveness
The Sonos Move features an audio chime response system. If I give it a command, it plays a chime to let me know that it received the order.
I'm not sure if you have experienced delays with communicating with Bluetooth devices. But it happens a lot. With other devices, I state a command, and there is no response. Then as I am repeating the command, it interrupts me with an answer.
With this speaker, I know when I'm heard or not.
Also, the far-field microphone uses echo cancellation so that the voice assistant works instantly and effortlessly.
Software Updates
Anyone who has ever had any technical device knows that software updates can make a device less user-friendly. Sometimes you have to wait for the update to load, which can take 10 to 15 minutes. Other times, the functionality of the device is flawed until the update is installed.
With the Sonos Move, updates are automatically installed while it's being used. This was a big perk for us as we no longer have to worry about sacrificing functionality to wait for updates to be installed.
Connectivity
The Sonos Move speaker can connect to other Sonos speakers to create an even more robust sound. It's perfect for creating the best ever surround sound system for family events and indoor gaming.
Cons
There are a lot of pros to owning the Sonos Move Bluetooth speaker. It truly is a great speaker. However, it does come with some flaws.
First, it should never get wet. I know that it advertises that it's water-resistant. However, water-resistant and waterproof are two different things. Please be aware that being water-resistant means that water can't penetrate the speaker. That doesn't mean that water can't harm it.
If you continuously get the speaker wet, the functionality may deteriorate. On the other hand, waterproof means that the speaker is durable enough to withstand liquids, floods, or falling into a pool and still work optimally.
It's one of those things consumers should look out for when buying any product, especially a Bluetooth speaker that claims to be water-resistant. Due to this, it's just not an ideal speaker for outdoor activities.
Weight
The Sonos speaker weighs in at over six pounds. I know this may not seem like much. However, when you have to transport it, it feels like a ton. It weighs down bags and backpacks, which is not ideal when it comes down to camping.
It makes sense that it would be a little heavier because of the sound quality. However, it's not versatile in portability. It's not something my wife can just put in her purse and carry around effortlessly.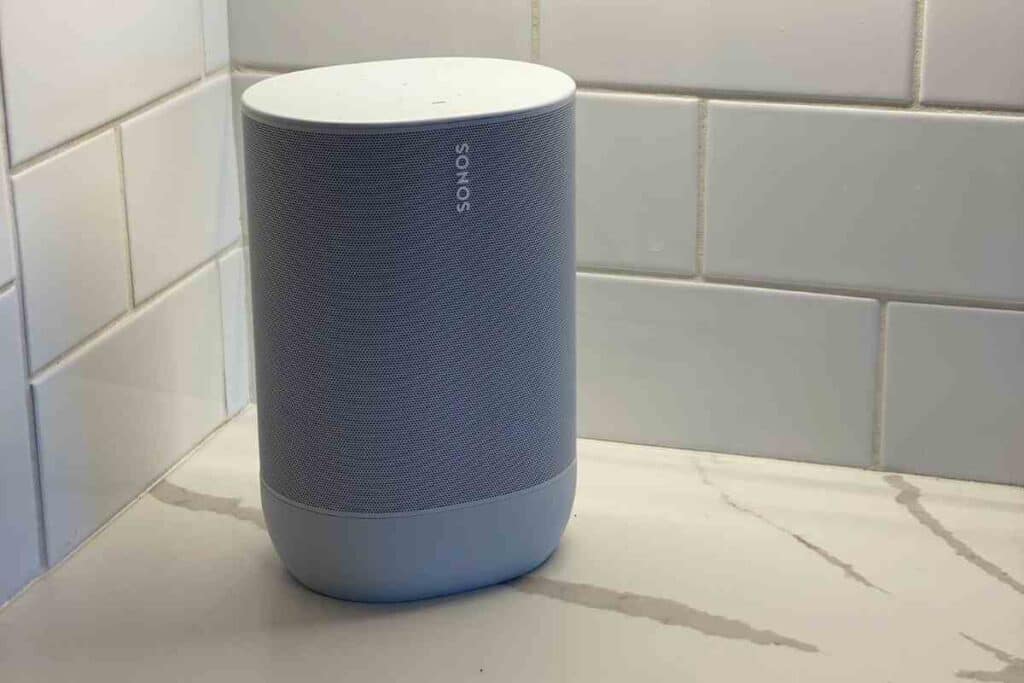 Battery Life
The battery life is terrible on the Sonos Move Bluetooth speaker. While it boasts an 11 hour playback time, we barely got nine. That's another reason we feel it's more suitable for indoor use. Keeping the speaker on its base is a must for getting the most out of it.
Price
It goes without saying that with all the Bluetooth speaker options available today, that it doesn't make sense to spend $400 on a speaker that doesn't live up to its hype. It's not something I'm willing to buy if I can't take it with me and use it, however, whenever, and wherever I want.
For some, $400 is impossible without financing, which makes other options more feasible. Choosing another speaker is not a bad idea since you would be foregoing a heavy, non-portable speaker to get one, that is, even if you had to sacrifice some of the sound quality.
Overall Rating
I would give the Sonos Move Bluetooth Speaker a 9 or 10 for sound quality and indoor use. It truly is an incredible speaker. It just falls short on portability, weather resistance, and battery life.
Being able to use a Bluetooth speaker for days without recharging is something all engineers should aim for. One of the main reasons we buy these speakers is for their portability. We want to move them from room to room, travel with them, and use them outside.
Not to mention, we don't want to have to experience our speakers shutting down because they need to be charged very often. It's not easy to do with the Sonos Move. For the price, the speaker falls short in these areas.
I would buy one of the JBL Speakers.
JBL Speaker Options
JBL has been around for decades, climbing the ranks of making the best Bluetooth speaker. Their speakers are consistent in their performance, tend to be very durable, and have long lifespans. You get everything you need in one little speaker without the huge price tag.
Now they have partnered with Samsung to provide an even higher-quality speaker. JBL speakers now feature improved drivers that allow them to connect to more devices effortlessly. It has become the little speaker that could. Overall, you can't go wrong buying a JBL speaker.
Best Overall: JBL Charge 4
The JBL Charge 4 is the total package for the price. It has an excellent sound quality, amazing battery life, and it's waterproof. Not to mention, you can use the speaker's battery to charge your cell phone.
The Charge only weighs a little more than 2 pounds and is priced at only $149.95. It's one of those speakers that the Gadget Buyer loves because I can easily take it with me and not have to worry about having to recharge it in nine hours.
Camping sometimes requires us to do a lot of walking. A pound in the morning feels like three pounds in the evening. With that said, the JBL Charge 4 doesn't interfere with everyday activities. It doesn't weigh down my backpack or my wife's purse.
Believe it or not, you can submerge the speaker in water for up to 10 minutes, and it still works. In fact, it floats to the top, making it easy to retrieve. However, I don't recommend testing out this theory. But it should relieve any worry about it not being waterproof.
JBL states that the JBL Charge 4 should give you about 20 hours of playback. I've experienced 14 hours with using it to charge my phone.
JBL's single and dual drivers back the sound quality. The sound is clear and crisp and has the right amount of bass to get the job done.
JBL Charge 5
The JBL Charge 5 comes in at $179. It produces an enhanced sound quality compared to the JBL Charge 4. It's great for hosting parties and even for those of us who enjoy outdoor activities.
The speaker is also waterproof. JBL states that it can be submerged in water for up to 30 minutes without breaking or losing sound quality.
One feature that I like a lot is that you don't have to figure out how to correctly pair it with your device. When you power it on for the first time, it automatically begins pairing. All you have to do is select the device on your phone or computer, and you're all set.
Other than that, it has the same features as the Charge 4. While it's a little more expensive, the added features make it worth it.
JBL Flip 4
The JBL Flip 4 is one of those oldies but goodies speakers. It was released in 2017. However, I still believe it's a great deal today. The speaker weighs under two pounds and features waterproof engineering and high-quality sound.
The design is a round cylinder shape. It stands on its own and takes up very little space. If it's your preference, you can lay the speaker down to expose both bass ends.
Anyone can get one for $100. The only issue is that your streaming time will be lower. JBL says that one can expect to get up to 12 hours of playback time. However, I usually get about eight or nine.
Honestly, in my opinion, it is not too shabby, especially when you compare it to the Sonos Move that costs six times more and gets the same playback time.
JBL Clip 4
The JBL Clip 4 is very versatile. It weighs only half a pound. The speaker is waterproof and pretty loud for its size. I like that it can easily clip to your backpack or purse, making it easy to transport, hard to lose.
It's a great option for bike riders, outdoor enthusiasts, and individuals who just don't have a lot of space for an extra piece of equipment. It can even be used in the shower.
The speaker has a flat design that lets it lay safely on your backpack handle or hang freely. The JBL Clip 4 is easy to operate. If your phone is in your pocket or backpack, you can easily toggle through songs by simply using the big buttons on the front.
Final Thoughts
The Sonos Move Bluetooth speaker is a great indoor speaker with incredible sound quality. However, it's not ideal as a portable speaker because of its weight and playback time. Not to mention, it isn't waterproof.
The JBL Bluetooth speakers provide an array of options for the busy individual who wants to carry their speaker with them no matter where they go. Whether you like to bike with the JBL Clip 4 or camp with the JBL Flip 4 or Charge models, you have a reliable speaker that will last you for years to come.
Remember to check out some of my other reviews on Bluetooth speakers to see what new technology will meet your needs.