Which Headphones Are Better Than Bose?
In today's world, headphones are a part of a person's main sort of communication and entertainment, such as music and audiobooks.
Bose is famous for its headphones, but are there better Bluetooth headphones out there?
Which Headphones Are Better Than Bose?
The Sony WH-1000XM4 headphones are better than Bose headphones. These headphones have many great features, including extremely long battery life, great sound quality, noise-cancellation, and multipoint pairing. They have also been noted for comfort and are lightweight when worn.
There are a lot more headphones that are equally as good, which will be discussed more in-depth and listed as some of the best headphones that companies have to offer.
Keep reading to find out what other headphones have Bose beaten.
List of Headphones Based on Best Quality
These are some of the best headphones out there:
Apple Airpods Pro
Apple Airpods Max
Bowers & Wilkins PX7 Wireless Headphones
These headphones are all great for different reasons, but on average, they are better than their Bose counterpart.
Sony WH-1000XM4
One of the best features of this particular headphone is its battery life.
This battery can last up to thirty hours, which could last for three days if you're awake for twelve hours at a time.
That is a pretty great bonus.
Another feature that Sony has been complimented on with this specific headphone is the exceptional sound quality.
The sounds are detailed and clear and make whatever someone may be listening to have a better experience with it.
With most of their headphones, they have great and improved noise cancellation, including the Sony WH-1000MX4.
The big headphones have been said to be very comfortable and lightweight—nobody's ears will ache wearing them for too long, and nobody's neck will ache either from the weight of the headphones.
These headphones have an auto-play/pause that included a built-in sensor.
The touch controls make it easy to pause or play the music or audiobooks without reaching for the phone or laptop, or whatever device the sound is coming from.
Another feature with the Sony headphones, especially with this version, is there are multiple ways to connect them, and they are allowed multipoint pairing—which is super nice and very convenient when needed (and is something that Bose headphones do not do).
Also, there is a very fun fact about these headphones: the WH-1000XM4 has a Bluetooth range of forty feet! A person could go pretty far around the house and still have a connection to their music or books!
The Bose counterpart to these headphones is the Bose Noise Cancelling Headphones 700.
These headphones sell for $379.00, which, when compared to the WH-1000XM4 that sells for as little as $275.97, is quite a lot!
Not only are Bose's headphones $100 more expensive, but they also have a 10 hour shorter battery life.
However, the Sony WH-1000XM4 are not perfect. Consumers have mixed feelings when it comes to the voice calls on these headphones.
The Sony headphones have good voice calling capabilities, but there are those who say that the call quality needs improvement. Another complaint about these Sony headphones is that they are not water-resistant.
Apple Airpods Pro and Max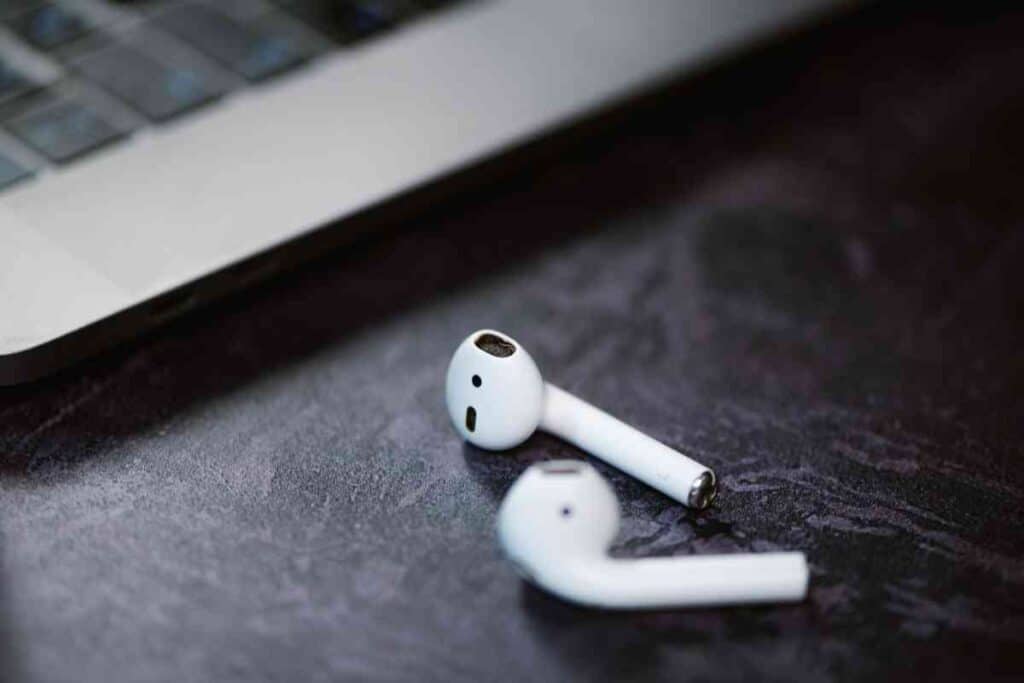 Both the Apple Airpods Pro and the Airpods Max have proven to be another crowd favorite, despite the expenses of both.
Out of the two, the Airpods Pro seems to be the better one.
However, the Airpods Max does have some very nice features.
One of these features is noise cancellation, and many would argue that the Max has some of the best noise-cancellation technology for headphones.
It also contains cinematic spatial audio and is proven to be comfy, although these headphones can be heavy.
One downfall of the Max Airpods is that it only connects to Apple products.
The Airpods Pro are "true wireless" earphones, with updated and improved spatial audio and bass performance.
There is also a virtual sound mode when watching TV, however, it only does that with certain versions of iPhones and iPads.
So, the sound part of it all is very adaptive, and the quality of the audio performance is very good and strong.
Other good features of the Pro Airpods are the semi-custom fit, the mic, and the design of the headphones. And another bonus is the splash resistance.
One downfall of these Pro headphones is the battery life, which isn't as long enough as some might wish for it to be.
The Bose counterpart to the Airpods Pro, the Bose QuietComfort Earbuds, sell for $279.00.
In comparison, the Apple Airpods Pro sell for $249 from Apple.
While that isn't a huge difference, it is still cheaper to buy the Airpods! The Airpods Pro look sleeker and are much smaller in your ear, making them less noticeable.
The Bose headphones have a 30 feet Bluetooth range, while the Airpods Pro claim that they can, in theory, reach 800 feet! Of course, that depends on outside factors such as walls and whatnot, but still, even with interference, the Airpods Pro should have a Bluetooth range of 100 feet.
That is a much further distance than the QuietComfort Earbuds.
Bower and Wilkins
Another great pair of headphones is the Bowers & Wilkins PX7 Wireless Headphones.
These headphones are comparable to Sony's.
Some of the best features about the Bowers & Wilkins PX7 Wireless Headphones is the sound quality and the Bluetooth connection.
These headphones are really close to Sony when it comes to the title of "Best Wireless Headphones."
The sound on these headphones is detailed and refined, although they emphasize a little more on the bass, unlike the Sony.
However, they still have exceptional sound quality, very much like Sony.
Honorable Mentions
Below are some other excellent headphones you should consider instead of spending the money on Bose headphones.
Sennheiser

Noise cancelation
Exceptional audio and sound

Beats Fit Pro

Noise cancellation
Spatial audio
Water-resistant (a.k.a. Splash Proof)
Good battery life
Comfy, has a good fit

Jabra Elite

Great bass performance
Great mic – has clarity
Designs come in different colors
Waterproof for the earpieces

1More triple driver
Anker

More of a Bass performance
Water-resistant
Noise cancellation can change the sound just a little