Why Are My Bluetooth Headphones So Loud?
You pop your Bluetooth headphones on and turn on your music.
You've got your device's sound levels set to exactly where you prefer, but – BAM! – your ears are assaulted by unexpectedly loud audio.
Even on the lowest settings, iPhone users have long experienced this dilemma.
How are you supposed to make your Bluetooth headphones quieter when they are already at the lowest volume intensity?
Why Are My Bluetooh Headphones So Loud?
Louder-than-normal audio from your Bluetooth headphones is likely caused by a defect related to your device's volume settings or if the audio drivers aren't working properly. Switching drivers, synchronizing volume across devices, or using an EQ to lower system volume may help, but your headphones may just be broken.
If you have your headphones' volume turned all the way down and are still experiencing this problem, there are a few ways that you can attempt to troubleshoot it.
Normally, headphones are designed so that their lower settings are not loud enough, but there are some Bluetooth headphones (including Apple's Airpods) out there that are louder than normal no matter how low you have them set.
If you have sensitive ears that do not appreciate loud sounds, this can be a real issue.
Nobody wants to wear headphones that are nothing but a headache.
For those of you using an iPhone or iPad to listen to music, you, unfortunately, have no real way of taking the sound down below the lowest setting option on your iPhone or iPad.
You will likely always have to keep the volume turned down to the lowest intensity and consider wearing just one earbud at a time or switching to a different set of headphones.
But there are a few ways to tinker with the sound so that the loudness does not blast your eardrums.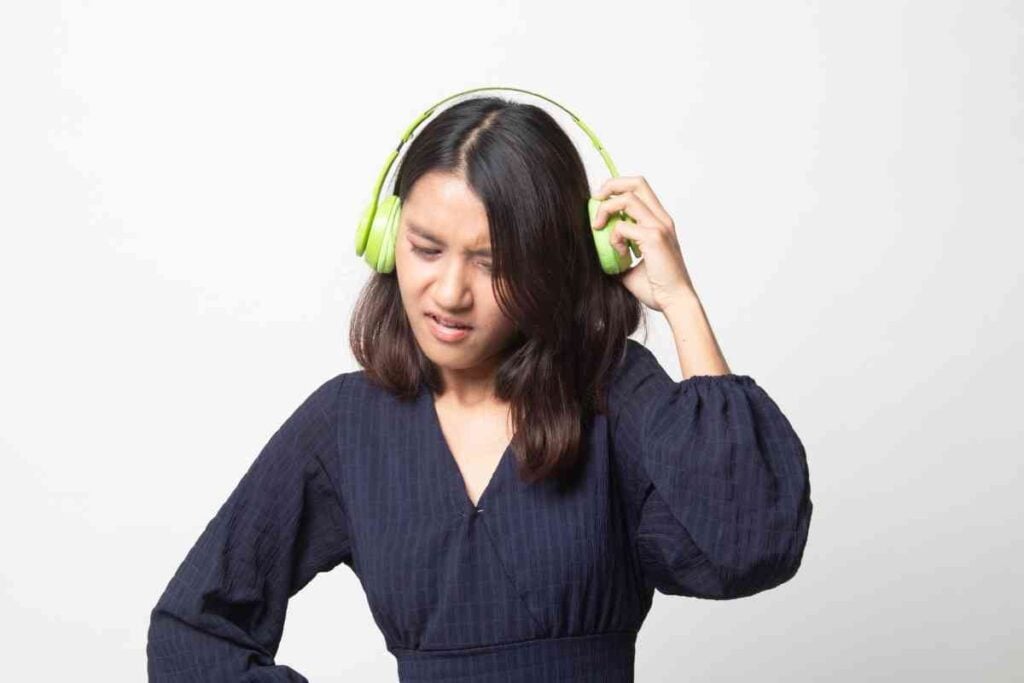 How can I make my Bluetooth headphones quieter?
Wondering why are Bluetooth headphones louder than any other headphones you have ever used? Guess what – you are not alone.
A lot of users have the same problem, especially if they have them paired up with an iPhone or iPad.
For some reason, these devices seem to have defects related to their volume settings.
Your volume might be stuck at 5% at its absolute lowest instead of 1%.
If that is the case, then you are going to need to try troubleshooting this issue a few different ways.
Changing Your Accessibility Settings
One method of troubleshooting loud Bluetooth volume is to go into your device's accessibility settings.
You might need to enable Phone Noise Cancellation and Mono audio.
You might also want to try going into Sounds > Headphone Safety and lowering the loud sounds as much as possible.
Here's how to do it:
Open up Settings on your iPhone.
Tap Accessibility.
Select Audio/Visual.
Enable Mono Audio and Phone Noise Cancellation.
Go back to Settings and open up Sound.
Tap Headphone Safety.
Toggle Reduce Loud Sounds on, then slide it as far right as possible so you get it to 100 decibels.
Use In-app EQ
Go into the music app that you use and use its equalizer to reduce the volume.
It might not be as quiet as you might like, but it could help lessen the amount of blast your ears get when you turn your music on.
YouTube Music, Apple Music, and other such music apps have equalizers.
Also, if you use Spotify, you can select Quiet on the Volume Level option to take the volume down a notch.
Reduce Single Earbud Volume
One trick you might have to try if nothing else seems to work is using a single earbud.
Pop it into your ear, then use the slider to reduce the sound.
You will need to:
Go to Settings > Accessibility > Audio/Visual.
Scroll down toward the bottom of the list, which is where you will find the Balance slider.
Slide toward the left (L) channel if you want to use the right earbud. Slide toward the right (R) channel if you want to use the left earbud.
Report the Issue and Switch to Wired Headphones
If you are able to make the switch (which those using the iPhone 7 or above cannot do), try using wired headphones for the time being and report the problem to Apple.
Granted, Apple isn't exactly adept at handling third-party wireless headphones, but you can at least try sending in a report and asking for a resolution.
The problem is likely going to persist unless you happen to be using Airpods.
Wired options don't seem to have this out-of-control volume problem.
If you are lucky enough to have an older iPhone that is still working well and has the headphone jack, try using a wired headset.
If that isn't an option, you can at least try getting the lighting-to-3.5mm adapter and going that route.
If you want to send a report, you can go to Apple's Contact page and submit one.
If you are using an Android-powered device that is having problems, you can try contacting the phone's manufacturer and seeing what they can do.
Otherwise, there likely won't be much you can do.
Try Another Brand of Bluetooth Headphones
While the problem might actually reside with your device itself, you might want to try switching over to a different brand of Bluetooth headphones and double-checking whether the headphones themselves are the problem.
If you haven't given the Airpods a try and are listening from an iOS-powered device, consider giving them a try.
If they are out of your price range, though, look for a headset with noise cancelling technology.
The Sony WH-1000XM4 are one of my top picks for Bluetooth headsets due to their 30-hour-long battery life and noise cancellation.
The sound they provide is crisp and dynamic without being overwhelming to sensitive ears (like mine).
Closing Thoughts
Unfortunately, there is little that you can do when your Bluetooth headphones pump out too loud of volume even at their lowest setting.
You can try tinkering with some of the settings in your device, but that might not resolve the issue.
Consider trying another headset and, if that doesn't work, contacting the manufacturer of your device to ask for more troubleshooting guidance or another type of resolution to the problem.