Why Does My JBL Go 2 Keep Turning Off? (Answered!)
This post may contain affiliate links. As an Amazon affiliate, I earn from qualifying purchases.
JBL speakers are designed to turn off automatically if left to stay idle for about ten minutes. This feature aims at conserving power and is in no way a cause for concern. However, if you notice that your JBL Go 2 keeps turning off, then there is something wrong with your speaker. In this article, we highlight probable causes for this issue and how to fix them.
Why Does My JBL Go 2 Keep Turning Off?
Your JBL Go 2 speaker keeps turning off because of low battery, damaged charging cable or charging port, corrupted charging logic, built-in protection circuits, and automatic turn-off feature.
Low Battery
The JBL Go 2 has an impressive battery life of 6 hours 40 minutes if volume is at 70%. If playing audio at maximum volume, the battery will last for 3 hours 30 minutes. When the battery is low, you may experience constant turning off of your speaker.
Always ensure your speaker is fully charged to avoid this from happening. Once your speaker is charged, confirm if the switching off stops and if not, it means you should proceed to the next assessment.
Damaged Charging Cable/Port
If your speaker's battery has low charge, and you are having a hard time getting it charged, chances are that either the charging port or charging cable has been damaged. For that reason, your speaker is not receiving enough power.
You can switch charging cables to check if the charging cable is the one with the problem. If a second cable does not resolve this issue, then the problem is probably the charging port. To fix a damaged port may be quite challenging and pricey.
Fortunately, you can get a step by step guide online to help you with your replacement exercise.
For users who find cable port replacement to be too technical, there's an easier way out in the name of wireless charging. JBL offers a branded wireless charging kit that allows you to charge the speaker wirelessly.
Corrupted Charging Logic
In some instances, your JBL Go 2 speaker may think its battery is lower than it actually is. If this is the case, you will have to factory reset your speaker in order to correct its charging logic. You can do this by holding down the "Volume Down" and "Bluetooth" buttons for about five seconds until the speaker turns off. Once off, press the power button for 20 seconds to restart the speaker.
Alternatively, you can let the battery drain and recharge your speaker once again. After recharging, the speaker should be able to play audio uninterrupted.
Built-in Protection Circuits
The amplifier in the speaker is usually equipped with a built-in protection circuit. These circuits are designed to protect the amplifier from destruction when a short occurs. Therefore, when things get heated inside the speaker, the circuits shut down whatever is causing the heating and in doing so it may be causing the switching off of the speaker.
While getting professional assistance is the best solution, the fee required may override the price of getting a brand new speaker. That leaves you with the option to try to fix it yourself.
Open your speaker and observe how the speaker wires are connected. A stray wire could be the problem here, so make sure the wires are not in contact with anything apart from the post they belong to.
Automatic Turn Off Feature
As explained earlier, JBL speakers have an automatic turn off feature that switches the speaker off if it does not play for 10 to 15 minutes. If you let your speaker stay idle without turning off, it will switch off automatically. This feature may be annoying if you are using your speaker as a computer speaker.
To solve this, you need to disable this auto-off feature. However, since this is a design you cannot do away with, you can keep your speaker switched on the whole time by letting your speaker play audio on very low volume. This way, you will be able to keep your speaker switched on with minimal distraction.
JBL Go 2 Specs
Size
It is common knowledge that the bigger the speaker, the louder it is. However, the JBL Go 2, an ultra-compact size speaker that measures 7.12 x 86.0 x 31.6 (mm), is surprisingly loud for its size. This speaker can comfortably fit in your pocket, making it easy to carry around for jogs, picnic, bike rides, or any other outdoor activity.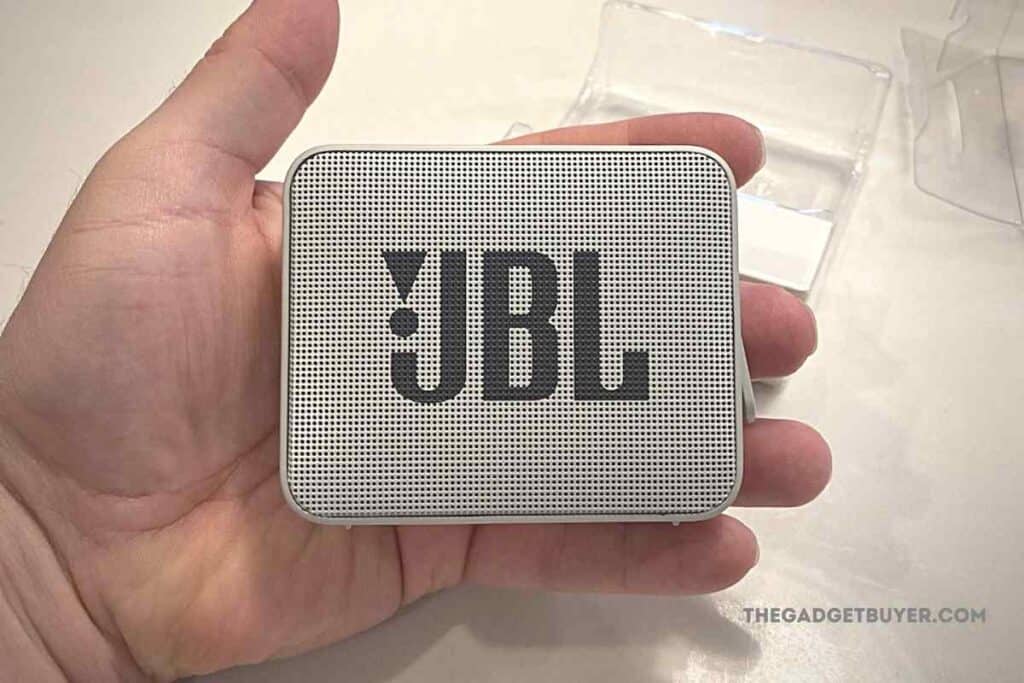 Design
The JBL Go 2 speaker was an upgrade of the JBL Go, which is the smallest and cheapest JBL speaker in the JBL speaker lineup. It features a modern look with curved, smooth edges and is offered in 12 distinct color options.
Its plastic body looks metallic compared to the matte finish of the JBL Go. The JBL logo on the back of the Go 2 is carved into the body, giving it a more daring appearance than its predecessor.
Music Control
Like its predecessor, the Go 2 has limited music control capability. This means that you can play or pause music by pressing the "Play" button. To move to the next song, double press the "Play" button. What you can't do with this speaker is going back to the previous song or pressing forward/backward in a song.
The built-in microphone in this speaker can be used as speakerphone when answering phone calls.
Water Protection
The Go 2's best feature is its waterproof ability. The speaker's got an IPX7 water protection, meaning it is completely waterproof. It can be kept in one-meter-deep water for 30 minutes.
Apart from being waterproof, this speaker is weather-sealed and can thus prevent damage by dust, water splashes, and raindrops. This feature makes the speaker a great outdoor entertainment option.
Connectivity, Bluetooth Range
The JBL Go 2 has an auxiliary input (AUX) that allows the speaker to connect with other audio sources using a simple audio connection such as a 3.5mm jack. This speaker also has a 3.5mm audio jack socket, which allows you to connect it with most headphones.
Its Bluetooth range is 70 feet, which is an improvement compared to the Go's 60 feet range. With this wide range, you can enjoy listening to your playlist without facing connectivity issues.
Battery Life
The JBL Go 2 speaker features a 730mAh lithium-ion battery, which is estimated to provide five hours of playtime when fully charged. Its charge time is about 2.5 hours.
When playing music at 70 percent volume, the Go 2 gives about 6 hours 40 minutes playtime. On maximum volume, the speaker provides playtime of about 3 hours 30 minutes.
This speaker has a branded wireless charging kit that you can buy separately. Charging wirelessly is easy, all you have to do is to place the speaker on the charging base.
Sound Quality
The Go 2 speaker is equipped with a larger passive radiator. It produces louder sound with more distinct bass than the Go. Nonetheless, the bass produced by this speaker cannot measure up to the clean-sounding mids and highs.
JBL Go vs JBL Go2
Since the JBL Go 2 is an upgrade of the JBL Go, it is a no brainer that is has better features compared to its predecessor. The major distinction between these speakers is that the JBL Go 2 is waterproof, has a modern design, and offers a wider Bluetooth range than the Go. As for sound quality, both speakers offer almost similar output.
A setback in the JBL Go 2 design is the removal of the attachment loop that is found in the JBL Go. Due to this omission, you can attach the Go 2 to your backpack or bike, meaning you can only carry it in your pocket.
If you are not impressed with the design on waterproof capabilities of the JBL Go 2, it is a smart and cheaper option to settle for the JBL Go.
FAQs
How Long Does a JBL Go 2 Last?
The JBL Go 2 speaker lasts for approximately five hours on a single charge. However, the playtime depends on the volume you use when playing your audio. At volume 70 to 80 percent, you may get play time of about 3.5 hours to 4 hours.
How Waterproof is the JBL Go 2?
The IPX7 water protection maintains that the Go 2 speaker can be used by the beach or pool. You can also use the speaker in water worry-free.
Can I Use JBL Go 2 While Charging?
Yes, you can use the JBL Go 2 speaker while charging without worrying about it getting damaged. This is because it has a lithium-ion battery and a PCM circuit. The speaker is designed to switch to trickle charging when the battery is fully charged.
Are JBL Go 2 Speakers Good?
Yes, this speaker produces a decent sound quality for its small size. It has greatly improved from its original form and is fully waterproof. While it may not blast your whole house, it is a good choice for users looking for small portable speakers.
Conclusion
The JBL Go 2 speaker turns off automatically when idle, but when the switching off is insistent, there must be a problem. This issue could stem from low battery or corrupted charging logic, but whatever the case, you will need to assess the problem and fix it. Once you do that, you can now enjoy quality uninterrupted output from your speaker.