Why Is My Alexa Yellow? Light Colors Explained!
This post may contain affiliate links. As an Amazon affiliate, I earn from qualifying purchases.
If you have noticed that your Alexa device has a yellow light that keeps blinking, you are not alone. But what does the yellow light mean? Alexa comes with just about every Amazon device that you buy – with the Echo speakers being the most popular option. Your Alexa was designed to make your life easier and the colors that the device can flash indicate a specific feature that is engaged (or disengaged).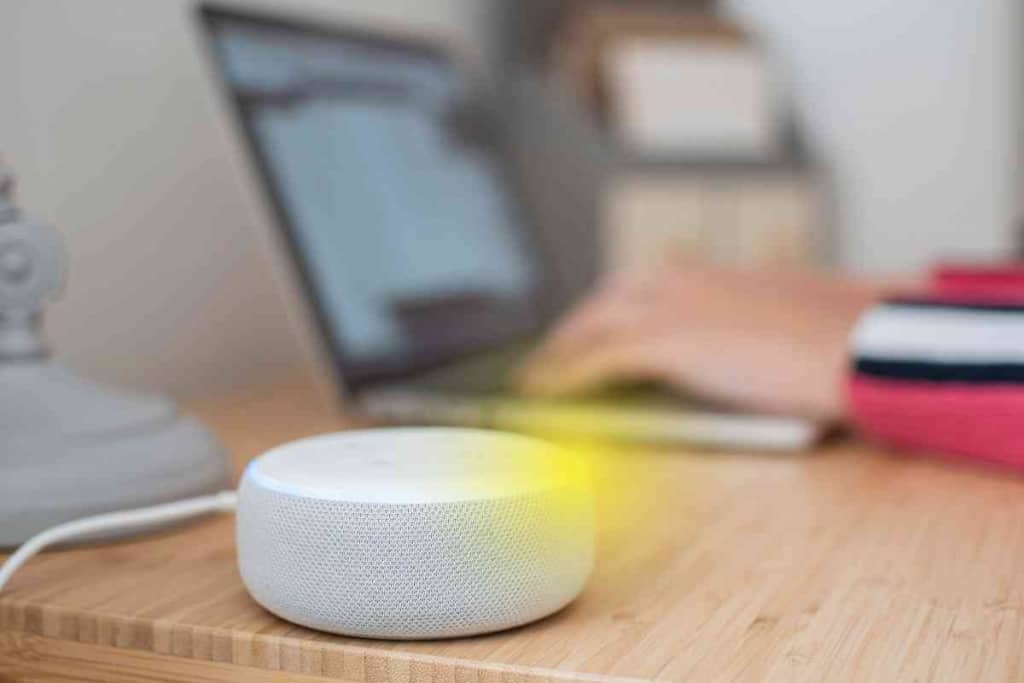 Table of Contents
Why is the light on my Alexa yellow?
Your Alexa is yellow because you have a new or unread message – implying that you should check your inbox. This is usually due to a seller contacting you to give you an update on the status of your package or an automated message from Amazon.
Technology continues to bring convenience into our day-to-day routines and the Amazon Alexa has been a game-changer for a lot of households. The Alexa AI comes with most of Amazon's products such as the Echo speakers and Fire Stick.
Prior to Alexa, AI technology for smart home devices was lackluster or borderline useless. Nowadays, having your own personal smart home device and digital assistant costs a fraction of what it once did and it is equipped with tons of useful features. After you get your Alexa, you will likely notice that the speaker will blink certain colors.
Despite how nice they look, this is not an aesthetic design feature from Amazon, it is your Alexa trying to tell you something. A lot of Alexa users feel lost the second that their device starts flashing yellow – having no idea what the light means. To help you understand this further, we are going to take a closer look at why your Alexa device has a blinking yellow light.
After extensively researching Alexa, I have been able to gather enough information to determine why an Alexa-enabled device can sometimes flash a yellow light. My research has indicated that Alexa was designed with the ability to display a variety of different lights – with each color having its own meaning.
What Does the Yellow Light on Alexa Mean?
The yellow light on your Alexa means that you have an unread message in your inbox. A lot of new Alexa users only find out about this when they get their Echo smart speaker and the light on the device starts flashing yellow.
This is a great notification system designed by Amazon to ensure that you are connected with their service.
As soon as you place an order on your Amazon account, you will automatically be connected with your seller. This way you can stay updated on your package's status and you will likely receive messages from the seller. When this happens, you will receive a message in your Amazon inbox and your Alexa device will start to flash yellow.
In addition, Amazon will also send you messages to your inbox about how they are handling your package.
If there is a delay or an alteration with your delivery, you will be notified by Amazon, which will trigger your Alexa to blink yellow. Amazon will also send you a message when your package arrives – to ensure that you are aware of what is going on with your order.
How to Stop Alexa's Yellow Light
As nice as the yellow light on your Alexa may look, you probably want it to turn off at a certain point. Given the fact that the light is there to notify you that you have an unread message, the best way to stop the yellow light on your Alexa is to read the messages in your inbox.
Each unread message that you have in your Amazon inbox will cause Alexa to blink yellow until you resolve the notification. If you want to stop the yellow light from flashing simply open your inbox and take a look at your messages.
Alternatively, a much easier way to do this is to have Alexa do it for you. You can have Alexa read out your message by saying 'Alexa, do I have notifications?'. The AI will then notify you of what kind of message you have in your inbox.
More often than not, this is an automated message from a seller or from Amazon. In which case, Alexa will read it out loud so that you are aware of the status of a package. However, if you have a personalized message from a seller, you could also instruct Alexa to read the entire message for you.
How to Disable Alexa's Yellow Light
The light notification system that Alexa is equipped with can be incredibly useful for so many people, as the device essentially acts as your very own personal assistant. However, some of the features that the device offers may be unnecessary for some users.
If you are tired of dealing with the yellow light that keeps flashing on your Alexa device, you are not alone. This is a great feature but if you are ultimately not utilizing it – or simply don't want your tech telling you what to do – then the best course of action is to turn off the feature entirely. You can disable your Alexa's yellow light by following these steps:
Open the Alexa app on your mobile device
Select the 3-dotted line in the corner of the screen
Select 'Settings' and then 'Device Settings'
Select 'Communications'
Click on 'Disable for this device'
Disabling the communications on your Alexa will completely turn off the yellow light. This means that you will not be notified whenever you get a new message in your inbox.
What Do the Other Lights on Alexa Mean?
After using your Alexa for a little while, you will probably notice that the device flashes other colors as well – not just yellow. Each Alexa light means something entirely different.
Amazon designed the Echo speakers to be intuitive and helpful to users. The light system is there to keep you aware of what your Alexa is doing. Let's break down each of Alexa's lights.
Alexa Green Light Explained
Whenever you see that your Alexa device starts flashing green, it means that you have an incoming call. This is a great way to handle communications as you can voice activate the call and start chatting without needing to actually pick up the phone.
To engage the call, you can tell Alexa to either 'Answer' or 'Decline'. If the call continues to go through without a response, you can expect Alexa to continue to blink green until you do.
Alexa Blue Light Explained
Whenever you ask your Alexa to do something, the device will turn blue while the AI processes information. If you ask Alexa for a weather update, movie times, or a traffic report, the blue light will appear to let you know that the device is on it.
In addition, the blue light will stay on until the request has been finalized and while Alexa responds to you.
Alexa Orange & Purple Lights Explained
Both the Orange and Purple lights on your Alexa are there to let you know about the status of your internet connection.
The orange light will imply that Alexa is in the process of connecting to the internet. While the blinking purple light means that there was a problem with the connection.
Alexa Red Light Explained
Lastly, if your Alexa has a red light, it means that the microphone of the device is off. When the microphone is off, you will not be able to initiate voice commands to your Alexa device.