Can You Use An Alexa Echo Dot Without A Phone?
Using an Alexa in your home is not only handy but fun.
If you don't have a phone, can you still purchase the Echo Dot?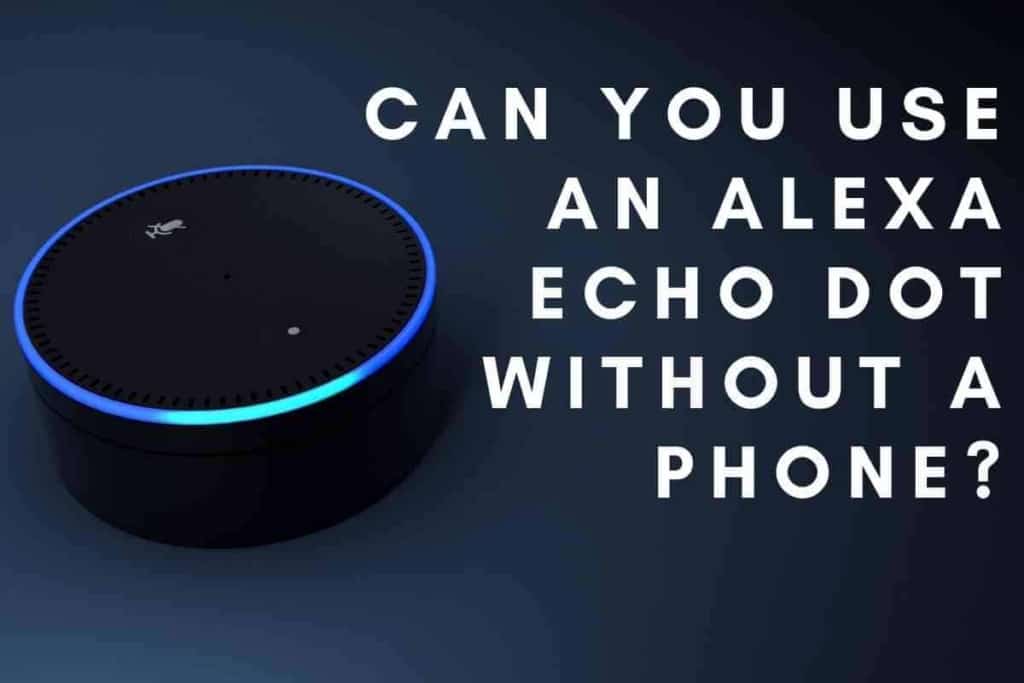 Can You Use An Alexa Echo Dot Without A Phone?
Setting up an Alexa Echo Dot requires a smartphone or a similar BlueTooth device. However, after set-up is complete, a phone is no longer necessary. If the Echo Dot is ever relocated, it will need to be connected to a new WiFi network. Connecting the Echo Dot to a new network will require a phone.
If you don't have a smartphone, there are other devices that will work with the Alexa Echo Dot.
Keep reading to learn more about what devices you can use with your Alexa Echo Dot.
Why the Alexa Echo Dot Needs a Phone
The Alexa Echo Dot is an extremely capable and powerful device.
You might think that a device this powerful should not need a phone.
On the contrary, without a phone, the Alexa Echo Dot is just a ball plugged into your wall outlet.
The main reason you need a phone with your Alexa device is for setup.
Your Echo Dot should have included an owner's manual follow to set up the device.
Maybe you purchased the Echo Dot used or already threw away the instruction manual.
No need to worry, follow the setup instructions below!
From the moment you plug your Alexa in, you're going to need a phone.
Start by downloading the Alexa app on your phone, then log in to your Amazon account.
If you don't have an Amazon account, you'll need to register for one.
The account does not need to be Prime, but it can be.
After plugging in your Echo Dot, make sure your phone's BlueTooth is on.
You will also need access to your WiFi password.
Give the Echo Dot a few minutes to register. When the device is ready, you will hear Alexa's voice directing you to open the app.
Simply open the app and follow the instructions on your screen.
If no instructions appear, there are several routes you can take:
Click the "More" tab
Select "Add a Device"
Another option is to click the devices tab. In the top right corner, there is a plus symbol.
Click on the symbol and select "Add a Device."
After finding the "Add a Device" function, scroll through the list to find your device type.
You shouldn't have too much scrolling, since the Amazon Echo is at the top of the list.
From here, you'll be asked to specify the type of Echo you want to add.
Select the Echo Speaker option. Your phone will be paired with the device.
If nothing connects, make sure your BlueTooth is on and that the device is plugged in.
Once the devices connect, you will be prompted to connect the Alexa to a WiFi network.
After the Alexa Echo Dot connects to WiFi, you can start giving it commands or asking it questions.
At this point, you no longer need your phone to use the Alexa Echo Dot.
In fact, you can delete the app! However, if you switch internet providers or move the Alexa to a new location (with different WiFi), then you're going to need the app again.
You should consider keeping the Alexa app, as it allows you to interact with the device in many ways.
Features with the App
With the Alexa app, you can control your Alexa from anywhere in the world (so long as your phone is connected to WiFi).
Other features available on the Alexa app are setting and customizing alarms.
While you can verbally command Alexa to sound an alarm at 8 o'clock in the morning every weekday, it's easier to keep track of and set alarms in the app.
In the Alexa app, you can also select music, songs, podcasts, and Kindle ebooks to play on your device.
You can also link your streaming services, such as Spotify or Apple Music, to the Echo Dot.
Once linked, Alexa will use these services when asked to play music.
An Alexa Echo Dot is meant to act like a virtual personal assistant.
You can customize how your Echo Dot assists you in the app by setting Routines.
Simply go to the "More" panel and select routines.
Under the "featured" tab, you can select from a handful of prefabricated routines, such as a good morning routine, an after-work routine, and a preparation for the weekend routine.
You can also customize some routines of your own!
The final feature of the Alexa app is access to games and such for kids.
There are "games" that tell kids stories, teach them new facts about animals, or simply encourage them to dance.
As you can see, the Alexa Echo Dot is much more enjoyable when you're using it alongside the Alexa app on your phone.
Other Devices to Use with Your Alexa Echo Dot
Not everyone has access to a smartphone.
If you don't have a smartphone, there is still hope for your Alexa Echo Dot.
All you need is a device with the Alexa App and BlueTooth capabilities.
Unfortunately, the Alexa app is not available for computers such as the MacBook Air.
For Apple devices, the current Alexa App only operates on iPhones, iPads, and iPod touches with iOS 11.0 or later.
If the device cannot update to iOS 11.0, it will not work with Alexa.
As for Android devices, the current version of the Alexa App on the Google Play Store requires 6.0 and up.
If your device uses the Amazon AppStore, chances are it will be compatible with your Echo Dot.
Regardless of the device type you download it on, the Alexa App, and the Amazon account associated with it, is free.
As you can see, you don't necessarily need a phone to use an Amazon Alexa Echo Dot.
That said, you are going to need a device with recent enough software and BlueTooth capabilities.
Luckily, this could be an iPod touch, an iPad, an Amazon Fire Tablet, a Samsung Galaxy Tab, or many other devices.