Will A Sonos Roam Work With A Sonos One? Answered!
Sonos has a long list of products that each have their own best use case scenarios. They have speakers for home theater use, they have speakers for outdoor use, and they have speakers that are designed to be taken on the go. The Sonos Roam is one of their more popular models, working great on the go or used indoors for its versatility and moveability.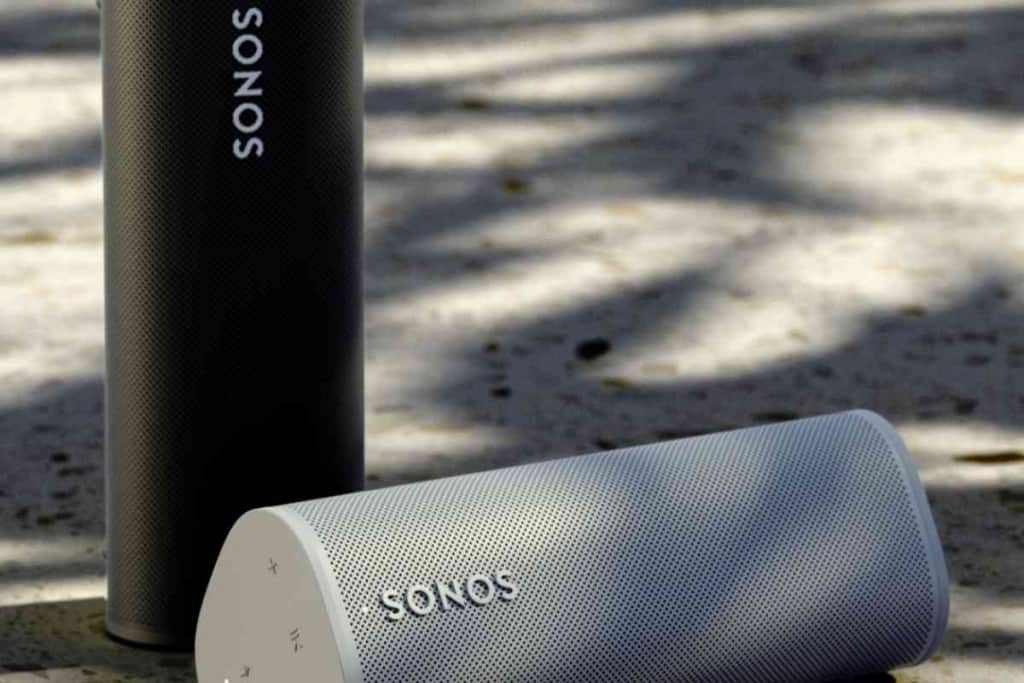 Table of Contents
Will A Sonos Roam Work With A Sonos One?
Almost every speaker Sonos makes can be used with other speakers in some way or another. For example, even different models, like the Sonos Roam and Sonos One, can be grouped together to emit the same sound. This is great as part of a multi-room speaker setup.
Continue reading to learn exactly how to group together different Sonos products, what their capabilities are, and how you can get the most out of your speakers.
Does Sonos Roam Work With Other Sonos Speakers
The Sonos Roam can work with almost any other Sonos speaker in some capacity, but it can only be connected to another Sonos Roam for stereo output.
Sonos speakers truly shine in a multi-room setup, where your primary sound bar, subwoofers, and surround sound system is located around the entertainment area, but you also have smaller, more portable style speakers in each room of the house.
This provides a unique viewing experience and ensures that people don't miss too much of a movie when they take a bathroom break or get a snack.
It's also great for party environments. You can make sure people can hear your music in whatever room they might be in.
You can even adjust the volume of each device individually to make sure the music isn't too distracting in certain areas of the house.
In order to group the Sonos Roam with another Sonos device, head to the official app. Find the Settings by clicking the gear icon. Now find System.
You'll see your speakers listed under the Products category. Select one of the speakers you want to add to a group and select group on the right of the screen.
ext, you will see a list of all possible speakers you can group together. Just select each one to toggle them as part of the new group.
If you're having issues grouping Sonos speakers together, make sure they are all turned on and connected to Wi-Fi.
Once, they are grouped together they will have to stay connected to Wi-Fi. Only the Roam and Move have Bluetooth capabilities.
Although the Sonos Roam is designed to be taken on the go, that doesn't mean you can't pair multiple while outside or in the pool too. They make great speakers for barbecues as well.
They can easily be paired and scattered throughout the dining area to provide a nice and even level of music throughout the entire area.
Their innovative shape makes them great for outdoor use, and grouping them together makes for an even better experience.
Will Sonos Roam Work With Older Sonos Speakers?
The Sonos Roam marks a new period for the company. With the release of the newest Sonos S2 controller, older devices are slowly being phased out.
If you have older model Sonos products that only work with the S1 controller, you'll have to split them apart and use them in different groups.
The following devices only work with the S2 app:
Gen 2 Beam
Arc
Five
One SL
Ray
Roam
Roam SL
Gen 3 Sub
Some older speakers, like the Bridge, Connect, and ZonePlayer are discontinued, and they will not be added to the S2 support list. Other devices, like the Move, Amp, and Boost can be used with both S1 and S2 compatible devices.
Can Sonos Roam Be Paired?
The Sonos Roam makes for a decent stereo pair, it's not compatible for surround sound pair, and it can be grouped together for simultaneous audio with many of the other Sonos products.
You'll have to have two of the same model of Sonos speakers to create a pair. For example, you can't use a Move and a Roam in stereo mode.
Start by opening your app with both of your Roams turned on and connected to Wi-Fi. Find the Settings by clicking the gear icon and navigating to System.
Here, you'll find your speakers listed under Products. Just select one of the speakers and select Set up a Stereo Pair or Create a Stereo Pair.
Is The Sonos Roam Good For Portable Use?
The Sonos Roam, as the name suggests, truly shines when used as a portable speaker. It has a wide soundstage, and that means it can emit sound in almost any environment.
Its innovative design allows sound to be blasted both up and directly forward. Rather than emitting audio in all 360 degrees, it's designed to lay on its side a project the audio upward and outward toward the listeners.
The Sonos Roam has an IP67 waterproof rating too, so it's great for use by the river or pool. It can survive splashes, spills, and it even holds up relatively well if accidentally submerged entirely in water.
The Sonos Roam is great to use on the move thanks to its voice control support too. It supports Airplay 2, Alexa, and Google Assistant.
This means it's always convenient and easy to control without having to walk to the speaker or pick up your phone nonstop.
It's also designed with being in a rough environment in mind. Its basic design is meant to absorb shock, and it's designed to be drop-resistant too.
Alternatively, the Roam makes for a pretty decent shower speaker too. It's not a good idea to put it directly under the shower stream; however, thanks to its IP67 rating, it should be able to survive for 30 minutes in three feet or less of water.
It's not likely to be damaged by droplets of water. It can even be placed on the counter if you aren't comfortable putting it directly in the shower.