Are Airpods Good for Gaming? (Explained!)
Gaming equipment is designed to be reliable and never distract gamers from their game. Even the slightest delay in hearing enemy fire or sound prompts can lead to the dreaded 'Game Over' or 'Defeat' screen. Are Apple AirPods up to the task?
Apple AirPods work well for light or moderate gaming. The AirPods Max or AirPods Pro are best for gaming because of the sound quality, audio range, directional sound, noise cancellation, and microphone. However, they aren't designed for pro gaming and don't integrate easily with non-Apple products.
It can be really convenient to game with earbuds instead of headphones because of their low profile. While technically all AirPods can do the job, some models are much more up to the task than others based on the gamer's needs. Let's go over a gamer's audio needs in comparison with the different AirPod models and their capabilities.
Gamer's Needs
Before we discuss why the Apple AirPods Max and the AirPods Pro stand out, let's clarify what criteria we are judging the headphones on. Simply being the most expensive AirPods models doesn't make the AirPods Max and the AirPods Pro inherently better than the 2nd Generation or 3rd Generation AirPods.
There are key features that make the AirPods Max and the AirPods Pro significantly better for gaming that are not built into the 2nd and 3rd Generation AirPods. 
Check out some of those features on the AirPods Max through the user review video below.
There are five major things to look for when choosing earbuds or headphones for gaming: sound quality, audio range, directional sound, noise cancellation, and a high-quality microphone. Take a look at the table below to see why the AirPods Max and the AirPods Pro stand out.
| | | | | |
| --- | --- | --- | --- | --- |
| | AirPods (2nd Gen) | AirPods (3rd Gen) | AirPods Pro | AirPods Max |
| Listening time | 5 hours | 6 hours | 4.5 hours | 20 hours |
| Sound Quality | yes | yes | yes | yes |
| Audio range | no | yes | yes | yes |
| Directional Sound | no | yes | yes | yes |
| Noise Cancellation | no | no | yes | yes |
| Microphone | yes | yes | yes | yes |
| Appropriate gaming level | light gaming | light gaming | moderate gaming | moderate or advanced gaming |
(source)
Light gaming would include offline gameplay that doesn't require directional sound. First-person shooters, high-action games, or online play are definitely not recommended. Moderate gaming would include first-person shooters, high-action games, and casual online play. Advanced gaming would cover all game types and be able to handle online play. However, none of the AirPods are appropriate for pro gaming.
AirPods (2nd Generation) – Light Gaming
This is the cheapest and oldest AirPods model with molded plastic designed for the classic in-ear fit. It will last up to five hours of active listening time or three hours of talking time without a charge. With the charging case, you can listen for more than 24 hours and talk for more than 18 hours.
The sound quality is pretty basic—perfect for the casual listener, but not built for the dynamic audio range of gamers. Dual optical sensors and a motion accelerometer are used to detect if the buds are in your ear or not, automatically pausing when you take them out. The speech accelerometer detects when you are talking to auto-filter out background noise and better listen to what you are saying on a phone call or to Siri.
The tap controls can perform simple functions like play, skip, or answer a phone call. The charging case and buds are slightly bulkier than the newer models and are not water or sweat-resistant. This older model does have higher compatibility with older iPhones, iPads, and iPods while also being compatible with the newest Apple technology. (source)
AirPods (3rd Generation) – Light Gaming
The 3rd generation is Apple's newest model of AirPod, and the next step up in price. It keeps all of the basic features of the previous generation and has a nearly identical shape, but also incorporates some important tech advancements.
One of the biggest tech additions is the capability for spatial audio with head tracking when paired to a device with iOS 15 or later. This tech gives a surround sound feeling to your audio and can also play sounds in a way that tells you their location.
This is especially helpful for gaming so you can hear if something is left, right, front, or back in relation to your gaming character. The dynamic head tracking recognizes where your head is pointed in relation to your device and adjusts audio levels accordingly. The charge also lasts longer than the 2nd generation.
The pods will last for 6 hours of listening or 4 hours of talking, and with the case, you can get 30 hours of listening or 20 hours of talking. The addition of adaptive EQ helps create consistent sound quality for any ear shape. The high dynamic range amplifier will give you a better quality of sound over a wider range than the previous generation. The motion and speech accelerometers are the same.
A force sensor in the stem of the pod rather than the bud makes for a more comfortable control system that has a more comprehensive list of options. This generation adds an inward-facing microphone that makes it easier to communicate with others using the AirPods. A few other helpful additions include water resistance and wireless charging capabilities. (Source)
AirPods Pro – Moderate Gaming
The AirPods Pro came out before the 3rd generation, but they are more expensive and have better features. They are unique because they have silicone earbuds in three different sizes rather than just the hard, molded plastic on the other models. Many people find this to be more comfortable and more stable.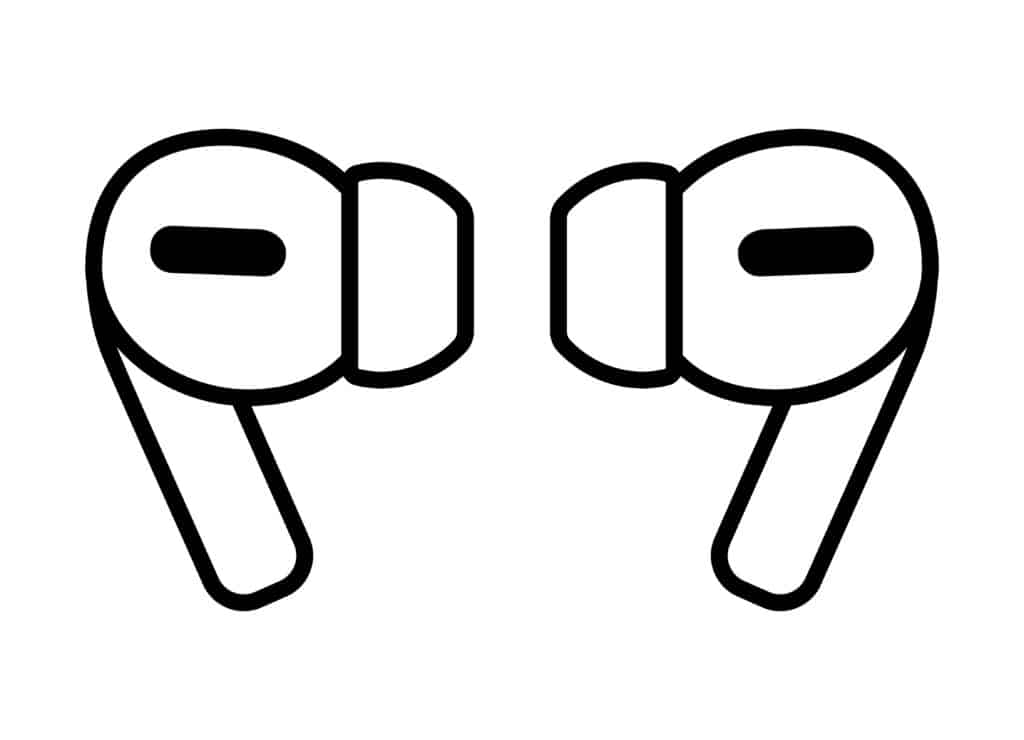 The better seal on the Pros helps with the addition of the noise-canceling technology that is crucial for gaming. You can block out all of the environmental noise, or you can choose to blend the outside with what you're listening to using transparency mode. To increase comfort for long-term wear, Apple added a pressure equalization vent system that lightens the feel of the pods in your ears.
The Pros have the same spatial audio tech, dynamic head tracking, adaptive EQ, motion accelerometer, speech accelerometer, inward-facing microphone, wireless charging, water-resistance, and stem force sensor seen on the 3rd generation. One thing that the Pros lack in comparison to Gen 3 is how long the charge lasts. The AirPod Pros promise 4.5 hours of listening time or 3.5 hours of talk time. This doesn't allow for very long gaming sessions. With the case, you can get 24 hours of listening time or 18 hours of talking time. (Source)
AirPods Max – The Best AirPods for Gaming
The Airpods Max are unique because they cost at least $300 more than any other AirPods, and because they are the only over-ear model. Over-ear instead of in-ear automatically marks this model better for noise cancellation and comfort. The Max also has a very impressive 20 hours of listening time on a single charge. It has advanced press controls and has optical, position, and accelerometer sensors in each ear cup.
The microphone is hugely improved in comparison to the in-ear buds. While the other models have a dual beamforming microphone, the Max has nine different microphones. Eight microphones are noise canceling, and three microphones are for voice pickup. This will make for much better communication while gaming.
All of the important tech for gaming on the AirPod Pros like noise cancellation, directional sound, spatial audio, and dynamic range are also included in the Max. Because of the superior quality of sound, noise cancellation, and microphone quality, the Max is able to handle online gaming with ease. (source)