Can AirPods' Serial Number Be Fake?
AirPods are the latest in true-wireless listening technology from Apple. Using Bluetooth connectivity, AirPods play audio from your iPhone or any other type of smartphone. They will also work with any tablet, laptop, or desktop computer with Bluetooth compatibility.
But can the serial number on a pair of AirPods be faked? The simple answer to this question is: No, real AirPods have a real serial number. The serial number on a pair of AirPods manufactured by Apple is always unique and authentic.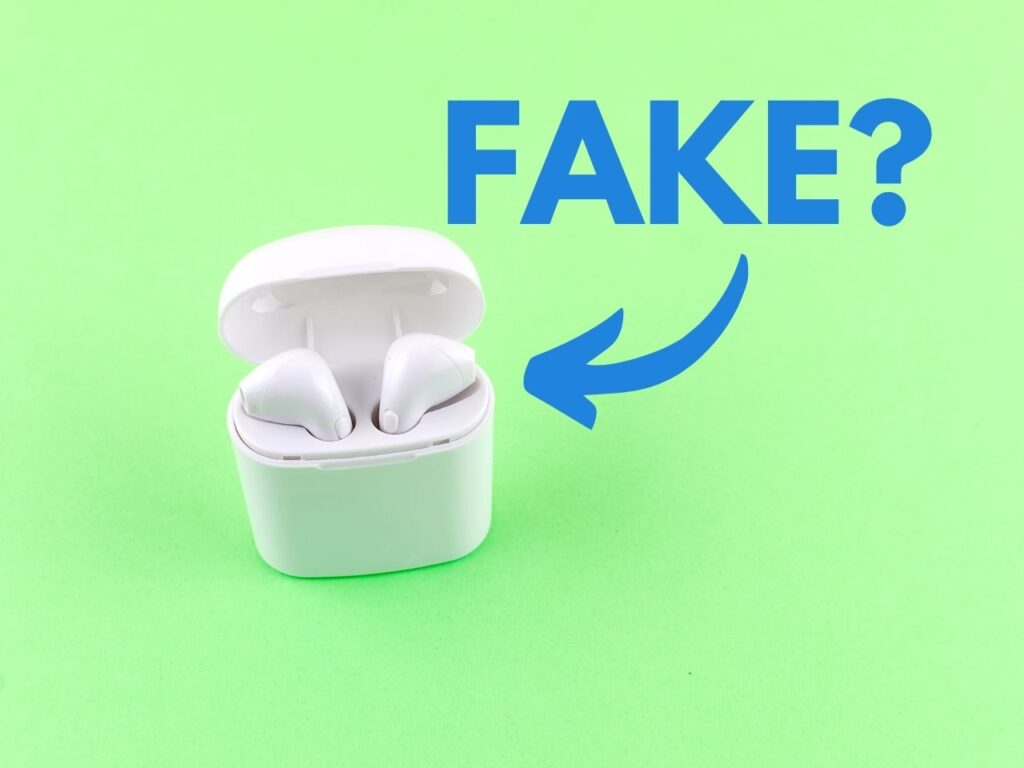 Features of AirPods
AirPods come with a series of features that make them unique to other wireless headphones on the market.
Wireless Connection
AirPods are true wireless, meaning that there is no connector between the two earpieces or between the earpieces and your device. AirPods even charge wirelessly.
On-the-go Charging
The latest generation of standard AirPods boasts up to six hours of uninterrupted listening time on a single charge.
The MagSafe charging case that a pair comes with, just about two inches long, can hold a charge worth up to thirty hours of listening time. The charging case uses a Lightning cable, the same connector used to charge an iPhone, and some older models of iPads.
New models of MacBook devices and iPads are charged with a USB-C cable. The MagSafe charging case for AirPods is not compatible with the USB-C connector.
Once there is battery life in your AirPods' charging case, it only takes about five minutes in the case for an hour of listening time on your Airpods! Bring the charging case with you to keep your AirPods safe and secure when they are not in your ears, and to keep them charged up throughout the day.
Spatial Audio
Spatial audio can be turned on and off for your AirPods. It is an additional feature that sets Apple's product apart from competitors on the market.
Apple says on their website, "Spatial audio with dynamic head tracking brings theater-like sound from the movie or video you're watching, so that sound seems like it is coming from all around you."
Using spatial audio drains the battery on your AirPods a little more quickly, but comes in handy for an immersive, surround-sound-like audiovisual experience.
Internal mMicrophone
Not only can you listen to audio on your AirPods, but you can also use the internal microphone for phone calls, to record audio, and to record video! You can put your device down and walk away from it with AirPods in your ears. You'll be heard just as clearly by the other person as you would with the phone right up against your ear.
Can AirPods' Serial Number Be Fake?
The serial number for a pair of AirPods' cannot be faked. Every electronic device manufactured by Apple comes with its own unique alphanumeric serial number to distinguish it from other products of the same variety.
The serial number can be found on the device itself or its original invoice and packaging and is used to contact Apple for support if you have any issues with your product. A real Apple product will never have an invalid serial number.
Protect Yourself From Fake AirPods
AirPods are sleek, high-quality, and above all else, wildly convenient. Apple's success with AirPods has brought about many viable competitors with true wireless technology from big brand names such as Samsung and Bose.
However, there are all kinds of AirPods imitations on the market that do not match Apple's product in battery life, audio quality, or charging capabilities. They may be cheaply made and difficult to use. To sell their product, manufacturers of off-brand AirPods make them as visually indistinguishable from the real thing as possible.
If you're interested in your own pair of AirPods, the most viable way to ensure you are getting the real thing is to buy them straight off of Apple's website. Avoid using a third-party distributor like Amazon or eBay.
While third-party sites do sell authentic Apple AirPods, they may also offer cheaper, off-brand wireless earphones right next to the real thing. If you see what appears to be a pair of brand new AirPods for less than what Apple is selling them for, be careful and research what you are looking at thoroughly to make sure it is what you want.
Price Points for Different Generations of AirPods:
AirPods (2nd Generation) – $129
AirPods (3rd Generation) – $179
AirPods Pro – $249
AirPods Max – $549
First-generation AirPods are now nearly six years old and can be difficult to find online. The differences between second-generation and third-generation AirPods are battery life, design, and price point.
AirPods Pro are a higher quality product with a higher price point to match. The Pros have rubber-tipped earpieces for maximum comfort, active noise-canceling (ANC) and sound transparency technology, and higher quality audio overall.
AirPods Max are Apple's wireless over-ear headphones. Over-ear headphones are almost always more expensive than in-ear headphones because of differences in size, material, and quality, and the AirPods Max are no different.
If you are shopping on third-party websites for AirPods, make sure that brand new devices are no more than $20 or $30 cheaper than what they go for on Apple's website. Certified refurbished products are a moderately more affordable option.
If you see true wireless earbuds that look like AirPods being sold for $15 to $30, they are NOT authentic Apple AirPods.
These can be usable, even for an extended period, and are vastly different in price from Apple's product, but if you have an issue with these devices Apple Support will not be able to help you fix it. Even if the product you have has a serial number, it is not in Apple's system and Apple is not familiar with or open to troubleshooting issues with non-Apple products.
Using Your AirPods' Serial Number
The serial number on your AirPods can be immensely handy if you run into any issues when using the device. You can find it in the Bluetooth settings on your device while it is connected to your AirPods. If your AirPods are really AirPods, they were made by Apple and have a serial number in Apple's system. Happy listening!