Can I Use a Portable Bluetooth Speaker In My Car?
Let me preface this with a small backstory: I recently bought a 2004 Pontiac Vibe after the transmission on my Honda Accord slipped.
My new car, whose name is Betty (after the Golden Girl herself), had just about everything I could want – except a sound system with Bluetooth connectivity.
My old Accord at least had that going for it.
So, after getting behind Betty's wheel, I started to wonder if I could use a portable Bluetooth speaker while I drive so that I would at least be able to play all the albums I had saved on my iPhone's Apple Music app.
Could it be done? Would I have to go back to listening to CDs? Should I start saving up for a new sound system for Betty? Would I ever be able to make or receive hands-free calls again while driving?
I immediately set to work researching this query of mine, and as it turns out, a lot of other owners of older vehicles have the same questions. I'm assuming that you do too.
So, my dear reader, I have a spot of good news for you.
Can I Use a Portable Bluetooth Speaker In My Car?
You can put a Bluetooth speaker into your car for hands-free calling and playing music with high quality sound. There are some that are geared toward in-vehicle use. Before buying one, there are several key factors you will want to consider.
While it is indeed a bit more of a pain in the butt to use a Bluetooth speaker in your car, it can be done.
There are some caveats, sure, but there are some benefits to using a Bluetooth speaker in your car.
There are even some Bluetooth speakers on the market that are specifically designed for in-vehicle use.
How do you go about finding the right portable Bluetooth speaker for your vehicle?
Which ones are the best on the market at the moment?
How do you connect a Bluetooth speaker to your vehicle anyway? Can it be connected to your radio?
Read on to learn more about how you can put a portable Bluetooth speaker in your vehicle.
Finding the Right Bluetooth Speaker For Your Vehicle
There are a variety of portable Bluetooth speakers out there at the moment, and you can take your pick from any one of them for in-vehicle use.
But a few stand out above the others based on their features.
Which features should you be looking for? Let me highlight them.
Automatic Wake and Pair
This feature will automatically turn on and pair your speaker with your host device (such as your smartphone).
You don't have to do anything; it just turns on and off when you enter and exit the vehicle.
Voice Prompts
Don't want to press any buttons to make or receive calls? Some speakers have voice prompts, which allows for that.
You just need a voice command so that the Bluetooth speaker can do the work for you, making and answering calls.
Noise Cancellation
Driving is noisy, even in a vehicle with a well-muted cabin.
Noise cancellation takes some of the noise pollution out of it.
When someone calls you, the amount of noise they hear on their end will be more muted so that your voice comes across more clearly.
Size
You'll obviously want something that is easy to carry around.
Most of these portable Bluetooth speakers are small and lightweight, but some are extremely compact.
You will want something that doesn't take up too much space inside the car's cabin.
Night Mode
Do you drive a lot at night and make calls then? If so, night mode will turn off the blinking light so that it does not become a distraction as you drive.
Sound Quality
Your speaker's audio should be at least as good as the speakers in your vehicle – if not better.
You do not want to be making a downgrade here.
You will get a better sound quality from a speaker with a wider frequency range.
Durability
You'll be porting this speaker around, so it has to survive potential drops.
It should also be able to survive liquids.
There are water-resistant models out there that can handle some spilled coffee or splashes of raindrops.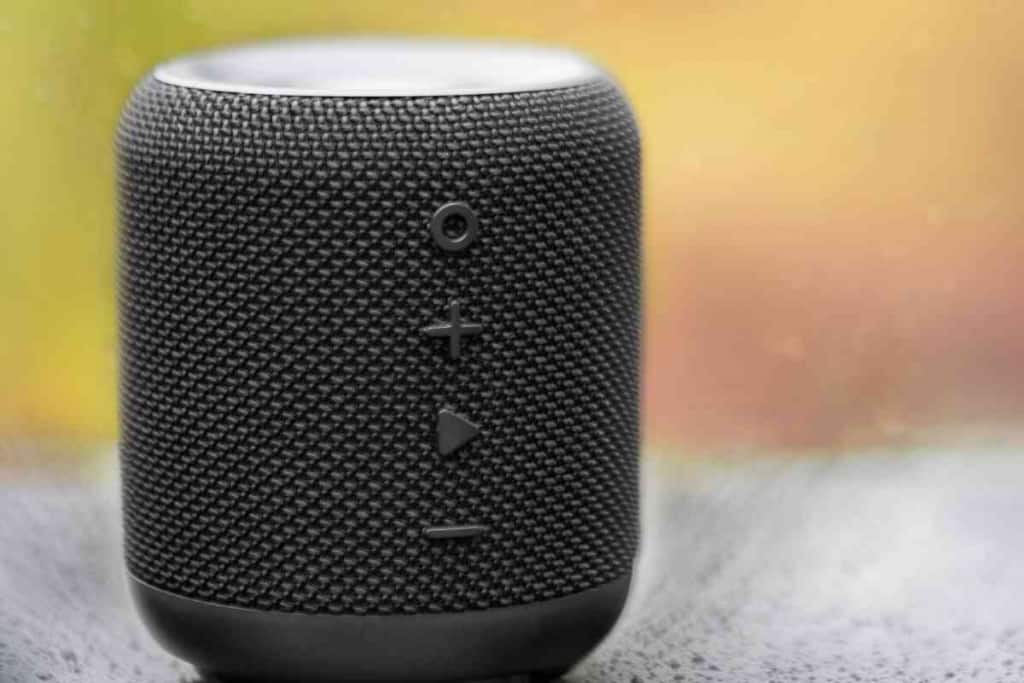 Bluetooth Speakers To Consider
I've tried quite a few Bluetooth speakers in my day.
Here are a couple of the most user-friendly ones I have found for portable use in a vehicle.
Jabra Freeway
Portable and easy to install in a vehicle, the Jabra Freeway has superb sound quality and an excellent dual-microphone built into it.
With its noise cancellation feature, your voice will be easily heard when you are on the phone.
Voice command allows you to make and receive calls, and the speaker will read off callers' names to you.
VeoPulse Car Speakerphone
Another high-quality option is the VeoPulse. This portable speaker is small and easy to carry around, and all you have to do to install it is slide it onto your car's sun visor.
It supports Siri and Google voice commands, so you can go totally hands-free.
You can reject an incoming call by saying "no".
Its battery life is also rather impressive.
Motorola Roadster Pro
The Motorola Roadster Pro has noise cancellation so that you can easily be heard on the other end of the line.
Unlike most other models, it has four built-in mics, so sound can be heard in any direction.
If you keep it charged on a regular basis, this speaker should last a long time.
Oontz Angle 3
Sound quality on the Oontz Angle 3 is stellar due to its acoustic driver.
Distortion is lessened thanks to the triangular shape projecting the bass radiator downwards.
This speaker works well indoors, outdoors, and in the car.
Its 14 hours of battery life is nothing to scoff at either.
How do you connect a Bluetooth speaker to a vehicle?
There are a few ways to connect.
First, ensure that Bluetooth is enabled on your host device and that you've pressed the button on the speaker to get it into pairing mode.
To connect your portable Bluetooth speaker in your by pairing it with your phone, you will need to:
Select your location and mount the speaker.
Connect it with a car charging cable to charge.
Go into your phone's Settings > Bluetooth, then look for the device's name.
Tap on the device to pair it.
Can you plug your speaker into your car's radio?
It is possible to connect your speaker with your vehicle's radio. However, the only way you can do this is if your vehicle has a smart or Android double din stereo installed.
How do I add Bluetooth to my vehicle?
If your car is like mine, it doesn't have Bluetooth.
But you can integrate it into your car's stereo.
You can do this by:
Using a universal Bluetooth car kit since it will work with any vehicle.
Connecting your factory-installed radio with a vehicle-specific Bluetooth car adapter.
Installing a brand-new stereo with Bluetooth capabilities built in. (This, of course, is the most expensive and time-consuming option.)
Closing Thoughts
You don't have to already have Bluetooth built into your car to use a portable Bluetooth speaker.
You can add it to your vehicle a few different ways, then you can take your pick from the portable speakers out on the market.
There are plenty of them, and a few are definitely worthy of your consideration.
Trust me, Betty and I love that we were able to add Bluetooth to our driving experience.