Can The Microsoft Surface Pen Be Used On Other Devices?
Digital writing utensils are becoming somewhat of a major trend.
Microsoft has always had a somewhat forward-thinking approach to interface accessories.
This often means trying to add every novel feature that's possible to add at once such as touchscreen, voice controls, pen digitizer, touchpad, keyboard, and USB peripheral accessory support.
For that reason, hardware developers almost always seek to set the standard with their products.
Setting hardware standards can lead to mainstream support and accessibility. Microsoft took the same approach with the addition of the Surface Pen and built-in digitizer.
Can The Microsoft Surface Pen Be Used On Other Devices?
Any Microsoft device from the Surface Pro 3 and newer can use the accompanying Surface Pen models interchangeably. They are not, however, compatible with other manufacturer's products, like iPads.
Starting with the Surface Pro 3, Microsoft has used the same digitizer type, n-Trig, to create Surface Pen tracking in their devices. That means that
In the world of laptop digitizers, the battle has long been between Wacom and n-Trig.
After two Surface Pro models using the Wacom digitizers, Microsoft decided that it required more direct control of its key components.
This prompted Microsoft to switch to N-Trig digitizers for the Surface Pro 3 which in turn led to Microsoft purchasing n-Trig altogether.
With the acquisition of n-Trig, Microsoft further developed the Surface Pen to a fourth version and created a new iteration called the Surface Slim Pen.
If you're a Surface fan with a brand new Surface Pen, you might be asking yourself what devices you can use it on.
The answer isn't quite as simple as it used to be.
What Devices Can the Surface Pen Write-On?
Version 2, Version 3, and Version 4 of the Surface Pen, as well as the Surface Slim Pen 1 and 2, can all be used interchangeably with the Surface Pro 3 through Pro 7, Surface Book 1 and 2, Surface Laptop 1 and 2, both models of the Surface Studio, Surface Go 1 and 2, Surface Laptop 3 and 4, and the Surface Hub 2.
The same Surface Pens can all be used with the Surface Duo and Surface Duo 2 as well.
Each device has varied specifications as well as the Surface Pen models.
These changes include pressure sensitivity, weight, and device latency.
For slimmer devices like the Surface Pro X or Surface Duo, the Slim Pen 2 is the lightest and best functioning pen available.
Unfortunately, the Slim Pen requires the wireless charging feature now available in the Surface Pro series and Surface Duo 2 to activate.
Version 2 through 4 of the Surface Pen can interact with any of the above-listed Microsoft devices after being paired.
It is important to note that the Surface Pen Version 2 through 4 all use a single AAAA battery to charge.
These batteries are not common in retail stores and often need to be ordered or purchased online.
The good news is that a single battery can power your Surface Pen for six months to a year depending on how heavy it is used.
The Slim Pen has a rechargeable battery installed.
This makes it easier to maintain but also gives the Slim Pen a device life span.
Rechargeable batteries eventually begin to degrade to a point where they can no longer hold a charge.
Once this happens, the Slim Pen will need to be replaced with a new device.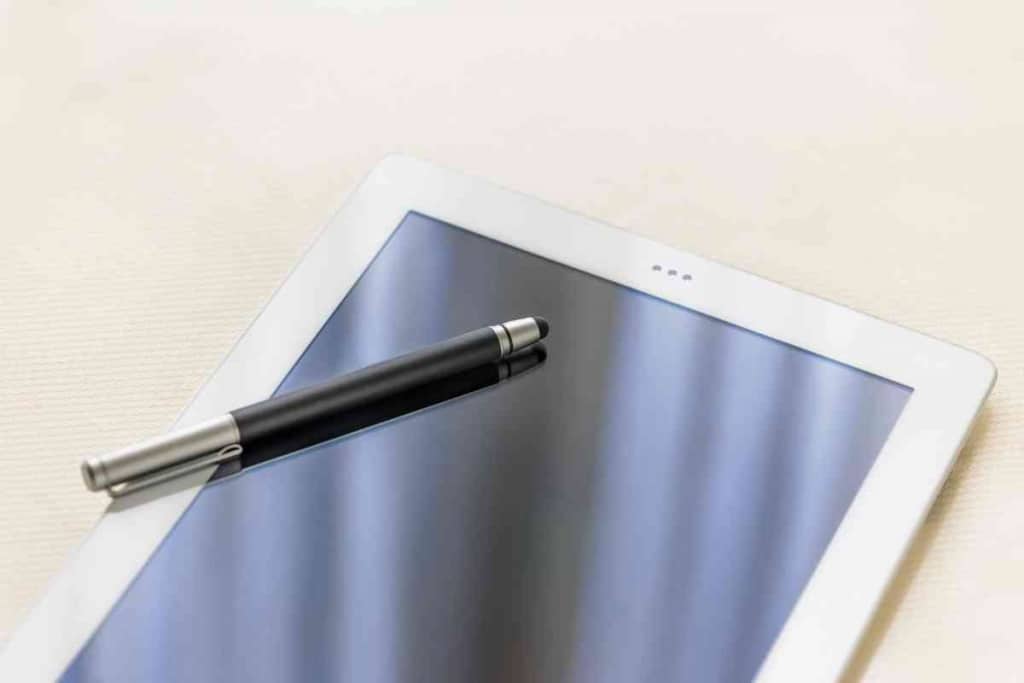 The Different Models of Surface Pens
Below is a list of the different Surface Pen models so far.
Each model has slightly different physical and functional aspects.
Mainly, pressure sensitivity, latency, and the physical weight of the Surface Pen make up the breakdown list.
Pressure sensitivity is determined by both the digitizer and the Surface Pen tip.
For that reason, the listing for each device's pressure sensitivity will have three numbers. Group 1, or G1, is the Surface Pro 3 and Surface 3.
Group 2, or G2, is the Surface Pro 4, Surface Book 1, and the Surface Laptop 1 and 2.
Group 3, or G3, is made of the Surface Pro 5, 6, and 7, Surface Book 2, Surface Book 3, Surface Go 1 & 2, Surface Studio 1, Studio 2, Laptop 3, Laptop 4, and Hub 2.
Surface Pen Version 1
The first version of the Surface Pen stands out from its successors rather evidently.
The first big difference is that they are not compatible with newer Surface devices.
This is because the first version of the Surface Pen used a Wacom digitizer to go along with the Surface Pro 1 and Surface Pro 2.
Unless you are an avid collector of older technology, you aren't going to be seeing this pen for sale in-store or online.
It's pretty easy to avoid accidentally buying this version if you are looking to get a modern Surface Pen.
Pressure Sensitivity: 256 on SP1, 1024 on SP2
Latency: 100ms
Weight: 10 mg
Surface Pen Version 2
Alongside the Surface Pro 3, a new Surface Pen was released.
It promised a lower latency and better software support.
Unfortunately, it also picked up quite a bit of extra weight.
This pen could reach up to four times the pressure sensitivity of the first model.
Pressure Sensitivity: 256 (G1), 1024 (G2), and 4096 (G3)
Latency: 75ms (G1), 40ms(G2), and 21ms(G3)
Weight: 42g
Surface Pen Version 3
Version 3 tried to reclaim the former lightweight figure of the original Surface Pen.
Unfortunately, in order to cut the weight in half, it also cut its potential pressure sensitivity in half.
Pressure Sensitivity: 256 (G1), 1024 (G2, G3)
Latency: 75ms (G1), 40ms (G2, G3)
Weight: 21g
Surface Pen Version 4
Once again, Microsoft further refined the quality of the Surface Pen.
The fourth version was designed to cut even more weight without losing any functionality.
This step in refinement was a major success and inspired the creation of the Slim Pen.
Pressure Sensitivity: 256 (G1), 1024 (G2, G3)
Latency: 75ms (G1), 40ms (G2, G3)
Weight: 9g
Slim Pen
The Surface Slim Pen brought back the high-pressure sensitivity found in the heavy second version of the Surface Pen.
Only this time, Microsoft was able to maintain the Slim Pen's weight at 9g.
The new design mimicked a drafting pencil rather than a pen.
Pressure Sensitivity: 256 (G1), 1024 (G2), 4096 (G3)
Latency: 75ms (G1), 40ms (G2), 21ms(G3)
Weight: 9g
As an added feature, the Slim Pen sports a writing function called tilt. This function only works with the G3 group of devices.
Tilt allows the user to tilt the Slim Pen to get varying effects from the software they are using.
Slim Pen 2
In a larger bid to refine inking devices, Microsoft once again improved upon the design of the Slim Pen with the Slim Pen 2.
This pen features everything about the Slim Pen but is cut to an impossibly smaller weight.
Pressure Sensitivity: 256 (G1), 1024 (G2), 4096 (G3)
Latency: 75ms (G1), 40ms (G2), 21ms (G3)
Weight: 1g
The Slim Pen 2 also sports the tilt feature for the G3 group of devices.
Classroom Pen/Pen 2
The Classroom Pen and Pen 2 are remodeled Surface Pens (version four with version three bodies).
These pens were meant to be available bundled together to provide educational enhancement devices.
Microsoft urged many school districts to adopt the use of the Surface 3 and later the Surface Go series to be used in education environments. As part of this, Microsoft tailored Surface Pens meant to be used in educational environments as well.
Hub 1 Pen
The Surface Hub 1 was a unique large format Surface meant to be used in the workplace as both a development and presentation tool.
This device was developed primarily for the business sector and the Hub Pen was meant to be used only with it.
Pressure Sensitivity: 1024 Hub 1 only
Latency: 55ms
Hub 2 Pen
The second version of the Hub Pen uses the same technology mastered in the Slim Pen.
It also features the tilt function for the G3 group of devices.
Pressure Sensitivity: 256 (G1), 1024 (G2), 4096 (G3)
Latency: 75ms (G1), 40ms (G2), 21ms(G3)
Weight: 9g