Do AirPods Block Out Wind?
This post may contain affiliate links. As an Amazon affiliate, I earn from qualifying purchases.
Part of the attraction of having a pair of AirPods is that they're wireless, letting you take them outdoors for a walk or a run. You could even use your AirPods in vehicles such as convertibles, bicycles, and motorcycles.
But what about the wind?
That's a frequent question among new AirPod users.
Will wind be a problem when they take their AirPods outdoors? AirPod owners usually find out on their first trek outdoors whether the superior sound of a set of AirPod Pros will block out the gusts of wind outdoors.
Do AirPods Block Out Wind?
AirPod Pros and the second generation of AirPods have noise-canceling technology that will help reduce the sound of the wind when you're listening to them, but the first generation of AirPods do not have noise-canceling technology. Since the first generation doesn't have noise-canceling technology, you will still hear the wind.
When Apple released the original version of AirPods in 2016, they were not designed to be noise-canceling.
That meant the first generation of AirPods would pick up wind noises that would distort sound or just drown it out completely.
That can make a phone conversation via Bluetooth a frustrating experience for both parties.
Then Apple launched AirPod Pros, a more advanced version of AirPods that has a selection of noise-canceling levels as well as transparency, which lets some outside noise in.
Being able to hear some outside noises is important to safety.
Think what could happen if an AirPod user couldn't hear oncoming traffic and was attempting to cross the street.
There's not a safety advantage to hearing the wind, though.
Wind will just keep you from hearing your favorite music or podcast or enjoying a phone conversation with a friend.
For that reason, I'm glad to share that Apple AirPod Pros will block out wind, giving you pure sound without all the gusts from weather or speed.
If you're catching an important personal or business call outside, you'll appreciate that noise-cancellation.
Windy Spots Where You Might Use Your AirPods
Once you're untethered by headphone cords and using AirPod Pros, you'll think of all sorts of outdoor settings where you can enjoy them.
Here are just a few activities that can lend themselves to AirPod use.
Walking
Whether you're taking a morning walk or making the trek from your parking space to the office door, you may want to make the most of your walk by listening to podcasts or music.
Some walkers can even fit in an online language lesson through their AirPod Pros while they're strolling.
Running
Joggers and runners often find their performance improves when they listen to their favorite music while running.
Music can provide just the right beat for a running cadence or a mood boost just when you need it.
Cycling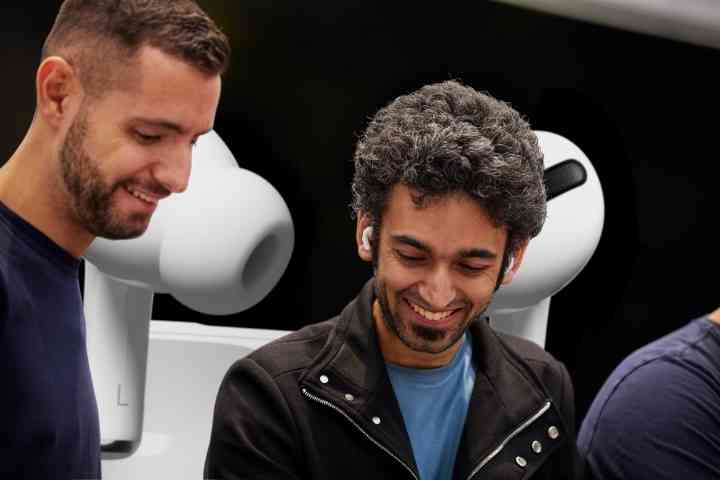 Riding your bike with a podcast or favorite songs playing can make the miles fly by. One of the benefits of AirPods Pro is that noise-cancellation will block the wind.
Multiple noise-cancellations are available, as is transparency, which lets cyclists hear the traffic noises that will keep them safe.
On longer rides, make sure your AirPods are fully charged so they'll be powered up the whole time.
Wearing one AirPod at a time can lengthen battery life and will allow cyclists to hear more outside noise for safety.
Motorcycling
Depending on the laws in your state, you can also wear AirPods while riding your motorcycle.
AirPod Pro may be the better choice for bikers since they provide noise-cancellation, protect ears from engine noise, and are less likely to fall out.
AirPod Pros will keep wind sounds down, but if listening to music while riding a motorcycle is distracting, be safe on the road and keep the AirPods at home.
In Your Car
Using AirPods in your car can keep the peace if you want to listen to something different than your fellow passengers do.
If you're the driver, don't listen to loud music while driving as it could be distracting and dangerous.
Drivers who do use AirPods should wear just one so they can hear the traffic noises.
However, driving with headphones on is illegal in some areas, so make sure to check the laws where you live before doing this.
At Sporting Events
Take your AirPod Pros to the golf course or the ballpark.
You'll be able to make phone calls without the worry of wind interference.
You'll enjoy listening to sports news and podcasts while tailgating outside the football stadium, too.
Wind won't get in the way of your listening while you're enjoying your favorite sports.
Boating
Boating is plenty windy, so using AirPod Pros can keep ears protected from wind gusts.
AirPods Pros are sweat- and water-resistant, but resistance might decrease with frequent use.
Not only that, but water-resistant doesn't mean waterproof.
AirPod Pros have a good chance of getting ruined on a fishing or boating trip if they get wet.
After using them, be sure to keep them clean and dry in their case.
On the Beach
A day by the shore can be windy even when you're not in a boat.
You can enjoy the beach and your favorite podcasts or music without worrying about wind noises interfering if you're wearing your AirPod Pros.
Just be sure to remember you're wearing them—AirPod Pros are water-resistant, not waterproof.
A dip in the lake or ocean could wreck them.
Take Care to Get the Best Sound
If you're getting some interruption with your AirPod Pros when using them indoors with your Mac, check to see if you got some dirt on them while using them outdoors.
Cleaning your AirPods will improve their performance indoors.
You can also keep your AirPods clean and maximize their battery life indoors or out if you return your AirPods to their case after use.
Wrap Up: Using AirPods on a Windy Day
Talking on the phone via Bluetooth, listening to music, or catching up with your favorite podcasts—you can do them all on the windiest of days if you're using AirPod Pros.
Their noise-cancellation blocks out the wind, letting AirPod users enjoy them in more places and while doing more activities.
As always, make sure you're not letting your AirPod use be a distraction.
Use your AirPod Pros safely outdoors, knowing that you can enjoy them without the wind getting in the way of an important phone conversation or your favorite song.