Does Fitbit Have Fall Detection? [Answered!]
This post may contain affiliate links. As an Amazon affiliate, I earn from qualifying purchases.
Whether you're a totally able-bodied young adult or someone like me who has a lifelong condition that causes balance issues, falls happen. We humans are somewhat accident prone, even when we think we are playing it safe. When we work out, we put ourselves at an increased risk of falling down.  On occasion, we lose the fight against gravity – it happens.
Table of Contents
Does Fitbit Have Fall Detection?
Fitbit has not yet incorporated fall detection as a feature on its trackers. Apple Watch and Samsung Watch both have it and it's a helpful feature for many people of different fitness levels, but Fitbit does not offer this feature.
Take it from me. As someone who has fallen over while wearing a fitness tracker, I appreciate the existence of this feature.
Luckily, my falls have all been pretty minor with no real injuries – aside from my pride – of which to speak. Fitness trackers are undoubtedly advanced devices with some amazing capabilities. 
And, leading the pack since they debuted in September of 2009, the Fitbit models give their owners a lot of features to work with. However, there is no Fitbit Fall Detection, nor is there Fitbit blood pressure tracking or Fitbit blood sugar monitoring.
Before I get to that, let me quickly summarize fall detection.
This feature will notify selected contacts stored in your smartwatch of your incident.
Seniors who are prone to falls can benefit from this feature, as can anyone who runs, hikes, or bicycles on their own.
You just select a few emergency contacts while you are setting up your smartwatch and keep LTE services or Bluetooth enabled so that the message – and your location – can be sent out.
Additionally, some of these devices will come with an emergency SOS feature.
Let's jump into whether the Fitbit has fall detection and how this type of technology works.
What is fall detection?
Fall detection is a feature found on newer smartwatches that detects when you have taken a tumble while wearing the device.
It will notify your selected emergency contacts when this happens, as long as you have LTE or Bluetooth enabled and connected. Otherwise, the feature will not work.
If you have it on, though, your selected emergency contacts will receive the incident report as well as your location.
If you are someone who likes to take hikes alone in the mountains or go jogging on the trail after dark, this feature can come in handy.
It is also something that assists seniors and people with physical disabilities who are prone to falls.
It can essentially function as a medical alert for them.
How does fall detection work?
This feature does vary a little between brands, but in general, the accelerometer feature is what helps to determine a fall.
It will notice if you have suddenly stopped moving or received a sudden shock.
Also, some smartwatches have built-in sensors that can detect your speed or cadence, which help to determine if a fall has happened.
A few newer smartwatches can even tell if you have fainted from a standing position.
Once a fall is detected, the watch will trigger an alarm that will go off for 60 seconds unless you stop it by touching a button to indicate that you're alright.
You should assess yourself for injuries first, of course.
If you are not responsive at all by the time that minute is up, the system will send a SOS message out to your emergency contacts.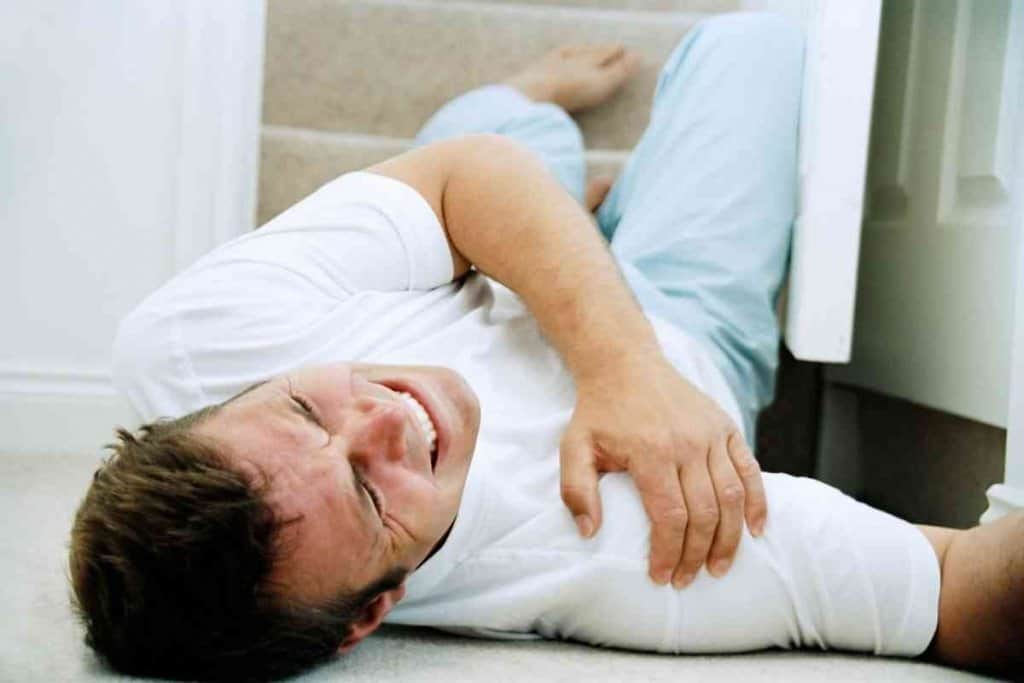 How is fall detection different from the SOS feature?
SOS is a feature devices have that lets you contact emergency services without going through the process of unlocking your device.
If the watch has emergency mode, it will prolong the battery life for a few days, saving as much battery life as possible.
Does Fitbit Charge 4 have fall detection?
Unfortunately, as of right now, no Fitbit model is equipped with a fall detection feature.
The addition of such a feature would attract a lot more customers who feel that they would benefit from having fall detection on their smartwatch.
The Fitbit Charge 4 does a lot of things well and has a slew of helpful features equipped on it.
But adding fall detection would seal the deal for a lot of prospective buyers weighing their options.
Which watches detect fall?
Okay, there are a number of smartwatches out there with a fall detection feature equipped on them.
Apple Watch and Samsung Watch are two of the most popular – albeit fairly expensive – options on the market right now. If you get the Apple Watch, Series 6 and 7 both have it.
The SE does as well.
You can also get it on:
Garmin Forerunner 45S
Galaxy Watch 3 and 4
Garmin Fenix 5 and 6
Lively Wearable 2
Why is Fitbit dragging their heels on adding fall detection?
We are due for some Fitbit updates here pretty soon.
Fitbit usually goes about 18 months between releases for their current lines, which means the spring of 2022 is high time for a new release.
Perhaps we will see a brand new Inspire 3. And the end of 2022 could bring us a new Versa 4 or Sense 2.
If Fitbit really wants to compete with the big rivals, it is going to have to consider making fall detection part of its upcoming series of updates.
Seniors, people with physical disabilities, and lone wolf hikers and joggers can all benefit from having it on their smartwatch.
Closing Thoughts
There is no Fitbit that offers fall detection – at least not for the moment.
Only time will tell if Fitbit will include this helpful feature in their next release.
It is one that can be a lifesaving feature, working more as a medical alert than anything else.