How Do I Stop Unwanted Bluetooth Connection?
This post may contain affiliate links. As an Amazon affiliate, I earn from qualifying purchases.
Security is usually a major concern in networking. Whether you are using a wireless or cable network, you don't want someone to access your personal information. This is not just for Bluetooth speakers, but also for your phone, computer, and smart home devices that use wireless technology.
Bluetooth is the most widely used wireless networking technology. This is because it has many advantages over the other wireless modes of connection. But while it is the most preferred, it is prone to security concerns.
For instance, when your Bluetooth speaker is configured to accept connections automatically, any device will connect to it. This can be irritating sometimes. In this article, we will discuss nine ways to stop unwanted Bluetooth connections.
How Do I Stop Unwanted Bluetooth Connections?
So, how do I stop unwanted Bluetooth Connections? Here are nine things you can do to prevent unwanted Bluetooth Connections:
It is often unintentional for an unwanted Bluetooth connection, but sometimes it can be as a result of a hacking attempt. These steps are essential to ensure your Bluetooth connection is safe. Here are the details of how to ensure the security of your Bluetooth connection.
1. Use a Passcode to Secure Your Bluetooth Connection
Many modern devices support the use of a passcode to allow pairing. You can choose to allow devices to connect without the need for a code. However, if you are in an insecure environment, you would most certainly need to secure your Bluetooth with a code.
Whether you are connecting your car speakers, smartphone, or any other Bluetooth device, an option to use a passcode will be provided. When pairing your devices, the code must match on the two devices. Concurrently, you will be requested to confirm the match.
The passcode will not work on devices that do not have a display screen. For instance, soundbar speakers that don't have a screen will not have a passcode option. Some devices will use an audio format of the code by reading it out to you.
2. Turn Bluetooth Off on Your Device
The simplest way to avoid unwanted connection to your Bluetooth device is to turn it off. The Bluetooth network on your device will only work when it is powered. Once you switch it off, no device will be able to pair with it.
In some cases, when you turn off the devices and back on again. All the unwanted connections will be dropped. That way, you will be able to establish a connection with the allowed devices only. However, some devices recall their pairing information even after turning off the device. In such cases, you will have to "forget" the pairing details of unwanted devices in the configuration settings.
There are different ways of turning off your Bluetooth, depending on the make of your speaker. Some speakers have a multi-function button, while others use the volume knob to turn it off. You can reactivate Bluetooth in the same manner.
3. Connect An Audio Jack
This is not a very common way of stopping unwanted Bluetooth connections. It is still an easy way to keep your devices safe. Some Bluetooth speakers will allow any devices to connect to it unless an audio jack is connected.
Here, the audio jack takes precedence over the Bluetooth wireless connection. You can try this out with your device. It works on almost all recently release speakers.
If you notice that your speaker connects to any devices, have an audio jack in handy to help. You can use the jack pin end from an old headphone.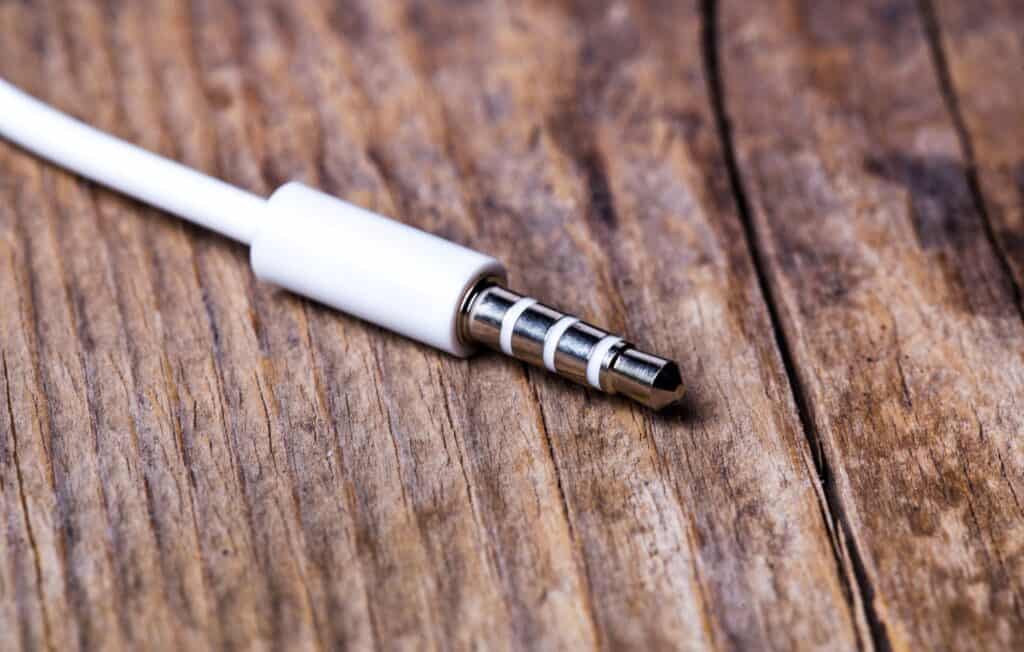 4. Make Your Connection Invisible to Other Devices
If your speaker is built with a display screen or has a way to access Bluetooth settings, you should make sure your connection is invisible to unwanted devices. That way, nobody will be able to see the link. Make sure you link first before hiding the Bluetooth network.
Some speakers will allow you to pair a device. Once paired, you can hide the network entirely. By doing this, only the paired device will have access to the hidden Bluetooth network. Some devices will have a password to accompany the hiding.
5. Do Not Accept Unknown Bluetooth Requests
Sometimes your speaker will prompt you that a new device would wish to connect to it. In this case, your device will alert you either via device display or your phone. If you are not sure about the source of the connection, do not accept the link.
If you accept the connection once, it will connect automatically from thereon. Therefore, the initial linkage will be your own doing. Only accept connections that you are aware of and are not a security threat to your device.
Never accept unwanted Bluetooth requests. People can gain access to your smartphone or gain complete control of your speaker through your Bluetooth network. Sometimes this can be unintentional, but hackers will also use the same approach to access your private information.
6. Switch Off Bluetooth When You Are Not Using It
This is obvious, but we all fail to observe it oftentimes. Switch off your speakers when they are not in use. If not, at least switch off the Bluetooth network connection of your device.
It is a straightforward procedure, but often neglected. It is unfortunate that many people leave their Bluetooth on, thinking that nothing wrong will happen. This is a bad idea.
Some smart speakers will remember the device's pairing information for many days after the first pairing. In this case, it is safe to switch off the Bluetooth on the device to prevent unwanted connections. Smart devices that come with an auto-off switch will save you the hustle of remembering to switch it off.
7. Delete Paired Bluetooth Connections
Many smart devices will remember the pairing information for days and sometimes even weeks. You can even connect multiple Bluetooth speakers. Your smartphone can keep Wi-Fi and Bluetooth connectivity information for years. Keep checking your device for old or unused pairing information.
In case of accidental pairing, you should ensure you either change the access password or delete the device information altogether. Clear your cache regularly to avoid chances of your devices connecting to "remembered" devices.
For devices that were already paired to your speaker, unpair them and turn off your Bluetooth visibility to prevent future connections. Once unpaired, completely delete the device information from your gadget to stop Bluetooth Pairing requests. The unwanted device will not be able to detect your Bluetooth, but you will connect to other devices.
8. Blacklist Unwanted Bluetooth Connections
Another way of stopping unwanted Bluetooth connections is by blacklisting Bluetooth devices. Most smart speakers have this option. You can easily have an asterisk (*) to devices that you wish to block from the pairing.
Some devices will allow you to add the machine address (MAC Address) of the devices you wish to pair. Only whitelisted gadgets will be allowed to pair with your device. This is a safe way of ensuring that your device will only allow connection to a specific gadget since the MAC address can neither be shared nor changed.
9. Change the Name of Your Device
Sometimes a simple trick of changing your device name will work the trick. But this should be accompanied by setting a passcode to access it.
When you change the name of your speakers, all old connections will be dropped. Other devices will detect it as a new device and will require the device to pair afresh to connect.
Changing the name of your device will disconnect all devices. Both your devices and the unwanted devices. This should be followed by reconnecting or pairing your devices to the speaker again. Once paired, you can also make it invisible or add a code to enhance safety.
Conclusion
Bluetooth technology is being leveraged across the world because of its convenience, but it can be dangerous if you are not careful. It can be very irritating to hear your speaker playing some music that is unknown to you. Always remember to switch off your Bluetooth when it is not in use. It is that simple.
Note that the measures listed here not only apply to Bluetooth speakers but also your smartphone and any other Bluetooth-enabled gadget. When you need to use the speakers, switch them on and connect them immediately. That way, you will be safe from prying connections.
Additionally, keeping your Bluetooth network off is a good practice. It helps reduce the power consumption of your speaker or phone. Smart speakers will automatically turn off all networking options to save your juice. Draining your battery quickly means more recharges, which leads to shorter battery life. Some devices' batteries are expensive to replace, while others come with non-replaceable batteries.