How do I turn off Bose Soundlink Revolve?
If you ever needed a powerful speaker with omnidirectional sound, it would be the Bose SoundLink Revolve. It is a decent Bluetooth speaker that rivals most in its category in terms of offering a 360-degree audio experience and is great for parties, where everyone wants the same listening experience. But it's all fun and games until it frustrates you by refusing to power off when you don't need it.
This is a common problem for some Bluetooth speakers, and Bose SoundLink Revolve is no exception. So, how do you turn it off?
How do I turn off Bose Soundlink Revolve?
When your Bose SoundLink Revolve doesn't turn off, the easiest way to power it down is by pressing the power button briefly. It will enter a sleep mode, but it will power off after 30 minutes of inactivity – no sound coming from your speaker.
The process seems quite simple, but it is more than pressing that power button. Some caveats apply, most of which will determine whether your speaker will remain powered down or not.
This article addresses this common issue, and it seeks to help you understand why your Bose SoundLink Revolve doesn't easily turn off as it should. Read on!
About SoundLink Revolve Bluetooth Speaker
The Bose SoundLink Revolve is an elegant speaker with a cylindrical shape. It packs an array of beautiful features and improvements, including a 360-degree audio capacity ideal for many occasions. It is portable, wireless, versatile, and quite practical. This speaker offers lots of convenience, including waterproof and a dust-proof design. It also has an optional charging dock, and it boasts a 13-hour battery life.
Being a straightforward Bluetooth speaker, Bose SoundLink Revolve allows you to swiftly pair devices, and it automatically connects to your music device or smartphone the next time you power it on. Better yet, if you want to use a wired connection, there is a 3.5mm input, and the six buttons on top of the speaker let you switch easily between inputs. A LED light indicates a connection.
You can also adjust the volume and power it on and off. If you want to know how much battery juice is left, you can press down the power button and a voice prompt will let you know. The neat touch about this Bluetooth speaker is that you can also pause, play, and skip through your music library using the multi-function button – one that has three dots. The same button can also be used to speak to your smart device's voice assistant – even from a distance.
Its buttons are quite responsive, but you are more likely to use your controlling device to manage your playlist or whatever you're playing through Bluetooth. All this is also expedited by the free Bose Connect app, which also can allow you to connect two SoundLink Revolve speakers as a stereo pair.
Of course, with very low latency, Bose SoundLink Revolve easily powers on when you turn on a paired device, including any connected smart device such as a smartwatch, laptop, iPad, or tablet. This is both a good and a bad thing. Good because you waste no time trying to connect a device, and bad because it can keep your speaker turned on even when you don't need it.
Why Bose SoundLink Revolve Doesn't Turn Off
Your Bose SoundLink Revolve speaker will often remain powered on even when you don't need it all because the manufacturer implemented the Bluetooth Low Energy (BLE) feature, also known as Bluetooth Smart. This Bluetooth feature allows your speaker's signal to remain active and to be easily turned on by any other linked device.
What is Bluetooth Low Energy in Bose Speakers?
BLE in Bose speakers is a new standard for low-power audio transmission over Bluetooth. It is different from conventional Bluetooth and has been adopted for a wide array of applications, including smartwatches, smartphones, hearing aids, and home sensors among others.
It is characterized by lower energy consumption, and it packs a decent codec that promises unmatched audio improvements and sound quality, particularly when compared to the typical Bluetooth capabilities.
BLE introduces lots of features, including the ability to broadcast through Bluetooth to several devices at the same time, and lots of other integration in smart devices for convenient pairing and operation. Due to BLE's low power consumption, applications using this technology can run for long, but can only transmit small amounts of data periodically.
Why BLE Stops Bose SoundLink Revolve from Turning Off
The biggest advantage of BLE in Bose SoundLink Revolve speakers is its ability to connect to multiple devices at the same time. This means that the speaker can receive audio from multiple sources without having to shift between devices. However, even though the audio source won't be interrupted when you pair a new device, there could be some interference occurring from the dropping in and out of gadgets.
Its easy connection to multiple devices is the reason why your Bose speaker is easily turned on unprecedently. Now, why it doesn't shut off is because it remains in sleep mode constantly until a connection or a paired device is activated.
In a nutshell, Bose SoundLink Revolve, because of its Bluetooth Low Energy use, doesn't fully shut down. When you press the power button, it remains on standby and can be turned on by the Bose Connect App.
Turning Off Bose SoundLink Revolve Speaker
Your Bose SoundLink Revolve speaker can easily be turned on when the Auto on/off feature is activated. However, you can deactivate this mode and power down your device by pressing the power button briefly and once. While it doesn't necessarily shut it off instantly, it will after 30 minutes, especially if it is using the following connections and power sources:
• AUX connection operating on battery or AC (mains) power
• Bluetooth connection operating on battery power
If you want to disable the Auto on/off mode in your SoundLink Revolve Bluetooth speaker, press and hold Volume + and the Input mode button at the same time. You will hear "Auto-off disabled." Once this is deactivated, power it off and wait for 30 minutes, it will turn off.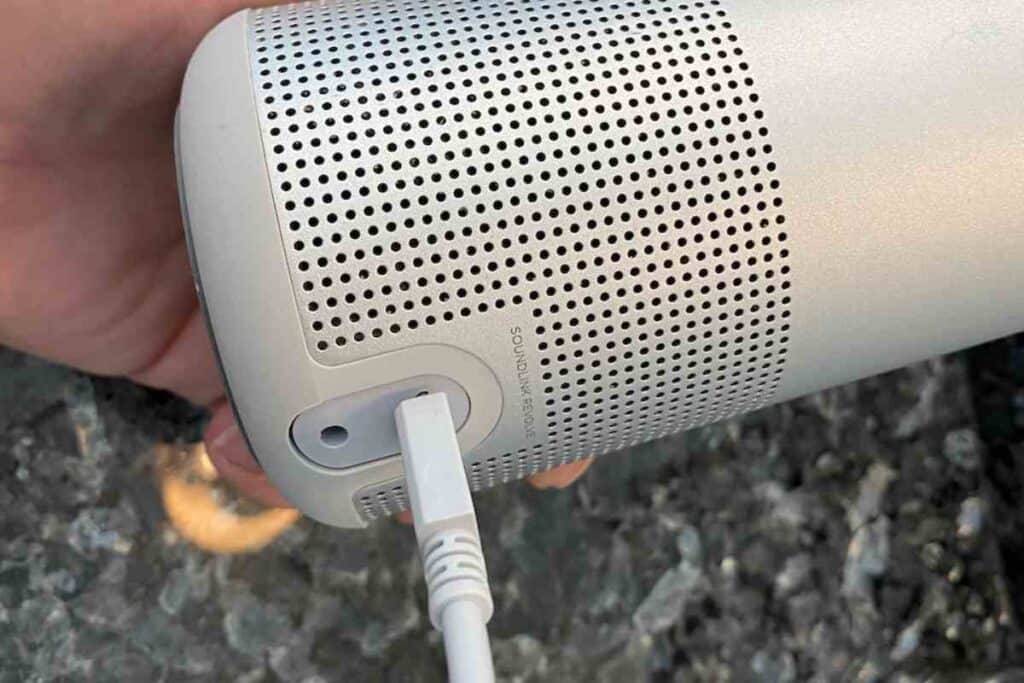 What if It Doesn't Power Down?
If the above method doesn't completely turn your Bose speaker off, don't fret, yet. There are a few more things you can still do to ensure it isn't powered on randomly.
1. Reset Your Bose SoundLink Revolve and Leave it in the Power Off State
Usually, hard resetting a Bluetooth speaker is the easiest way to solve many issues, including pairing concerns and a few other power issues. This method ensures that there are no issues with your speaker's software and is ideal for clearing cache and forgetting all the other connected devices.
It is always important to confirm first if the device pairs before resetting it. Check this using the Bose Connect App. Next, hard reset your Bose SoundLink Revolve by pressing and holding the Power button for 10 seconds. It will ask you to press the multifunction button of the speaker to select English. The speaker will restart itself. Once you are done, ensure that you leave it in the 'off' mode, and it will eventually power down.
NOTE: Bose has specific instructions for its speaker models. If you have a model different from the SoundLink Revolve speaker, check the instructions from Bose's support website. From the search box on the page, enter the specific model of your Bose speaker and get a guideline on how to reset it.
2. Disable Bluetooth on Connected Devices
As opposed to hard resetting your Bose SoundLink Revolve speaker, you can also disable Bluetooth from the paired devices, or forget the speaker from the connection list. Keep in mind that the Bose Connect App can activate the speaker and send it into Party or Stereo mode even when you least require it to as a result of BLE. Deactivating or turning off Bluetooth in the paired devices goes a long way in ensuring that the speaker is not randomly turned on.
If, for example, you have paired your computer, or your smartwatch, or Android and iPhone devices as well as a tablet, go to their respective setting and turn off Bluetooth. Similarly, from the same settings, you can forget the Bose SoundLink Revolve speaker from the list of paired devices. This way, these devices will not interfere with the sleep or off mode of your speaker. It will rest for a while before powering down.
3. Upgrade Its Software/Apps
Newer software versions often fix bugs and other flaws carried by the previous versions. It is, therefore, important that you update, or upgrade your Bose SoundLink Revolve software to the latest available version and see if it will fix the issue. Chances are low that it could be a hardware problem.
4. Seek Technical Support
This is highly unlikely as the above steps are bound to give you an easy solution. But if, for any reason, you have tried everything and your Revolve speaker still won't turn off, seek technical support.
Final Thoughts
Having a Bose SoundLink Revolve is a great achievement for those looking for a portable Bluetooth speaker with amazing audio capabilities. However, due to its design and the use of smart Bluetooth technology, it can be easily powered on by several connected devices, making it hard for you to turn off.
If you are experiencing this problem, I hope the above has given you some insights on why it happens and how to fix the issue. There is nothing wrong with the speaker, it is how it was designed, for convenience and flexibility – only that it can get frustrating at times.