How To Get in Touch With Apple Pay
This post may contain affiliate links. As an Amazon affiliate, I earn from qualifying purchases.
Apple pay is one of the many convenient features of Apple. It offers a secure, easy, and private way to send your money.
You can do this across any of their platforms.
You could transact through your Mac, iPhone, iPad, or even your Apple watch.
It eradicates the reliance on cash and improves the efficiency and experience of online shopping.
With the emergence of the covid pandemic, there has been increased use of contactless payments. This has even boosted the popularity of Apple Pay.
I researched how you could set up and get in contact with Apple pay and this is what I found out.
How Do You Get in Touch With Apple Pay?
In case of any challenges, you get in contact with Apple Pay through Apple's official website or by visiting an Apple retailer close to you. Their online store also offers a hotline to reach them by phone 24/7. Apple has also authorized retailers across the globe you can reach out to.
Before you start transacting with Apple pay, you need to initialize the services.
The first step of the process is setting up the services or calling Apple pay.
The procedure lasts for a second as it only involves linking your card information.
Add your debit or credit card to the Wallet app on your device.
This should be done on the specific device that you would be using to transact.
As soon as you're through, the setup is complete.
If you are in the United States, you can send and receive payments through the messages app.
This is after setting up your Apple cash card.
In some schools in the country, you could use the student ID cards on your Apple device.
Once the setup is done, safari will autofill on the device that you have set up.
In some countries, you can pay for services via Apple pay. This includes movie tickets, coupons, boarding passes, and even store cards.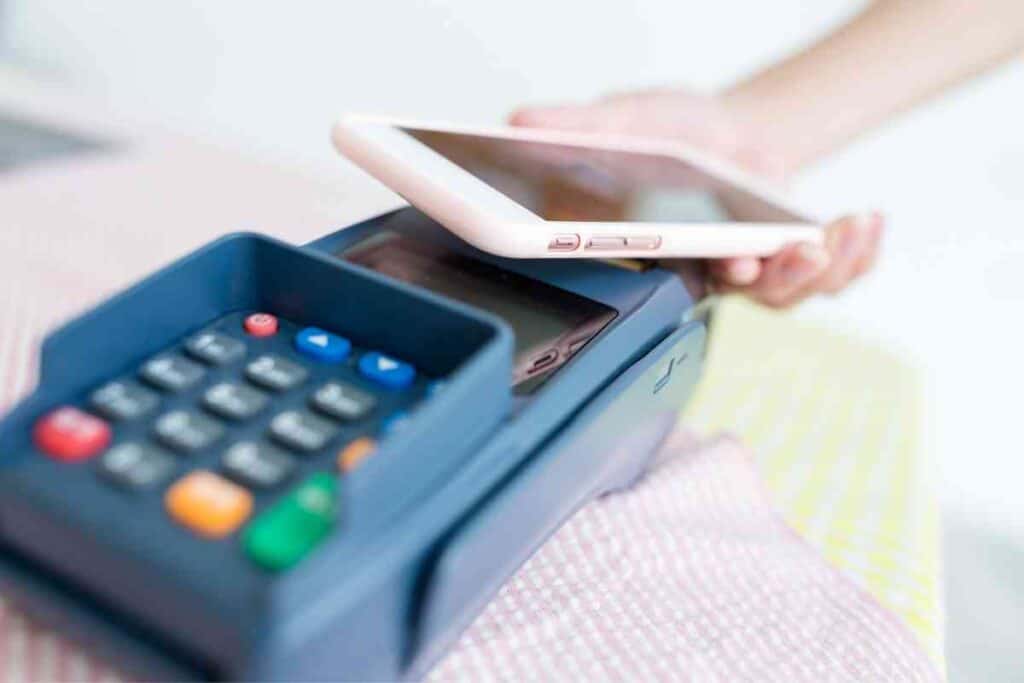 How do you Set up Apple Pay?
To configure the service, you need to add your credit or debit card.
This is added to the wallet of your device.
It can be your iPhone, iPad, Mac, or Apple watch. You need to be signed into your account with the latest version of iOS, iPad, macOS, or watchOS.
You can add up to a maximum of 12 cards on most of the devices.
For some of the older models, you could add up to 8 cards.
To add the card, you open the wallet app and add the card to your device.
This same device should be associated with your Apple ID.
The following are steps to add your card:
Launch the wallet application. The app is on the home screen of your devices. It is only available for users in the United States, and you must be 18 years or older. Your iPhone or iPad must be running iOS 11.2 or later. You also must have two-factor authentication set up within your Apple ID.
Select the add button and select debit or credit.
You should proceed and follow the instructions that pop up on your screen. You might or not be asked to fill in the bank or card issuer. You can also select them from the drop-down list of the banks listed.
The next step would be verification with the bank or card issuer. You could fill in some additional information or be prompted to download a third-party application to complete the process.
If you have a paired Apple Watch, you'll be prompted to add the card to your watch. The Apple watch must be running watchOS 4.2 or later.
You could also add a previous card to your device.
This can be a card that you used before but stopped.
These steps would help you in such a situation:
Navigate to the wallet application and select the add button.
You should select the previous card to see the list of cards you had previously linked to your device.
Select the card that you want to link again.
Making a Payment with your iPhone
You should authenticate Apple pay as your default payment option.
If you have a face ID, double-click the side button to authenticate.
If you're on touch ID, just rest your finger on the sensor.
If you wish to use another card, simply repeat the setup process to add the card.
Or select from the list of the already available cards and authenticate.
Place your device near the reader.
Since it is contactless, you should hold it until it is done and see the checkmark displaying.
With the Apple watch, it is quite like your iPhone.
You simply have to:
Click the side button twice.
The default card will pop up. If you wish to select another card, you can scroll down the list and select another one.
Again, you should place your Apple Watch close to the reader.
This should be done until you hear a beep indicating that the whole process is complete.
What are some of the requirements to use Apple Pay?
For starters, Apple pay is only available for iOS users.
It is yet to be accessible for users on other platforms.
The service should also be available in your country or region.
Apart from being available, your country should also support Apple pay in your country.
You should also have a compatible iOS device. Your device should have the latest version of iOS, iPadOS, macOS, or watchOS.
The credit or debit card company is also an important factor.
Your card issuer must be supported and recognized by Apple.
Moreover, you must have an active iCloud account. You should be signed into your account and make your payments from there.
With Apple Pay, you could make unlimited payments in the stores, various apps, and the web.
The major benefit of using Apple pay is you continuously get rewards for your active engagement.
In the United States, Apple Pay is accepted by over 80 percent of the retailers.
This means that you can almost use it anywhere to pay for whichever service.
It works anywhere contactless payment works.
Apple pay also saves you from the long checkout forms.
You can confirm your payments from the touch of your screen.
The feature also allows you to make subscriptions even much easier.
You can buy apps from the app store, upgrade your iCloud storage, and subscribe to Apple Tv and Apple music.
Why would you opt to use Apple Pay?
With Apple Pay, you can quickly verify your transactions.
This is in comparison to the traditional methods of payment.
The process is much easier, and you do not need to search your wallet and find the appropriate card.
Check-out has been simplified to the touch of your screen.
The express checkout enables the users to finish their purchases from the vendors with a simple touch.
There is no need to add a cart or fill in any type of form.
On your iOS device, you can also set Apple pay as your default method of payment.
With the service as your default, you could reduce frustrations and tedious carts.
This would make the online shopping experience even much better.
The Apple pay services also make the process more convenient. With the inline setup, you can make your purchases without leaving your specific page.
This means you will not immediately leave the website or app you are on to make the purchase.
Your data is more secure with Apple pay. Apple handles all your sensitive data and has its systems encrypted to avoid any breach.
The customer requires their face ID or touch ID to authorize the payment for every transaction to be complete.
In case of any issues you can call Apple pay customer service line.
This is the same for the Apple watch.
Every time the user takes the watch off their wrist, they must re-enter the passcode to access it.
This is more secure compared to the traditional credit and debit cards that were in use before.
Common Reasons People Need To Contact Apple Pay:
"Double Charged" on Walmart/Target etc..
Apple Pay Cash is not working for you. (Only available in USA)
Tried to add a card & never got it to work.
You made a purchase with Apple Pay Cash & the money did not go to your prepaid card.
Making a new Express/Apple account & want to add cards faster.
Phone was lost or stolen or iCloud locked
Closing Thoughts
Apple Pay is becoming an essential service by the day.
With security and ease, many customers are prioritizing it to make payments on their devices.
This can be associated with its conveniences, such as being used in business chat and iMessage extensions.
By only using their face ID or touch ID, customers can finalize their purchases with a single tap.
With the simplicity of the service, there has been an increased conversion rate and more people are adopting Apple pay.