How To Record Screen On An iPhone (Explained!)
With the technology on Apple iPhones today, the possibilities are endless, including screen recording. This is a great feature to know how to use when you have a smartphone, whether for evidence or just to save memory or share something.
You can record your iPhone's screen in many ways. You can simply download an application onto your phone, or you can use the features provided by Apple. Either way, there are many possibilities.
You don't have to be well-versed in the tech world to enable these features. It should only take one sitting, and you will be ready to start recording. This is everything you need to know about recording what is on your screen.
Is Screen Recording Possible On An iPhone?
Yes, screen recording is possible on an iPhone. Any, if not all, smartphones or other devices capable of downloading an application can have this feature. But the iPhone provides more user-friendly features than other devices.
Can You Screen Record On An iPhone Without An App?
You can screen record without an application on your iPhone. Apple has added a feature where you can enable screen recording. It just takes a few steps to add it to your shortcuts so you can easily turn it on when you need to use it.
Older model iPhones that do not have the latest iOS systems downloaded may not have the screen record feature. If this sounds like your device, you will have to download the app to screen record.
How To Record Screen On An iPhone
Learning to record your screen on your iPhone will only take a few minutes out of your day. If you need to download an application, you can, and it may take a little longer but not much. But you should be able to record without an application.
Screen Record Without An App
Unlike other smartphones, Apple has made it easy for you to just enable the screen record feature within the settings of your iPhone. Ensure that your iPhone is with you and that it is appropriately charged. Follow these steps so you can get started recording your screen:
Open your phone up.
Open your settings application.
Scroll down to "control center" and click on it.
Scroll down to "more controls" to find the screen recording option.
Press the green plus sign to add to the "included controls" section. Adding this will make it easier for you to access this feature.
Exit out of settings.
When you want to record, pull down your shortcuts menu.
Press the symbol that looks like the record button in your camera.
Wait for the countdown, and then begin recording your screen.
You just need to press the screen record button again to stop your screen recording. The video will automatically save into your camera roll. You can shorten the clip or add filters. You can also then upload and share the video from your albums.
If you want to edit the video, you can do basic edits in your albums or try using the video editor app that comes with your iPhone. But you may want to download a video editor application within the App Store for advanced edits.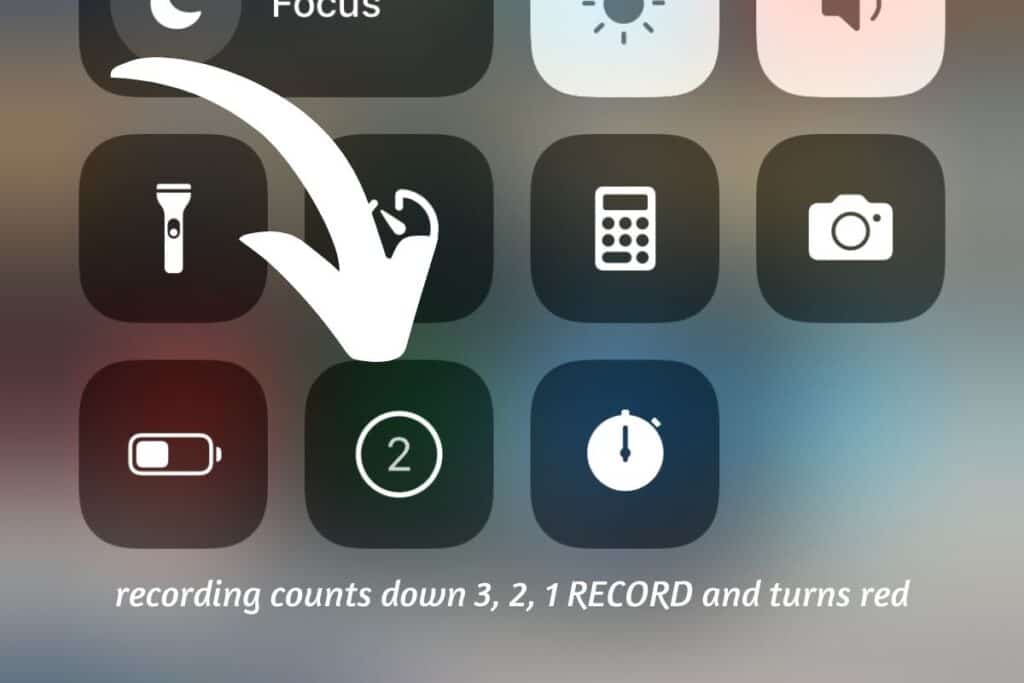 Screen Record With An App
If you have an older version of the iPhone or would rather just use something different, you can download an application. Screen record applications can be useful if you want advanced video editing or other services that your phone may not provide.
The steps within the application may differ a little bit from the screen record feature on your iPhone, but it isn't that different. Here is what you need to do:
Go to the app store on your iPhone.
Search for a screen record app (use the keywords "screen record").
Look through the applications to see which one best fits you.
Download the application.
Open up the app and create an account.
Click on the screen record button to start recording.
Some apps may be a little different, but they don't usually vary that much. Some apps will allow you to edit and save the video footage within the application. You can then share the video, but some will automatically save the video to your phone. It all just depends on what the company offers.
Popular Screen Record Apps
Screen recording has become a popular tool to have on your smartphone. It is a great function whether you want just to share something or record a live event. Because of this popularity, there has been an increased flux of screen record applications.
You will find that many of the screen record applications have similar features while others have more advanced features. Not all of them are free or may give you free features to an extent. It is all depending on what you are looking for. Here are some of the most popular apps to choose from:
Record It!
Web Recorder
DU Recorder
TechSmith Capture
Screen Recorder Pro
Go Record
Reaction Cam
AirScr Screen Recorder
Screen Recorder Livestream
Screen Recorder – RecPro
Screen Recorder +
Many of these options provide free versions, but you will have to deal with advertisements. These ads can be a bit annoying when trying to use the features. They tend to pop up when you try to access your recent recordings and can be frustrating.
If you are looking for the most popular free version for screen recording, Record It! is the one to choose from. It allows you to screen record both your screen and audio simultaneously. You can also record your reaction to any of the videos you are watching as well.
Many of the other options are great as well. It depends on what you are looking for and what best fits your needs.
Outro
Recording your screen on your iPhone has become easier than ever. Apple makes this easy for you, so you don't have to waste space on any applications, but you have plenty of options if you do want to download something. You don't have to worry about not choosing what best fits your needs.