Sonos Roam vs. Sonos Move: What's The Difference?
Sonos is a wireless audio company known for producing high-end speakers with great versatility and portability. In 2019, the company unveiled its first Bluetooth and Wi-Fi speaker called the Sonos Move, which is controllable with Google Assistant and Alexa. In 2021, another version dubbed Sonos Roam was released. 
So, what is the difference between Sonos Roam and Sonos Move? Which speaker meets your audio needs?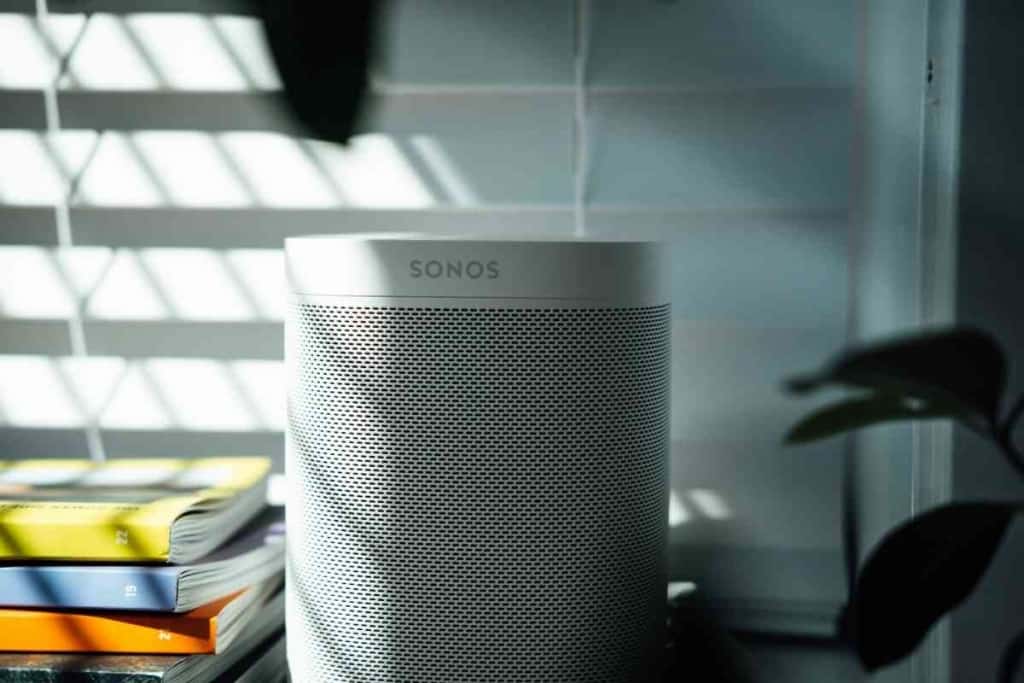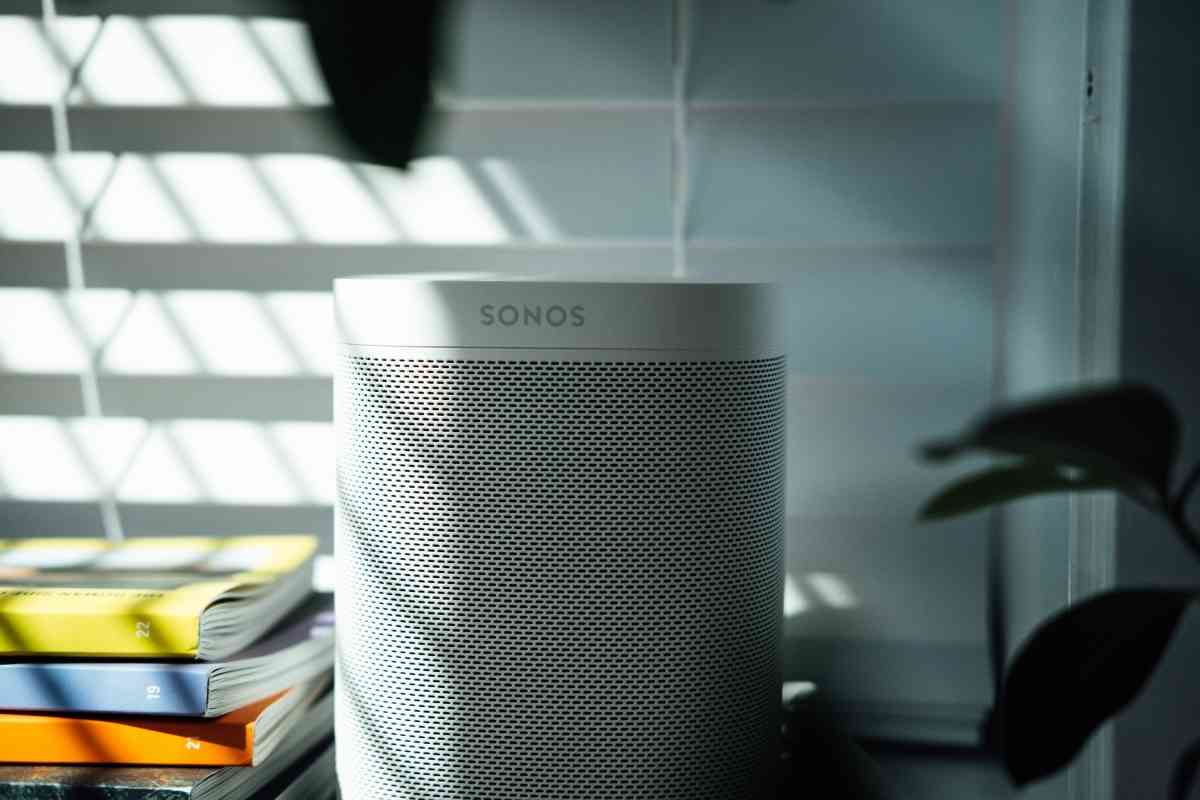 What's The Difference Between the Sonos Roam and the Sonos Move?
Both Sonos Roam and Move wireless speakers offer excellent features, with the Sonos Roam providing additional ones such as automatic switching between Wi-Fi and Bluetooth and Sound Swap. The Sonos Move is a larger and bulkier Bluetooth speaker than the Sonos Roam. It is also more expensive than the Roam.
If affordability and portability are your first considerations, then the Sonos Roam speaker is the best option for you. The Roam is compact and lightweight, so it's more portable than the Move. 
The speaker allows you to pack it into your backpack and bring it to the park due to its compactness.
It is also compatible with other Sonos speakers you have at home. 
The speaker is also ideal for people who want a great Bluetooth speaker on a low budget. In addition, the speaker has a great design that complements every décor.
The Sonos Move is unbeatable if your priority is sound and a long-lasting battery.
The speaker provides incredible sound, allowing you to enjoy enticing audio ever.
The Move is ideal for people who require an extra Sonos speaker to fill every corner of a room with immersive sound.
You can also come along with your Sonos Move into the pool or garden since it is weather-resistant, thanks to the IP56 ratings.
Suggested Article: What Should I Look for When Buying A Portable Bluetooth Speaker?
Design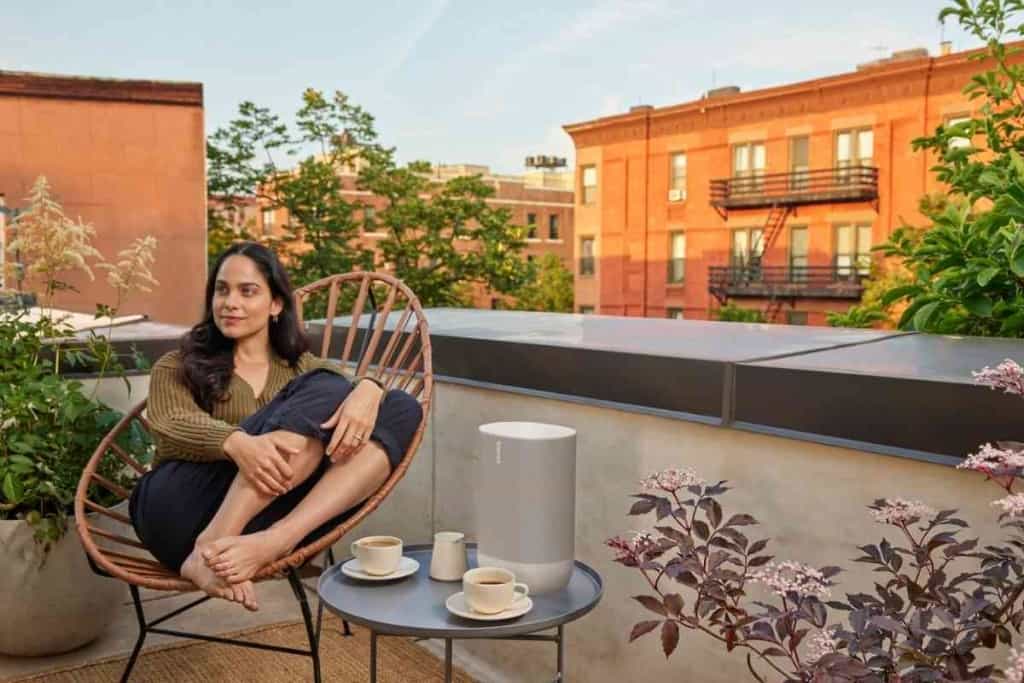 Sonos offers ergonomic, smart, and lightweight speakers, and The Sonos Roam and Sonos Move are not different.
The two wireless Bluetooth speakers share most of their traits.
For instance, they are both drop-resistant, weather-resistant, powerful, and class-leading speakers.
However, they differ in size, shape, and weight.
The Sonos Roam measures 6.61 inches by 2.44 inches by 2.36 inches and weighs 0.99 pounds.
It's small, so there is no need for a handle for its portability. The speaker has a sleek design that blends every décor and occupies a small space.
It has capacitive physical buttons on top that are easy to press, so it is user-friendly.
These buttons consist of functions such as volume adjustments, play/pause, replay, skip, and a mute mic option.
In addition, the speaker has a Bluetooth pairing button that allows you to connect it with other digital devices.
The IP67 rating safeguards the unit from debris and dust so the speaker can be submerged for up to 30 minutes in three feet of water.
This makes the speaker suitable for shoreside and pool tunes.
On the other hand, the Sonos Move dimensions are 9.44 inches by 6.29 inches by 4.96 inches, with a weight of 6.61 pounds.
The Move is, therefore, larger and bulkier than the Roam. You can easily lift the speaker, but it's not easy to carry from one place to another.
Its bulkiness is attributed to its large drive magnets that ensure you get nothing but high-quality audio.
It is also stylish, durable, tough, and offers exceptional performance. The speaker has an oval shape with an integrated handle, and it's rugged.
The physical buttons include volume adjustments, play/pause, replay, skip, a microphone button, a pairing button, and the mute mic button.
The speaker is also protected against debris, dust, concrete, bad weather, and water blast since it is IP56 rated.
Sound Quality
The Sonos Roam and Sonos Move provide quality sound and clarity.
They feature a single tweeter, dual amplifiers, and a mid-range woofer ideal for low and medium frequencies.
The Sonos Roam amplifiers are Class-H certified, and their woofer and tweeter are well placed for front-firing audio.
The Sonos Move has Class-D amplifiers, and its tweeter is positioned at the base for down-firing disposal.
The Sonos Roam ensures you get vibrancy music with optimal clarity. It offers crisp, lush vocals without being pitchy.
The Sonos Roam features automatic room maximization known as TruePlay that helps optimize sound regardless of your environment.
But in terms of sound quality, the Sonos Move is better as it offers an exceptional and comparable sound experience.
It has a sonic profile with full-bodied audio and tonality, giving out deep bass.
The Sonos Move speaker is louder with a wider sound-staging, making it ideal for indoors and the outdoors.
Battery Life
The Sonos Roam has a built-in rechargeable battery with 18Wh that allows you to play music for up to 10 hours non-stop.
It comes with a USB-A to USB-C cable that lets you connect to a Qi-certified wireless or 5V power brick charger to recharge your speaker.
The Sonos Move has a swappable 36Wh battery that gives you up to 11 hours of continuous playback.
The battery takes only 2.5 hours to recharge fully. Unlike the Roam, the Move comes with a dedicated charger since the Sonos Roam lacks a dedicated charging dock.
When it comes to saving power, the Sonos Roam gets into sleep mode when it's not playing music, extending its stamina up to 10 days.
The Sonos Move shifts to suspend mode when not in use for 30 minutes, allowing you to conserve battery life for 120 days.
This conservation will enable you to enjoy more playback time even when there is no power.
Price and Warranty
Price is the significant difference between the Sonos Roam and Sonos Move.
The Roam costs $169, while the Move costs $399, making it one of the most expensive wireless speakers on the market today.
The difference is almost double, but the Sonos Move seems to beat Sonos Roam in many ways.
The Sonos company provides a one-year warranty for both speakers.
Features
The Sonos Roam and Move lets you stream music live over Bluetooth, Wi-Fi, and cast via Apple's AirPlay 2.
The Roam supports Wi-Fi 5 and Bluetooth 5.0, while the Move supports Wi-Fi 4.
You can download the Sonos app from Android or iOS and enjoy listening to numerous radio stations globally.
The app also allows you to change speaker settings and come up with custom groups for sharing music.
In addition, you can control the speakers through Google Assistant and Amazon Alexa voice commands.
You only need a Wi-Fi connection to use this feature, and you will be able to ask it questions, play music, and interact with other home devices.
The Move can work as a multi-room group or a stereo pairing, which means it works with all connected audio sources.
The Sonos Roam features a Sound Swap that lets users press and holds the pause/play button to connect with other Sonos speakers in your home to continue playing or sharing music.
The Sound Swap is also enabled via the Sonos App.
The Sonos Roam enables you to automatically switch between Bluetooth and Wi-Fi connectivity and other linked devices.
This means that if you move out of the house, the speaker can connect to another Bluetooth device without you necessarily initiating the pairing.
This also applies to Wi-Fi connectivity.
You don't have to set up and reconnect to the Wi-Fi. The speaker will reconnect itself manually.
The Roam has the Auto TruePlay feature that automatically allows the speaker to tune its soundstage to the surrounding environment, whether you are on Wi-Fi or Bluetooth.
It has a top-mounted range of mics that help serve a dual purpose.
The Move allows you to set reminders, access calendars, control digital devices, and act like a voice-powered jukebox.
The smart assistant pairing and mics features function seamlessly. This means that the speaker will respond well to voices even at a distance range.