What Are The Minimum Specs For A Streaming PC? [ANSWERED!]
This post may contain affiliate links. As an Amazon affiliate, I earn from qualifying purchases.
Thinking about becoming a bit of a career gamer? Want to get more involved in streaming? Is Twitch appealing more and more to you?
If you are thinking about streaming from a PC, Twitch does have some recommendations for the bare minimum specs you will need for that computer to work well as a streaming PC on their platform.
If you want to stream via your PC, you are going to need the right hardware.
PC streaming really does have a lot of advantages since you get more ways to customize your experience than you do on other consoles.
PCs are indeed much more flexible when it comes to gaming – and they are easier to modify.
While Twitch makes their own recommendations, I have a few of my own that I would like to make.
These recommendations are meant to enhance the streaming experience as much as possible, giving you smooth transitions and quicker load times as you stream your game.
Since starting your own streaming channel is now easier than ever before – and can bring in a secondary income if you really know what you are doing to engage your audience – you are probably going to want to go above what the minimum specs are for a streaming PC.
We'll talk about the minimum specs as well as optimal specs for the most fluid gameplay streaming possible.
From graphics cards to RAM, here are my recommendations for how to get the best streaming PC possible.
What Are The Minimum Specs For A Streaming PC? [ANSWERED!]
The minimum specs for a streaming PC are at least an Intel Core i5-4670 processor (or its AMD variant), 8GB of RAM, and Windows 7 or newer unless you're on a Mac. An Ethernet connection with an upload speed of at least 3Mbits per second is also a minimum requirement for streaming.
On top of that, you might want to use a secondary computer so that you have one for gaming and one for broadcasting – something many popular streamers do.
What are the exact specs you should have in order to stream via PC?
How can you build your own streaming PC while on a tight budget?
How can you optimize your CPU, graphics card, RAM, storage, motherboard, and power supply unit (PSU) for streaming?
Read on to learn more about the different specs you'll need to consider for a streaming PC.
What does Twitch recommend?
As stated above, Twitch recommends that PC streamers have at least an Intel Core i5-4670 processor (or its AMD variant), 8GB of RAM, and Windows 7 or newer.
A strong Internet connection is also highly ideal.
Also, take note that you will want to be streaming your game at 1080p 60 FPS (frames per second).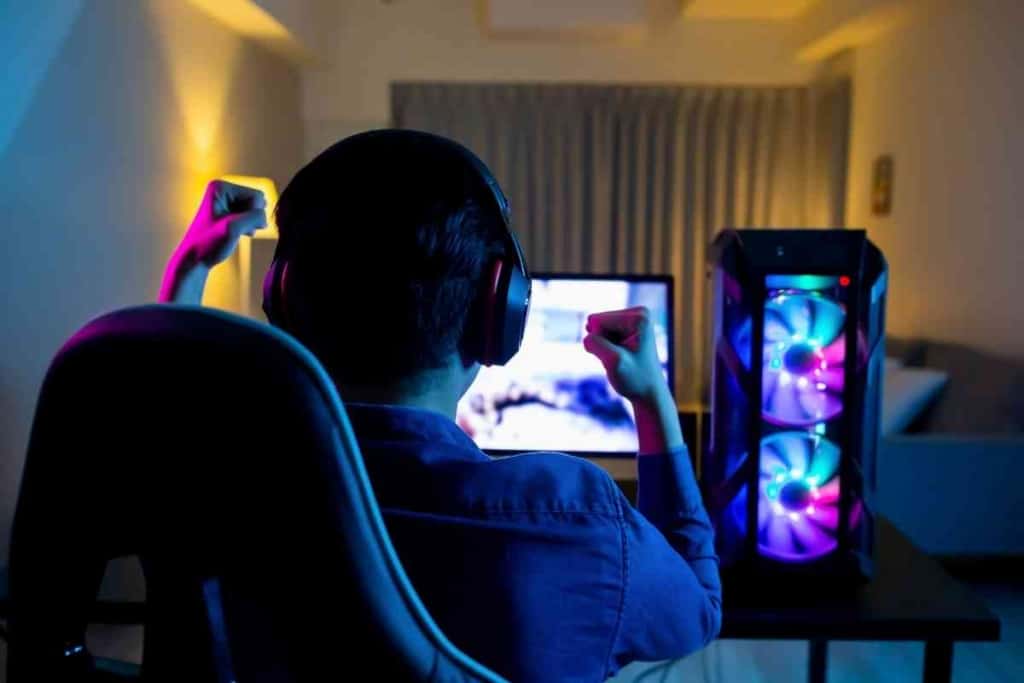 How can you build a streaming PC while on a tight budget?
Before you even get started, consider which resolution you will be streaming at.
720p is the absolute bare minimum, but 1080p is much more ideal and is what most streamers use.
Start with 1080p 60 FPS as your target.
For a webcam, though, you can get away with using a 720pp 30 FPS webcam.
Generally speaking, the higher your frame rate and resolution, the better hardware you will need to run at that target.
If you're okay with not streaming at 2K and have to stay on a budget, I will give you some recommendations below.
What are the minimum requirements for a great PC streaming experience?
While Twitch recommends that you have a a dual-core CPU and 4GB of RAM, this is just for their platform.
This does not include the hardware you'll need to run the game that you want to stream.
You're going to need optimal software to run that game, and recommendations can vary by game.
Let's look at the game New World, which was just released back in September of 2021.
In order to run this game on your PC, you are going to need at least an Intel i7 2600K or AMD Ryzen 5 1400 CPU with an Nvidia GTX 970 or AMD Radeon R9 390X graphics card.
16GB of RAM is also required to run this relatively new game.
Meanwhile, older games like Fortnite take a 2.6 GHz Intel i5 CPU or better with at least 8GB of RAM and the AMD 7870 or Nvidia GTX 660 with 2GB of VRAM. And this is all on top of the Twitch requirements.
My point here is that Twitch's minimum requirements are really, truly the bare minimum.
You're going to want to aim higher for a more seamless streaming PC.
That being said, here are my suggestions for a better streaming experience.
CPU
6 cores is better than 5 when it comes to streaming games from your PC.
This makes you a little more future-proof for games, and it will be a few years before you'll need to upgrade.
With 6 cores and 12 threads, the mid-tier AMD Ryzen 5 5600X can give you a base clock speed of 3.7GHz and a boost going up to 4.6GHz.
The older AMD Ryzen 5 3600 might not be quite as efficient, but it is still a 6-core that uses the same AM4 socket as the 5600X, so you can always make the upgrade later.
Graphics Card
Your graphics card does the majority of the heavy lifting when it comes to your PC and gaming.
Nvidia's relatively new Ampere and Turing graphics cards come with the NVENC Encoder and have dedicated streaming chips built into them.
The Nvidia GeForce GTX 1660 Ti comes with 6GB of GDDR6 VRAM and a boost clock of 1770MHz, 1536 CUDA cores, and a 192-bit memory bus.
It shouldn't have a problem running a game at 1080p 60 FPS.
A non-Ti variant will be cheaper but won't have the same level of performance.
If you're going AMD, get the Radeon RX 570 8GB.
Its performance literally doubles that of the PS4, and it has 2048 stream processors.
RAM
As far as RAM goes, 16GB is ideal since it is what games are now calling for as the minimum requirement.
High-speed RAM is expensive, but either 3200MHz or 3600MHz should do if you're on a strict budget.
Just don't rely on a single stick – you'll need to have your RAM configured in dual-channel.
Storage
You can stick with the standard hard drive for streaming, but for actually recording and storing videos, you will definitely need more storage space. An 11TB hard drive is a good place to start, and you can simply delete older files in order to make way for newer ones.
Both the Western Digital Blue and the Seagate BarraCuda are good HDDs.
You can get a smaller SSD to store your OS for faster boot times.
This is more cost-effective, and you can always get a bigger HDD for your project files.
Motherboard
You'll need a supported motherboard since this is where all your components are housed.
An AM4 motherboard is required if you're going with either the MD Ryzen AMD Ryzen 5 3600 or AMD Ryzen 5 5600X.
For Intel, the latest socket is the LGA 1200.
Just remember that a Ryzen CPU won't work on the Intel LGA 1200 socket.
If you want to upgrade to 32GB of RAM down the road, get a motherboard with 4 RAM slots.
The Ryzens I mentioned pair well with the Gigabyte B550M DS3H.
You can save money by getting an older motherboard to go with the AMD Ryzen 5 3600.
Power Supply Unit (PSU)
Your PSU needs an efficiency rating of at least 80% to handle PC streaming.
GPU and CPU gobble up the most power, so you PSU has to meet their needs.
A 500W power supply should do just the trick.
The Thermaltake Smart 500W and EVGA 500 W1 both deliver on voltage protection and have lengthy 5-year warranties.
Closing Thoughts
Remember, you're going to want to stream from your PC in 1080p 60 FPS.
Therefore, your computer needs the right components to make this happen.
You will likely need to upgrade some elements of your current PC and morph it into a super-cool gaming PC that can also handle streaming.