Are Bluetooth Headphones Good For Gaming?
In the last few decades of video gaming, the platforms/consoles people can play on have expanded massively.
From 7' arcade boxes to home consoles like the Xbox and PlayStation to the 5" screens nearly everyone carries with them today, video games have changed.
Those changes mean that you could be gaming on just about any device in 2022.
If you want to get a little more serious with your gaming, one of the first purchases you'll want to make is a good headset.
If you're anything like me, you play on consoles like the Xbox One and PlayStation 4, tablets like the Samsung Galaxy Tab 7 or iPad Pro, PC, and on your smartphone.
That's a whole lot of devices to buy controllers, headsets, and other accessories for.
Are Bluetooth Headphones Good For Gaming?
Bluetooth headsets are great for gaming. They work natively on PC, Android, Linux, iOS, PS4, and PS5. With the purchase of a Bluetooth audio transmitter, you can even get your Bluetooth headset to pair up with your Xbox and Nintendo Switch.
Bluetooth connectivity is solid enough for great audio and microphone quality.
It has a wider range of compatibility than headsets that require a USB dongle and more freedom to move than wired headsets.
While audiophiles may argue the merits of a wired connection, most Bluetooth headset owners are more focused on the freedom of movement and versatility of their headsets.
Bluetooth gaming headsets also happen to be something of a money saver. A good gaming headset can cost up to and over $300.
Purchasing one for every device you use or play on can stack up to an exorbitant cost quickly.
With Bluetooth-enabled headsets and some $15-30 audio transmitters, you can connect one good Bluetooth headset to whichever device you currently want to use.
Admittedly, switching which device your headset is paired to can be a little bit of a pain at times, but the money saved can be worth the hassle.
Can I Use My Bluetooth Headphones For Gaming?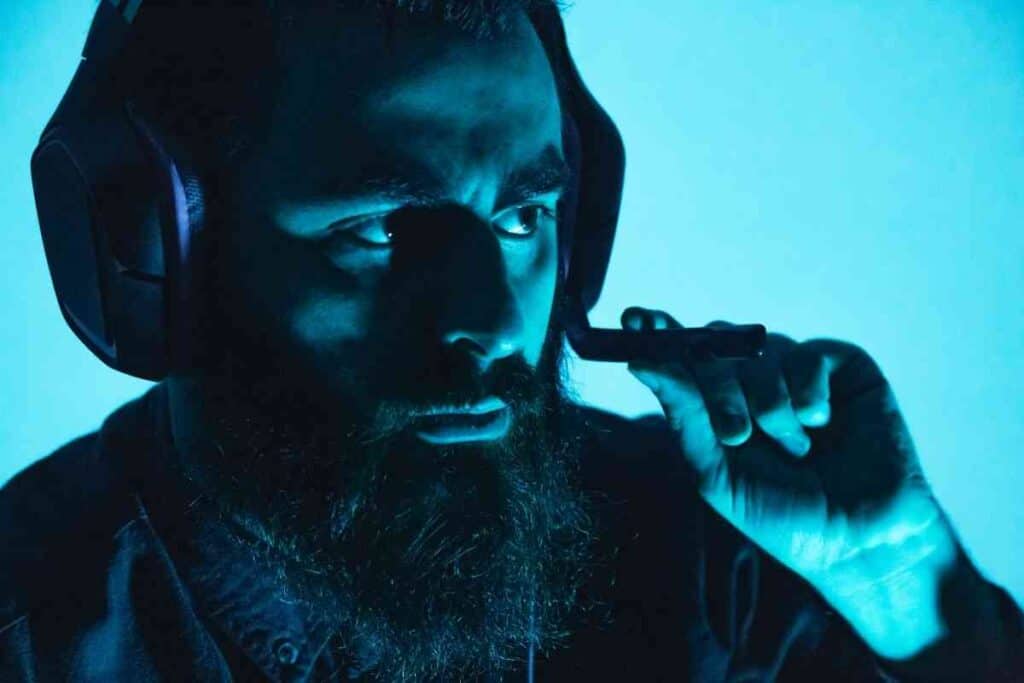 Theoretically, any Bluetooth headset should work when connected to Bluetooth-enabled devices like your PC, smartphone, tablet, PS4, or PS5.
However, there are some devices that may have trouble working when connected to a PS4 or PS5.
Sony uses proprietary software that is unique to its system.
This often means that specific firmware coding has to be done for the PS4/PS5 to recognize the headset and know what to do with it.
This problem can be avoided by using a Bluetooth audio transmitter.
In short, Bluetooth headphones can be great for gaming as long as the device you gaming on has a solid connection with your headphones.
Another lucky bit of information for you is that there is a whole sub-market dedicated to Bluetooth audio transmitters and receivers that will do the job.
If you want to use a pair of Bluetooth Headphones you already own with your Xbox or Nintendo Switch, you will have to purchase a USB Bluetooth adapter.
Using your Bluetooth gaming headphones with your PC, smartphone, or tablet will work natively.
All you need to do is pair your headphones with your PC, smartphone, or tablet and you're all good to go.
Your headphones can even be used for Virtual Reality gaming devices like the Oculus Quest.
As a side note, some Bluetooth headphone manufacturers have specific firmware that can clash when connected to devices like a PS4 or Xbox.
This can cause audio quality problems along with frequent connection loss.
In the case that your Bluetooth headphones are a lesser-known brand and you are experiencing audio difficulties, you may need to get a different Bluetooth headset.
What Gaming Systems Can I Use Bluetooth Headphones On?
With modern consoles having Bluetooth either built-in or the ability to put in a USB Bluetooth transmitter/receiver, every gaming system can use Bluetooth headphones.
However, I would only recommend using Bluetooth headphones for the PS4, PS5, or Xbox unless you don't have much of a choice.
The PlayStation consoles and Xbox consoles are essentially task-specific computers.
The components and the software are written and geared toward gaming and entertainment.
The firmware in most Bluetooth headphones is designed to communicate with Android, iOS, Windows, and macOS natively, or without any extra steps.
PlayStation 4 and PlayStation 5 are made to work with Bluetooth headphones, but some specifications are required in the software for specific qualities like audio equalization.
This means that you may be able to connect any pair of Bluetooth headphones to your PlayStation, but the audio may be too loud, too quiet, cracking, or unstable.
Xbox consoles and Nintendo Switch do not have native support for Bluetooth headphones at all.
The good news is that the market saw the demand for this feature and USB Bluetooth dongles have been made available to solve this problem.
Just to review, here's a list of gaming systems that support Bluetooth connections natively:
Android
Windows
macOS
iOS
PS4
PS5
Oculus Quest/Quest 2
Xbox and Nintendo Switch do not have Bluetooth connectivity but can be given the feature with a USB dongle.
Nintendo Switch Bluetooth adapters are far more reliable as the product is more in demand.
Should I Buy Bluetooth Headphones For Gaming?
It depends on the headset you want to purchase and you're budget.
If you want to purchase one headset to use across all of your systems, Bluetooth headphones may be the only option.
They are also a great option to save yourself from purchasing multiple gaming headphones.
My personal recommendation is dependent on the system you are purchasing the headphones for.
So, I'm going to break it down that way as well.
PC Gamers can purchase any headset they like.
PC gaming accessories are a big market and have been for as long as PC gaming has existed.
PC also has the convenient ability to make use of nearly every piece of hardware and accessory you may have in your arsenal.
While I would recommend purchasing a headset meant specifically for PC gaming like the Corsair VOID Pros, Bluetooth headphones will get the job done.
Just make sure your PC's Bluetooth adapter is working strong.
For the Nintendo Switch, I can't recommend a Bluetooth adapter enough.
The speakers built-in to the Switch aren't terrible, but a portable console demands portable high-quality audio.
With a Bluetooth adapter and quality Bluetooth headphones or earbuds, the Nintendo Switch can be the ultimate portable gaming platform.
Xbox gamers should stick to USB radio frequency headphones.
Even though you can purchase a Bluetooth adapter, the connection may have lag or disruptions.
I haven't found the Bluetooth transmitters made for Xbox to be entirely reliable.
Mobile platforms like Android and iOS are made to work with Bluetooth headphones.
In recent years, gaming accessory companies like Razer have even begun to manufacture gaming-specific earbuds.
With so many great Bluetooth headphone options, all you need to do is find a pair you like.
PS4/PS5 gamers can make use of Bluetooth headphones as well.
I would recommend sticking to gaming headphones if you're playing on PlayStation.
I have had a rough experience attempting to connect my Razer earbuds to my PS4.
It will connect, but the audio signal isn't strong enough. It causes lag and static.
With PlayStation-specific Bluetooth headphones like Sony's Pulse 3D, these problems simply go away.
FAQ
Can I Use My AirPods for Gaming?
You can use your AirPods for gaming if you are gaming on Android, macOS, or iOS.
While it is possible to get your AirPods to connect to a PlayStation, Apple's software doesn't perfectly interact with Sony's software.
However, I did have success when pairing AirPods to the Oculus Quest 2.