What Happens If Your AirPods Won't Turn On?
This post may contain affiliate links. As an Amazon affiliate, I earn from qualifying purchases.
Apple came up with one of the best inventions of this generation by introducing AirPods to its esteemed clients.
With the massive technological advancements globally, AirPods have proven to be one of the best earbud models of all time.
For an amazing music experience, AirPods provide an excellent interface and a unique ability to connect faster and efficiently to any compatible device.
What Happens If Your AirPods Won't Turn On?
When your AirPods won't turn on, you will need to troubleshoot by first checking the AirPods' battery. Then check the charging case better and both of them for dust or debris. Finally, make sure that the software is up to date.
Most of the time, any issues you have with your Airpods refusing to turn on can be fixed by carefully running through the above steps.
Read on for a step-by-step guide on how to get your Airpods back working before you toss them in the trash.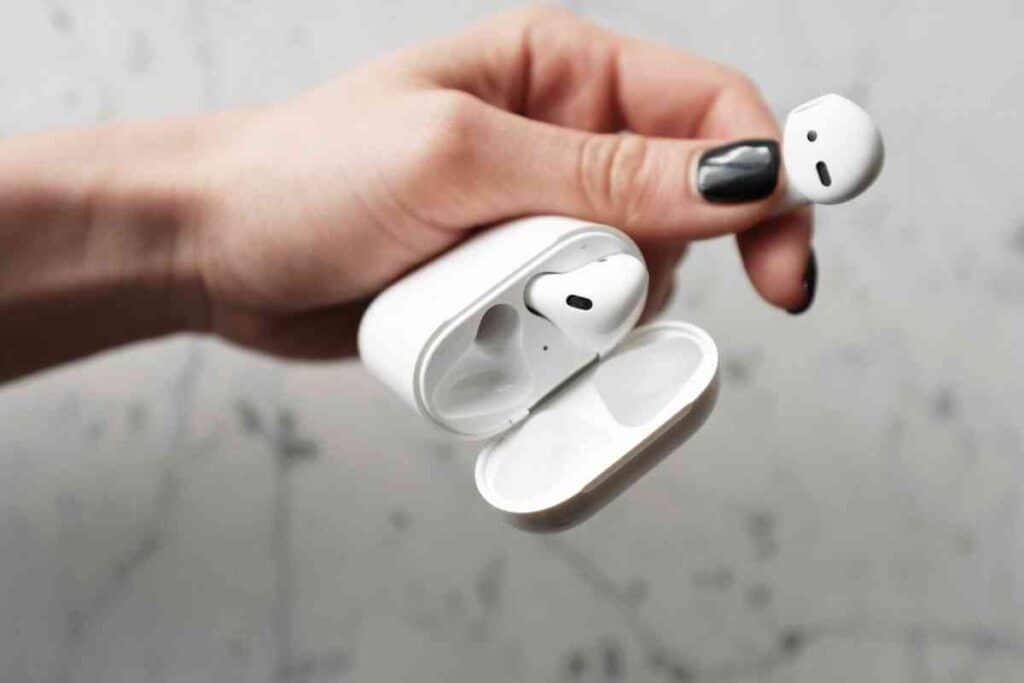 1. Check the AirPod battery
The most probable issue among many is the battery being low on power or not working properly.
You first try charging them by placing them on the charging case and plugging the case in the USB charger or port.
For faster charging, Apple has made it possible when you either use an iPhone or iPad USB charger or directly connect your AirPod to a Mac computer.
2. Check the charging case battery
To know if the issue might be on the charging case, try charging the case without the AirPods on.
It should charge for only 15 minutes which is enough to power your AirPods for up to 3 hours.
If it does not work that way, you surely know the issue is with the charging case, so you should contact Apple for help.
3. Check the charging cable
Apple advises its customers to use Apple cables as they work perfectly with Apple devices for efficient use.
This is because your charging cable may be faulty or already dead after prolonged use or mishandling it.
It is faulty, and it means no power gets into your AirPod, so it cannot work with a low battery.
4. Look out for dust or debris in your AirPods
Before charging your device, make sure it is dust-free.
When charging your AirPods using the case, the silver tips at the bottom of your AirPods should be in contact with the case.
There is a magnetic attraction that makes contact intact.
If you don't feel the snap, clean up to remove any dust and debris.
If still, it isn't connecting, then there must be a physical issue that can be checked out at any Apple shop near you.
5. Check For software Updates
Since you have ruled out possible hardware problems, the issue could be with the software.
The major issue could be that your software is outdated and needs updating as fast as possible for it to work.
With Apple releasing an update periodically, you surely need to check out the latest updates for your system.
It would be impossible to make updates when your AirPod is off.
You then need to update your iPhone or Mac to see if it fixes the problem.
6. Contact Apple
If you, unfortunately, fail to power on your AirPods with the steps I've highlighted above, contact Apple for more information on how you can go about it. 
The professionals can either help you online or you could be directed to the nearest Apple shop.
How Do I Force An AirPod To Turn On?
Your AirPod might not turn on usually due to faultiness of any kind, but this should not worry you.
Apple has come up with a way to turn on the AirPod by pressing and holding the Digital Crown and Noise Control Button at the same time on the right headphone.
This should be done until the status light close to the charging spot turns from flashing amber color to flashing white for around 15 seconds.
You can also use your iPhone to power your AirPod Max.
This is made possible with a few simple steps. Go to the Home screen.
With the AirPods in the charging case, open the case and hold it close enough or next to your iPhone.
A Set-Up animation appears on the phone's screen, and you tap to connect.
What Happens If Your AirPods Won't Charge?
If your AirPods don't charge, the problem might be:
There might be a problem with the charging cable being faulty, the pad or the outlet.
The charging case should be ensured to work properly.
If everything else is okay, you could contact Apple, where professionals are always ready to give you an ear and solve your issues.
If the issues can't be solved online, you can get to the nearest Apple shop.
What To Do If AirPod Stops Working
Different problems might come about when using your AirPods.
These problems bring about malfunctioning that you can use different steps to solve.
I've highlighted below some common problems and how they can be fixed.
Note that there are issues that can be solved automatically by restarting your device.
AirPods won't connect properly?
If issues are connecting your AirPods to your iPhone or Mac, try this:
Check system updates
For connectivity, you should install both the AirPods and your iPhone or computer with the latest software version.
The computer should have the latest Mac OS, iPhone should have the newest iOS, while the AirPods should have the latest firmware updates.
Charge the AirPods' battery
Connectivity issues may be due to power shortages.
To charge the AirPods faster, place them on the case and plug a Lightning cable to charge the case.
Both devices must pair for the AirPods to work.
Disconnect iPhone or computer from all other Bluetooth devices
You might have been connected to other Bluetooth devices and sending audio to them instead of your AirPods.
You need to disconnect from them and connect your AirPods.
Give it a break!
You might be overusing the AirPods and all that might be needed is a little break. Place them on their case and wait for 10 to 15 minutes before resetting and connecting them properly.
AirPods produce poor audio.
Sometimes audio from the AirPods might come out unpleasant. This might be solved by doing the following:
Move closer to the Bluetooth device
A limit of distance between connected Bluetooth devices might cause poor audio production if not maintained.
Clean the AirPods
What might be causing the muffled audio produced is dirt. To solve this, clean the AirPod with either a soft cloth or toothbrush, then connect it again.
Balance the audio
Especially if one AirPod sounds louder than the other, bringing imbalance, go to your settings to set it up by making sure the slider is in the middle.
Reconnect Bluetooth
If the audio is glitching, try switching off the Bluetooth, then turn it back on.
Disconnect other connected devices
Overload of devices might cause interference of audio.
Try disconnecting all other external devices connected to improve the quality of audio.
Change volume level
Try moving the volume level from high to zero, then restart the device and move it back up.
This might solve problems with volume controls.
When there are significant problems that you can't fix, if you still are in the warranty period, Apple will give you a new AirPod if the problem was natural or fall under the conditions for the warranty.
How Do I Know If My AirPods Are Dead?
Everyone wants to get entertained through your trip, with your favorite music giving you the feeling you desire every step of the way.
For you to ensure not to kick-start the journey with dead cells, here is a way you get to know your AirPods battery life:
If you are using MacBook,
Open the AirPod casing.
Go to Bluetooth on the top right of the navigation bar.
Go to AirPods with Charging Case listed on the menu.
Check battery life status.
It is easier to check the battery life status on the AirPod Max.
The steps are simple.
You can check it through the battery widget or by bringing the connected devices together, causing an on-screen prompt that will show the remaining battery life.
You can also know when the battery is running low on the AirPod Max when connected to any device.
You press the noise button when the device isn't recharging or inside the case, and the LED status green light turns green when there is at least 15% left and an amber light turns on when there is none left.
How do I restart my AirPods?
To restart your AirPod, you get to:
• Place your AirPods on their charging case and close them completely.
• Wait for around 30 seconds.
• Remove the lid.
• On your connecting device, go to the settings, Bluetooth, and tap the 'i' icon on the AirPods' symbol.
• Select Forget Device and tap again to connect.
Airpods Won't Turn On
When you restart your device, some issues might be solved automatically during rebooting.
Therefore, you need to restart your device first when dealing with any issues that might come by while in use with your AirPods.