Why Can't My iPhone Find My Fitbit?
This post may contain affiliate links. As an Amazon affiliate, I earn from qualifying purchases.
Many people rely on smartwatches and fitness trackers to keep track of their steps, physical activity, and other, important metrics like heart rate.
Titbit is one of the most popular options, but sometimes, there might be an issue with your iPhone finding your device.
This is a frustrating situation when you've done everything right.
Why Can't My iPhone Find My Fitbit?
Your iPhone probably can't find your Fitbit because of the Bluetooth settings on one of the devices. You may also need to update the software and reboot either or both your iPhone and your Fitbit to help establish a connection.
Syncing your Fitbit with your iPhone is usually simple, but there are times when it can give off a few hiccups and it isn't detected.
Fortunately, there are a few solutions you can try so that your iPhone can find your Fitbit.
Some are surprisingly easy, but it's possible to initially overlook them.
Check the Bluetooth Settings on Your iPhone
Why won't my iPhone find my Fitbit device? This is a frustrating question to have to ask.
In this situation, you might have to try a few possible solutions.
Sometimes, the problem with your iPhone not finding your Fitbit is simply that your settings aren't set properly.
You need to ensure that Bluetooth is turned on.
If it's already on, you might simply need to toggle it off and then back on again so that your Fitbit can be detected.
However, if this doesn't automatically locate your Fitbit, you can take a step further.
Sometimes, your Fitbit might not immediately appear as an option due to your iPhone already being connected to several other devices.
Having too many devices connected via Bluetooth at once could interfere with pairing it with your Fitbit.
If your iPhone is connected to multiple devices via Bluetooth, you might have to disconnect a few things in order to help it pair with your Fitbit.
Disconnect a few devices you don't immediately need.
You can also reconnect them later, once your Fitbit is paired with your iPhone.
Look at the bottom of the Bluetooth screen on your iPhone.
You should see the name of your Fitbit such as "Charge 5" at the very bottom, under "Other devices" as in those that aren't already paired via Bluetooth.
If it appears, you can choose it to see if your iPhone will connect with it.
Make sure your Fitbit is within range of your iPhone.
If the devices are too far apart instead of within close proximity of one another, this can cause Bluetooth pairing to fail.
Disconnect Your Fitbit from Other Devices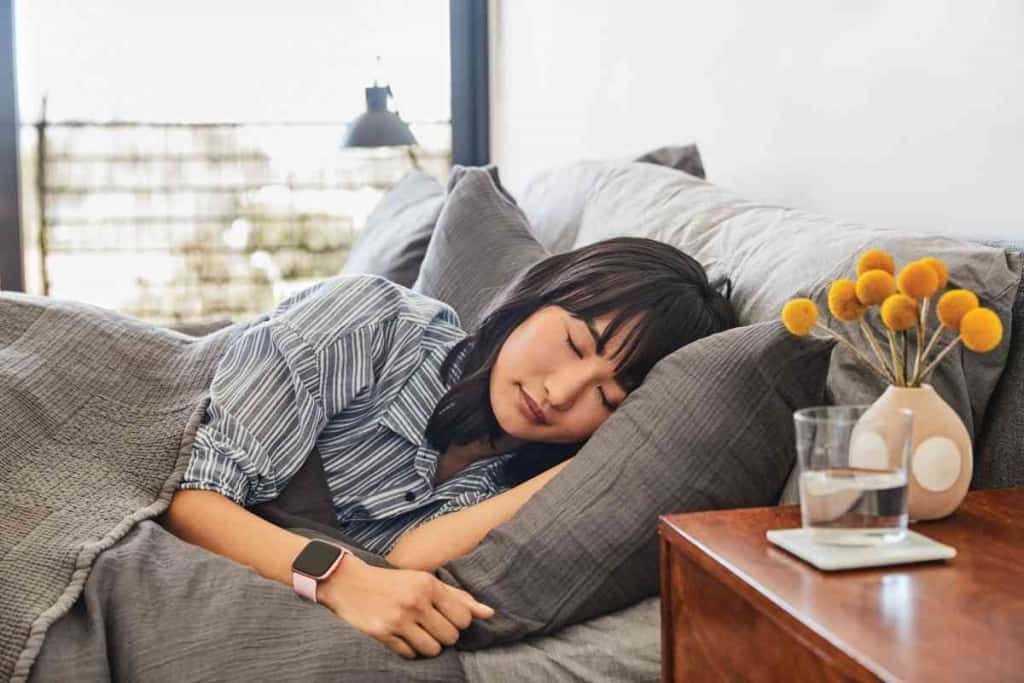 If you're still having issues and asking why won't my phone find my Fitbit, you can try looking at the Fitbit side of things.
In some cases, the problem with your iPhone not connecting to your Fitbit lies with the Fitbit.
If you have previously connected your Fitbit to other devices such as an iPad or older iPhone, that might be why you're having issues.
Check any other devices that your Fitbit is or may be connected to and see if its name appears under Bluetooth settings.
You can disconnect it from those other devices by pressing on the lowercase "I" to the right of the name of your Fitbit.
On the next screen, press on "Forget this device."
If you don't want to be that drastic and completely delete your Fitbit from those other devices, you can use a temporary fix.
Toggle Bluetooth to off on those devices for the time being so that you could have a better chance of having your iPhone connect to the Fitbit.
Close and Reopen or Update the Fitbit App
Usually, the issue lies with Bluetooth., but if that's not the culprit, you might be able to try something else to fix the problem.
Surprisingly, sometimes, just closing out of the Fitbit app and opening it again could be the answer.
If your iPhone has a Home Button, double press it, find the Fitbit app, and close out of it.
If you have a fullscreen iPhone, swipe up from the bottom of the screen to the center, find the Fitbit app and close out of it.
Then, you can reopen the app and start anew.
In some cases, you might have to update the Fitbit app.
If there's a recent update, it might need immediate updating before you are able to see your iPhone connect to your Fitbit.
Go into the App Store app, check your app updates, locate the Fitbit app, and update it.
Update to the Latest Version of iOS
Sometimes, you might have problems with your iPhone due to running outdated software.
It's possible for your Fitbit to not be connected if your iPhone has an iOS update.
You can troubleshoot by updating to the latest version.
Go to Settings and choose General, then Software Update to see if your iPhone has an iOS update.
If it does, you can automatically update to the latest version.
Your iPhone will reboot once it's finished, allowing you to check the Bluetooth connection for your Fitbit again.
Reboot Your iPhone and Fitbit
If your iPhone doesn't have an iOS update, you can reboot it instead.
Sometimes, a quick reboot is all you need to refresh so that things work smoothly again.
For an iPhone with a Home button, press and hold that and the lock button at the same time.
For fullscreen iPhones that lack a Home Button, press Volume Up, Volume Down and the Sleep/Wake button simultaneously until the slider to shut it down appears.
Restarting your Fitbit depends on which model you own.
It's a good idea to refer to the instruction manual that came with your Fitbit or search for how to reboot your particular model online.
However, restarting often fixes issues due to the refresh it gives your Fitbit.
Uninstall and Reinstall the Fitbit App
If the other steps haven't helped you yet, you can uninstall and reinstall the Fitbit app to see if your iPhone will then connect to the device.
All the data from the app will be erased after you do this, but if it corrects the problem, it will be well worth it.
Go to the app icon on your iPhone and long press on it.
Choose "Remove App" and confirm that you want to delete the app altogether.
Go to the App Store, find the Fitbit app, and reinstall it.
Open the Fitbit app after it reinstalls and follow the instructions to sync with Bluetooth.
Sign in with your account information, allow it to reinstate all your data, and check to see if your iPhone has found and connected your Fitbit.
Reset Your iPhone's Network Settings
As the final answer to the question, "How do I make my Fitbit discoverable on iPhone," you can reset the network settings on your iPhone.
Sometimes, this is the last resort that you need to ultimately fix the problem when your iPhone can't seem to find your Fitbit.
To reset your iPhone's network settings, go to Settings, General, and scroll down to Transfer or Reset iPhone.
Choose Reset and then select Reset Network Settings.
This will reset all network settings, so you will have to then enter all of that information back in.
You can also go back into Bluetooth and see if your iPhone can locate your Fitbit.
If it shows the name of the Fitbit, you should now easily be able to connect it.
There are a number of steps you can take when your iPhone can't find your Fitbit.
If one doesn't work, you have a lot more to choose from until it finally works.