Why Is The Oculus Quest 2 Cheaper?
This post may contain affiliate links. As an Amazon affiliate, I earn from qualifying purchases.
The Oculus Quest 2 has some great new features, but it is also much cheaper than the original Quest.
This has led some people to wonder if Oculus is trying to compete with the Playstation VR and other low-cost headsets.
While it is still too early to know for sure, the Quest 2's low price does suggest that Oculus is interested in capturing a wider market.
This could be good news for consumers, as it could lead to even more competition and lower prices in the virtual reality market.
Keep reading to find out more information about the Oculus Quest Price.
Why Is The Oculus Quest 2 Cheaper?
Cheaper than its predecessor at $299, the Oculus Quest 2 is part of Facebook's strategy to make virtual reality more mainstream and accessible. The Quest 2 is not intended to replace the original Quest but rather to offer users more choice.
While some may see the lower price point as a sign that the technology is not yet mature, others view it as an opportunity to get in on the ground floor of what could be the next big thing.
Whatever your opinion, there's no denying that the Oculus Quest 2 is one of the most intriguing VR headsets on the market today.
The Oculus Quest 2 Specs And Price
The Oculus Quest 2 is a virtual reality headset created by Facebook company Oculus.
It was released on October 13, 2020.
The device is available in two different models, one with 128 GB of storage and the other with 256 GB of storage.
It is priced at $299 for the 128 GB model and $399 for the 256 GB model.
The Quest 2 is powered by a Qualcomm Snapdragon 865 processor and has 6GB of RAM.
The device features a new display with a resolution of 1832×1920 per eye and a 90 Hz refresh rate.
The Quest 2 also features improved lenses, new strap designs, and enhanced audio.
It is compatible with all current Oculus Quest games and apps.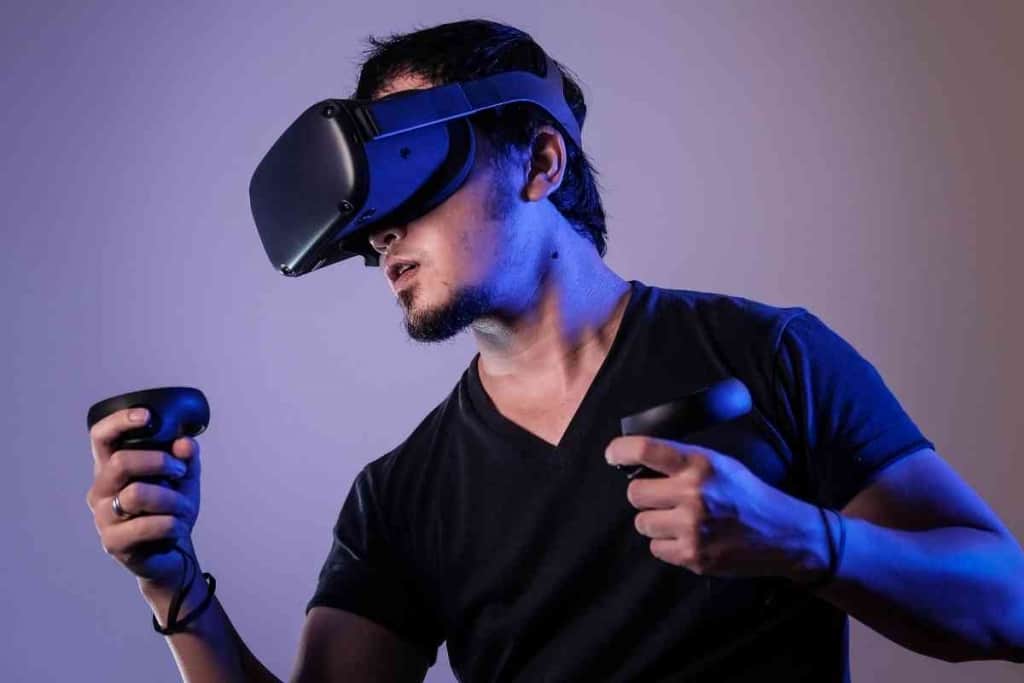 Is The Oculus Quest 2 Worth It
While there are plenty of VR headsets on the market, the Oculus Quest 2 is one of the best options available, especially if you're looking for an immersive and powerful VR experience.
The Quest 2 offers a high-resolution display, a wide field of view, and a comfortable design that makes it easy to wear for extended periods of time.
Plus, with its robust selection of apps and games, the Quest 2 has something for everyone.
And if you're worried about getting motion sick, the Quest 2 also has built-in Guardian technology that lets you set up a virtual safe zone in your real-world space.
So whether you're looking to explore new worlds or just want to play some virtual reality games, the Oculus Quest 2 is definitely worth your consideration.
Is The Oculus Quest 2 Cheaper Than The Oculus Quest
When Oculus released the Quest 2, many people were surprised by the lower price tag.
After all, the original Quest had been marketed as a premium VR headset, and it was one of the most expensive options on the market.
So why is the Quest 2 so much cheaper? There are a few possible explanations.
First of all, Oculus may be trying to appeal to a wider audience with the Quest 2.
By offering a more affordable option, they hope to attract new customers who might not have considered VR before.
Additionally, the Quest 2 is powered by Qualcomm's Snapdragon XR2 platform, which is significantly more powerful than the original Quest's Snapdragon 835 processor.
This means that Oculus was able to cut costs by using less expensive hardware.
Whatever the reason for the price drop, it's clear that Oculus is serious about making VR accessible to everyone.
Is The Oculus Quest 2 Selling Well
The Quest 2 was released on October 13, 2020, and is currently available for purchase.
Early reports indicate that the headset is selling well, with some retailers reporting that they have sold out of their stock of the device.
Overall, the Oculus Quest 2 appears to be a successful product that is living up to the hype.
Virtual reality is an increasingly popular gaming platform, and the Quest 2 is one of the best devices on the market.
If you are interested in purchasing a VR headset, the Oculus Quest 2 is a great option.
Is The Oculus Quest 2 Comfortable?
The Oculus Quest 2 is made with comfort in mind.
The head strap is adjustable, so you can find the perfect fit for your head.
The foam padding around the eyes is soft and comfortable, and there's even a Cancelling Audio feature that cuts out external noise so you can focus on your VR experience.
Overall, the Oculus Quest 2 is a very comfortable VR headset that you can wear for hours without experiencing any discomfort.
Can I wear Glasses With The Oculus Quest 2?
The Oculus Quest 2 is a great VR headset for anyone looking to get into virtual reality, regardless of whether they wear glasses or not.
The headset is compatible with most pairs of glasses, but if you own a larger frame, then it is best to test it out before purchasing.
That said, even if you do have a large frame, the Oculus Quest 2 will still likely be more comfortable than other VR headsets on the market.
How Many Games Are On the Oculus 2?
It is estimated that there will be over 2,000 VR games available on the Oculus Quest 2 by the end of 2022.
This is a huge increase from the approximately 50 games that were available at the launch of the original Oculus Quest in May 2019
The increased availability of games is due to the fact that the Quest 2 uses a more powerful processor and has double the storage capacity of its predecessor.
This allows developers to create more immersive and sophisticated VR experiences.
In addition, Facebook has also announced plans to port some of its popular titles, such as Facebook Horizon and Medal of Honor: Above and Beyond, to the Quest 2.
With such a diverse range of titles available, there will be something for everyone to enjoy on the Oculus Quest 2.
Can You Watch Movies On The Oculus 2?
Oculus 2 is a virtual reality headset that was released in October 2020.
The device is capable of playing both 2D and 3D movies, as well as video games.
While it does not come with a built-in screen, users can connect the Oculus 2 to their TV or computer monitor.
The device also has built-in speakers, which allow users to experience movies with immersive audio.
In addition, the Oculus 2 supports a variety of movie file formats, including MP4 and AVI.
As a result, users can watch their favorite movies on the Oculus 2 without any problems.