Will PS4 Gift Cards Work On A PS5?
This post may contain affiliate links. As an Amazon affiliate, I earn from qualifying purchases.
If you've been a Playstation gamer for a while, then it's likely you've built up a collection of gift cards on holidays and birthdays.
Except for this year, you've picked up a PS5 for yourself.
Now, you've got a handful of PS Store cards for your PS4 and a PS5.
Will PS4 Gift Cards Work On A PS5?
The PlayStation Store is not unique to PS4, so gift cards for the PS Store purchased to use with the PS4 will work the same on PS5. The Playstation Store is all one store that is not unique to either the PS4 or the PS5, so you can even mix and match purchases for either console with the same card.
Go ahead and start redeeming those codes because now you have a PS5 and plenty of store credit to get the games you want to play on it.
Sony made a wise decision to keep to the tradition created during the transition from the PS3 to the PS4.
All cross-compatible titles are maintained in the library and playable on the new console.
Some games even offer PS5 upgrades that improve the textures, shaders, and models in-game to provide a more immersive experience and new life to old games.
As part of this, PS Store credit also transfers from your PS4 to your PS5 profile extension.
This can be incredibly useful if you have friends or kids who don't have a console of their own and want to play games with you.
What's The Difference Between PS4 and PS5 Gift Cards?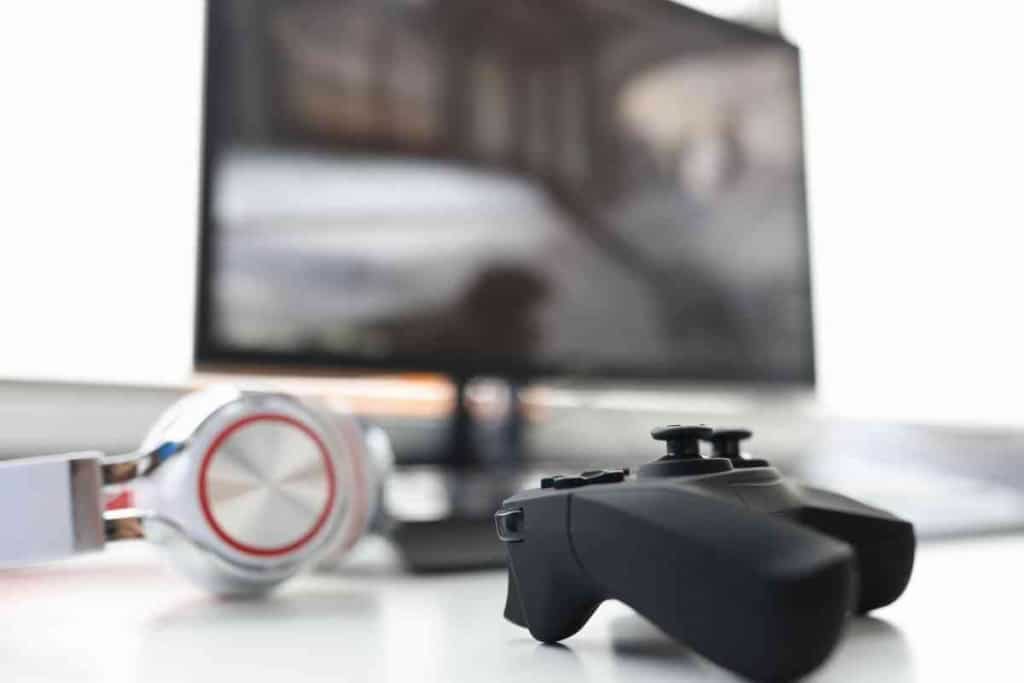 Gift cards for the PS Store have long been labeled as such and not as PS4 or PS5 specific cards. This was a great branding choice on Sony's part.
It means that gift cards bought to be used on the PS4 are inherently useful on the PS5 as it uses the same content store.
For this reason, I recommend that PS4 owners who just picked up a PS5 continue to use the same profile.
You will be able to play both the PS4 and PS5 at the same time with the same profile online.
You will also carry over purchases, store credit, friend's lists, and trophies.
That's a convenient transition for gamers.
Overall, that means you won't have to concern yourself about which console a Playstation Store gift card is for. It works for both.
The real difference comes down to the user interface of the PS Store on the PS4 and the PS5.
As with all new console generations, Sony has refreshed the look and useability of the PS Store.
That also means you'll have to get used to a new location for menus and settings.
To redeem a gift card on your PS5:
From the Home screen, scroll to the left of the PlayStation Store.
Move to the top row and scroll all the way to the right. Select the ellipses to open the overflow menu.
Scroll down to the option labeled 'Redeem Code'.
Enter the 12-digit code on the back of your gift card or in your gift card e-mail.
It will display what the code is meant to redeem. Select the 'Redeem' button.
If you scroll back to the overflow menu, you should now see your store credit below your PSN profile name.
It may take some time for the credit to be applied.
If it doesn't show up immediately, give it at least five minutes before contacting customer support.
This is the same process to redeem game codes.
Keep in mind that you may be able to redeem a code for software that is not playable on the PS5 due to a lack of developer support.
Does My PS4 Library Transfer To PS5?
As stated previously, if you use the same profile to set up your PS5 as you did for your PS4, all digitally purchased content will be accessible.
Some titles will even have the ability to receive a graphical and performance update.
If you're wondering which PS4 games can get a PS5 makeover, here's a list of games that have received this update for free:
A Plague Tale: Innocence
Alan Wake Remastered
Assassin's Creed Valhalla
Balan Wonderworld
Beyond A Steel Sky
Borderlands 3
Call of Duty: Black Ops Cold War
Control
Crash Bandicoot 4: It's About Time
CyberPunk 2077
Dead By Daylight
Deliver Us The Moon
Destiny 2
DiRT 5
Dying Light 2
DOOM Eternal
Elden Ring
Final Fantasy 7 Remake
Ghostrunner
Hitman 3
Horizon Forbidden West
Immortals: Fenyx Rising
Kena: Bridge of Spirits
Kona
Little Nightmares II
Madden NFL 21
Marvel's Avengers
Marvel's Spider-Man: Miles Morales
Mortal Kombat 11
Mortal Shell
Nioh 2
No Man's Sky
Outriders
Resident Evil Village
Sackboy: A Big Adventure
Subnautica
Tennis World Tour 2
The Elder Scrolls Online
The Witcher 3: Wild Hunt
Watch Dogs Legion
Yakuza: Like A Dragon
That's not even a comprehensive list.
Developers have yet to stop supporting the PS4 and instead have begun to offer upgraded versions for PS5.
Elden Ring is a perfect example of a brand new title that was released across PC, PS4, PS5, Xbox One, Series S, and Series X.
As part of its release, PS5 users can receive a free upgrade to a better looking Elden Rings.
Other games have chosen to offer an upgrade, but for a price.
As some games were developed to original take full advantage of the power of the PS4, they need extensive work to improve shaders, textures, models, and physics.
Games like Days Gone, Monster Hunter: World, Shadow of the Tomb Raider, and Ghost of Tsushima require a purchase to get the PS5 upgrade.
While it may seem greedy, these are some hefty visual games that require extra work to improve for the current generation.
Does My PS4 Store Credit Work On PS5?
The PlayStation Store is a uniform digital content vendor that is accessible on the PS4, PS5, and PS Vita.
It used to support the PS3 and PSP as well.
The profile you create for the PlayStation Network (PSN) carries over across all of Sony's PlayStation Store devices.
That means any store credit, gift cards, digital content, friends list, and trophies are accessible on the PS4, PS5, PS Vita, Android/iOS app, or the website through the same profile.
Of course, you can only play games on the console they were made for, but you can peruse through your account on any Sony device and others using your PSN account.
In turn, you can use any compatible games you already own, store credit, and discounts on your PS5 without issue.
This is a huge win in customer loyalty for Sony and incredibly convenient for gamers moving to the new generation of console gaming.
FAQ
Can I play the same game on the same account using both my PS4 and PS5?
You may find it surprising, but you can.
That also means you can use your ownership of both consoles to play games like The Elder Scrolls Online or Destiny 2 with someone else in your home.
For families, Sony's policy is a big money-saver.
Do I have to use PS store credit right away?
You do not have to spend store credit immediately on the PlayStation Store.
Your account holdings are safe as long as you don't push the buy button.
If you are still concerned, you can always wait to redeem the code on your gift cards until you are ready.