Best Buy's Geek Squad vs. AppleCare
Best Buy offers a protection plan known as Geek Squad.
On the other hand, Apple offers a protection plan known as AppleCare.
Between these two, which one should you choose?
The main focus is on ensuring you get the right protection plan that will also guarantee value for money.
Is Best Buy's Geek Squad Better Than AppleCare?
Best Buy's Geek Squad has knowledgeable staff conveniently located at their many stores, but they do not always have the expertise of Apple's Geniuses when it comes to servicing Apple products. Using Apple Care will ensure that you always get the best possible service.
Keep reading to for more on how Best Buy's Geek Squad stacks up against AppleCare's Geniuses!
About Best Buy Geek Squad
Geek Squad is the protection plan that Best Buy has unveiled.
This plan is designed to ensure that your electronic device such as laptops, TV, and game systems remain in good condition.
Geek Squad Protection provides three options for customers.
These are "Retail Replacement," "Accident Protection," and "Lifetime Protection." If you are not sure of the difference between these plans, here is a brief description of each one.
"Retail Replacement" plan can be purchased for items that have been purchased at Best Buy.
Such items will be replaced only if they have technical problems that are beyond repair.
"Accident Protection" is the topmost plan that Best Buy offers.
With this plan, you will get assistance from Geek Squad in repairing your computer or device and help you in troubleshooting if any problems are encountered.
Pros:
Covers almost every device
No deductibles
You can get an upgrade
Cons:
In case you are not satisfied with the services of Geek-Squad, you cannot return the protection plan money.
However, if you have bought the protection plan after a month of purchase, Best Buy will accept it as a return; this is because Best Buy policy states that in case if a customer is not satisfied with the services rendered by Geek-Squad within 30 days, then Geek-Squad has to refund the total amount including tax and shipping fee to their credit card used for purchasing.
About AppleCare
Even though Apple products are known to be of high quality and durable, it is still advisable to purchase a protection plan since all electronic devices are prone to malfunction.
One of Apple's most widely-known protection plans is the AppleCare Protection Plan.
This plan offers a two-year coverage policy for Macs and iPods.
The "AppleCare Protection Plan" provides repair services for any problems that can be traced to hardware coverage.
This protection plan is not for end-of-support supported devices.
The cost of the "AppleCare Protection Plan" varies depending on the options that you choose.
To help you in making the best choice, here are a few things to consider when choosing between AppleCare and Geek-Squad protection plans:
Geek-Squad Protection Plan is available at Best Buy locations across the country. You can also purchase this plan online through Best Buy.com.
The AppleCare Protection Plan is available only to Apple customers, who can also bring laptops and iPads to an authorized Apple Store.
If you need technical support, you can contact the AppleCare Team 24/7.
Depending on your laptop and iPad model, the service period lasts three years or twenty-one months.
Pros:
You have up to 60 days to make a decision
Up to 3 years of technical support
A limited-time money-back guarantee
Cons:
Needs technical expertise to use
If you choose the full replacement plan, you need to pay an upfront fee of $99.95 plus tax.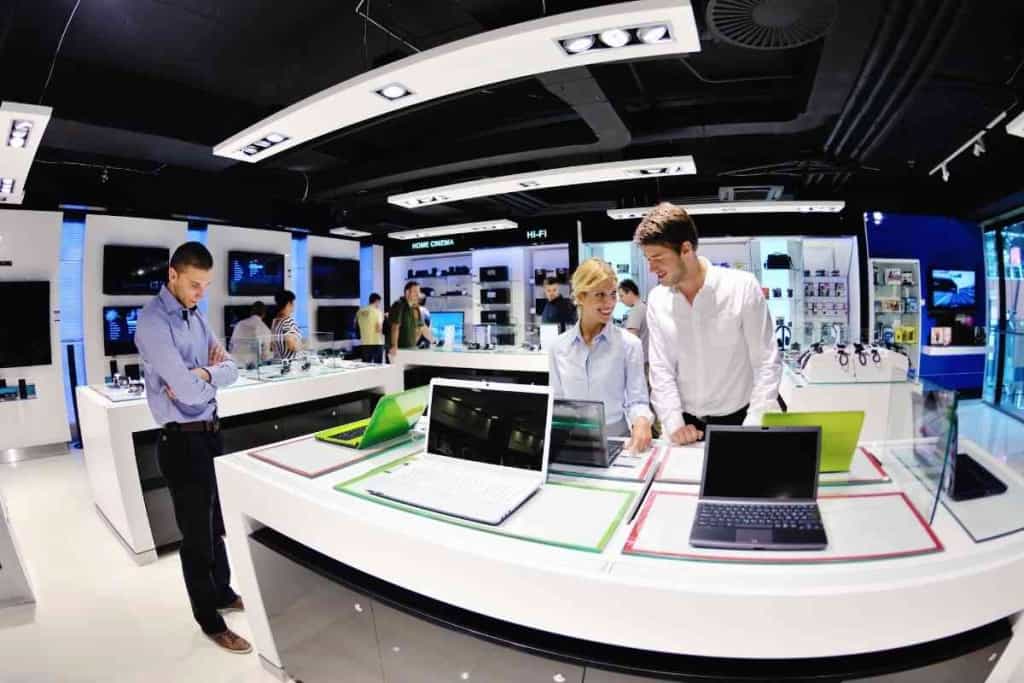 How Does AppleCare and Best Buy Geek-Squad Compare?
Let's delve into the differences between these two payment platforms.
Signing Up
For those who purchase Apple products, you're eligible for AppleCare.
Your purchase of Apple products would automatically sign you for one year of free AppleCare.
This plan does not cover repairs that are outside the scope of warranties.
For those who purchase computers from Best Buy, you can start the protection plan process by calling your local office or retail store and getting a service appointment.
Support
For those who purchase Apple products, AppleCare provides the following 24-7 support:
AppleCare Phone Support
AppleCare Online Chat Support
The same is not available for Best Buy.
You would have to do more to gain access to this service; this means that it would take you longer to get your device fixed.
For example, if you don't know what you're going to need for your claim, Best Buy does not have a service center where you can go and get assistance from specialists onsite.
Eligibility
Does Geek Squad cover Apple products? Both AppleCare and Geek-Squad are eligible for Mac Devices only.
No other brand is covered under these protection plans.
Both will provide repair services as long as the device has hardware problems covered by the guidelines.
The following issues are covered; cracked screens, liquid damage, electrical surges, etc.
Between AppleCare and Best Buy Geek-Squad, which one should you choose? Considering the additional features offered by the Geek-Squad protection plan, you can compare them to those of AppleCare.
For many people, the price of AppleCare is a determining factor between these two plans.
For example, if you buy an iPhone 5C or an iPad mini 3 with 64 GB of storage, which one will cost a cheaper price than the other?
AppleCare has different pricing levels that vary based on model and storage space.
Since these phones and tablets are comparable in these areas, we can say that the price is almost the same.
However, for those planning to buy devices for long-term purposes (iPad and Mac), more than likely, you would have to choose AppleCare over the Geek-Squad protection plan.
Frequently Asked Questions
Does Best Buy Geek Squad cover physical damage?
A: No, Best Buy does not cover physical damage to your device.
Does it cost me anything to sign up for a Geek-Squad plan?
A: No, Best Buy offers protection plans free of charge if you buy an eligible product.
However, there may be a cost to cover the product under such a plan; this premium is applied to ensure your product is covered. The Geek-Squad will repair or replace the device without any questions asked; this applies to accidents that happen within the period specified by the plan.
Are there any limitations with the protection plan?
A: Yes, you can only make a claim in case one of the following conditions is true; your device has been stolen or damaged beyond repair, or if your device requires a service, it wasn't available at that point in time.
You should not try to use the Geek-Squad plan to make claims for accidental damage (such as dropping your phone while you were on a call) since it would have been accidental by definition.
Is there a maximum number of claims?
A: Yes, your plan will cover you up to 2 claims in the first year.
After that, you can make four claims in a year.
Your coverage will then be extended for an additional two years, and you can make another four claims after that as long as you continue using the same device; this is also true if your device requires more repairs than the plan covers.
Is there anything free with a Geek-Squad plan?
A: Yes, you can take advantage of the following things; free shipping if the device needs to be shipped to a third-party service provider or if it needs to be shipped out of the country.
There is no risk and no deductible if you aren't happy with the repair work.
You also get protection for loss and theft for an additional fee.
However, the cost of this depends on the device chosen.