Extended Warranties – Best Buy Protection Plan vs. Costco [Best Options Explained]
When you buy a new electronic, you're typically offered an extended warranty for an extra charge. The sales pitch is that for the additional fee, your new device will have a longer warranty period, and broader coverage. When considering where to purchase your device, you may also want to consider what extended warranties are offered. Two popular options for consumer electronics are Best Buy and Costco. Of these two, what's the difference in protection plans, and which one is the better option?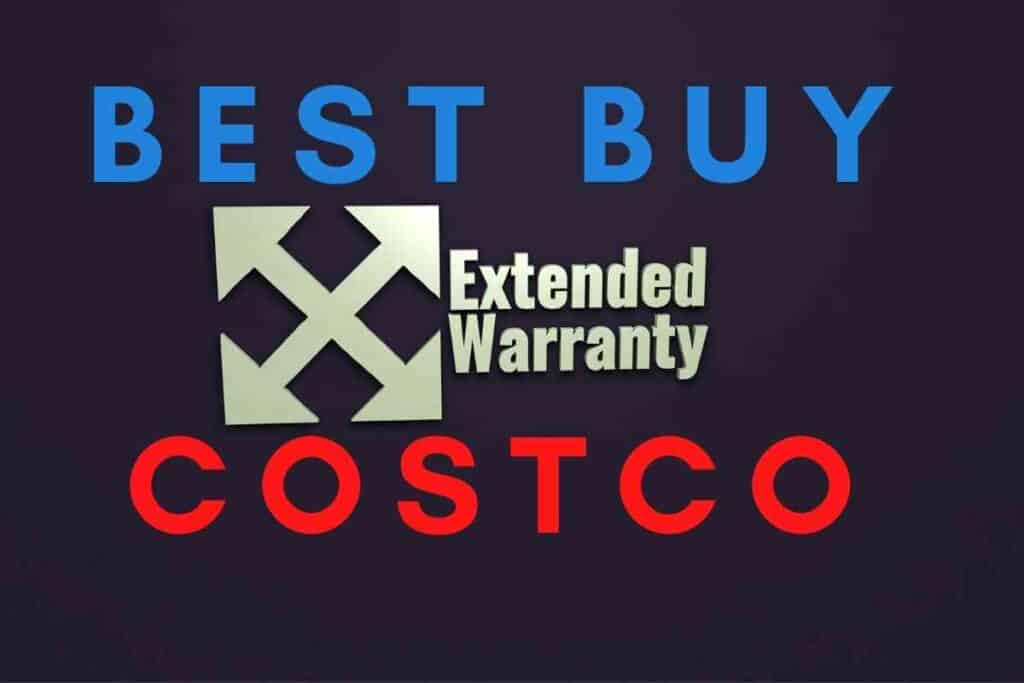 Is The Best Buy Or Costco Extended Warranty Better?
Best Buy services their own warranty through the Geek Squad, but it costs more. Costco is much less expensive, but you have to ship it out to have your device serviced and you have to pay for the monthly service. Besides cost, the location of the nearest Best Buy or Costco is also a major factor.
There are many other differences between both of these plans.
Before deciding where you're going to purchase your new device, consider the details of what you'll get as part of the protection plan.
Best Buy Protection Plan
As of 2022, Best Buy's protection plan is wrapped into the Best Buy Totaltech membership plan.
This is an annual membership that covers all the devices you purchase with them while you have an active membership.
If you purchase numerous devices, this setup may be advantageous and significantly reduce the price of each device.
Cost and Length of Warranty
The Best Buy Totaltech membership costs $199.99 annually and provides up to 24 months of coverage from the date of purchase.
However, if you do not renew the membership after the first year, you lose the second year of coverage.
If you only purchase a single device, getting the full 24-month warranty will cost an additional $400, regardless of the cost of the devices covered.
You may be able to extend the warranty beyond the first 24 months.
However, you'll end up paying additionally for the extended period for each device.
Is There a Deductible or Copay?
The Best Buy Totaltech plan does have a service fee attached to it. 
While some warranty services rate their copays based on the service needed, Best Buy protection is a single service fee based on the product purchase price. 
Here is the current fee schedule, as of 2022:
| | |
| --- | --- |
| Device Purchase Price | Service Fee |
| $0-$99.99 | $9 |
| $100-$199.99 | $29 |
| $200-$499.99 | $49 |
| $500-$999.99 | $79 |
| $1,000 and up | $99 |
What's Covered?
It's important to understand what is covered in a warranty, not just take a cashier's or sales rep's word on it. 
Based on the 2022 Best Buy Protection terms, you'll be covered for damage caused by:
Defective materials or workmanship
Normal wear and tear
Dust
Internal overheating
Power surges or fluctuations, including lightning
Drops
Liquid, including spills and full submergence
A battery that won't hold a charge
Defective pixels (for TVs, computers, tablets, phones, cameras, and handheld gaming consoles).
In-box accessories for cell phones.
Best Buy may ask for an explanation of the damage before covering the repair.
Failure to provide an explanation may result in forfeiture of coverage.
When you file a claim on your plan, Best Buy may repair your device, provide you with a comparable replacement, or give you a store credit toward purchasing a new device equal to the original purchase price.
You are permitted two claims per 12-month period for each device covered by your membership.
The Totaltech membership also includes 24/7 tech support.
This may help you get back up and running without having to take your device in for service.
Learn More: Best Buy vs Apple Store for Repairs: Which is Better?
What's Not Covered?
While these plans seem to cover almost everything, there is damage the plan will not cover.
This includes:
Cosmetic damage that does affect function.
Theft or misplacement
Acts of God, including fire and flood
Use other than what's described by the manufacturer
Contact with human or animal bodily fluids
Anything that would otherwise be covered by another insurance policy, such as auto or homeowner's insurance.
Is It Transferrable?
Best Buy says it will provide service to anyone who is in lawful possession of the covered product.
However, the Totaltech membership plan is not transferrable. Therefore, if you purchase a device as a gift or decide to sell it while it's under the extended warranty, that warranty may not transfer because it's tied to the membership.
In case you're purchasing a gift, other warranty options are available through Best Buy, such as Apple Care+ and Samsung Care.
How Do You Get Service?
Service on the Totaltech Membership plan is easier than most extended warranties.
Take your device to your local Best Buy location, and their Geek Squad department will handle all services related to Best Buy protection.
Costco Protection Plan
Costco runs its extended warranty program through Allstate Protection Plans.
This service was formerly known as SquareTrade before Allstate acquired the company.
Cost and Length of Warranty
All the Allstate service plans through Costco are for 24 months from the date of purchase.
The cost of the coverage is dependent on the type of device and the purchase price. 
Here is a sampling of the current 2022 prices:
| | |
| --- | --- |
| Device Purchase Price | Protection Plan Cost |
| Cameras & Tablets Under $300 | $29.99 |
| Cameras & Tablets $300-$750 | $49.99 |
| Cameras & Tablets Over $750 | $79.99 |
| All Apple iPads | $79.99 |
| Computers Under $500 | $69.99 |
| Computers Over $500 | $99.99 |
Is There a Deductible or Copay?
Unlike many other extended warranty and protection plans, the Allstate plans do not have any deductibles or copays.
They even cover the cost of shipping the product to and from their service centers.
What's Covered?
The Costco Allstate protection plans offer robust coverage.
They will cover damage caused by:
Defects in material or workmanship
Defective or damaged buttons or ports
Internal overheating
Dust
Internal humidity or condensation
Power surges while plugged into a surge protector
Damaged or defective battery
Defective pixels
Falls and drops
Liquids and spills
What's Not Covered?
There are some things the plan will not cover for your device.
It's important to consider how you plan to use the device to determine if you're at risk of losing your coverage.
Not covered damage includes:
Intentional damage
Lost or stolen devices
Any use not intended by the manufacturer
Exposure to weather conditions
Damage from add-on accessories
Damage from accumulation, including from hair and body oils
Improper care or negligence
Improper cleaning
Industrial, rental, or commercial use
Damage from viruses
Is It Transferrable?
The protection plan is transferred in the event you give away or sell your device while it's still covered.
To transfer the plan, you have to contact the company at www.squaretrade.com to work through the transfer process.
How Do You Get Repairs?
You start the process by filing a claim at www.squaretrade.com.
From there, the techs will attempt to help you troubleshoot your problem remotely.
If that doesn't work, the company will set up shipping to their service center.
Once they receive it, they'll determine how to proceed.
The plan covers repair, or at their discretion a replacement or refund of the purchase amount of the device.