Can You Use A PS4 Controller On An Xbox One? (Explained!)
This post may contain affiliate links. As an Amazon affiliate, I earn from qualifying purchases.
Video game console controllers have gotten to be rather expensive.
The extra functions added to the controllers every iteration has slowly made them into a wonder of technology on their own.
Both PS4 and Xbox One controllers have button pressure sensitivity, tilt sensors, two joysticks, a directional pad, four right thumb buttons, two triggers, two bumper triggers, a "menu" button, an "options"/"share" button, and ergonomic design.
Can You Use A PS4 Controller On An Xbox One?
Even with all the similarities, PS4 and Xbox One controllers are not cross-compatible. While both controllers can pair and work on a PC, the PS4 and Xbox One use different pairing functions to get low latency controls.
On top of the pairing difference, the controllers use different internal components which also means they require specific drivers (software instructions) for the console to work with the controller.
As such, the PS4 controller can be paired to Android, iOS, macOS, PC, and PS4.
The Xbox One Controller can be paired to Android, iOS, macOS, PC, and Xbox One.
While it may seem they were designed to work with everything except for competing home consoles, this is due to the more open nature of operating systems used for tablets, smartphones, and computers.
If you need a new controller or just another one for your Xbox One, a spare PS4 controller won't do the trick.
You'll have to get a controller made specifically for Xbox One consoles.
As an alternative, some games support the use of a mouse and keyboard.
Who knows, you might find a mouse and keyboard to be the best setup for you.
It's also a good backup option as most people have a keyboard and mouse at home if their Xbox controller fails.
Regardless, your PS4 controller will not work on your Xbox One. Don't go throwing it away.
Even if you don't play on PS4 as much as you used to, you may still find having your PS4 controller useful later for pairing to a desktop, smartphone, or tablet which leads to interesting options.
What Controllers Do Work On Xbox One?
If you're just not a fan of the core Xbox One controller form and function, there are alternatives.
As previously stated, the PS4 controller didn't make that list.
Don't worry, though.
There's still a large list of options to choose from.
None of them is quite the same form factor as the PS4 controller, but you may be able to find one that works for you.
Here's the quick list of controller alternatives for the Xbox One:
Xbox Wireless Controller
Xbox Elite Wireless Controller
Xbox Elite Wireless Controller Series 2
Xbox Design Lab Custom Wireless Controller
Razer Wolverine Wired Gaming Controller
Turtle beach Recon Wired Controller
Logitech G920 Driving Wheel and Pedals
RIG Pro Controller
Turtle Beach VelocityOne Flight
Thrustmaster Ferrari 458
Power A Fusion Pro
Hyperkin Duke Wired Controller
Razer Dragon Ball FighterZ Atrox Arcade Stick
Microsoft Xbox Adaptive Controller
There are other compatible controllers as well.
A quick search through Amazon will yield about five more just on the first page.
Choosing the right controller can be difficult if you're not quite sure what you're looking for.
I tend to stick to the standard designs and even prefer the Xbox Core controller design over the PS4 controller. My main reason is that I have bigger hands.
The PS4 controller is rather sleek, but it can be difficult to grip at times.
The Xbox One controller's 'V' shape is much wider and allows me to hold it more comfortably.
If you're looking for a controller that has the same form as your PS4 controller to use on your Xbox One, the closest controller on the list to the form and slimness of the PS4 controller is the Razer Wolverine.
It retains the same overall shape as the core Xbox controller, but it is a slightly thinner version.
If you have yet to upgrade your Xbox One controller, you may want to stop by a GameStop near you and pick one up.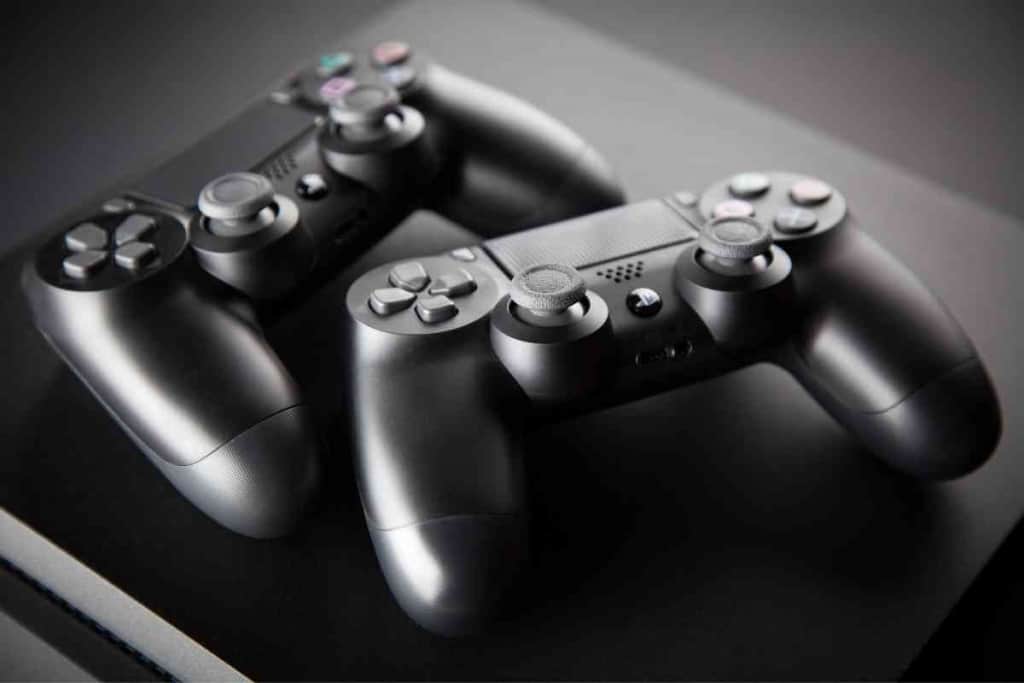 The design is slightly smaller and more ergonomic.
As a side note, the Xbox One supports the use of a USB mouse and keyboard.
Not every game on Xbox can be played with this combination, but a lot can.
Some games even play better with a mouse and keyboard as they were originally designed to be played with them.
If you're into first-person shooters, you might even find that your accuracy with a mouse outpaces your thumbstick movements.
What Can I Pair My PS4 Controller To?
Now that I've thoroughly established the fact that your PS4 controller will not work on your Xbox One, you'll likely want to know what you can pair it to.
As you may know, the PS4 controller can pair with other devices through Bluetooth.
You can pair your PlayStation Dualshock 4 controller to Bluetooth-compatible devices by placing it into Bluetooth pairing mode.
To do this, turn your controller on with the PS button.
Then, hold the 'Share' button on the left of the touchpad and the PS button until the light bar flashes.
Your Dualshock 4 controller should now be in pairing mode.
Now, you'll be able to connect your controller devices other than your PS4 to play games or just have a remote control.
Here's a quick list of operating systems that can make use of the PlayStation DualShock 4 controller:
Android
iOS
iPadOS
macOS
Windows
Linux
tvOS
ChromeOS
Those operating systems cover thousands upon thousands of devices from Chromebooks, tablets, and phones to full desktops and smart TVs.
As you may be aware, every operating system has at the least a small collection of games to play.
Operating systems with open content stores often allow for indie games and emulators.
If you want to use this feature to get around the problems pairing your PS4 controller to your Xbox One, you can pair your PS4 controller to your alternative device and stream Xbox gameplay to that screen either through the Xbox App console streaming feature or through GamePass cloud gaming.
This is the only way to play Xbox games with a PlayStation controller.
It's not the most convenient method, but it does make it ultimately possible.
Can I Use An Xbox One Controller On My PS4/PS5?
Just as a PS4 controller isn't compatible with the Xbox One, the Xbox core controller isn't compatible with the PS4 or the new PS5.
While the Xbox One controller may have Bluetooth connectivity, it doesn't have driver support from the PS4.
You can hardly blame Sony or Microsoft for not spending money and time to support devices from their competitors.
Though an argument could be made that the excuse of software drivers is purely business 'political' as Windows, macOS, Android, Linux, iOS, and even tvOS have support for both the PS4 controller and the Xbox One controller.
The divide may be driven due to a business rivalry more than a technical block.
Either way, we aren't likely to see Microsoft and Sony set aside their differences to work together.
For now, you'll have to settle for what compatibility is available or you can always design your own controller to operate on any system regardless of corporate alliances and geopolitics.