How Do I Listen to Audiobooks On My iPhone?
Regularly listening to audiobooks offers multiple benefits, from improved comprehension and reading accuracy to excellent pronunciation and test scores. Since you have an iPhone, you likely want to understand how to listen to these audiobooks effortlessly. The following information will help you know how to do it.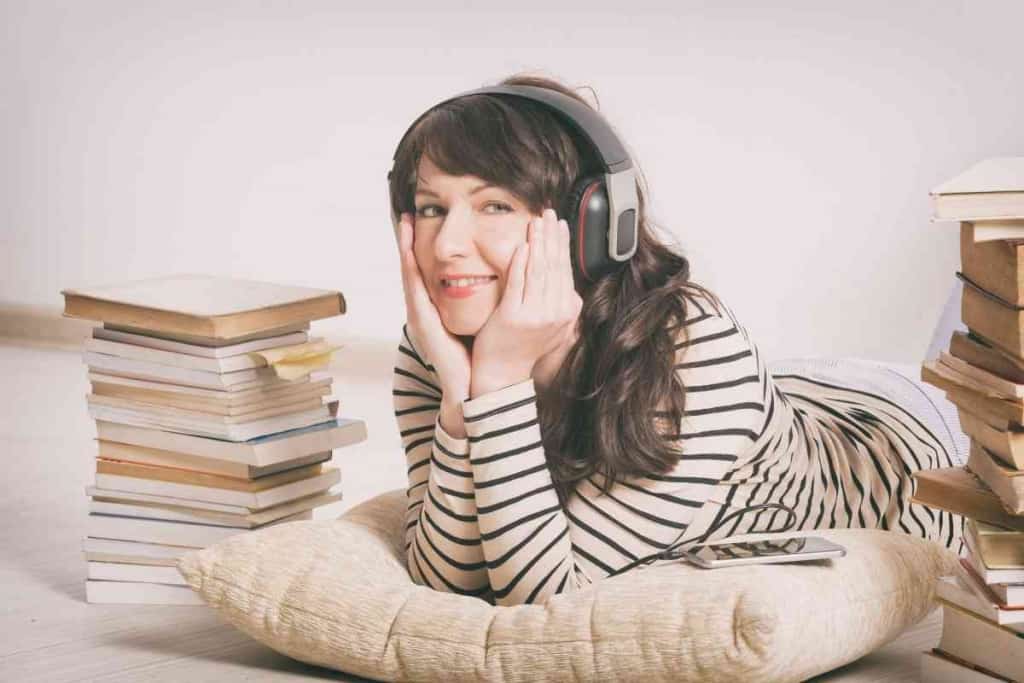 Table of Contents
How Can I Listen to Audiobooks On My iPhone?
iPhone comes with the Apple Books app, which offers an intuitive user interface for audiobook listening and reading. This comprehensive application boasts multiple features that make it easier to identify, select, and listen to your preferred audiobook.
While it is a third-party application, the Apple Books app offers a broad range of features that guarantee an immersive listening experience.
You'll first locate the Apple Books app to listen to audiobooks on your iPhone. You can do this by swiping right from the middle of the screen and pulling up the search bar. Next, type 'Apple Books' on the search bar and enter.
Once you launch the app, you will select audiobooks under the menu tab. This menu tab is usually at the bottom of the screen.
Various tabs appear on the menu, including 'Reading Now' and 'Explore Audiobooks.' You can tap these tabs to choose the best audiobooks to listen to. Once you start an audiobook, it remains on the current list, allowing you to access it more effortlessly.
You can find audiobooks in different ways. For instance, you could consider exploring the New & Trending tab, where you'll find newly released audiobooks. Trending options include acclaimed audiobooks and the most listened to, often during a specific period.
Alternatively, you can use the built-in search bar to identify the best audiobook to listen to. This search bar is on the right side of the app. Type the name of the audiobook or the name of its producer to find your preferred choice.
Once you get your chosen audiobook, tap on it to confirm whether it is in the audiobook category. This move allows you to select an action: gift it, add it to a wishlist or preview it. Once you are ready, purchase it.
Your purchased audiobook shall start downloading immediately. You can also listen to it during this process.
What Changes Can I Make When an Audiobook Is Playing?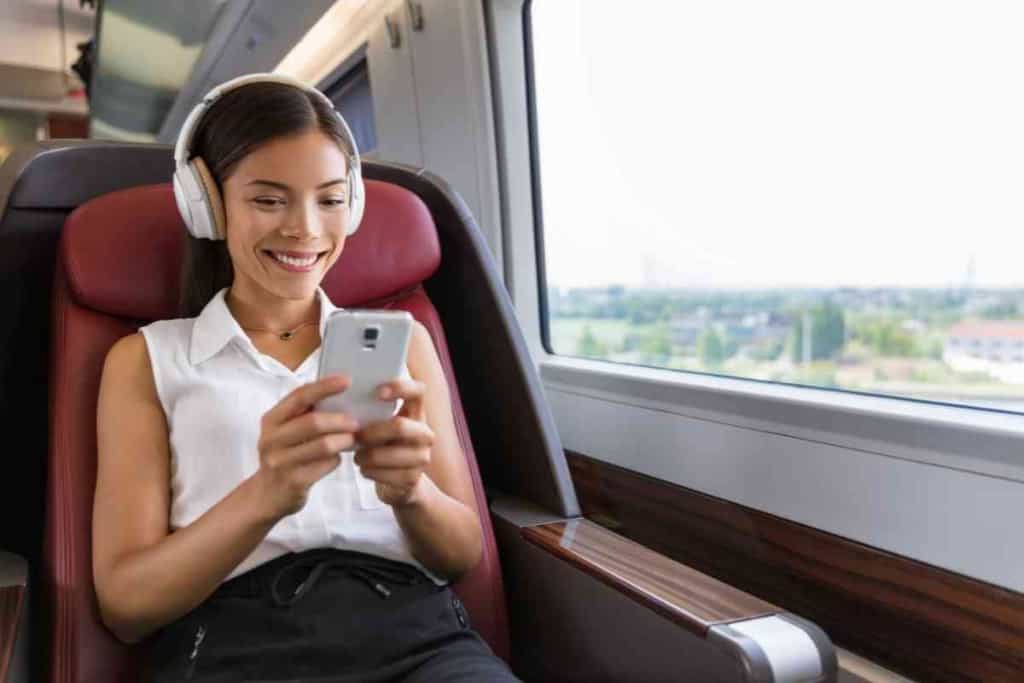 Various actions can help improve your listening experience. The Apple Books app allows you to initiate different steps to ensure you have the best time in the long run.
This app allows you to skip forward or back when listening to your preferred audiobook. It requires you to hold or tap the arrows next to the pause button, where you can choose between back and forward. You could also consider external controls, including car controls and headphones.
You can also change the number of seconds to skip forward or back. In this case, you'll have to go to Settings, Audiobooks, then Skip Forward or Back. You can change the intervals to 5, 10, 15, 20, or more seconds.
Further, you can consider manually dragging the slider to your preferred position.
Suppose you want to adjust the volume while listening to your audiobook on your iPhone. In that case, you'll drag the slider beneath the pause button. Depending on your goal, you can move it to the right or left.
Changing the size of the audio player could also help improve your listening experience. Apple Books allows you to shift to the mini-player and vice-versa. If you want to change from a mini-player to full-screen and vice versa, tap anywhere on the screen.
The Apple Books app allows you to choose chapters when listening to audiobooks.
You'll tap on the three lines or dots on the app to access these chapters. Tapping on these lines prompts a list of the chapters available, enabling you to choose whichever you prefer.
What Are the Alternatives to the Apple Books App?
While the Apple Books app is standard on iPhone, various other options suffice. Each selection offers a distinct user experience, layout, and interface. Comparing these options ensures that you get something that appeals to your preferences and desired experience. The following are notable alternatives to the Apple Books app.
Google Play Books
The Google Play Books app is an excellent choice for iOS. Besides being ideal for persons who have switched from Android to iOS, it provides seamless access to ebooks, comic books, textbooks, and audiobooks.
Its comprehensive selection makes it suitable for vast readers.
The Google Play Books app allows you to purchase your preferred books one by one. This arrangement implies that you do not need a subscription to access some books, making it convenient for anyone looking forward to reading specific books only.
This app allows you to organize your books more effortlessly. You can categorize them based on how recently they were added, title, and author.
However, you must create a Google account to use this app. Ensure that you create a Gmail account to sign up for this app.
Audible
Audible is an excellent alternative for heavy users. Since Amazon powers it, this app has a vast library of audiobooks, ebooks, comic books, and textbooks. It also contains books exclusively published on this platform, including short-form narratives.
This app offers an intuitive user interface for an enhanced user experience. Its books are readily accessible, and you can sort them based on various filters, including author, title, and publication year.
You can access its books in two main ways: subscription and individual purchases. A subscription fee is charged if you are unsure what books you will likely want to read.
It allows you access to multiple books for a specified period. Further, you choose between two subscription options: Premium Plus and Audible Plus.
On the other hand, individual purchases imply that you will only pay for the book you want. It is suitable for people on a budget or those who are not fans of vast libraries.
Libby
Libby is yet another incredible choice for audiobooks. It boasts an extensive library of textbooks, audiobooks, and comic books. Its user-friendly interface makes it significantly easy to access your desired content. You can use different filters to select your preferred audiobook, whether you search by author, title, or publication date.
Libby allows you to access multiple libraries, meaning you can borrow from different places. However, you must register for numerous library cards to make things much easier in the long run.
While the content could come from various libraries, Libby often places them on a unified shelf.
This app is compatible with iPad and iPhones. Its seamless installation makes it a perfect choice for minimal time and resource wastage. While you do not need to register, you must be a member of different public libraries. It guarantees unmatched access to high-quality content in the long run.
Nook Audiobooks
The Nook Audiobooks app is designed for people that love the Barnes & Noble ecosystem. It is different from the Nook app, a book-reading option.
This system requires you to have two Nook apps to access digital content from the Barnes & Noble ecosystem.
This audiobook app offers a vast library containing approximately 100,000 books and audiobooks. Most of its audiobooks can be accessed for free, making this app suitable for people on a budget.
While it offers a seamless and error-free experience, some users say that this audiobook app is not the most reliable.
How Do I Listen to Audiobooks From Amazon?
Amazon boasts a comprehensive library of ebooks and audiobooks, making it an excellent source for your content. If you want to listen to audiobooks from this platform, you must download and launch the Kindle app on your iPhone.
The Kindle app allows you to read and listen to your preferred audiobooks. Once you launch it on your phone, select your chosen book and tap on it. It offers multiple options, including how to purchase it from Amazon.
This app shall allow you to switch between reading and narration once you start your book. You can also download and access the books whenever you desire. Besides, you can do this with or without network connectivity.
Alternatively, you can consider purchasing audiobooks from the Audiobook Store. This option guarantees a vast library of ebooks, audiobooks, and comic books.
Final Thoughts
As you look forward to an immersive audiobook listening experience, you must use the right app. The options above are worth considering. However, you must compare multiple options before settling on one.