Where Does Apple Music Store Playlists? [Answered!]
This post may contain affiliate links. As an Amazon affiliate, I earn from qualifying purchases.
Apple Music is a truly diverse app, competing well with the likes of Spotify and Pandora, letting you choose your listening experience from millions of songs and thousands of artists spanning every conceivable genre.
If it exists, it is probably on Apple Music.
(Take it from me, I have found everything from Gordon Lightfoot to reiki healing music on there!)
But where does Apple Music actually store your playlists? Are they exclusively kept on the app? Or can you download them onto your iPhone, iPad, iPod touch, Android, Mac, or PC?
As it turns out, you can both import and export playlists in Apple Music if you are on a Mac.
Apple's Music app does save your playlists within the app, sure, but there are ways of getting them onto other listening devices.
You can even transfer song information from Apple Music onto other applications if you know what you are doing (and I will show you exactly how to do that in a minute).
The beauty of the Music app is that, while it is primarily about music streaming, you have options.
Want to download a song onto your iPhone? Cool, have at it.
Want to download an entire playlist onto your Mac? Go for it.
The process of doing so is relatively simple and doesn't take that much time out of your day.
The one thing that is obviously cause for concern is how much space a playlist can take up on your device's internal storage.
If you do not download any playlists, then it won't gobble up your internal storage.
But downloading a ton of music onto your iPhone is going to eat up space.
That is something to think about as you read through this guide on Apple's Music playlists and where they get stored.
Where Does Apple Music Store Playlists? [Answered!]
Apple Music playlists are stored within the app and kept on iCloud – hence why iCloud Music Library is included with your Music subscription. Just open your app, and you will find your playlists kept right there. However, you have the ability to download your playlists onto the internal storage of your preferred listening device.
So, how does iCloud (also known as "the cloud") work? What's going on with matching to iTunes and storing? What can you do and not do with the iCloud Music Library? Read on to learn more about where your playlists are stored and what you can do with them.
What is iCloud Music Library?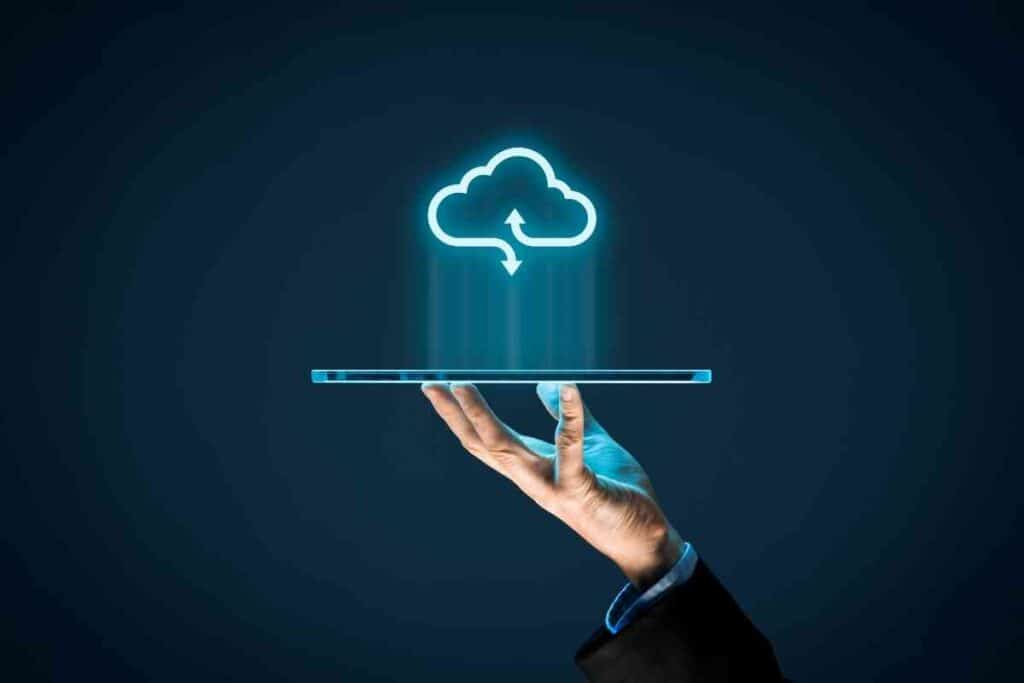 Wondering where are playlists stored? Wonder no longer! Your Music subscription includes access to the iCloud Music Library, which is where all your playlists are stored online.
You can do quite a bit with this feature, including:
Streaming music from the library on your Mac on to up to ten different devices that you own (which includes up to 5 Mac or Windows PCs).
Deleting any matched tracks you own on your Mac and redownload in order to obtain high-quality 256kbps DRM-free versions from the iTunes Store. This definitely comes in handy if you currently have low-quality ripped tracks cluttering up your computer.
You just cannot use the iCloud Music Library in every country (you absolutely can in the United States though), manually sync music from iTunes to your iPhone (since this is all done over-the-air now), match or upload more over 100,000 tracks from your library that you had not purchased from the iTunes Store, or use it with Family Sharing since every Apple ID (and their accompanying iCloud Music Library) come separate from one another.
Does Apple Music save your playlists?
Your playlists do get saved on iCloud Music Library when you create them.
While iCloud isn't a backup service, it does keep copies of your playlists in the cloud.
You can certainly add songs and playlists from the Music app's catalog to the library on your Mac or Windows PC.
Can I still access my old iTunes playlists?
Has it been a while since you've used iTunes and are now wondering what to do? Unfortunately, the iTunes Store will not have any records of the old playlists you've made from songs you purchased in the past.
That being said, you should be able to download your previous purchases again without paying for them a second time.
Will my playlists get deleted if I don't pay for my subscription?
As soon as you stop paying for your Music subscription, your current playlists will all disappear.
You will have 30 days after the lapse in your subscription in case you change your mind or get enough money together to pay for it.
After that period, though, your playlists will be permanently wiped from the Music app.
How do I download playlists from Music?
You can download your playlists from the Music app if you have enough internal storage space on your audio device.
If you are on your iPhone, iPad, iPod touch, or Android device, you will need to:
Open up the Music app.
Touch and hold down on a song, album, or playlist that you wish to add to your device's library.
Tap on Add to Library.
Note that swiping left over the song you want and tapping the Add button lets you add a song to your library.
Now, if you are on your Mac or PC and wish to download a playlist, you can:
Open up the Music app or iTunes.
Locate the music that you wish to add to your library.
Click on the Add button to add just one song. Click on "+Add" to add an album, playlist, or music video.
How can I import a playlist into Music?
If you want to import a playlist into the Music app, first you must have an exported Music playlist (which needs to be in an XML format).
If you already have this, you can use the following steps:
On your Mac's Music app, select File > Library > Import Playlist.
Select the XML file that you want to import.
Take note that the imported playlist strictly includes just the songs and music videos that are already in your library.
Any items that are unavailable are removed from that list.
Closing Thoughts
Apple makes it easy to access your Music app playlists by keeping them in the iCloud Music Library.
And, of course, when you want to download them onto your PC or Mac, you can do so pretty easily.
You can also download them onto your iPhone, but that will be a matter of having enough internal storage space available.
Using the app itself to access your playlists is the simplest way to go about listening, which is why so many iPhone users are making the jump to a Music app subscription.