Can You Print From An iPad?
Although many documents are submitted online nowadays, sometimes you need to print documents and photos.
Sometimes it is hard to print from wireless devices, especially tablets. But can you print from an iPad?
Can You Print From An iPad?
People can print documents, emails, and photographs from an iPad by using AirPrint. However, both the printer being used and the iPad need to be on the same WiFi network to work properly. AirPrint works on all Mac and iOS devices, so people can print wirelessly from their iPhones and Mac.
It is relatively easy to print from your iPad once you know how to do so.
Below are explicit instructions on how to print from your iPad using AirPrint.
How to Print from iPad
AirPrint makes it easy for you to print wirelessly from iOS devices.
Printing is sometimes necessary, even if you don't print often.
If you want to print documents, emails, and photographs from your iPad, follow these instructions:
Download and set up AirPrint
Make sure iPad and printer are connected to the same WiFi network
Open the document, email, or photograph that you want to print
Click on the Share button
Click on the More Button
Click Reply
Click on Print. (If the Print option doesn't appear, swipe up.)
If you want to see the status of what you are printing, go into the Print Center.
You can find the Print Center in the App Switcher.
Within the Print Center, you can cancel print jobs by clicking Cancel Printing.
Although AirPrint is easy to use, sometimes it doesn't work.
Luckily, it is easy to fix most of the time.
How to Troubleshoot Printing from iPad
If you are unable to print from your iPad but have set up AirPrint, there may be issues with your WiFi connection.
To troubleshoot AirPrint from your iPad, do the following:
Make sure your printer supports AirPrint and has it enabled.
Confirm that WiFi is working and that both the iPad and printer are connected to the same network.
Restart the WiFi router.
Make sure that your printer is properly plugged in and turned on.
Make sure no previous print jobs are pending or previously stalled.
Update the printer if needed.
Make sure your iPad is updated and has AirPrint installed.
If everything is in working order, restart your printer.
If your printer doesn't seem to be connected to the WiFi network, move the printer closer to where the WiFi router is.
This should allow it to connect properly to the network so you can print from your iPad.
If your iPad hasn't been updated recently or is old, it may not be able to support the most recently released version of AirPrint.
If AirPrint isn't up-to-date, it won't work properly and you won't be able to print from your iPad.
If you have previously been able to print from a different iOS device through AirPrint, but are unable to on your iPad, your iPad is likely old or needs to be updated.
If you are unable to update your iPad or successfully print documents, try printing through AirPrint with a different iOS device.
If AirPrint works on a different iOS device, then something is wrong with your iPad or it needs to be updated.
If you can't print wirelessly through your iPad, but nothing is wrong with your printer and you have completed troubleshooting, take your iPad to an Apple store and make an appointment with one of the Apple employees. 
People at the Genius Bar will be able to diagnose the issue and possibly fix it.
If you are still unable to print using AirPrint with any iOS device, make sure your printer has AirPrint enabled
You can set up AirPrint when you initially set up your printer.
If you don't enable AirPrint when your printer is initially set up, go to your printer's manufacturer website and follow the instructions on how to enable AirPrint.
The process will be slightly different depending on the brand and type of printer that you own.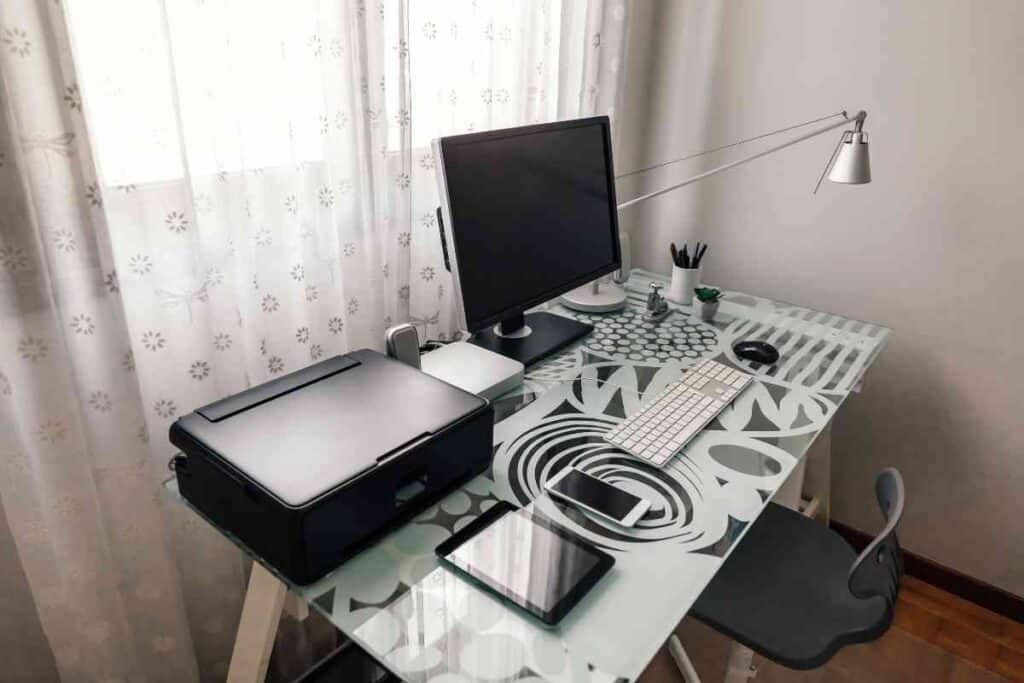 Printers That are Compatible With AirPrint
On Apple's website, there is an extensive list of the printers that are compatible with AirPrint.
Most recently released printers are compatible with AirPrint, but the following ones are guaranteed to be compatible:
Astro-Med ToughWriter 5
Aurora printers
Brother DCP printers
Brother FAX
Brother HL
Brother MFC
Brother TD
Brother VC
Canon 1238i series
Canon C1127i
Canon C1127P
Canon CP series
Canon D series
Canon E series
Canon E4 series
Canon G series
Canon iB4 series
Canon iP series
Canon iPR C series
Canon iPR series
Canon iR series
Canon iR-ADV series
Canon LBP series
Canon MB5 series
Canon MF series
Canon MG series
Canon MX series
Canon PRO series
Canon R7 series
Canon TA series
Canon TM series
Canon TR series
Canon TS series
Canon TX series
Canon WG series
Canon XK series
CSR IPS Sky
Conexant MDK
Deli CM series
Deli CP series
Deli L series
Deli M series
Deli P3400DN
Dell B series
Dell C series
Dell Cloud and color cloud series
Dell Color Smart Multifunction series
Dell E series
Dell S series
Dell Smart Printer series
Develop ineo and ineo + series
Epson AL-C series
Epson AL-M series
Epson Artisan series
Epson EC series
Epson EP series
Epson ET series
Epson EW series
Epson L series
Epson LX series
Epson M series
Epson ME series
Epson PF series
Epson PM series
Epson PX series
Epson SC series
Epson ST
Epson Stylus series
Epson SureColor series
Epson WF series
Epson WorkForce series
Epson WP series
Epson XP series
f+ imaging M series
Fuji Xerox ApeosPort series
Fuji Xerox DocuCentre series
Fuji Xerox DocuPrint series
Fuji Xerox PrimeLink series
FUJIFILM Business Innovation Corp. ApeosPort series
FUJIFILM Revoria Press
G&G Image series
Gestetner series
HP DesignJet series
It is easy to print on your iPad if you have the right type of printer and know how to use AirPrint.
If what you print is printed incorrectly, try printing the document again or reset your printer.
Make sure all printing settings on both your printer and the AirPrint app meet your preferences.