Do Apple Pencils Break Easily?
This post may contain affiliate links. As an Amazon affiliate, I earn from qualifying purchases.
When the iPad Pro was first released back in November of 2015, buyers and reviewers alike hailed the Apple Pencil as its most unique and helpful feature. This pencil allows you to scribe on the iPad Pro – something that was a novel concept at the time. But the question of "How durable is the Apple Pencil?" was quickly raised.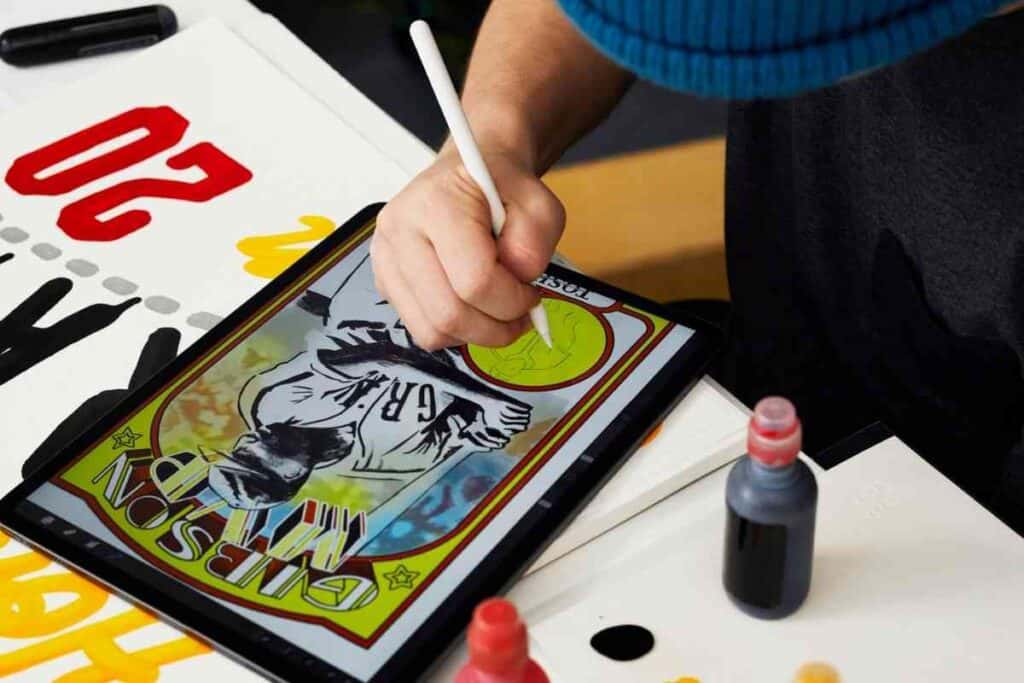 While you are researching Apple Pencil questions, <– bookmark our Apple category and be sure to save these popular topics for further reading: Do Screen Protectors Interfere With The Apple Pencil?, Can You Charge Apple Pencil With IPhone? and Are There Fake Apple Pencils? 
I mean, just look at how slender and petite this thing is – how lightweight it feels in your hand.
It doesn't carry the weight of a regular pencil and has more of a stylus design that we once used on our smartphones.
Almost immediately, tech gurus were out to test the durability of the Apple Pencil, and buyers were taking to Apple Discussion forums and Reddit to talk about their busted Apple Pencils.
While some reviewers felt that the Apple Pencil is resilient on the whole, buyers tend to disagree.
Does Apple Pencil Break Easily?
Apple designed the Apple Pencil to be durable, with a small plastic tip to write with that can be easily replaced if damaged. The Apple Pencil 1 might not be as sturdy as the Apple Pencil 2, which has some other significant design differences. Durability really will depend on which Apple Pencil model you own.
If you drop the Apple Pencil, you might get lucky and only break the plastic tip.
But if you end up damaging the inner (metal) transducer, forget about it – you will have to buy a replacement.
That transducer is incredibly fragile while the body of the Apple Pencil is relatively protective.
But, as we all know, no two accidental drops yield the exact same results.
Depending on how the damage is sustained, the protective casing could give way, leading to a busted inner transducer.
So, just how easily does the Apple Pencil break? It is high time that you find out.
Apple Pencil 1 vs Apple Pencil 2: Which one is stronger?
The Apple Pencil 1 has a lightning connector that lets you plug it into the lightning port on the iPad to charge.
Given how small this pencil is, this was seen as rather inconvenient.
The Apple Pencil 2 is more compact than its predecessor, and there is no lightning port on its end.
It can inductively charge through the iPad Pro, on the right-hand side where there is a slot with built-in magnets to hold the pencil in place as it charges.
Being so smooth and round, the Apple Pencil 1 can be easier to drop.
The Apple Pencil 2 is more pencil-like with its texture, making for a firmer and more secure grasp as you write.
Which devices is the Apple Pencil compatible with anyway?
Let's quickly talk compatibility here.
If you have the Apple Pencil 1, you can use it with the following devices:
iPad‌ (9th generation)
iPad Pro‌ 12.9-inch (2nd generation)
‌iPad Pro‌ 12.9-inch (1st generation)
‌iPad Pro‌ 10.5-inch
iPad Pro‌ 9.7-inch
iPad Air (3rd generation)
iPad‌ (8th generation)
iPad‌ (7th generation)
iPad‌ (6th generation)
iPad mini (5th generation)
The Apple Pencil 2 has different compatibilities, which are:
iPad mini‌ (6th generation)
‌iPad Pro‌ 12.9-inch (5th generation)
‌iPad Pro‌ 12.9-inch (4th generation)
‌iPad Pro‌ 12.9-inch (3rd generation)
iPad Pro‌ 11-inch (3rd generation)
‌iPad Pro‌ 11-inch (2nd generation)
‌iPad Pro‌ 11-inch (1st generation)
iPad Air‌ (4th generation)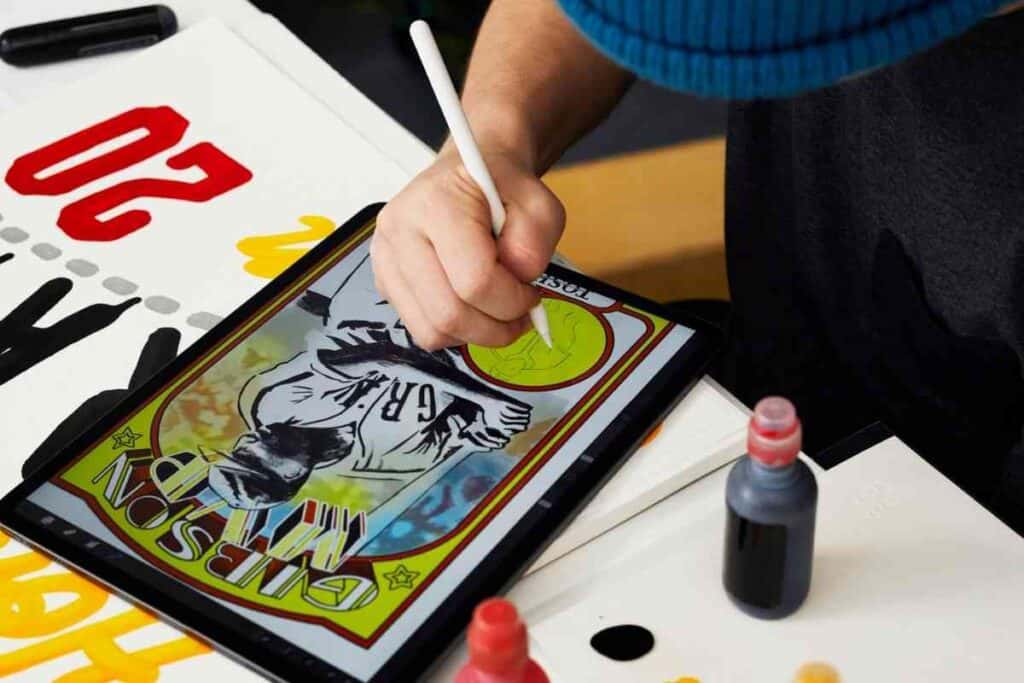 What features come on the Apple Pencil?
The Apple Pencil isn't just a stylus.
It comes with quite a few functions that take it to the next level.
Here is what your Apple Pencil can do:
Palm Rejection – When connected to an ‌iPad‌, the pencil only recognizes the Apple Pencil tip and not your hand or your finger, which means you can sketch or write in total comfort.
Pressure Sensitivity – A line can appear thicker or thinner depending on how much pressure you apply. There just aren't any specific pressure sensitivity levels for the Apple Pencil.
Tilt Sensitivity – Much like holding a regular pencil, you hold the Apple Pencil at an angle and press down to create shading on the iPad. The pencil does know how it is being oriented tilt-wise.
Pencil-Like Weighting – The Apple Pencil is designed to feel just like a real pencil, with a similar shape and bulk to it. The Apple Pencil 2 especially nails this part of the design.
Low Latency – Low latency means that, when you write or sketch on your ‌iPad‌, there is no delay between the pencil's movements and the writing or images that appear on the screen. Apple Pencil latency is as low as 9ms on iPads that have 120Hz displays (which would be the ‌iPad Pro‌ models dating from 2017 and after).
Precision – This pencil is so precise that its accuracy rate comes down to the pixel. In other words, there is no off-setting between the pencil's location and what is being shown on the device's screen.
Simple Pairing – There is no Bluetooth pairing involved here since the Apple Pencil connects automatically. All you have to do is plug in the Apple Pencil 1 or attach the Apple Pencil 2 to the ‌iPad Pro‌.
Touch Gestures (only on the Apple Pencil 2) – The Apple Pencil 2 supports touch gestures, which means that a double tap lets the pencil switch between tools in apps. This is quite helpful since it allows for quick swaps between a pen and eraser tool when you need it.
Inductive Charging (only on the Apple Pencil 2) – As previously mentioned, the Apple Pencil 2 charges directly through the ‌iPad Pro‌. Apple Pencil 1 instead charges through a Lightning connector.
How does the Apple Pencil differ from other styluses?
At the time it was made, other styluses embraced more of a fine, hard-tipped design.
The Apple Pencil did not.
And those styluses were battery-powered or often had a wide, rubbery tip that led to a lot of inaccuracies on the screen.
Individual app creators had palm rejection done via software, and connections were done through Bluetooth.
A lot of styluses are still designed this way, making the Apple Pencil a much more accurate and comfortable-to-use stylus pencil.
Are there more durable styluses available?
There aren't too many styluses on the market that have the same breadth of functions as the Apple Pencil.
A few might be more durable, but they do not embrace the high degree of accuracy that the Apple Pencil has due to its unique design.
Is the Apple Pencil really worth the cost?
If you are a creative who needs a good stylus to do your work, it really doesn't get much better than this.
The Logitech Crayon i more affordable but lacks the array of features that come on the Apple Pencil.
The features are what help justify the cost.
And if something does break, you can use AppleCare+ to cover the repair or replacement costs.
Closing Thoughts
The Apple Pencil is a unique breed when it comes to styluses.
Apple made them to work extremely well with the iPad, and it is indeed a helpful tool for artists.
Are they the most durable styluses on the market? Probably not, but they aren't exactly fragile either.
They're worth their weight – and more – due to their broad array of features that create an all-around sense of accuracy.