Are There Fake Apple Pencils?
Few brands have created such a loyal fanbase as Apple, and their Apple Pencil is another example of their cutting-edge technology. Folks in the market for a new stylus may be worried that they'll accidentally end up with an inferior product while shopping around for the best deal. While you may not necessarily need to get an Apple Pencil to meet your stylus needs, you definitely don't want to end up with a fake or knock-off Apple Pencil.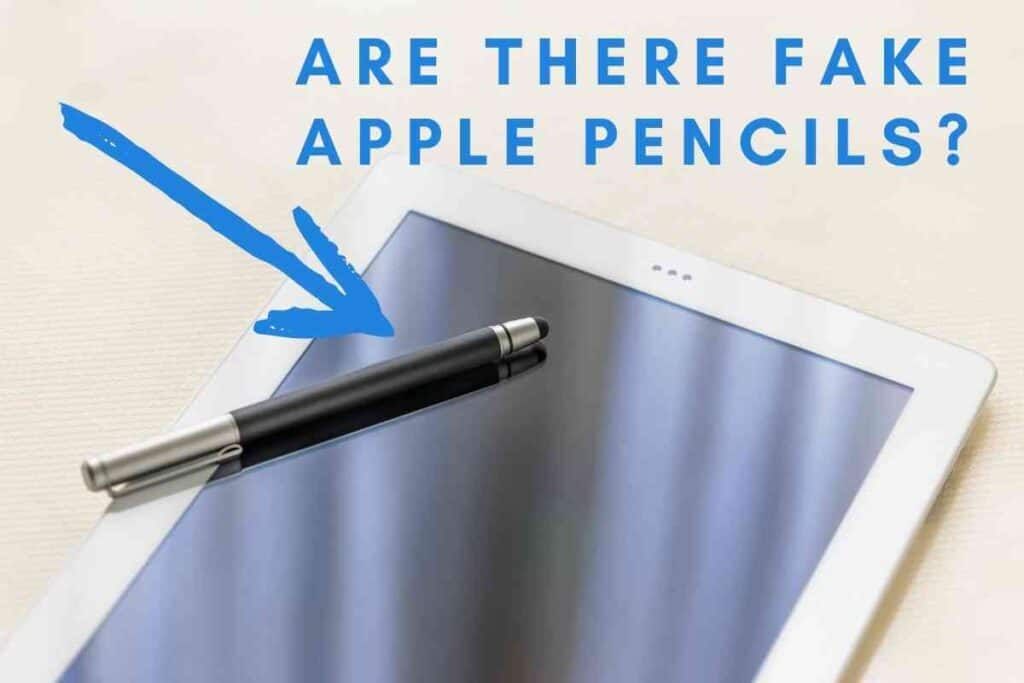 While you are researching Apple Pencil questions, <– bookmark our Apple category and be sure to save these popular topics for further reading: Do Screen Protectors Interfere With The Apple Pencil?, Can You Charge Apple Pencil With iPhone?, Do Apple Pencils Break Easily? and Can An Apple Pencil Battery Die?
Are there Fake Apple Pencils?
You are sure to find "fake" or "knock-off" Apple products if you're shopping outside of reputable retailers, but most Apple Pencil alternatives are simply pens made by different companies. These alternatives to the Apple Pencil may even offer better features for a lower price than the Apple Pencil.
Fake is a strong word. 'Alternatives' is much better suited.
While a few products attempt to recreate the Apple Pencil in all but name, most Stylus alternatives to the Apple Pencil are simply products from another company.
There are a plethora of pen alternatives and the market remains fresh for third-party products.
The Apple Pencil is priced at a steep $129, which is often why consumers look for alternatives. 
Companies like Logitech, Adonit, Zagg, and Jamjake have sought to fill the slot for cheaper iPad stylii. Apple has even endorsed Logitech's Crayon as the only third-party option with full Apple support.
That doesn't mean you should write off the other brands.
The lower price and excellent functionality of the Adonit Note+ or the Zagg Pro Stylus are still excellent options. These pens offer premium designs and premium functionality at less than half the price of the Apple Pencil.
For serious artists, the Apple Pencil is still the best option, with the highest-rated tip sensitivity and full feature support. 
For the note-takers, you might find that you can save money and find a pen that better suits your style.
Are There Apple Pencil Knock-offs?
There are absolutely Apple Pencil knock-offs.
Apple has spent a massive portion of its PR budget on spreading the news about its products and technology and branding its products as a fashion choice.
In between 2016-2020, it seemed their entire advertisement department was focused on using the brand name as a fashion statement.
As with any desired fashion item, knock-off products are often created for those looking to imitate.
These products are usually made in countries like China, where the laws around Intellectual Property are much more loosely interpreted.
Some examples of companies that produce styluses' that attempt to imitate the Apple Pencil are XIRON, AnyQoo, and TESHA.
It's important to understand that these stylii actually work. They aren't truly imitations.
They are lower-quality technology that lacks the features and functionality of the official product.
They only gain a reputation as "knock-offs" due to their blatant attempt at copying the aesthetic design of the Apple Pencil.
What Stylus 'Pencils' Work on the iPad?
If you purchase your Apple Pencil alternative through trusted retailers online through sites like eBay or Amazon, you only need to make sure the product details list compatibility with your specific iPad.
Using trusted retailers takes a lot of the worry away from accidentally purchasing the wrong product and a little bit of research will go a long way.
To save you some time, I've put together a shortlist of great alternatives to the Apple Pencil.
Logitech Crayon
The Logitech Crayon is the best-rated alternative for the Apple Pencil available.
It is the only alternative that is Apple-approved.
It supports the Tilt feature and palm rejection.
It can run for seven consecutive hours and supports a quick charge which can provide 30 minutes of battery life in just two minutes.
It has full Apple support meaning that any app that uses the Apple Pencil works with the Logitech Crayon.
The Crayon is compatible with the 6th Gen iPad mini; 9th Gen iPad; All iPad Pros; and iPad Air back to 3rd Gen.
You can get it for half the price of the Apple Pencil at a range of $50-70 depending on the sales available.
Adonit note+
Adonit has been in the Stylus game for a long time.
However, the new Era of Stylus is wirelessly connected to your device and supports pressure sensitivity and features like tilt.
Adonit didn't quite get to the tilt support yet, but they did achieve a 24-hour battery life (10 hours of continuous use), 2,048 levels of pressure sensitivity, and a wide range of iPad support.
The note+ supports nearly every iPad app and features two programmable shortcut keys.
The note+ is compatible with all 11-inch iPad Pro series; the 3rd, 4th, and 5th Gen of the 12.9-inch model; the 3rd and 4th Gen iPad Air; 6th, 7th, 8th, and 9th Gen iPad; and the 5th and 6th Gen iPad minis.
It sells at a price of $69.99.
Zagg Pro Stylus
Zagg decided to take their Stylus in the opposite direction of Adonit's note+.
The Pro Stylus supports palm rejection and the tilt feature but has no pressure sensitivity.
This may seem a bit off-putting for artists, but remember that tilt is much harder to produce without direct support in the pen.
It has a comfortable design that is befitting of a company like Zagg.
The Pro Stylus can be used for around 8 continuous hours. It is compatible with every Pencil app and all current iPads.
It sells for between $49.99-69.99 depending on sales.
Jamjake X10 Stylus Pen
For the sake of providing the details of at least one imitation of the Apple Pencil, I chose the Jamjake X10.
It's a cheap Apple Pencil look alike.
It doesn't have any pressure sensitivity or tilt support. It does have palm rejection though.
The only real advantage of this pen over the others on this list is its cheapness.
It can almost always be found for $25-30.
If you just want to have a pen that looks like an Apple Pencil to shove in your iPad case, this one will do that trick.
It is important to note that these are cheaper alternatives to the Apple Pencil.
The Apple Pencil is priced at $129 for a reason.
It has excellent pressure sensitivity, an intuitive design, and excellent battery life, and it is designed to magnetically connect to iPad devices and charge wirelessly.
If you are thinking about purchasing an alternative, be sure to take the time to decide if the different mixtures of compromises are a sacrifice you are willing to make.
Frequently Asked Questions