How Fast Does Apple Pencil Lose Charge?
A super tiny battery powers the lightweight, easy-to-grip Apple Pencil and can easily be charged by either a Lightning cord (on the Apple Pencil 1) or just by attaching it to a special spot on the side of the iPad (for the Apple Pencil 2).
Charging is usually quite fast and leads to hours of use, although the pencil is technically always on and leads to a small percentage of battery drain with each passing hour.
But there have been reports of the Apple Battery draining too quickly.
When it is attached to the iPad, your Apple Pencil 2 will appear as a notification, so you can at least easily check its status as it charges.
What about when you are using it though?
What are you supposed to do if the pencil suddenly starts to only last about three or four hours on a full charge?
This is rare for the Apple Pencil but not exactly unheard-of.
One possible explanation as for why a quicker drain happens is that motion could activate the Apple Pencil.
Most people rarely see the Apple Pencil dip below 90% even with hours of usage, so this is quite a strong and powerful battery.
This begs the question of what else might cause the Apple Pencil to rapidly lose its charge.
Normally, though, you should only see about 5-10% loss of battery per day when the pencil sits unused.
So, how fast does the Apple Pencil normally lose charge while in use? What might cause the pencil to lose its charge way too quickly, and is there a way to troubleshoot it? It is time to take a closer look at the Apple Pencil and its charging abilities.
How Fast Does Apple Pencil Lose Charge?
If you leave it alone for the entire day and do not move it, the Apple Pencil should ideally lose only 5-10% of its charge. An Apple Pencil that is fully charged should last you through 12 hours of usage. Even 15 seconds of charging a dead battery can yield about 30 minutes of use.
So, just how long should your Apple Pencil be lasting?
How do you pair it up with your iPad anyway? What kind of a battery is installed inside of the Apple Pencil? Does the Apple Pencil 2 hold a better charge than the Apple Pencil 1? Read on to learn more about how the Apple Pencil charges and loses its charge over time.
How long does the Apple Pencil normally hold a charge?
According to Apple, the Apple Pencil should last you for about 12 hours on a full charge.
If the battery happens to drain down to 0%, you can charge it for just 15 seconds to get around 30 minutes of use.
This pencil does indeed have a quick charge to it.
There are no official estimates for how long the Apple Pencil should last before it is fully drained beyond resuscitation, but you should get several years of use out of it if you take good care of the battery and keep it charged on a regular basis.
You should not let it go uncharged for prolonged periods of time, as this can reduce its lifespan.
How do you pair the iPad with the Apple Pencil?
Pairing the Apple Pencil with the iPad is super easy.
The first thing that you need to do is to connect the Pencil to your iPad utilizing the magnetic connector (on the Apple Pencil 2) or the Lightning connector (on the Apple Pencil 1).
There is a Pair button that should pop up.
You will need to tap on it.
If you cannot get the Apple Pencil to pair this way, you will have to go into Settings > Bluetooth and ensure that Bluetooth is turned on.
Then, you will need to tap on the Pencil > info button > Forget.
Try connecting your Pencil to the iPad again, then tap on the Pair button.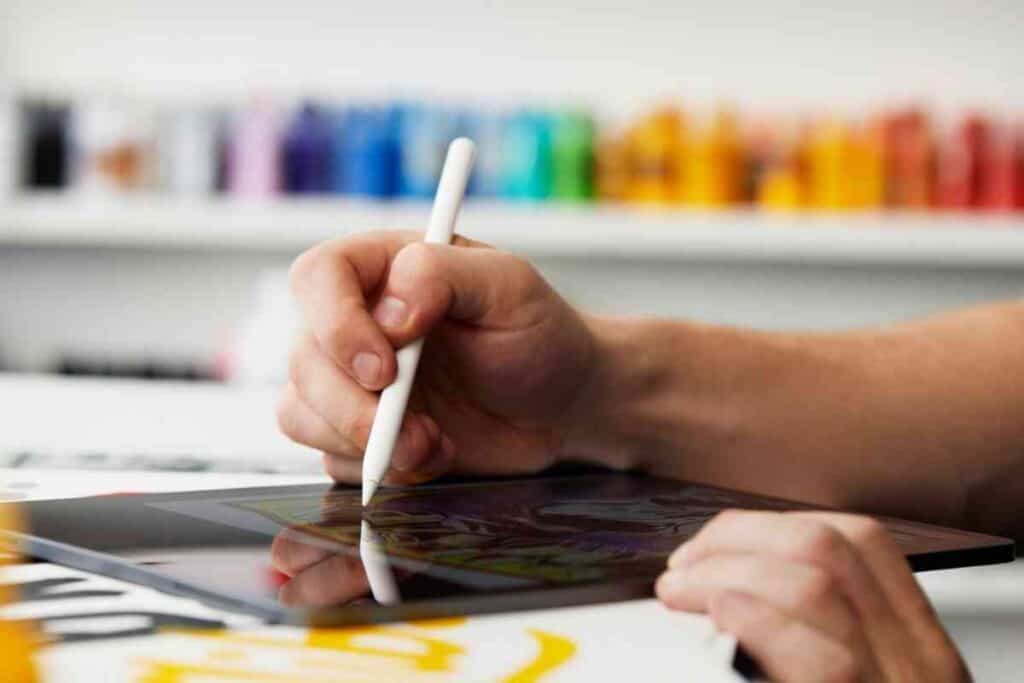 What kind of battery is installed in the Apple Pencil?
Here is the deal with the battery installed in the Apple Pencil.
This built-in rechargeable lithium-ion battery is like a smaller version of the battery that resides within your iPhone or iPad.
This is different from competitors like the Microsoft Surface Pen, which use replaceable, disposable batteries (like AAAA batteries or a watch battery).
While these disposable batteries can last longer than that in the Apple Pencil, it can be a hassle to keep replacing them.
However, you cannot replace the Apple Pencil's battery if it is indeed fully dead.
You will have to replace the entire pencil.
Is the Apple Pencil 2's battery life better than the Apple Pencil 1?
The battery life in both generations is about the same since the battery is essentially the same.
You should not notice a difference between these pencils in terms of battery life.
What should you do if the battery starts to rapidly drain?
Things like Bluetooth connections can cause excessive drain on the Apple Pencil's battery.
Keeping your Apple Pencil charged up to 10-15% at all times can help prevent rapid drains.
Even when you turn Bluetooth off, you will get some drain.
But turning Bluetooth off when there is a significant drain might help.
Be sure to keep an eye on the Battery widget in the Notification Center to know where your battery level is sitting at.
Is the Apple Pencil covered by AppleCare+?
You can absolutely get AppleCare+ to cover your Apple Pencil and Apple-branded iPad keyboard.
AppleCare+ will extend your coverage to two years and includes up to two incidents of accidental damage protection per each 12-month period.
Every incident is subject to a service fee of $29 for Apple Pencil (plus applicable tax).
Closing Thoughts
The Apple Pencil does not normally lose its charge that quickly when not in use.
When in use, it will last for about 12 hours.
If you notice that your battery seems to be draining too quickly, try turning off the Bluetooth connection and see if that helps.
These batteries don't last forever, so when they finally go, you will need to replace the entire Apple Pencil.
Still, you should get a few good years of usage from your Apple Pencil.